Pork Stir-Fry With Honey, Lime, and Ginger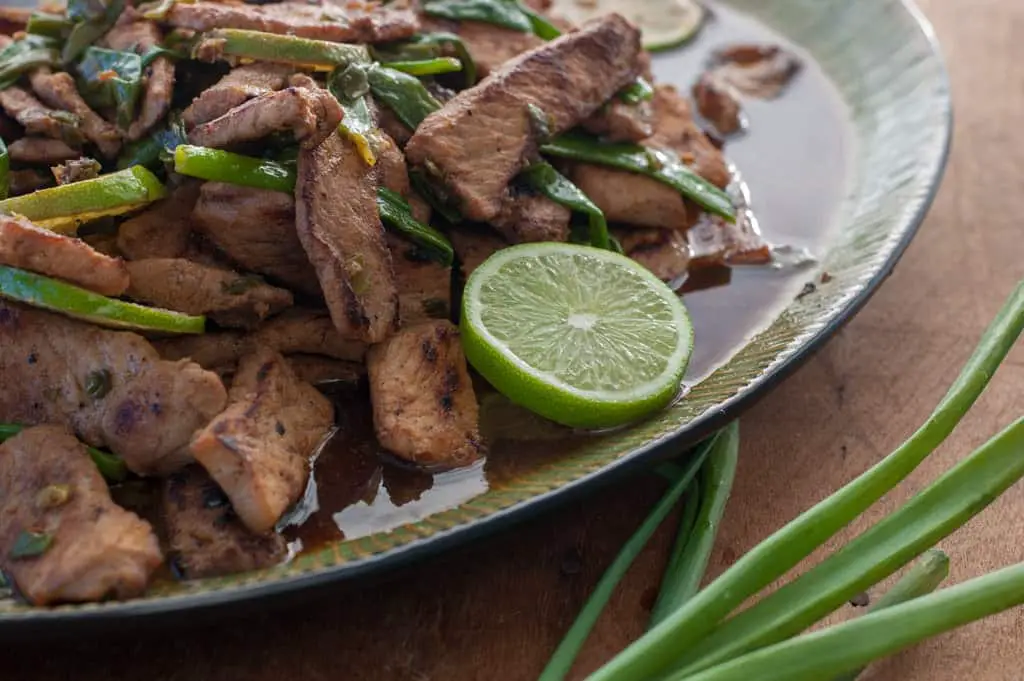 Author:
The Kitchen Snob adapted from Kylie Kwong's Simple Chinese Cooking
4 boneless pork fillets
¼ cup vegetable oil (you may not use all of this)
2 bunches green onions, trimmed and cut into 3" lengths
¼ cup chopped green onions
3 tablespoons malt vinegar
3 tablespoons water
3 tablespoon light soy sauce
2-3 limes (slice one of them into thin slices)
White rice (I prefer Nishiki brand sushi rice)
2 tablespoons honey
2 tablespoons light soy sauce
2 tablespoons shao hsing wine or dry sherry
2 tablespoons finely diced ginger
1 tablespoon oyster sauce
2 teaspoons dark soy sauce
2 teaspoons five-spice powder
½ teaspoon sesame oil
Mix together marinade ingredients in a large bowl.
Slice pork in thin pieces (1/4 inch thick) and add them to marinade and stir. (Tip: it is easier to slice pork if it is slightly frozen)
Cover and marinade in refrigerator for several hours or overnight.
Take pork marinate out of refrigerator 30 minutes prior to cooking to let it start coming down to room temperature.
When cutting green onions, cut the dark green portion into approximately 3" lengths and when you get to the lighter portion of the onion, chop into smaller pieces. So you will have some long strips and about ¼ cup of smaller chopped pieces.
Preheat wok or skillet to medium-high. You want it really hot.
Heat 2 tablespoons of the oil in the hot wok until it shimmers.
Add half of the pork and stir-fry for 30 seconds or until cooked on both sides(see notes below). Remove the pork and set aside.
Heat the remaining oil in the wok and stir-fry remaining pork for another 30 seconds.
Add the pork you previously set aside back to the wok and stir in green onions, vinegar, soy sauce, and water.
Add the juice of 1 lime and add to wok.
Add the lime slices from 1 lime.
Stir-fry another minute until pork is lightly browned.
Slice a lime in half and squeeze juice over pork and stir.
Serve with lime wedges and serve with white rice.
In Kylie Kwong's original recipe, I've never been able to cook each portion of pork in 30 seconds. Being new to wok cooking, I'm learning that my wok is not hot enough. I have an electric stove which makes it harder to get it super hot. Use your best judgment and cook the pork longer than 30 seconds if your wok is not getting hot enough.

When using a skillet, you may need more than 2 batches. I laid out the pork in a single layer and added 2 tablespoons of oil before each batch.

Another thing I sometimes do for extra juices is, I reserve the marinade and put in a small pot and cook it for a few minutes. The fat in the meat will coagulate when it is cooked through (and looks rather gross) but after cooking I take it and strain it so the fat separates from the juices. Then I add the juices to the wok near the very end for extra flavor. But you must cook the marinade first!

Also, keep in mind, when adding the pork you are bringing down the temperature of the wok because the pork was marinating in the refrigerator.

More great recipes at www.thekitchensnob.com
Recipe by
The Kitchen Snob
at https://www.thekitchensnob.com/pork-stir-fry/