The Best Homemade Chicken Noodle Soup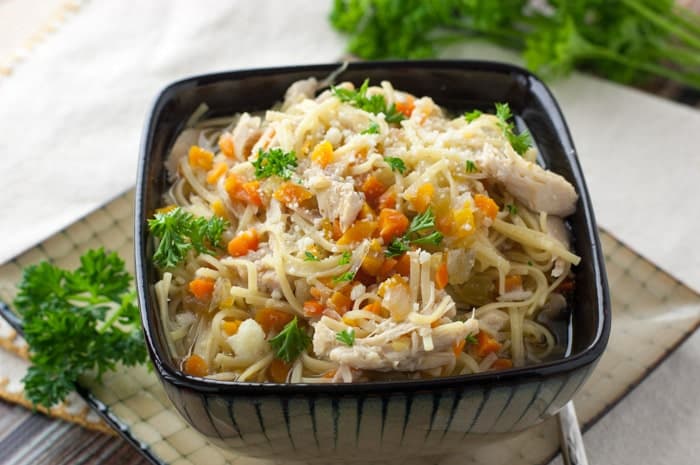 1 whole chicken (3 to 3½ pounds - I usually purchase a chicken already cut up to save time)
6 carrots, peeled and diced
1 onion, peeled and diced
2 celery stalks, strings removed and diced
4 large dried bay leaves
4 parsley stems, leaves removed and set aside
5 large cloves garlic, peeled and left whole
1 tablespoon minced fresh ginger
5 cups chicken stock
2 cups water
¼ to ½ pound dry egg noodles (the more noodles you add, the less broth you will have)
Kosher salt and fresh ground pepper
2-3 tablespoons of grated Pecorino Romano or Parmesan cheese (optional)
Cut up chicken into 8 pieces (2 breasts, 2 thighs, 2 wings, 2 drumsticks). Do not take meat off the bones.
In a large stock pot or Dutch oven, add the chicken, carrots, celery, onion, ginger, bay leaves, parsley stems, and garlic cloves. Add the chicken stock and water. If your chicken is not covered in liquid, add more water. Bring to a simmer. Cook at a low simmer for about 1½ hours or until the meat is falling off the bone. As it cooks, if you see fat accumulating on the top, skim it off with a fork or large spoon.
Remove chicken from stock and let it cool.
Strain the stock into a large bowl and set the vegetables and herbs left in the strainer aside.
Pour strained stock back into the pot and heat stove-top to medium to medium-high heat and cook stock for about 30 minutes. At this point, I usually add ¼ teaspoon of kosher salt because I've made this many times and prefer a little more salt. You could skip the salt for now and add it at the end if you don't like things salty. Goal: Reduce the liquid by one-third.
Start cooking the noodles. Bring a large pot of salted water to a boil. Cook noodles according to package directions. Drain and set aside.
While the stock is continuing to cook and after chicken has cooled, pull the meat off of the bones, either with a fork or with your hands. Cut into smaller pieces as necessary (or to your liking).
When stock has reduced, turn heat to low and add chicken back to the stock.
Remove parsley stems and bay leaves and from vegetable/herb blend and throw out. Pour veggie/herb blend back into the stock. Add noodles to soup and stir. Taste for saltiness and add some if necessary (try ¼ teaspoon at a time - if you added some earlier, you probably won't need any).
Serve each portion with a little chopped fresh parsley and grated Parmesan or Pecorino Romano cheese.
More great recipes at www.thekitchensnob.com
Recipe by
The Kitchen Snob
at https://www.thekitchensnob.com/homemade-chicken-noodle-soup/