Happy Holidays to all of my favorite readers!
Who are my favorite readers?
You! I truly want to thank you for following my weekly recipe posts or just dropping by once in awhile to see what kind of snobby trouble I'm getting into. Thank you for your comments, questions, and for sharing my recipes on social media.
For those of you who are new to The Kitchen Snob, thanks for subscribing and I hope you'll stick around to snob things up with us!
The Williams-Sonoma Giveaway
This is our first giveaway on the blog and we're pretty excited!
Today, we're giving away one of my favorite kitchen tools to two (yes 2!) lucky readers. It's the Williams-Sonoma Silicone Blunt-End Slotted Spoon. A spoon? She's giving away a spoon.
Yeah, a spoon. it may not seem like much, but this spoon made the heavens part and angels were singing the first time I used it. LLlllaaaaaa!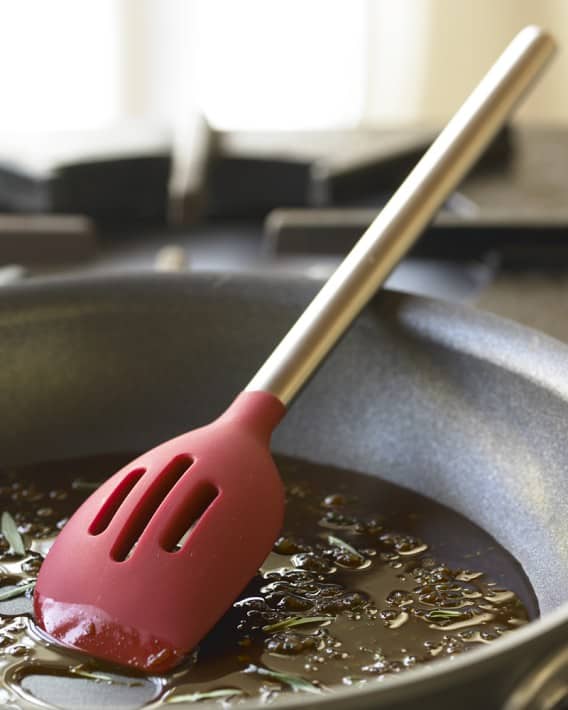 It's a seriously snobby spoon and highly recommended by this Kitchen Snob (And honestly, I'm hoping as the blog grows, I can give away bigger and better things! Apple, are you reading this??)
It's just a little thank you to all my readers for supporting us here at The Kitchen Snob throughout the year.
The best thing about this spoon is the sharper edge. It's great for getting in the corners of your nonstick pans without scratching them and I love using it to break up ground meats while browning them. And you've probably heard me go on and on about silicone in my 10 Signs You're Abusing Your're Nonstick Pans post.
I must rave a lot about silicone spoons because The Hungry Husband has commented more than once that he's never seen anyone get so excited about a spoon. Ehh – so I'm a little weird.
The Giveaway Rules
There are 2 steps to enter the giveaway:
Comment below and tell me about one of your family's holiday food traditions.
Share this post on Facebook

or

Twitter. For Twitter click here to tweet this post! For Facebook, just click on the Facebook button below where it says "Share the love" or you can just copy and paste this URL into your Facebook post on your timeline: https://www.thekitchensnob.com/

williams-sonoma-giveaway

/
That's it! Do those two things and you'll be entered to win!
Deadline to enter is December 31, 2014 at midnight EST.
So tell me – what's one of your family's holiday meal traditions? We always have spaghetti and meatballs with homemade all-day sauce on Christmas day. Does anyone else do that?