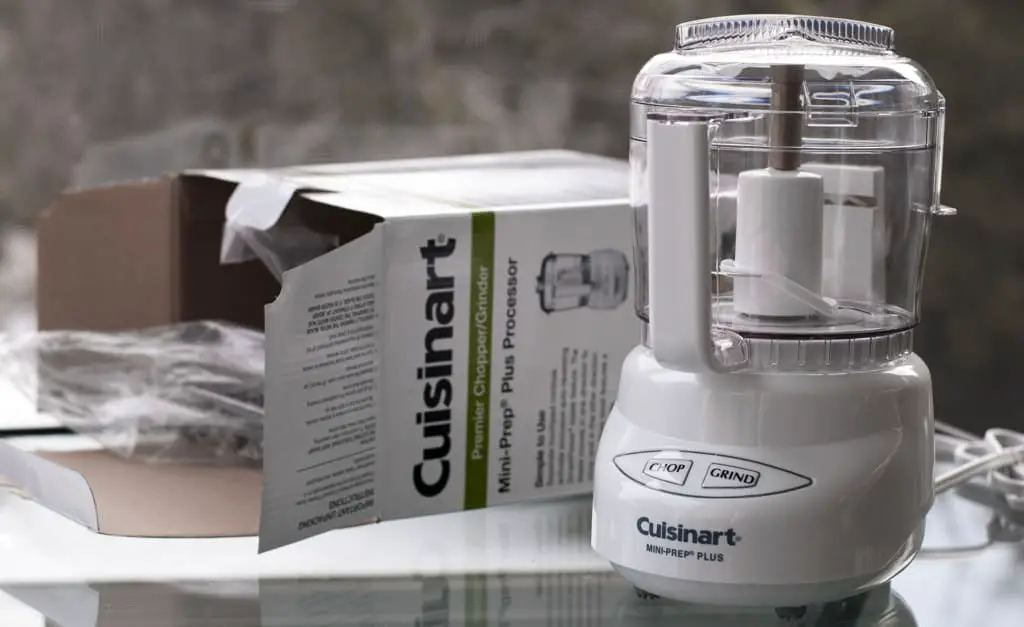 Our gazes met across a crowded department store. I was reluctant. I had been burned before. It pleaded. It begged. It whispered, "Buy me! Buy me!" (and I thought that seemed a little desperate) but I fell in love anyway and found myself leaving the store clutching my Cuisinart Mini Food Processor tightly, hopeful of our future together.
Okay – so Romance writing is not my thing. I apologize for that lame reenactment of my love-at-first-site encounter with a small kitchen appliance. When we're talking about food, kitchen gadgets, or gas ranges with 5 burners, I start whispering passionately, breathing heavily, and apparently acting totally weird.
Let's get serious…
Review of the Cuisinart Mini Food Processor 
(DLC-2A Series)
by The Kitchen Snob
Specs:
3-Cup Work Bowl

Chop or Grind Options

Stainless Steel Auto-Reversing SmartPower Blade

BPA Free

Dishwasher Safe (bowl, blade, lid, and spatula)

Limited 18-Month Warranty

Mini Spatula and Mini Recipe Book Included
The Good:
The mini bowl holds 3 cups which is perfect for small family dinners. If you want something a little bigger, but not too big, try the Cuisinart Mini-Prep Plus 4-Cup Food Processor.

The stainless steel blade does everything from chopping, mixing, grinding, and emulsifying. It's easy to process both hard and soft foods.

Quality product. I use it almost daily and it has held up over time. This mini food processor is resilient.

Small design – takes up hardly any counter space or it can be stored inside a kitchen cabinet. Mine is permanently on my counter, plugged in, and ready to go.

Easy to clean and lightweight.

Saves time – chop or grind generous amounts of ingredients in seconds.

Comes in various colors to match any kitchen. Fun colors like Sugared Plum and Chocolate Cherry. And check out this cool color!

It was designed in Italy. Need I say more? I love Italy so it was natural that this food processor and I hit it off.
The Bad:
Nothing lasts forever. After years of use, the plastic around the blade started splitting. (See pic below) It still works though. I don't really see this as a negative because this mini food processor has given me years of satisfactory use and after years of abuse, it's still going strong. You can purchase replacement blades and other accessories on the Cuisinart website. But I preferred to replace the whole thing because they aren't too expensive and I know I'll get many more years of use out of it. Plus, I like shiny new things.

It does make noise. But good luck trying to find a food processor that doesn't make any noise and sings you a soft lullaby.

Rarely, the lid gets a little stuck but not enough to be annoying. Just takes a little jiggle when this happens.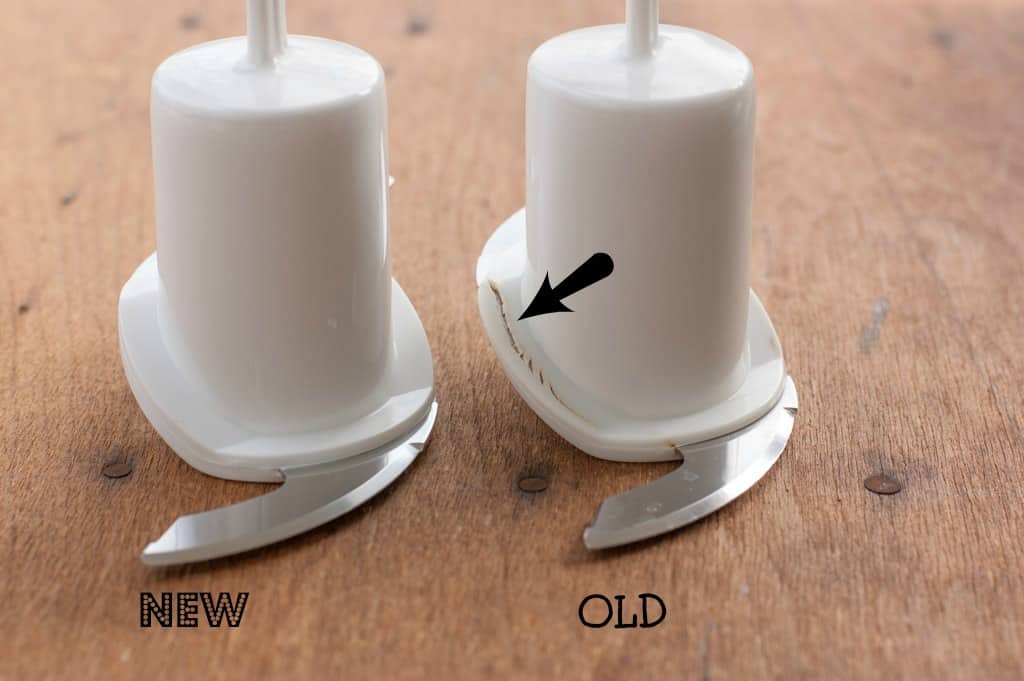 I use this mini food processor mostly for onions and garlic. But I've been known to use it for chopping ginger, herbs, nuts, baking chocolate, grinding hard cheeses, cookies (for pie crusts), and mixing salad dressings.
[tooltip style="bootstrap" position="north" rounded="yes" size="5″ content="For garlic – I smash the cloves lightly with the side of a chef's knife, take the skin off, and throw the garlic in the processor and lightly pulse the CHOP button on and off. To mince the garlic, I hold the button down until all the garlic is minced." behavior="click" close="yes"][button] Tips for chopping garlic [/button][/tooltip] [tooltip style="bootstrap" position="north" rounded="yes" size="5″ content="For onions – You need to be a little more careful. The secret is: pulsing! First, I cut the onion into smaller sections (approximately the size of an orange wedge), throw them in the processor, and lightly pulse the CHOP button on and off. If you were to hold down the CHOP button down more than a couple of seconds, it would turn your onions to mush. " behavior="click" close="yes"][button] Tips for chopping onions [/button][/tooltip]
Final Thoughts:
The Cuisinart Mini-Prep Plus Processor is a great buy. In all honesty, I didn't know I would use it so often until I bought it and now I don't want to ever live without it. It's so easy to throw together quick meals when you don't have the time to chop and mince several ingredients.
I also own the larger 14-Cup Cuisinart Food Processor but, with limited counter space, it stays in hiding until I really need it. So, I prefer the mini version because it's like having a sous chef by your side! The Cuisinart Mini Food Processor is a kitchen wizard and will cut your cooking prep time in half.
If you already own a Cuisinart Mini Food Processor, I'd love to hear your comments, questions, or reviews!