Sorry, Jane. I know you get a bad rap.
But don't worry. I'm going to change everyone's perception. Plain Jane is the new black. It's hip. It's quick. It's the new "it" thing. Don't believe me? Read on.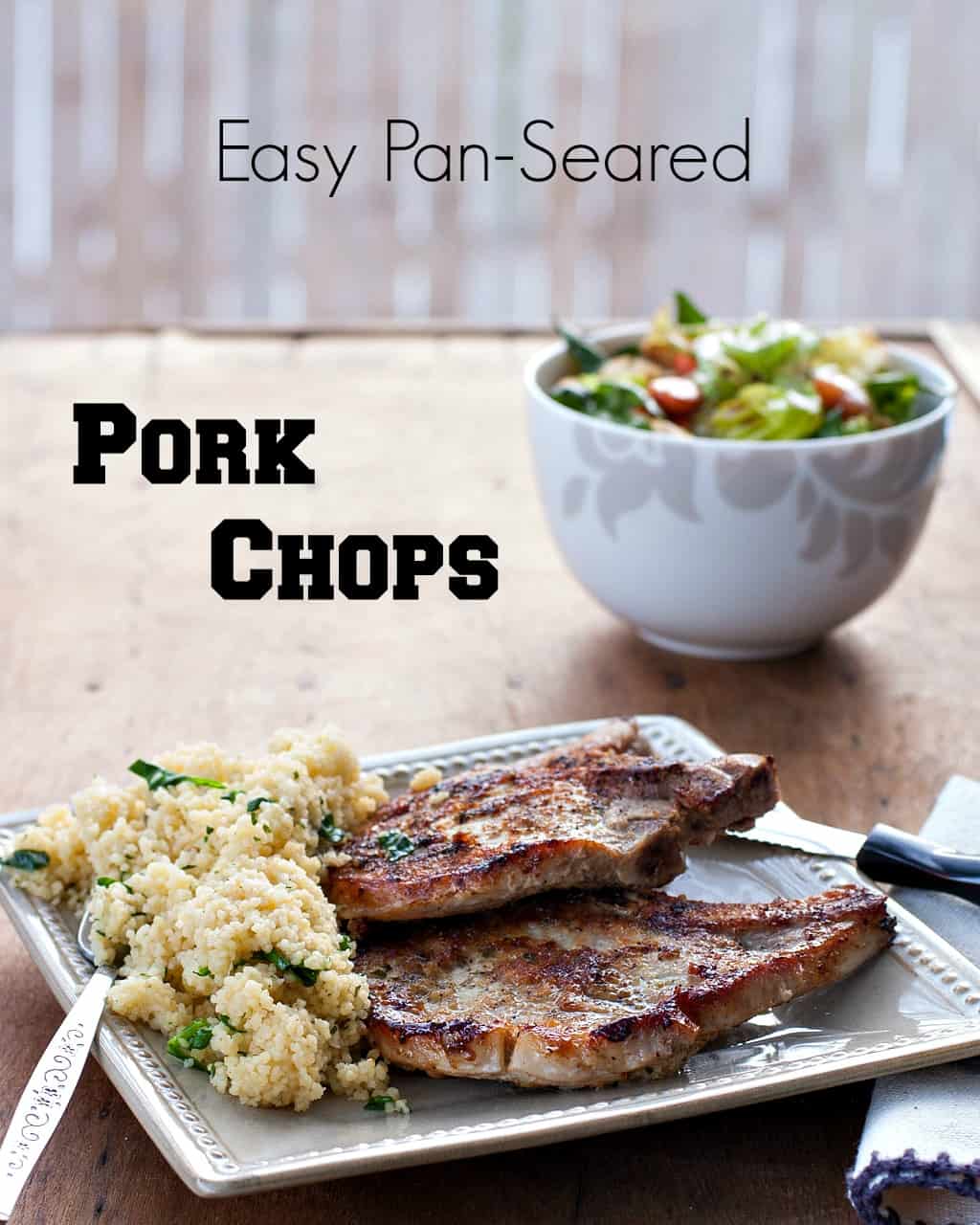 Plain Jane Supper has become very popular in our house. My mom came to visit us last year when I was recovering from a minor surgery. I think she got a bit nervous cooking for the holier than thou, magnificent Kitchen Snob a.k.a. The Almighty Foodie, The Hungry Husband, and the two Persnickety Cats.
[Shrugs shoulders innocently] So weird she would feel that way, right?
Well, despite her hesitation, she whipped up these easy, fried (but not breaded) pork chops and prefaced the fact that they were Plain Jane – like "don't get your hopes up, snobby darlings." So we didn't. And they were so good that we make these pork chops quite often.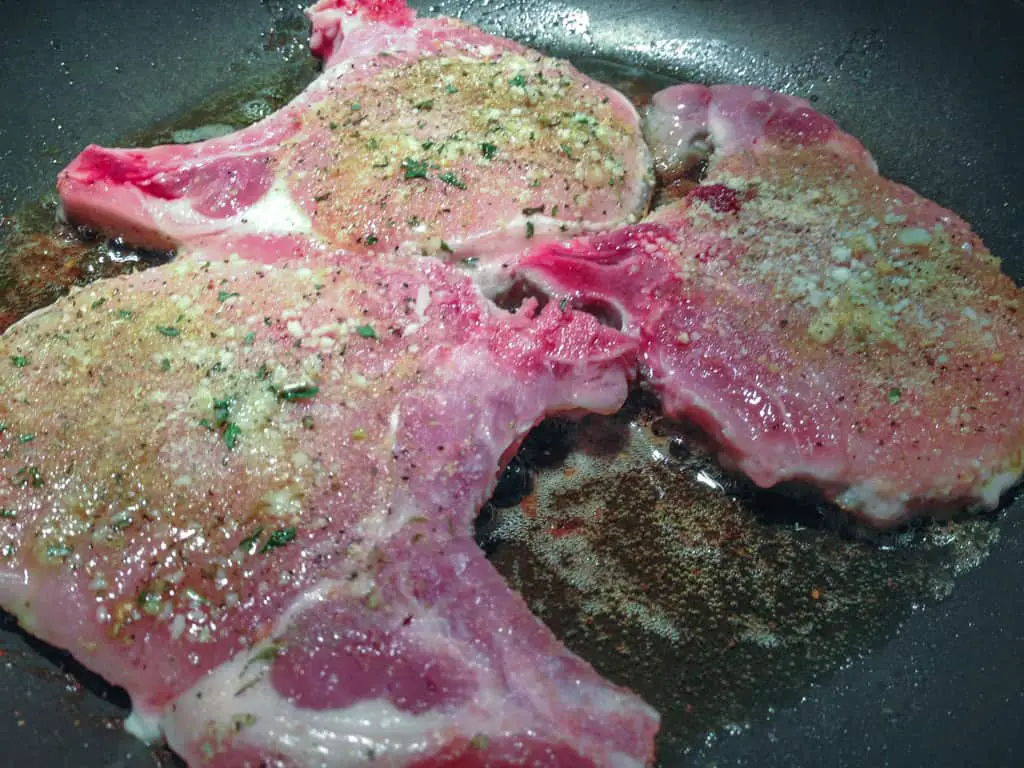 Honestly, I think my mom thinks she's this boring cook. In her mind, I'm the gourmet cook and she's the simple cook. But she inspires many of my recipes. I think she just gets worried of the outcome.
[note note_color="#b9bc4d" text_color="#000000″ radius="16″]To be a good cook, you have to accept that you're going to screw it up at some point or another. You have to be willing to fail. Worst case scenario: you'll save the day by having Pizza Hut's number nearby. After you accept that – you're on your way to becoming a good cook![/note]
And because I can't help myself (bad foodie, bad) I kicked up the ingredients just a bit, but not enough to make this recipe any harder. I just like to experiment.
The key to Plain Jane Supper, is to use what you have on hand. But first, you must have the right staples in your fridge/pantry. So when it's time to make dinner, the only thing you might need at the store is your meat (in this case pork chops, but you could substitute chicken, too).
I'm going to share with you the brands and ingredients I prefer. Let's make this dinner so tasty that people will wonder why it's called Plain Jane!
The Staples You Will Need For Plain Jane Supper a.k.a. Easy Pork Chops
To Flavor Pork Chops:
Extra Virgin Olive Oil

Pre-grated or ground Pecorino Romano, or Parmesan

Seasoned Breadcrumbs

Fresh Garlic – you should always have fresh garlic heads on hand. They last a long while (as long as kept dried and have good air circulation around them). Fresh garlic makes your recipes go from blah to bling!

Oregano Flakes

Parsley Flakes

Granulated Onion (not powdered, unless that's all you can find)

Salt & Pepper (I prefer a sea salt grinder but any salt will do)
Side #1:
Salad Fixings:
Romaine lettuce (the kind in the bag for

lazy

smart people that don't want to waste time washing and cutting)

Baby carrots (the kind in the bag, already cleaned and cut)

A tomato

Favorite dressing
OR
Any of your favorite go to veggie sides. Or try something easy like canned green beans. Canned green beans can be kicked up with a couple of pats of butter, salt and pepper, and a few of the seasonings you will be putting on the meat.
Side #2:
Near East Couscous – Roasted Garlic/Olive Oil Flavor or Parmesan Flavor. You should be able to find this brand in your local grocery store or Amazon sells them by the case for a pretty reasonable price here. After this couscous is cooked (which takes 5 minutes!) I add in some grated Parmesan cheese which makes it taste SO good. In the photos here, I added some chopped baby spinach to make it look pretty, but I don't normally do that when I'm in a hurry.
OR
Some sort of boxed rice or couscous that you like or pick a mild tasting one that you can throw some extra seasonings in. Do you like Rice-A-Roni? That'll work, too.
Tip: Before cooking the pork chops, slice a slit in the fatty area opposite the bone. See photo below.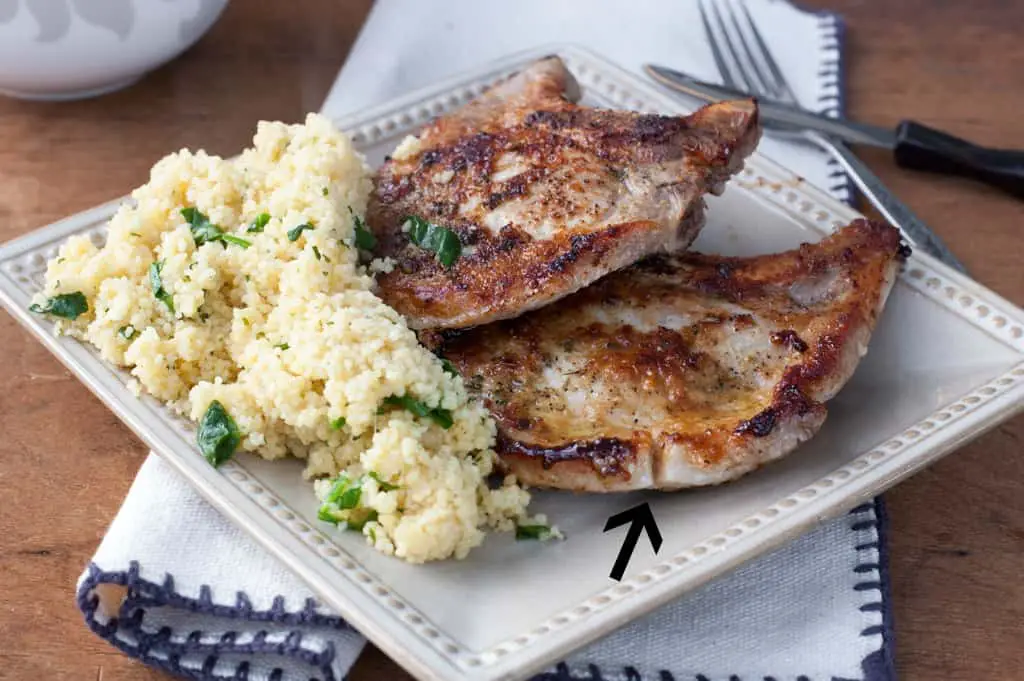 Print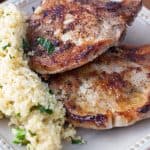 Easy Pan-Seared Pork Chops a.k.a Plain Jane Supper
---
4

pork chops (b

one

in)

3 tablespoons

extra virgin olive oil, plus extra for the pan

1 tablespoon

butter

2

–

3

large fresh garlic cloves, minced
Granulated onion*
Parsley flakes*
Oregano flakes*
Seasoned bread crumbs*
Pre-grated Pecorino Romano or Parmesan cheese*
---
Instructions
Lay pork chops on flat surface like a large cutting board or plates. (See tip in notes below.)
Drizzle olive oil onto the side of the pork that is facing up and smear it into the meat with the back of a tablespoon.
Divide the minced garlic in half. With the same spoon, smear half of the minced garlic into sides of the meat.
Sprinkle generously with salt and pepper.
Lightly sprinkle with granulated onion, parsley, oregano, bread crumbs, and grated cheese. (Tip: If your seasonings aren't sticking, you may need to rub a little more oil into the meat)
Flip meat over and follow the same instructions above, starting with the olive oil.
Preheat large nonstick skillet over medium-high heat. Add about 3-4 tablespoons olive oil and 1 tablespoon butter to the skillet.
Once skillet is hot, add pork chops and sear for 3-5 minutes, or until the underside is nicely browned. (Note: try not to move the meat around too much)
Turn pork chops and sear until the underside is nicely browned.
Serve with easy-to-make sides and you've got a delicious Plain Jane Supper!
Notes
*I didn't put exact amounts here because you will be lightly sprinkling them on both sides. Like one seasoning in particular, put more of that on. There are no rules!
Tip: Before cooking the pork chops, make a slit in the fatty area opposite the bone. Don't slice it too far in, just enough so when you are cooking your pork chops, they don't curl up when the fat shrinks. You want them to lay flat in the pan so the edges get browned, as well as the center.
More great recipes at www.thekitchensnob.com