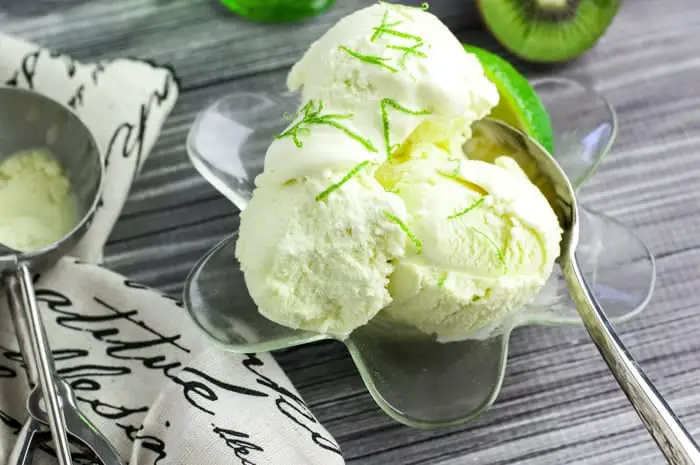 It's so typical of me to tempt you with a kiwi lime ice cream recipe right before we start our 10-Day Fed Up Challenge. But that's how I roll. Always walking the line of rebellion.
Quick lime ice cream story: I was lavishly dining with some girlfriends (and by lavishly I mean I actually changed out of my sweats and left the comfort of my home) and there on the dessert menu was kiwi lime jalapeno ice cream. Huh? I just had to see what this crazy jalapeno business was about.
Ordered it. Wolfed it down. Obsessed about it for weeks.
It was so good! Not spicy. No "pepper" flavor. Just had a cool zip to it.
Well you know what I had to do, right? Copycat it!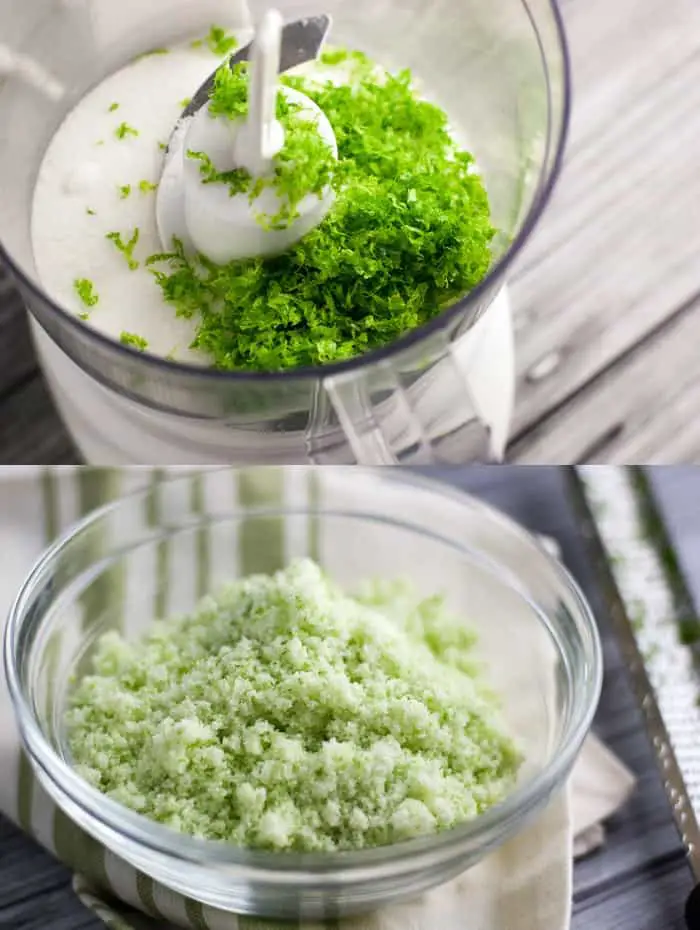 The results: Numerous hours and several batches of ice cream that tasted like green bell peppers mixed with turds and sprinkled with turd jimmies, topped with turdilicious whip cream and…uh…I've gone too far. Sorry. I just wanted to make a point.
It was like grody to the max. Like gag me with an ice cream scooper.
I tried using less jalapeno and steeping it for less time but all I got were different levels of turdness. Goldilocks would be troubled. "This porridge tastes like t…." I can't stop talking about turds. This post is going downhill fast.
And if I had to see The Hungry Husband's eye-roll one more time as he witnessed yet another batch of this jalapeno catastrophe, I was going to have to rush him to the eye doctor for stuck-in-the-upward-position eyes. Google it. It's a thing.
So…ix-nay on the alapeno-jays.
Being the obsessive food weirdo that I am, I still wanted some fresh make-me-feel-like-I'm-in-Florida lime ice cream. A woman has needs.
And that is how this Kiwi Lime Ice Cream was born. Out of mistakes came a really awesome, creamy, refreshing ice cream!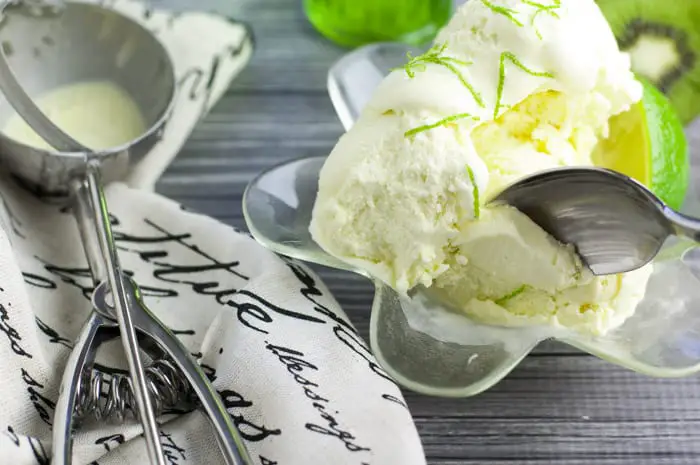 Voila! Kiwi Lime Ice Cream!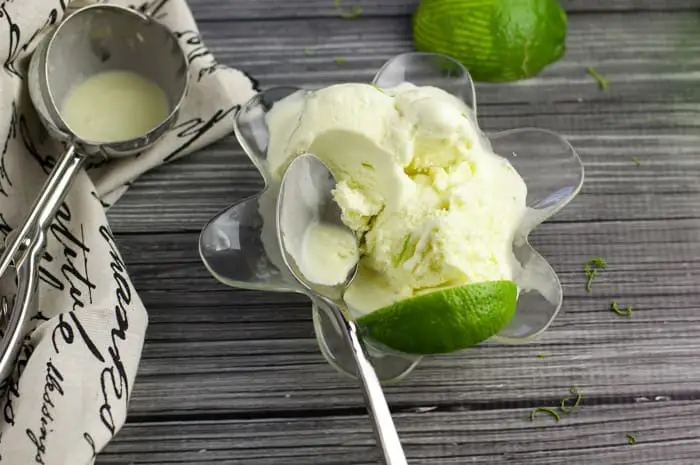 Then I had to make the recipe one more time to take these pictures. Darn. Cue eye rolls. Sorry hubsters. I hope you'll heal quickly from these trying times.
This kiwi lime ice cream tastes best soft serve, right after it's churned because it's flavor becomes a little more subtle when hard frozen. So if you need to hard freeze and can be patient, just let it sit out for about 10 minutes before scooping. It tastes much creamier this way!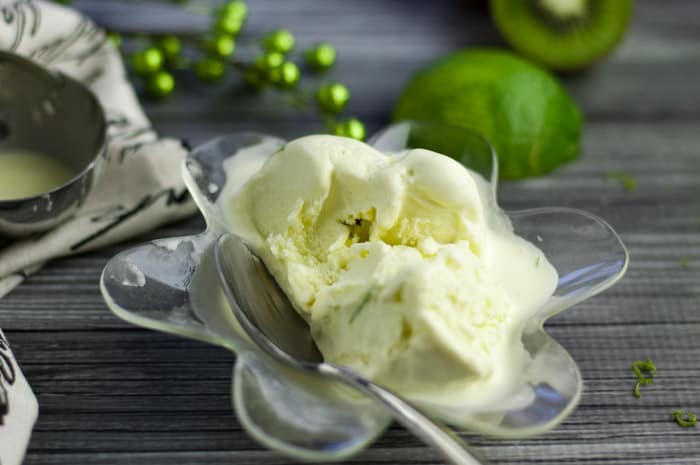 Print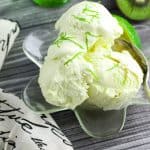 Kiwi Lime Ice Cream
---
2 cups

heavy cream

1 cup

whole milk

3/4 cup

sugar, divided
zest of

3

limes, plus juice of 1 lime

3

large egg yolks

1/2 teaspoon

vanilla extract

1/8 teaspoon

salt

1

kiwi, peeled
---
Instructions
Before starting, make sure your ice cream maker/container doodad has already been in the freezer, at least overnight.
In small food processor, mix together 1/2 cup sugar and lime zest to make your "lime sugar". Set aside.
In a medium saucepan, heat cream and milk over medium heat. Stir in "lime sugar," vanilla, and salt and cook until sugar is dissolved, stirring frequently (about 4-5 minutes). Remove from heat.
Add kiwi to food processor and blend it until it's a thick sauce. Set aside.
In a large bowl, whisk together the egg yolks and 1/4 cup sugar. Whisk heavily for several minutes.
Slowly, in small batches, whisk the cream mixture into the egg yolks. You don't want to end up with scrambled eggs, so slow, small batches is the key to success! Keep the whisking constant. Once all the cream has been whisked into the egg yolks, pour everything back into the pan and cook over medium heat (medium-low heat if your stove-top runs hot) and cook until the temperature of the mixture reaches 170°F) stirring semi-frequently. This takes about 10 minutes and you want to stir enough so that your cream mixture doesn't start to get a film on the top or bottom of the pan. It should not be boiling, bubbling, or simmering.
When temperature has reached 170°F, remove from heat and pour into a medium bowl and let it cool to room temperature. Cover and refrigerate overnight.
After your ice cream mixture has been chilled, pour it through a fine-mesh sieve to strain out the bits of lime zest and kiwi seeds. Once most of the liquid has been strained, press solids into the sieve with a spatula to squeeze out any hidden ice-cream-goodness left in there. Discard solids.
Add the juice of one lime and give it a quick whisk to combine.
Churn ice cream according to your ice cream maker's instructions (mine churned for about 20 minutes).
Immediately enjoy as a soft serve or hard freeze it in your freezer.
Notes
More great recipes at www.thekitchensnob.com