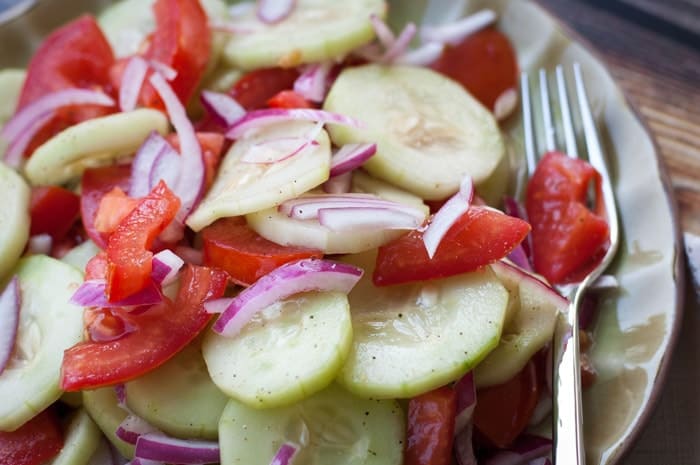 Do you ever pretend you're something you're not? Oh puhlease. Yes you do. When you've got the house to yourself, you don't turn the music way up and pretend you're the star of your own concert, complete with "air" microphone? Because let me tell you, I scream a mean Alanis Morissette when no one's around. I also play a rockin' bass guitar to Bon Jovi's Dead or Alive and Mariah Carey and I are like singing soul sisters.
Oh yeah, I'm good. The cats kind of look at me with annoyed squinty eyes, but I think that means they really, really like my singing.
Maybe you pretend you're a dancer?  If the New York City Ballet could see me float across my living room floor, they'd be begging me to sign up.
But what I mostly pretend (like EVERY DAY) is that I'm Italian. I mean, it's half true. So, I stretch it a little. Big. Deal. Once you get married in Italy, you're like an honorary member.
So where am I going with this and what in the heck does this have to do with Cucumber Salad? Patience, my amici.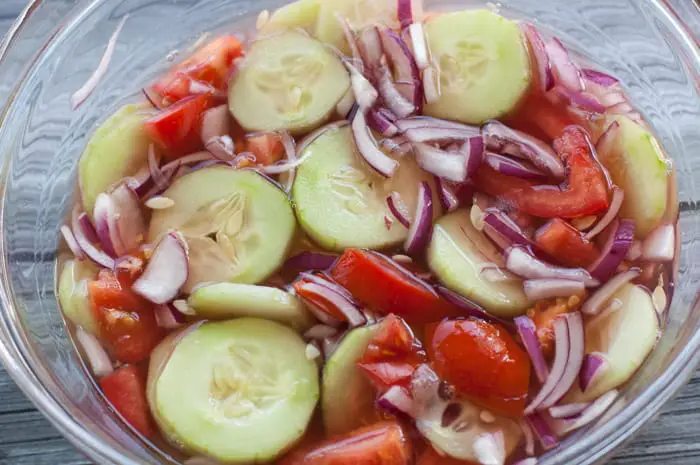 I have this habit (no, let's call it a quirk, it sounds cuter) that I picked up from my dad as a young girl. I assumed my dad picked it up from my Italian grandmother. It's weird and I don't know anyone else who does this so please don't judge me…okay, you can, but pretend you still like me.
CUTE ADORABLE QUIRK: I dunk bread into leftover vinaigrette salad dressing (or just plain vinegar). This isn't the same as dunking bread in olive oil prior to a meal. This is barbarously sopping up your remaining salad with your bread. At some point growing up, I learned that this was bad manners, so I don't do it in good company.
But what I recently learned (and I'll try to hold back the tears) is that this isn't something Italians do. All these years I assumed I had this Italian bread & vinegar fetish that just wasn't acceptable in the U.S. and now I find out that I'm just a complete freak?! [meltdown by crying and throwing myself across the kitchen table]. Hey, I'm Italian. We're overly dramatic.
But like any good Italian would do, I'll make some sort of hand gesture towards the killjoys and decide to dunk that dang bread anyway. Because carpe diem, la dolce vita, and yeah…like…other stuff.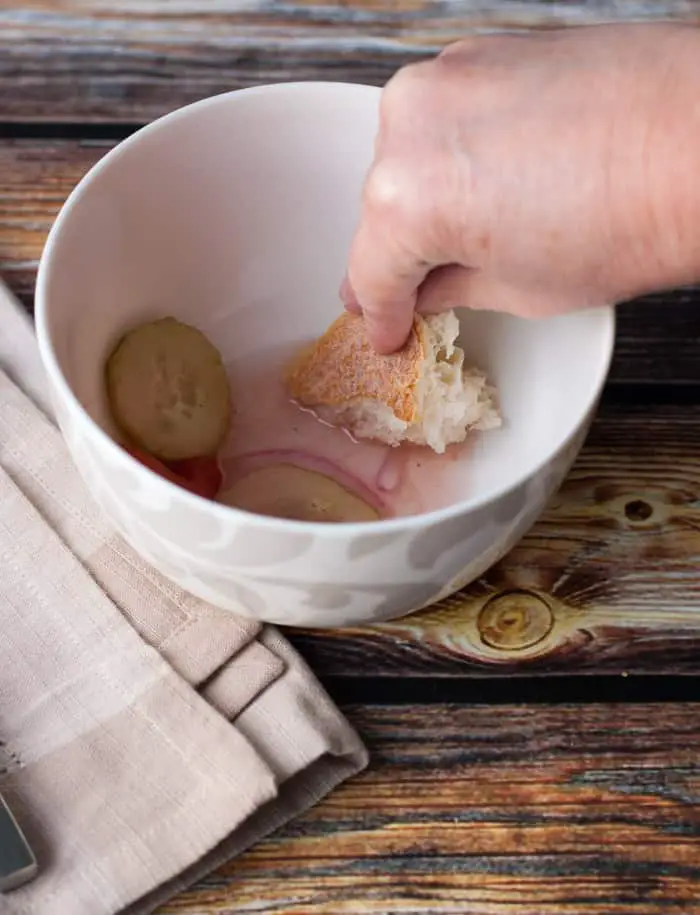 So there you have it. Marinated Cucumber Salad with tomatoes and onions. It's so vinegary, it'll blow your Italian leather shoes off. I love it! Even though the cucumbers are deliciously sweet and tangy after marinating for several hours with the tomatoes and onions, it's all about dunking that bread in the leftover juice afterwards.
In private, of course.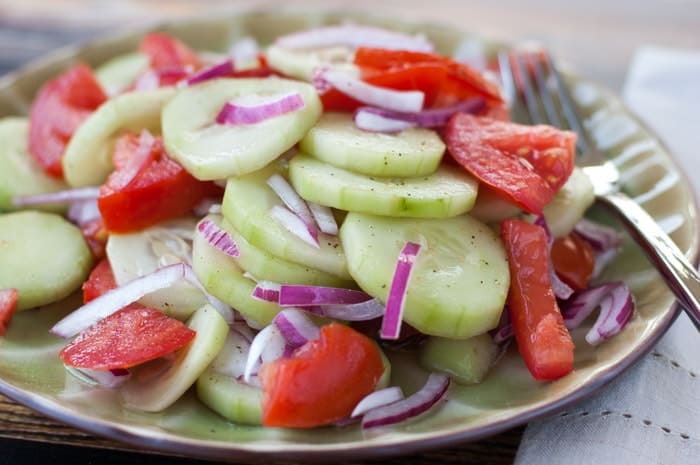 Print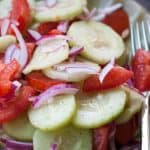 Marinated Cucumber Salad
---
1

large cucumber, peeled and sliced

1/2 cup

sliced red onions

1

large tomato, cut into chunks

1/2 cup

red wine vinegar

1 cup

water

1/4 cup

sugar

1/2 teaspoon

salt
Fresh ground pepper to taste
---
Instructions
In a medium bowl, combine vinegar, water, sugar, and salt and stir to combine.
Add cucumber, onions, and tomatoes to liquid and stir. Cover and refrigerate for at least 3 hours. Serve cold with fresh ground pepper.
Notes
More great recipes at www.thekitchensnob.com