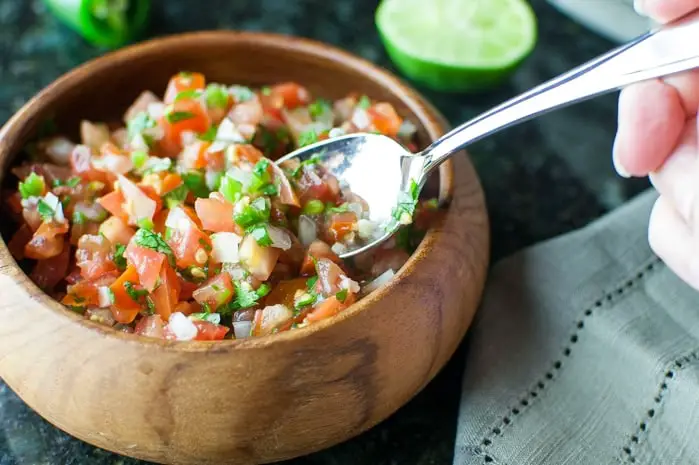 My marriage is falling apart. I made this Pico de Gallo in hopes to rebuild. We can rebuild!
This is our biggest argument:
I pronounce the word salsa with the first syllable rhyming with the word "all". Salllsa. But without the extra Ls. I'm just trying to make a point. Like Better Call SAULsa. You get it.
You totally agree with me, right?
The Hungry Husband pronounces it like the name "Sal". It rhymes with the first part of Allen. Saaalsa. Not the long A. The "a" sounds like cat, at, fat. Should I do a demonstration on Snapchat?
I'm on Snapcat. Did you know? It's all a buzz. The journalistic authorities are talking about my Snapchatting all the live long day. I wish they'd stop.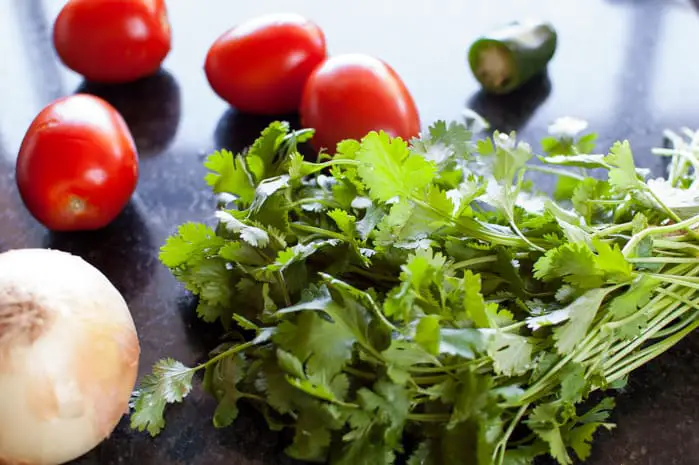 This Pico de Gallo recipe is a quick mix of fresh chopped tomatoes, onions, cilantro, jalepeño, garlic, and a pinch of lime. Ain't nothin but a thing.
You can call it Salsa Fresca, if you want. Just don't call it SALsa. Spanish speaking descendants will arrest you for such nonsense. And I will cringe. Which, as you know, is your biggest fear.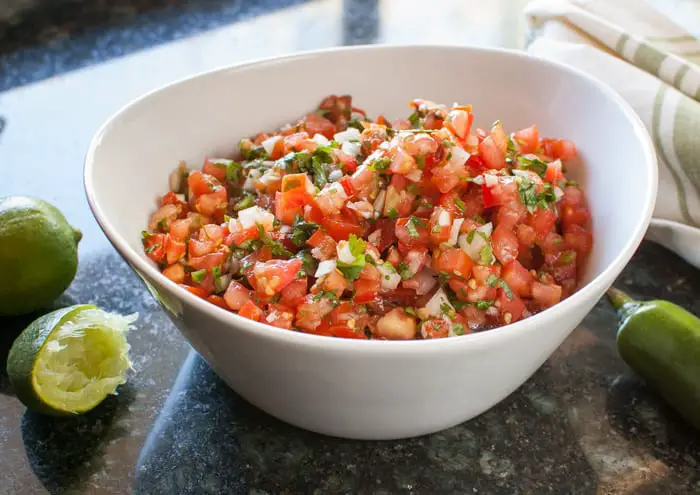 Do these pictures look weird? We lost a box of photo equipment in the move (like our damaged furniture wasn't enough) and my lighting is all wonky. I'm only partly lying. I used my light box but forgot to turn off the overhead kitchen lights so the tungsten apertures of the chromatic aberration didn't jive with the kelvin milligrams (they're totally discombobulated) and now the pixel algorithms are affecting the lumens in my brain cells. I don't know.
Sue me. Let's just all rejoice that I actually posted a freakin recipe. ? An Arsenio Hall fist pump will suffice. #vintage
This Pico de Gallo is fairly mild. You can spice it up with some extra onions and jalapeno, if that's yo thing. There really is no wrong way to make it. So don't be skerd. Unless you call it SALsa, then be very, very afraid.
Print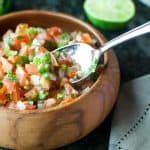 Pico de Gallo Recipe (Salsa Fresca)
---
8

Roma tomatoes, diced or chopped

1/2 cup

packed chopped cilantro

1

jalapeno, minced, seeds can be removed (if you leave the seeds in, it's spicier. I left them out.)

1/2 cup

diced yellow onion

1

clove garlic, minced

2

–

3

teaspoons freshly squeezed lime juice (usually about

1

lime, unless it's really dry)

1 teaspoon

salt
---
Instructions
In a medium sized bowl, mix all ingredients together. Cover and refrigerate for several hours or overnight.
After marinating, taste it. Season with more ingredients if it's too mild for you (onion, lime juice, jalapeno, or salt).
Will keep for several days in the fridge.
Notes
More great recipes at www.thekitchensnob.com