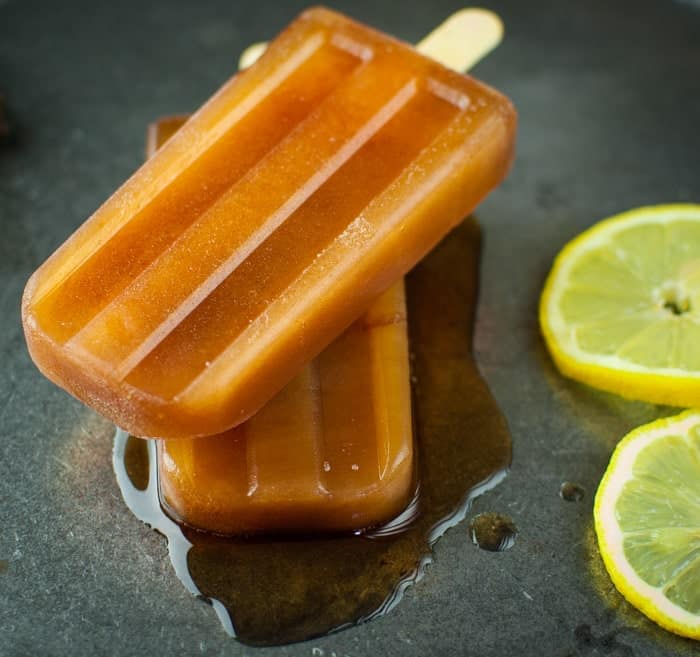 Who says caffeine has to be served in a cup? These frozen Southern Sweet Tea Popsicles are just what the doctor ordered to cure summertime heat, hot flashes, or just plain dawg tiredness.
Why drink water when you can slurp on one of these?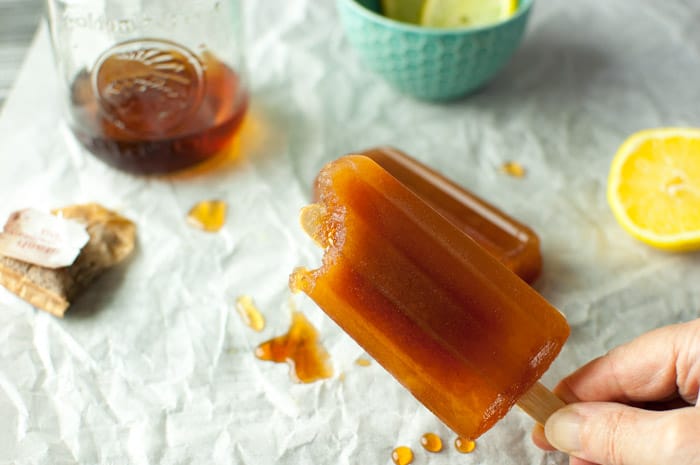 This is hydration redefined by snobification.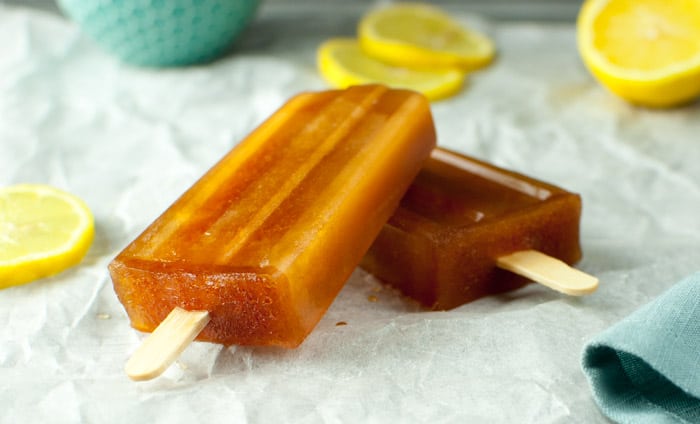 This is my second attempt at homemade popsicles and I found that the keys to perfect popsicle consistency are:
Sugar. MMmmm good ol' evil sugar. But it's necessary. If you didn't have enough sugar, the popsicles would be too icy (think: hard as ice cubes). Here, I've used a simple syrup that's been flavored with black tea.
Quick freezing. Pre-freeze your popsicle molds in the freezer and make sure your liquid has been chilled in the fridge prior to pouring it in the molds. This will help them freeze faster.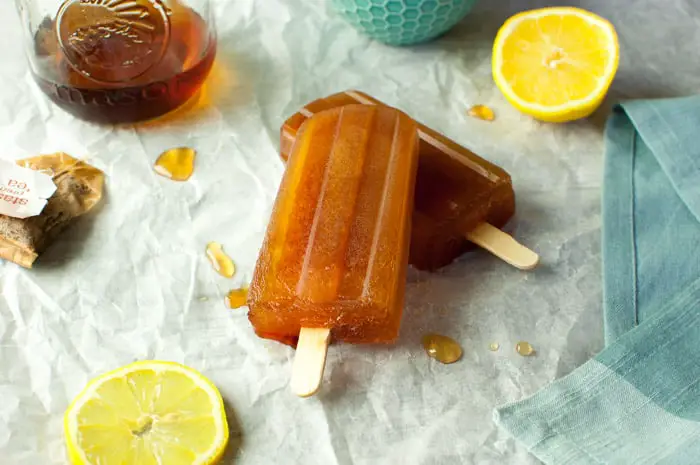 Another thing to note is that when ice pops are frozen, their flavors are dulled. You want your popsicle mix to taste extra sweet and flavorful before it's frozen. If it doesn't taste "overboard" in liquid form, you'll end up with popsicles that taste bland. And y'all know that Southern Sweet Tea is anything but bland.
Add a little lemon to the mixture if you like (I didn't. Keepin it old school.)
After inhaling these chilled ice tea pops, you'll have so much summertime energy that you'll be zipping around the pool on your noodle, or running the outer perimeter of the pool with scissors, creating chaos for all of your friends and family. That's what summer is all about.
Print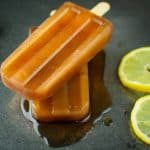 Southern Sweet Tea Pick-Me-Up Popsicles
---
3 cups

water, divided

1 cup

granulated sugar

3

black tea bags
---
Instructions
Freeze your empty popsicle molds to make sure they're nice and cold before you start.
Make simple syrup: bring 1 cup water and 1 cup sugar to boil, stirring occasionally to dissolve sugar. Once water comes to boil, remove from heat. Add 1 tea bag to water and let steep for 5 minutes. Remove tea bag and let tea-flavored syrup cool to room temperature. Once syrup is at room temperature, transfer to a small bowl or storage container and cool in refrigerator, covered.
In the meantime, make the tea. Bring 2 cups water to a boil. Remove from heat and add 2 tea bags and steep for 15 minutes. Remove tea bags and let tea cool to room temperature. Once tea is room temperature, cover and chill in refrigerator.
When your tea and syrup are completely chilled take them out of the fridge and mix in 1/2 cup of tea-flavored syrup into your chilled tea and stir to combine. Taste a little bit of it. It should taste very sweet (maybe too sweet) at this point. If you want to add more syrup you can.
Pour sweetened tea into popsicle molds, leaving at least 1/2 inch of room at the top for expansion. If you have something to hold your popsicle sticks in place (like a lid) you can add that now. However, I found it easier to cover the molds with tinfoil and freeze for about an hour and then poke the popsicle sticks through the tinfoil because the pops have partially frozen and it keeps the wooden stick in place.
Freeze completely for at least a total of 4 hours or overnight.
To remove popsicles, you can run some warm water over the outside of the molds or just let them sit out for about 3-4 minutes and they should slide right out. Enjoy!
Notes
More great recipes at www.thekitchensnob.com