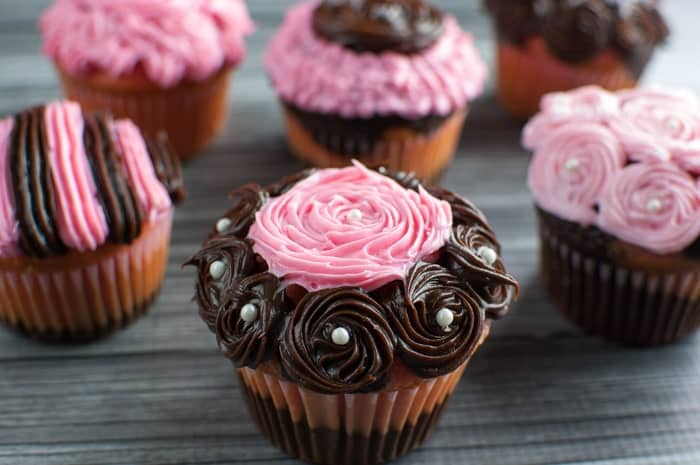 I'm throwing down the cupcake gauntlet.
Who in the heyell do I think I am?
But you guys, it's true. These strawberry fudge swirled and twirled fancy cupcakes, decorated like you mean it, will turn some heads. Jaws will drop. Mouths will drool. It'll be disgusting and you'll love every minute of it.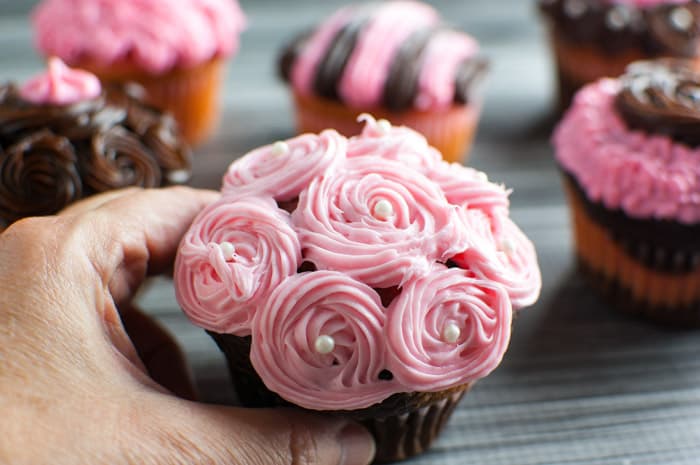 The frosting design is incredibly easy to do, and I'm going to show you how…coming soon in my first video!
You'll get to see this award-winning video filmed on my new iPhone Xs Max because my high tech capabilities are LIT, yo.
I don't think I can pull off LIT. I wanted to try it, it didn't work, let's all just forget this ever happened.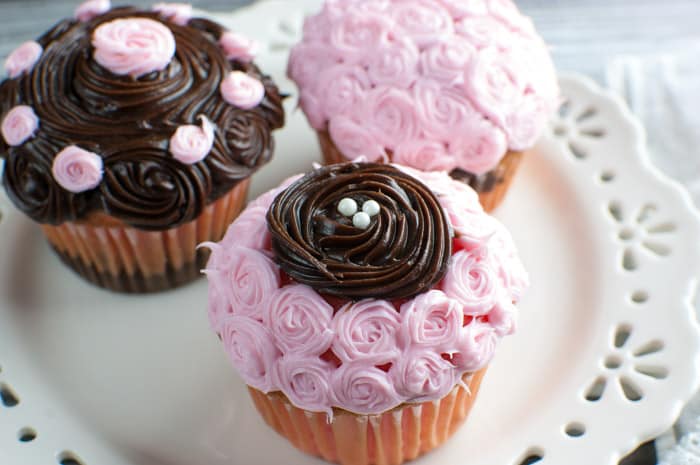 These cupcakes would make great Breast Cancer Awareness cupcakes! A lady stopped me on the street while I was carrying them and she wanted to use them for her BCA event.
Technically, you could do any flavor combination with these fancy cupcakes. But if you trust my snobby perfectionism, you'll trust that these 2 flavors (and brands!) are tried and true and…LIT.
No. Stop trying to make LIT happen.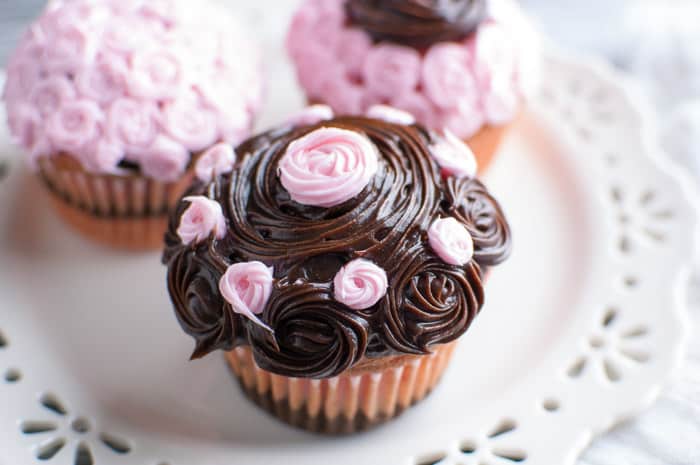 Another perk is that the pink and brown look so pretty together. You can't argue with pink and brown. You just can't.
CONFESSION: Normally my snobby hairs would be standing on their snobby ends for committing this crime, but these cupcakes are NOT from scratch. Send me to the torture chamber!
The easy part of these fancy cupcakes is totally cheating and I won't tell, you won't tell, and once your peeps are shoving these in their faces, they won't tell. The secret (and please don't hate me, just TRUST…) the recipe is made with box cake mix.
What? SHUT UP. Yes. Haters…hold up.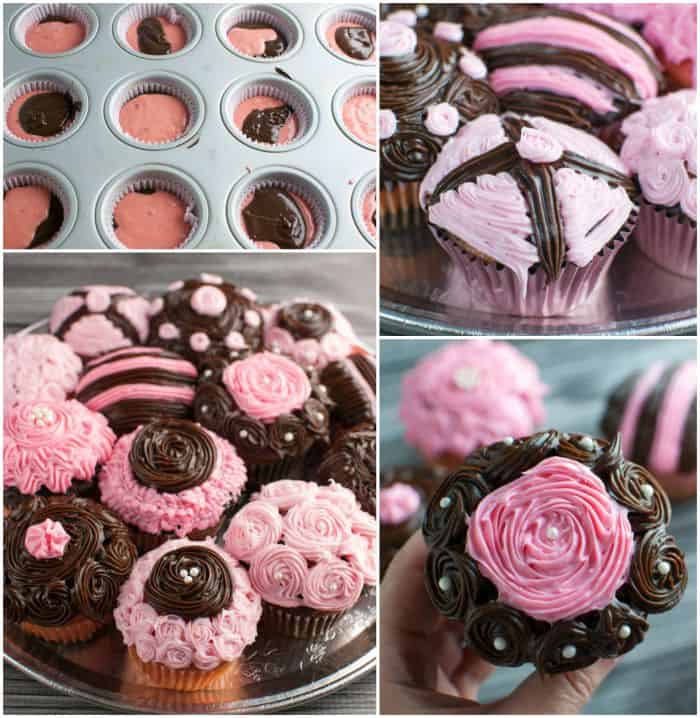 Between the batter swirling and the decorating, you've got enough to do to make these fancy cupcakes.
Who needs "from scratch" stress?
And I'm telling you these 2 cake box flavors taste so good together, people will think these fancy cupcakes are from scratch. Discriminating cupcake munchers, cupcakes foodies, and cake aficionados won't be able to tell. Pinky swear.
Unless you tell them.
I've gotten some very disappointing looks from party-goers who ask me about the recipe and when I tell them, they look at me like I just told them there's no such thing as the Flag Day Fairy. Ohh sorry! You didn't know?
The key to this delicious galaxy, where cake-box-mix cakes taste better than from-scratch cakes, are these two flavors: Duncan Hines® Signature Strawberry Supreme cake and Duncan Hines® Classic Dark Chocolate Fudge cake. Not regular chocolate, not milk chocolate, not Devil's Food, not anything but those two. I only condone this brand and flavor for these particular fancy cupcakes.
Don't break the rules, dammit! Just kidding.
But seriously don't.
This isn't a sponsored post, no one's paying me to say this (but daanng I wish they were), and these are my own opinions.
I also swear by the specific frosting suggestions in the recipe. Duncan Hines doesn't have a "whipped" strawberry frosting, so I use Pillsbury brand for that. I've tried the creamy strawberry frosting and it doesn't go as well with the dark fudge cake, so the "whipped" version is key for the strawberry.
These flavors and brands are the best combinations for turning heads and having party-goers tell you your cupcakes are LIT and then beg you for the recipe.
Just be ready for shocked faces if tell them the earth-shattering truth. This is me giving you permission to act very aloof and mumble something about your great, great grandmother passed this recipe down to you from your ancestors.
Print
The Best Impressive Fancy Cupcakes
---
1

box Duncan Hines® Signature Strawberry Supreme cake mix

1

box Duncan Hines® Classic Dark Chocolate Fudge cake mix

6

large eggs, room temperature

2 cups

lukewarm water, divided

2/3 cup

vegetable oil, divided

2

12 ounce tubs of Duncan Hines® Classic Home-Style Chocolate Frosting

2

12 ounce tubs of Pillsbury™ Whipped Supreme Strawberry Frosting
Pink cupcake liners
Frosting tips and bags (optional)
White pearl nonpareils (optional)
---
Instructions
Preheat oven to 350°F and fill cupcake pan with liners.
In a large bowl, with an electric mixer, mix Chocolate Fudge mix according to package directions and set aside. Rinse chocolate off the beaters. (You'll want to do the next step right away because a mixed cake mix shouldn't sit too long before you use it.)
In another large bowl, mix Strawberry Supreme cake mix according to package directions.
Start to spoon in layers of the strawberry or chocolate into the cupcake liners. I found that the chocolate works best as a top layer but you can do it any way you want. Some cupcakes I did all strawberry and/or all chocolate. Others I dolloped a rotating flavor on top of each other. You can also swirl flavors together (after the batter is in the liner) with a butter knife, but it's not necessary. Don't fill batter completely to the top because the cupcakes will rise and you don't want them to overflow.
Bake cupcakes for 15-18 min. Always check if a toothpick comes out clean after 15 minutes.
Let cupcakes cool in pan for 5-10 minutes before trying to pull them out. Cool completely before frosting.
Notes
TIP: I used 2 cupcakes pans and alternated them while baking, so one was cooling while one was baking.
This recipe makes 48 cupcakes, so you will be making several batches.