These cinnamon muffins are filled with cinnamon chips, a cinnamon and sugar layer baked right in, and finished with a crunchy cinnamon and sugar topping. This crumbly muffin cake goodness is exploding with lots of cinnamon flavor!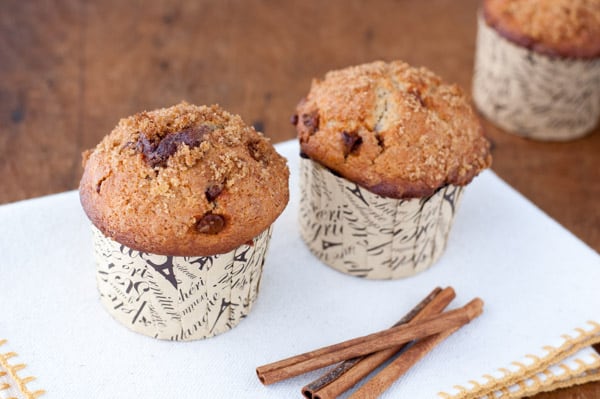 When I lived in PA, I shopped at Wegmans, the greatest grocery store on earth. Let us take a moment to bow our heads in silence because Arizona doesn't have Wegmans. Okay, we're done.
While shopping, I convinced myself that I needed a little treat. Cuz I had earned it, ya know? I'd usually ended up coming home with a giant cinnamon muffin and some fresh squeezed orange juice. Ohh, it was heaven.
There was one small downside to this: I was often running to the grocery store 3-4 times a week. That's a lot of muffins. My pants were getting smaller. Sooo weird.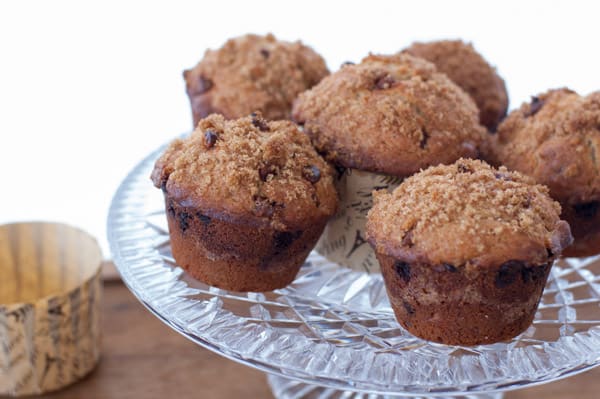 Therefore, it was only natural that I made my own homemade cinnamon muffins for this blog, for the simple reason that I could "taste test" them. I was forced to:
Take a big bite for that tasty looking "money shot"

Continue to take more bites to realllly make sure they're good enough for you guys. (Remember our talk about how I'm kind of a spaz about not posting anything but the best? You thought I was weird, I thought we were bonding.)
Eat one or two more muffins the next day, even though the photo shoot is over. You know, for quality control.

The things I do in the name of food blogging. #SOcommitted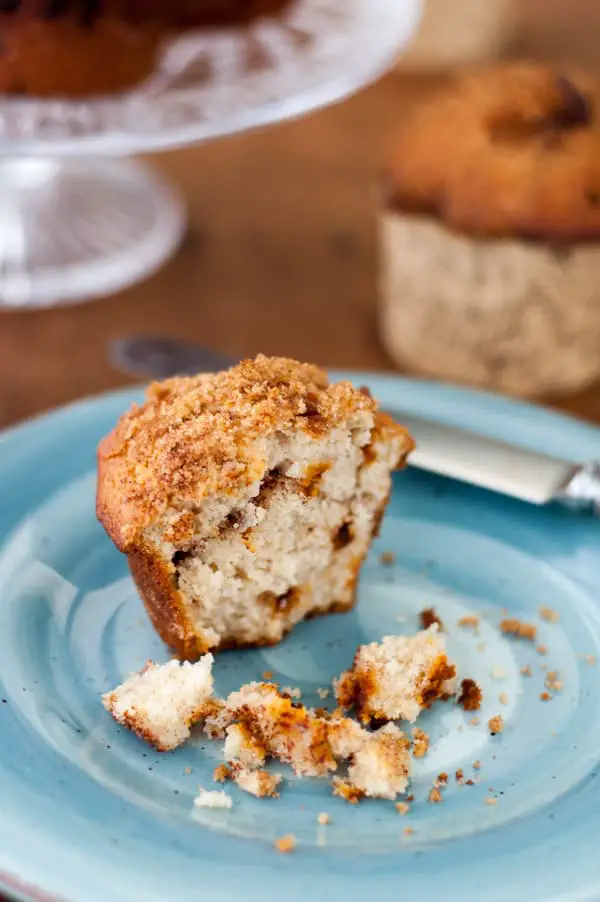 But who can resist those crunchy, but still chewy cinnamon sugar bits on the top? And ohhhh yes –  the cinnamon layer running through the moist middle. [smacks lips] Don't you hate it when people make smacking noises? Me, too. But if they're eating these muffins, I think you should give them a pass.
Is it difficult to make homemade cinnamon muffins?
I'd like to take this moment to quote Martin Luther King, Jr.'s staircase quote. You know the one…
"You don't have to see the whole muffin, just take a handful of raw cinnamon chips straight from the bag and shove them into your mouth."
Oh, is that not how he said it?
No, it's not difficult! But I was no muffin expert. So, I decided to call in the expert, Sally's Baking Addiction. She shares a great Master Muffin Mix recipe that I used for my cinnamon muffins.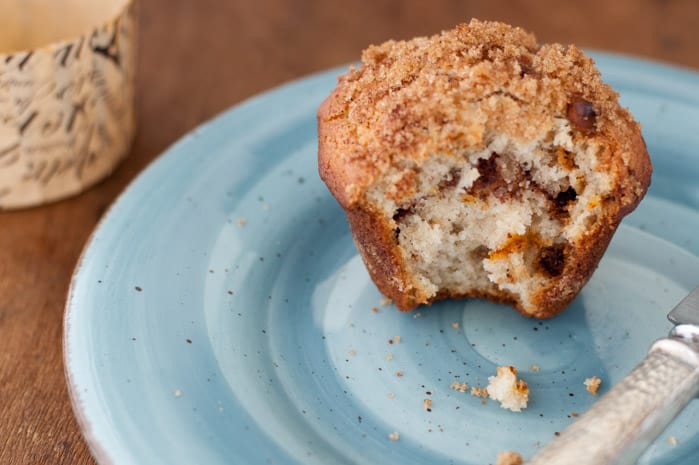 You guys, the baked-in cinnamon layer. I wish I had a better picture, but I think I ate too many before bringing out the camera. You understand.
Here are 2 other muffin recipes you might like to try:
Fall Spiced Cranberry Muffins with Tangerine Glaze
Savory Breakfast Muffins with Sausage, Cheddar & Green Onions
Print
Cinnamon Explosion Muffins
---
3 cups

all-purpose flour

4 teaspoons

baking powder

1/2 teaspoon

salt

1 teaspoon

cinnamon

2

large eggs, at room temperature

1/2 cup

granulated sugar

1/2 cup

packed light brown sugar

1 cup

buttermilk, room temperature

1/2 cup

canola oil

2 teaspoons

vanilla extract

1 1/2 cups

Hershey's cinnamon chips (these can be found at Walmart.com or on Amazon here. Please note that this link is an affiliate link, which means I will earn a small commission if something is ordered at no extra cost to you.)
Cinnamon Layer
1/2 cup

granulated sugar

1 tablespoon

cinnamon
Cinnamon Topping
1/4 cup

packed brown sugar

1/2 teaspoon

cinnamon
---
Instructions
Preheat oven to 425°F. Spray muffin pans with non-stick baking spray and set aside.
In a small bowl, combine ingredients for Cinnamon Swirl and set aside.
In another small bowl, combine ingredients for Cinnamon Topping and set aside.
In large bowl, combine first four ingredients (flour, baking powder, salt, and 1 teaspoon cinnamon). Lightly whisk together and set aside.
In medium bowl, whisk together eggs, 1/2 cup brown sugar, and granulated sugar. Next, whisk in buttermilk, oil, and vanilla.
Slowly fold wet ingredients into flour mixture. Be careful not to over-mix. Batter will be thick and lumpy and, if there are some small dry spots of flour, leave them be.
Fold in 1 1/2 cups cinnamon chips to batter. Again, be careful not to over-mix!
You're going to be filling your muffin pans to the top. But first, fill each cup about half-way with batter. Then, sprinkle about 1-2 heaping teaspoons of Cinnamon Swirl mixture into each cup (over the batter you just put in). Next, fill the cup with the remaining batter. [NOTE: You could make them with 2 layers of cinnamon swirl, by filling the cups 1/3 of the way, add cinnamon swirl mixture, then add more batter, etc.] Just make sure the top layer is the batter.
Once cups are filled with batter, sprinkle the the Cinnamon Topping mixture over the top of the batter.
Bake muffins at 425°F for 5 minutes. Without taking the muffins out of the oven, reduce heat to 375F and bake for an additional 23-26 minutes. Insert a toothpick into center of muffin, if it comes out clean they are done. Allow to cool for 10 minutes before removing from pan.
Tell yourself you deserve to eat several at a time.
Notes
Makes 12 standard size muffins.
More great recipes at www.thekitchensnob.com