Whenever I go to the grocery store, I convince myself that I need a little treat. Cuz I've been so good, ya know? I usually end up coming home with a giant cinnamon muffin and some fresh squeezed orange juice. Ohh, it's heaven.
There's one small negative factor with this: I'm often running to the grocery store, 3-4 times a week. That's a lot o' muffins. The pants – they are seemingly getting smaller. Sooo weird.
Therefore, it was only natural that I make my own homemade cinnamon muffins for the blog, for the simple reason that I could "taste test" them:
Take big bites out of them for tasty looking pictures

Take more bites to realllly make sure they're good enough for you guys. (Remember our talk about how I'm kind of a spaz about not posting anything but the best.)

And eat one or two the next day, even though the photo shoot is over. You know, for quality control.
You gettin' my drift? Yeah. I'm still storing up calories for a long winter's nap.
But who can resist those crunchy, but chewy cinnamon sugar bits on the top? And ohhhh yes –  the cinnamon swirl running through the moist middle. [smacks lips] I'm about to eat another one right now if I don't stop talking about it.
Is it difficult to make homemade cinnamon muffins?
No. But I'm not much of a baker. I'm a wanna-be. I tried to make some blueberry muffins a few months ago. Massive fail! They were like little rocks scones. So I decided to call in the experts – a' la Sally's Baking Addiction. She shares a great Master Muffin Mix recipe that I used for my Cinnamon Explosion Muffins.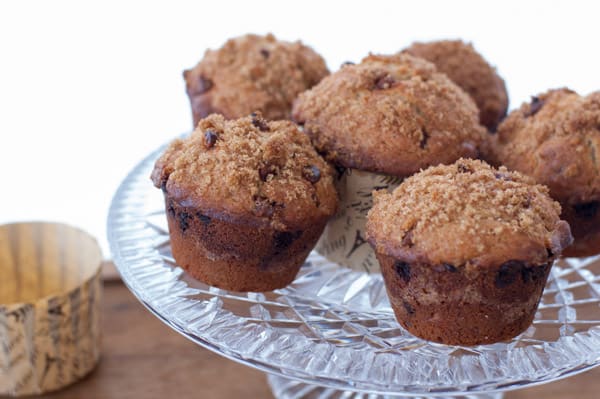 However, I'm still learning. My batter wasn't quite as thick as Sally's. But this didn't seem to affect the taste or the texture. And my pictures were a little rushed – dang tax time! I wanted to show you the cinnamon swirl in these spicy cinnamon muffins, but…well…it didn't happen. So I'll be updating the pictures soon. Which means I'll have to make them again. Oh, darn [squeals with delight].
But I know how important cinnamon muffins can be, so I wasn't going to wait one minute longer to share the recipe with you. It just wouldn't be fair.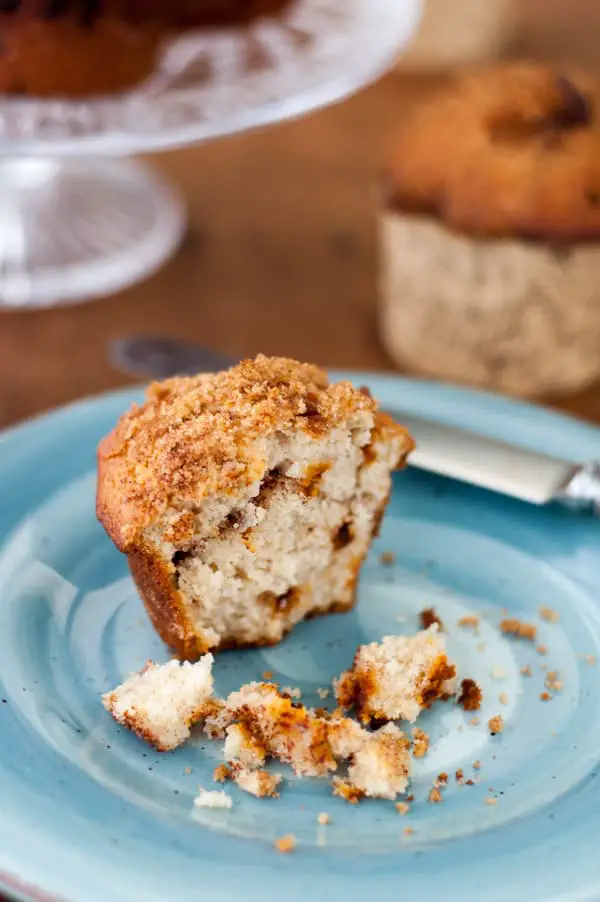 Print
Cinnamon Explosion Muffins
---
Scale
Ingredients
3 cup

s all-purpose flour

4 teaspoon

s baking powder

1/2 teaspoon

salt

1 teaspoon

cinnamon

2

large eggs, at room temperature

1/2 cup

granulated sugar

1/2 cup

packed light brown sugar

1 cup

buttermilk, room temperature

1/2 cup

canola oil

2 teaspoon

s vanilla extract

1 1/2 cup

s cinnamon chips
Cinnamon Swirl
1/2 cup

granulated sugar

1 tablespoon

cinnamon
Cinnamon Topping
1/4 cup

packed brown sugar

1/2 teaspoon

cinnamon
---
Instructions
Preheat oven to 425&#176F. Spray muffin pans with non-stick baking spray and set aside.
In a small bowl, combine ingredients for Cinnamon Swirl and set aside.
In another small bowl, combine ingredients for Cinnamon Topping and set aside.
In large bowl, combine first four ingredients (flour, baking powder, salt, and 1 teaspoon cinnamon). Lightly whisk together and set aside.
In medium bowl, whisk together eggs, 1/2 cup brown sugar, and granulated sugar. Next, whisk in buttermilk, oil, and vanilla.
Slowly fold wet ingredients into flour mixture. Be careful not to over-mix. Batter will be thick and lumpy and, if there are some small dry spots of flour, leave them be.
Fold in 1 1/2 cups cinnamon chips to batter. Again, be careful not to over-mix!
You're going to be filling your muffin pans to the top. But first, fill each cup about half-way with batter. Then, sprinkle about 1-2 heaping teaspoons of Cinnamon Swirl mixture into each cup (over the batter you just put in). Next, fill the cup with the remaining batter. [NOTE: You could make them with 2 layers of cinnamon swirl, by filling the cups 1/3 of the way, add cinnamon swirl mixture, then add more batter, etc.] Just make sure the top layer is the batter.
Once cups are filled with batter, sprinkle the the Cinnamon Topping mixture over the top of the batter.
Bake muffins at 425F for 5 minutes. Without taking the muffins out of the oven, reduce heat to 375F and bake for an additional 23-26 minutes. Insert a toothpick into center of muffin, if it comes out clean they are done. Allow to cool for 10 minutes before removing from pan.
Tell yourself you deserve to eat several at a time.
---
Notes
Makes 12 standard size muffins.
More great recipes at www.thekitchensnob.com