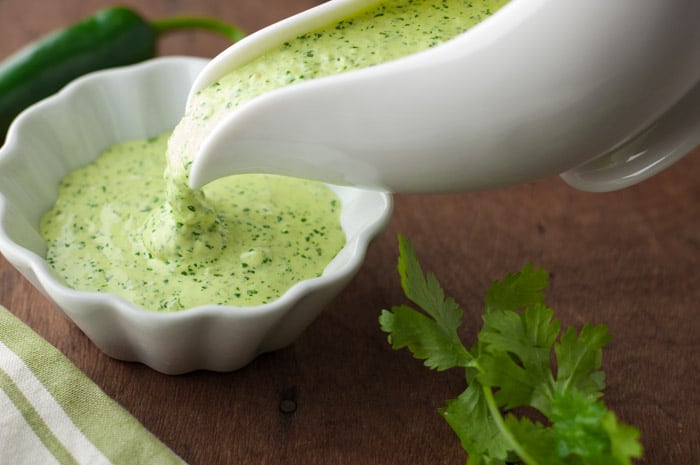 If you've never tried Peruvian Green Sauce, you're about have your socks blown off. Peruvian food is one of my favorite cuisines. Its fusion flavors are all about spice and big flavor.
The immigrants that migrated to Peru from various European and Asian countries didn't have familiar ingredients to cook with, so they modified the recipes from their home country by using ingredients that were available to them. And someone, somewhere, came up with this fantastic Peruvian Green Sauce recipe and the people of Peru were so impressed, they now pray to the green sauce creator.
Nah, but they should.
Many years later, a food snob was born and put this Peruvian Green Sauce on her blog. The post went viral. She was featured on The Chew, got a cookbook deal, and turned millions of people into Peru-lovers. She never forgot the little people and cried about it in her acceptance speech at some big award show that is bigger than the Oscars.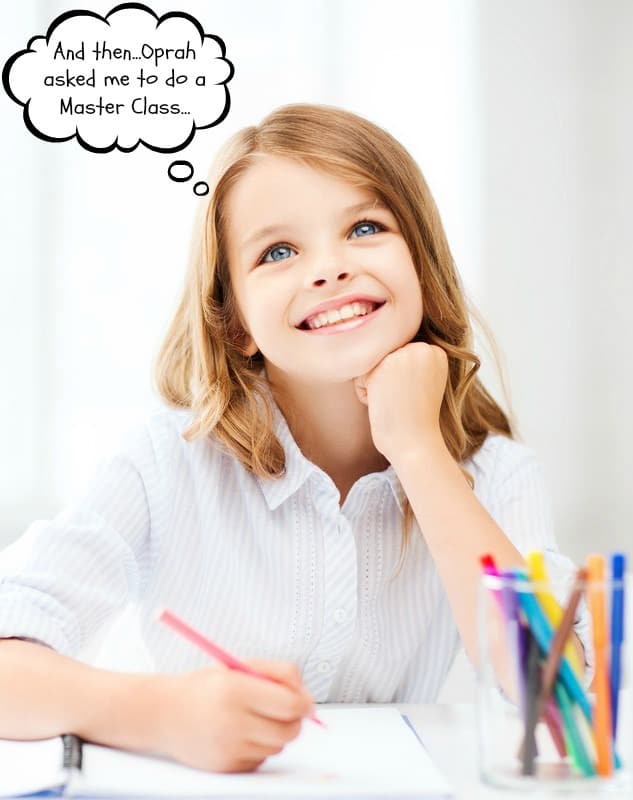 It could happen.
Just like it could happen that you and I could come together on some political issues.
No seriously. For realsies. Just go with it.
No matter what your political position is, you gotta admit, when it comes to food, the culinary results of immigration are down right delicious.
You can't argue with food logic. ?
How do you use Peruvian Green Sauce?
Peruvian Green Sauce is considered a condiment in the same way Salsa Criolla is. You can add it to steak, chicken, rice – you name it. You drizzle this green sauce of the gods on everything. In Peruvian restaurants in North America, the sauce is placed on every tabletop, as if it were the salt and pepper.
Peruvian Green Sauce (also known as Aji Verde sauce) is also great for dipping. Hello fries. Hi there, veggies. Pringles? Now you're thinkin.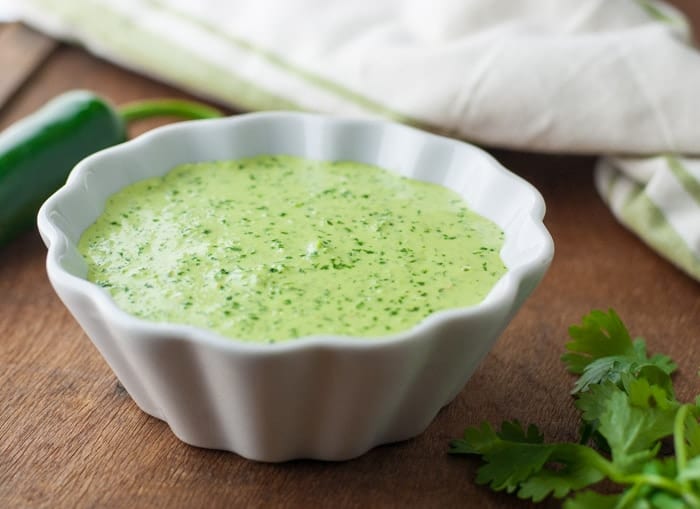 I slightly tweaked this recipe from Serious Eats by adding some extra lime because I can never get enough lime.
There are many variations of this recipe out there. Some don't include mayo, some use lettuce. This version is spicy hot and and will light your lips on fire!
It's not that hot, but a little goes a long way. If you prefer something milder, here are some alterations:
Even though I used 2 jalapenos, I'm 50% wuss, so I took out about 1/2 of the seeds and ribs. It was still pretty spicy. You could also only use 1 jalapeno instead of 2. That will give you mellow version that will still have a bit of a kick. I tried it with 1 jalapeno and didn't think there was enough flavor.
You gotta try this sauce with one of my newest recipes Lomo Saltado!  It's a Peruvian stir-fry that tastes great with this sauce on it. Add a little Salsa Criolla and you'll be good to go!
Welcome to my Peruvian world.
Print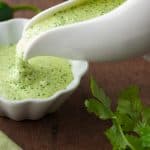 Peruvian Green Sauce
---
2

jalapenos, including seeds & ribs, cut into large chunks (for a milder version you can take out some seeds or use

1

jalapeno)

1 tablespoon

Aji Amarillo paste (I used Goya brand)

1 cup

packed fresh cilantro leaves

2 tablespoons

Cotija cheese (can substitute Parmesan cheese)

1 teaspoon

fresh minced garlic

1 tablespoon

vegetable oil

1 teaspoon

white vinegar (white wine vinegar is fine)

2

–

3

teaspoons freshly squeezed lime juice

1/2 cup

mayonnaise

1/4 teaspoon

salt

20

turns freshly ground black pepper
---
Instructions
Put all ingredients in a food processor or blender and puree together.
Taste to see if it needs more salt or more lime.
Keeps in fridge up to 1 week.
Notes
More great recipes at www.thekitchensnob.com