This moist pumpkin banana bread is spiced perfectly with ginger, nutmeg, allspice, and cloves and covered in a decadent cinnamon glaze. This recipe has that wow factor that's perfect for holiday gatherings. My favorite part is the surprise cinnamon and sugar layer in the middle!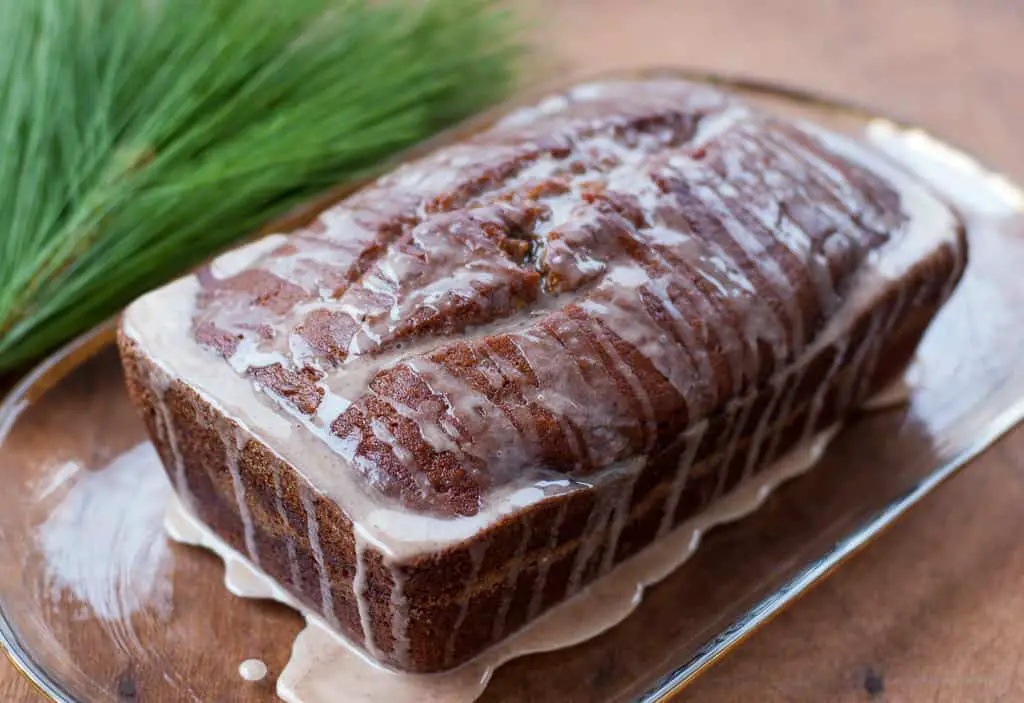 Because I'm not a fan of bananas, I'll eat a banana only under the following circumstances:
I'm about to pass out from a sugar crash

A nuclear war develops and the looters take everything but the bananas

I feel like I'm going to die of starvation, and my mom happens to have one in her purse

If I'm eating this incredible pumpkin banana bread
It's filled with a surprise cinnamon and sugar layer and then doused in a spicy cinnamon glaze. (You can see in the first pic, I went a little crazy with the glaze. You would too if you had a bowl of cinnamon glaze and were left unsupervised.)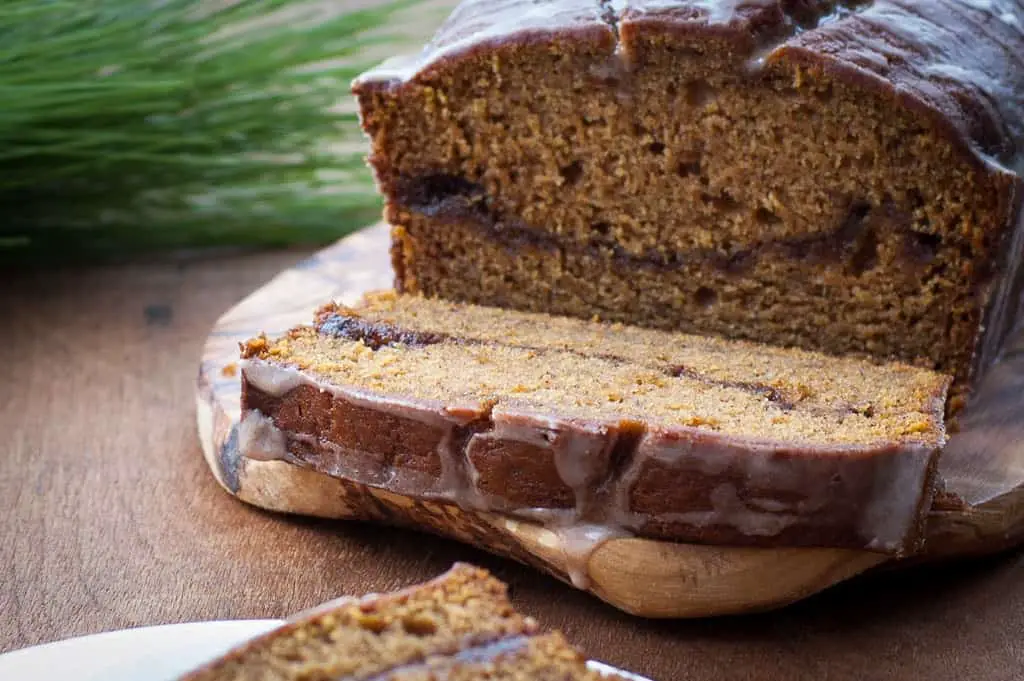 Okay so the cinnamon glaze is calling your name, right? It's amazing. I'm bragging. Deal with it.
The added cinnamon & sugar layer inside is just going overboard but a snob has standards.
But ya wanna know the best thing about this pumpkin bread? The spices! Should I call this spicypalooza bread?
Please don't delete me.
EXTRA SPICES + GLAZE  + HOLIDAY GATHERINGS = PHRASES BELOW
"Is there more?"
"Who made this?"
"Can I have the recipe?"
"This is the best pumpkin bread I've ever had!"
You're gonna be happy. Bland pumpkin banana bread is yesterday's news.
What to add to pumpkin banana bread?
They always say, if it ain't broke, don't fix it. And this recipe ain't broke. But if you're feeling adventurous, some ideas are:
Toasted pecans, chopped
Toasted walnuts, chopped
Dried cranberries, or other fruits
Chocolate chips or chunks
Can I use this recipe for muffins or a bundt cake?
Yes!
For muffins, cook for maybe 15-18 minutes, or until a toothpick comes out clean
For a bundt pan, you'd want to double the recipe, but just don't overfill your pan. You may need to leave some batter behind (or use the extra batter for a few extra muffins!)
How to Make Pumpkin Banana Bread
First, you'll need some stuff. Don't worry if you don't have cardamom – it's optional. This recipe has no butter. So it's mostly calorie free. Sort of. Okay, -5 calories.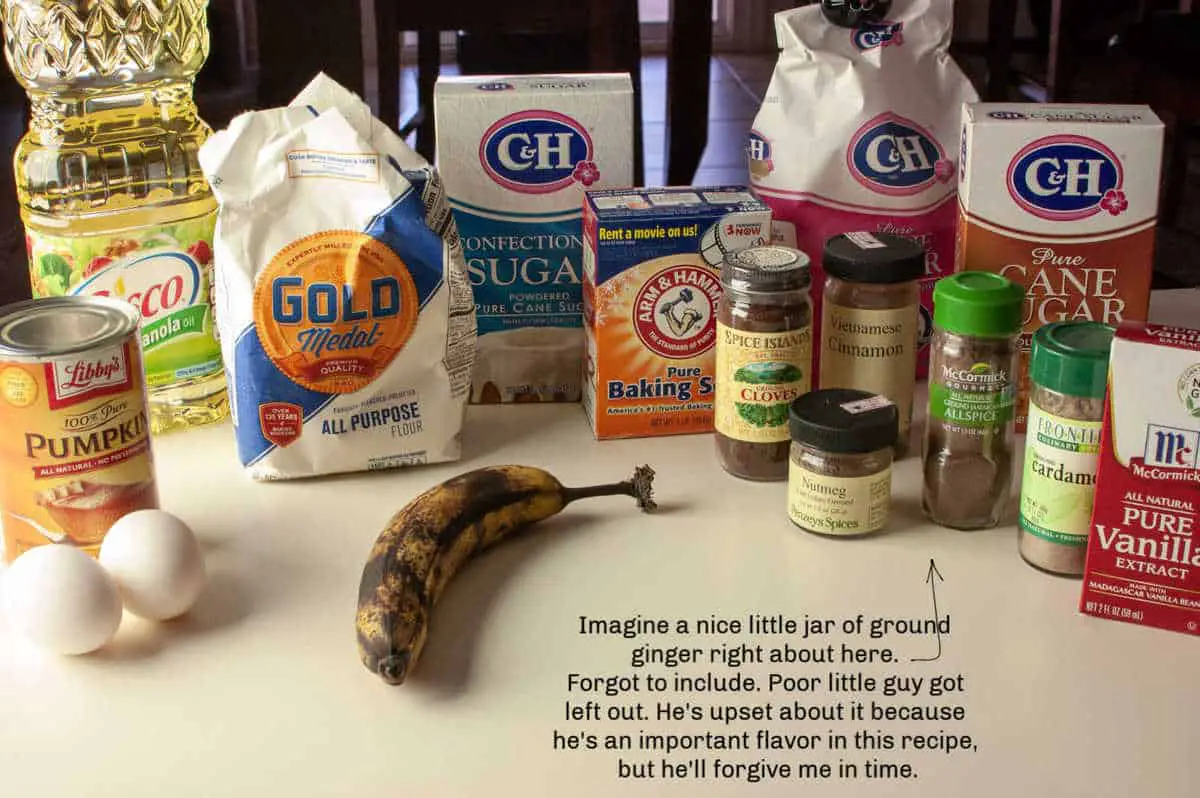 First, you're going to measure out your dry ingredients and you'll soon be an expert on the spoon & level method.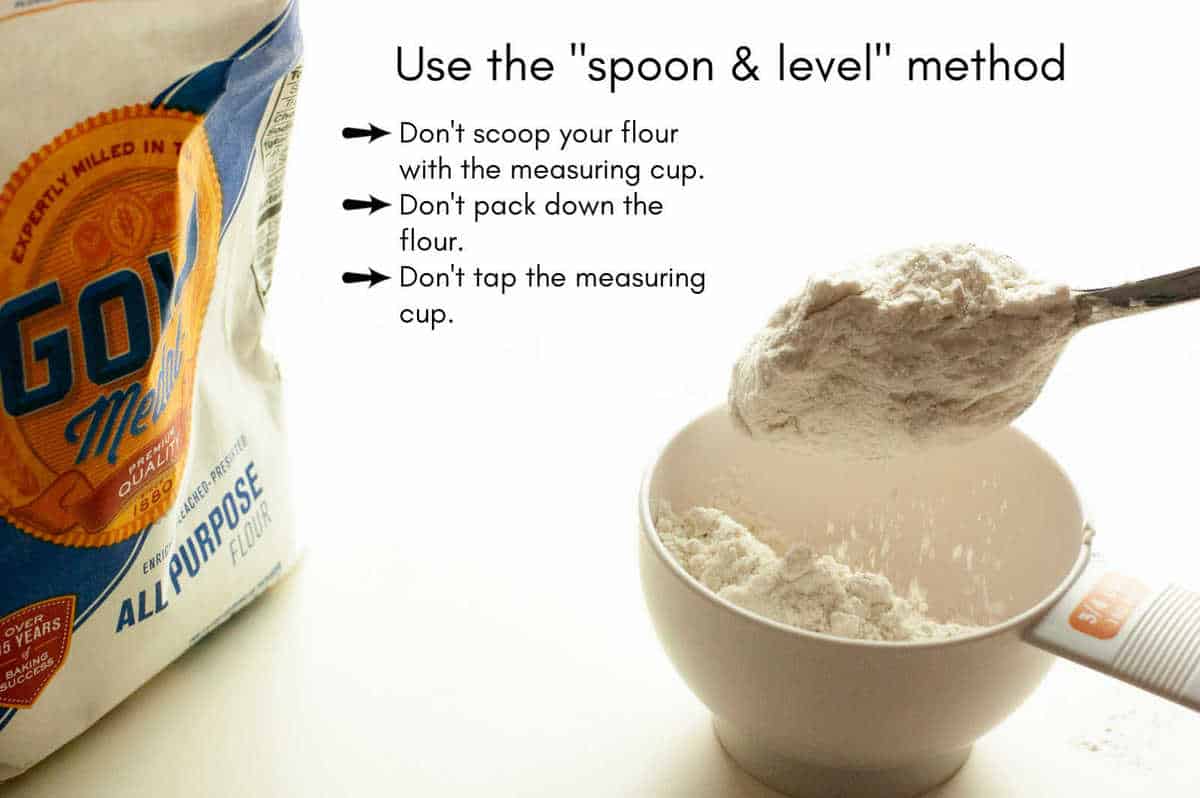 If you scoop the flour out of the bag with your measuring cup, it packs down the flour, resulting in a lot more flour than you need. You don't want the baked bread to be dense.
Use a spoon to scoop the flour out of the bag and drop it into your measuring cup like a baking boss.
Overfill the cup a little. Then take the back side of a butter knife and level it off.
Then, let's sift the dry ingredients. I love sifting. Don't you love the cchh ccch chhh noise the sifter makes? It's so disco. I don't know what that means but it sounds super fetch, right?
Why do you need to sift the flour?
Sifting flour with your dry ingredients makes it easier to mix into other ingredients. It aerates the flour and gets rid of the lumps.
If you don't have a sifter, you can use a very fine strainer like the one above. Just bang it against your hand into the bowl.
If you have neither, don't stress. Just be a rebel and go unsifted. I won't tell.
Then you're going to add your spices to the flour. The cinnamon, the nutmeg, blah blah blah spices blah blah and whisk them all together like you totally know what you're doing.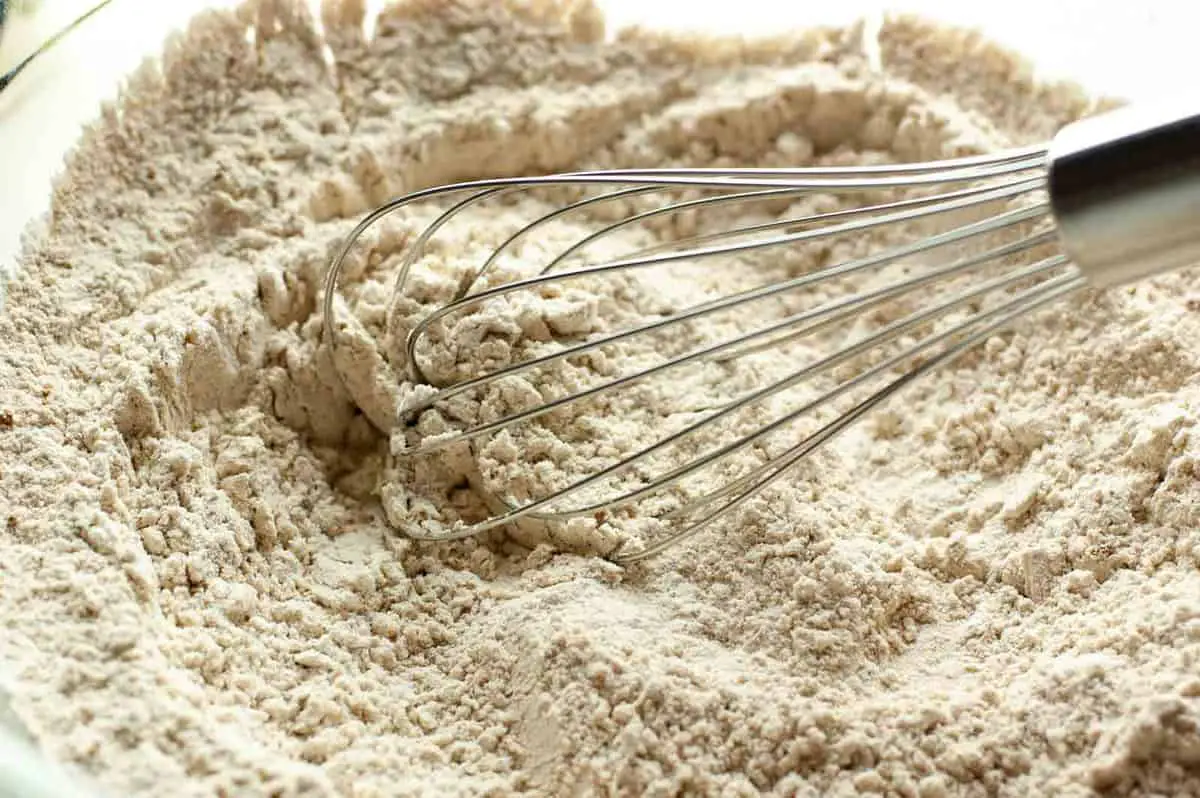 In a separate bowl, you're going to mash up your banana, which I didn't get a picture of because of the violence. #bananalivesmatter
Mix the banana, canned pumpkin and the eggs.
Then, mix the brown sugar and the regular ol sugar with the pumpkin mix. Yum. Things are starting to look like this will turn out.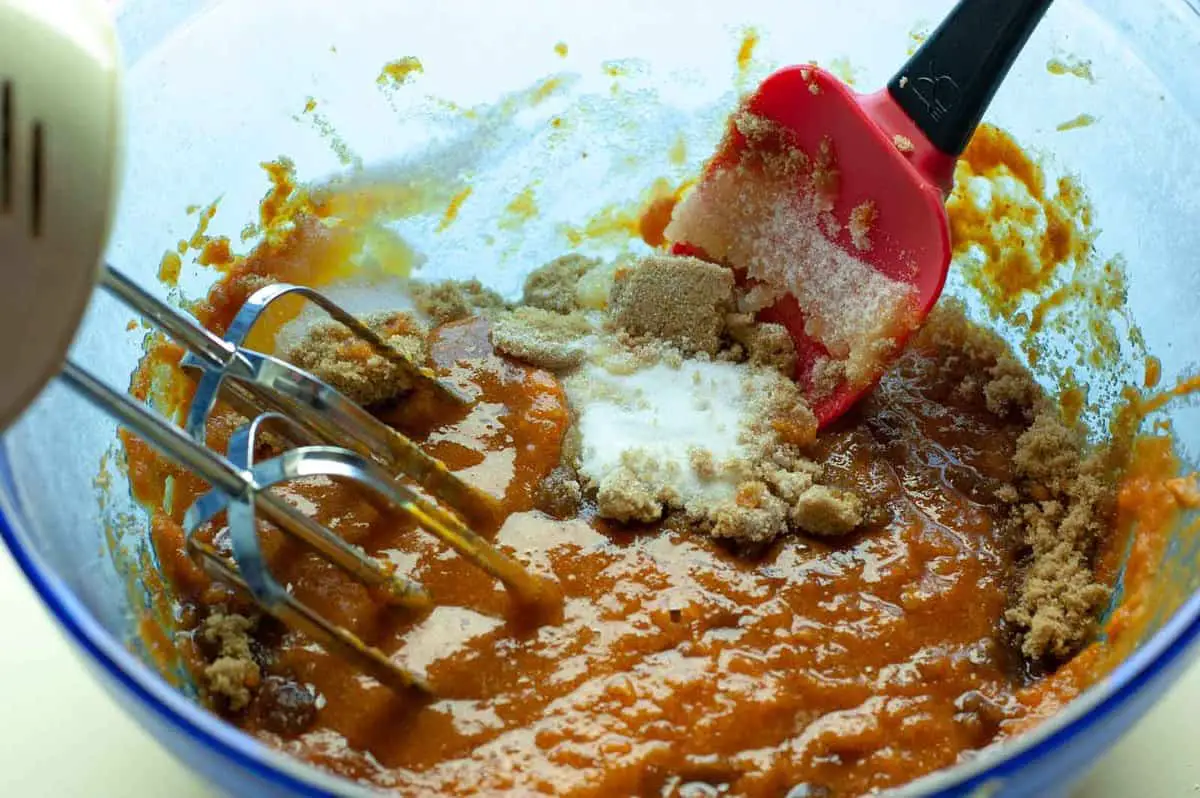 Add the vanilla, oil, and water. You're getting the hang of it.
Then, this is the good part! Slowly add the flour to the wet pumpkin mix. By slowly, I mean maybe a 1/2 cup at a time. It doesn't have to be exact. Wing it, baby. Pour a little. Beat a little. Repeat until it's all incorporated. And this gets confusing: don't over mix. Don't you hate that? Like which is it?
All I'm saying is, don't get crazy. Once it's mixed, stop.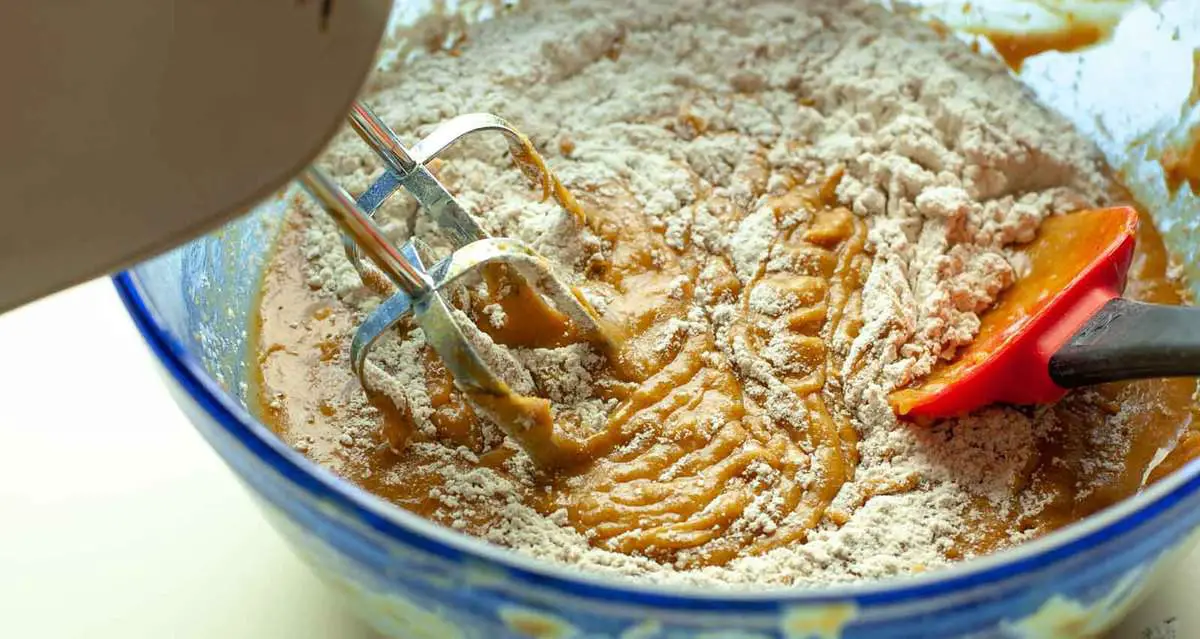 Do you smell that? It's the crazy amount of spices in there. Thank your local kitchen snob for making sure this pumpkin banana bread is anything but bland.
Next, get ready. You want to move sort of quickly on these next steps. I've found that when you put any quick bread mix into the pan, you want to get it into the oven as soon as possible because if it sits too long, the final crumb texture isn't as good as it could be. It settles or something. <– technical baking lingo
So, pour half of your batter into a 6 x 9 loaf pan that you've already sprayed with nonstick baking spray.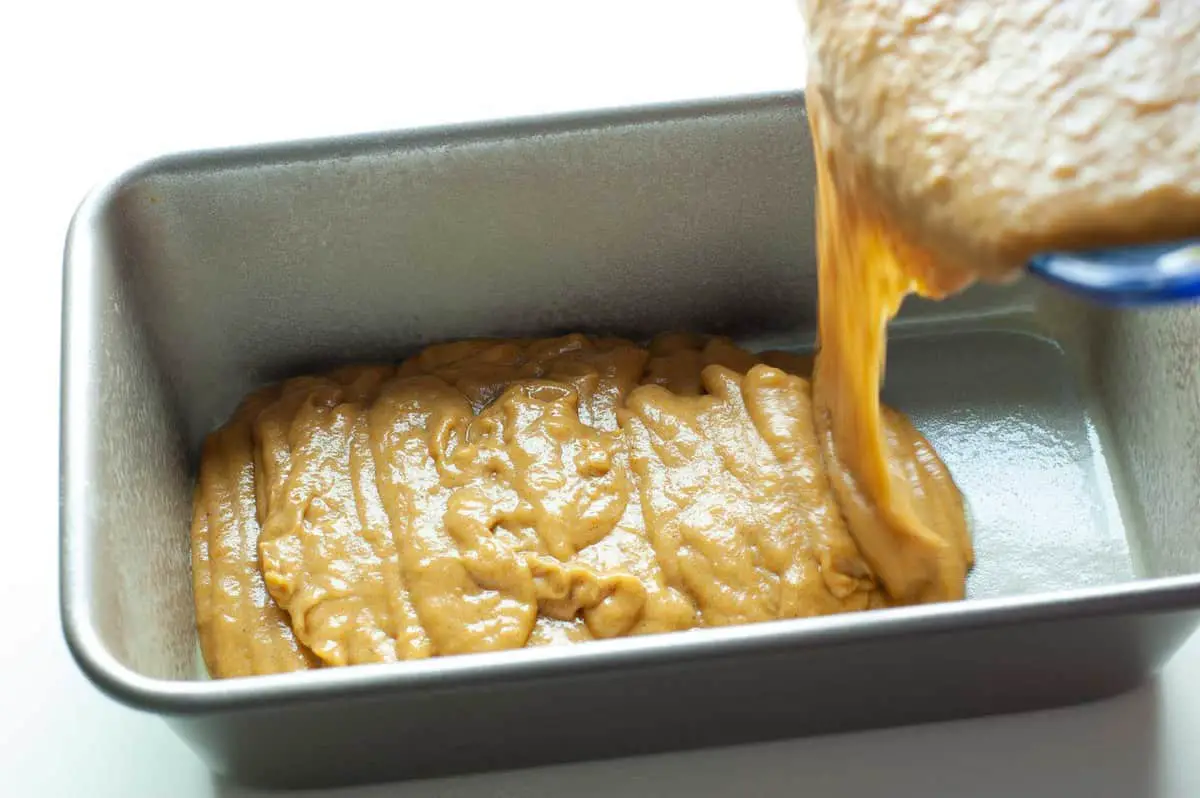 Then you're going to sprinkle (who are we kidding, pour) your cinnamon and sugar mixture over the top. Damn, girl. Boy. You know who you are.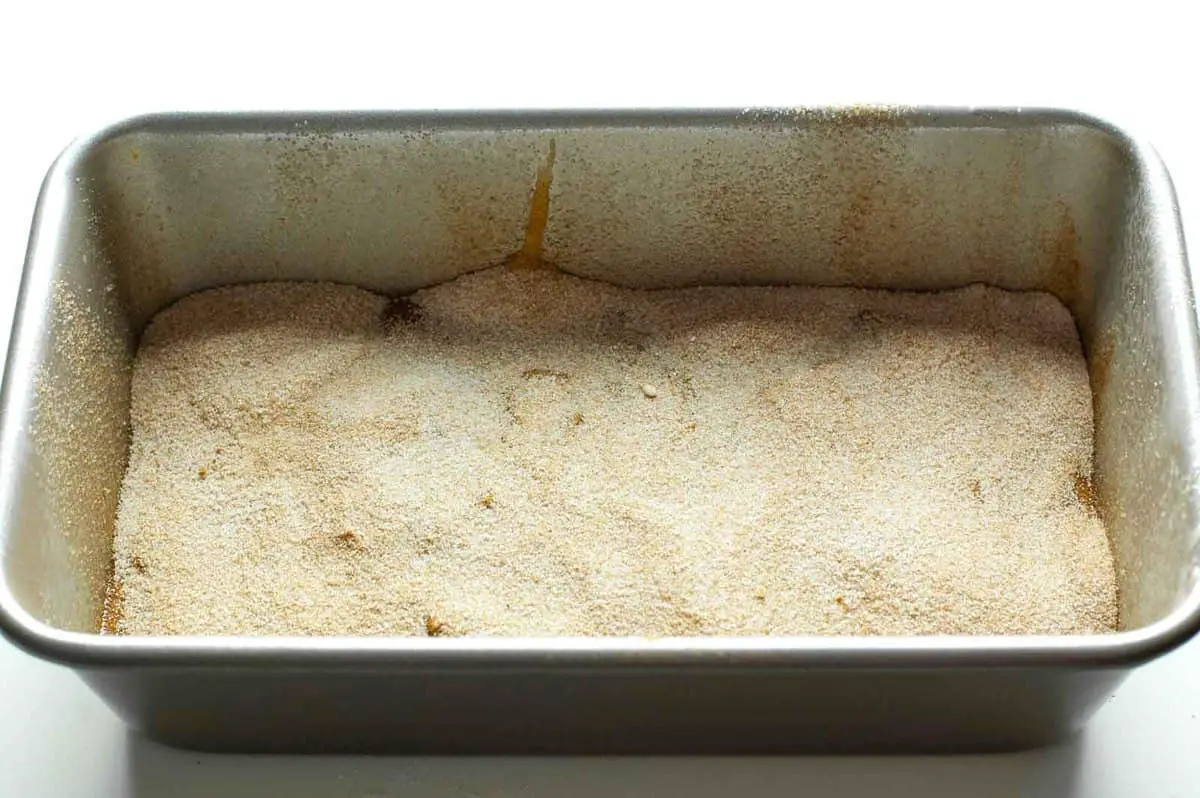 Then pour the rest of your batter on top and you're ready to put it in the oven. You did set your oven temp, right? Yeah, you got this.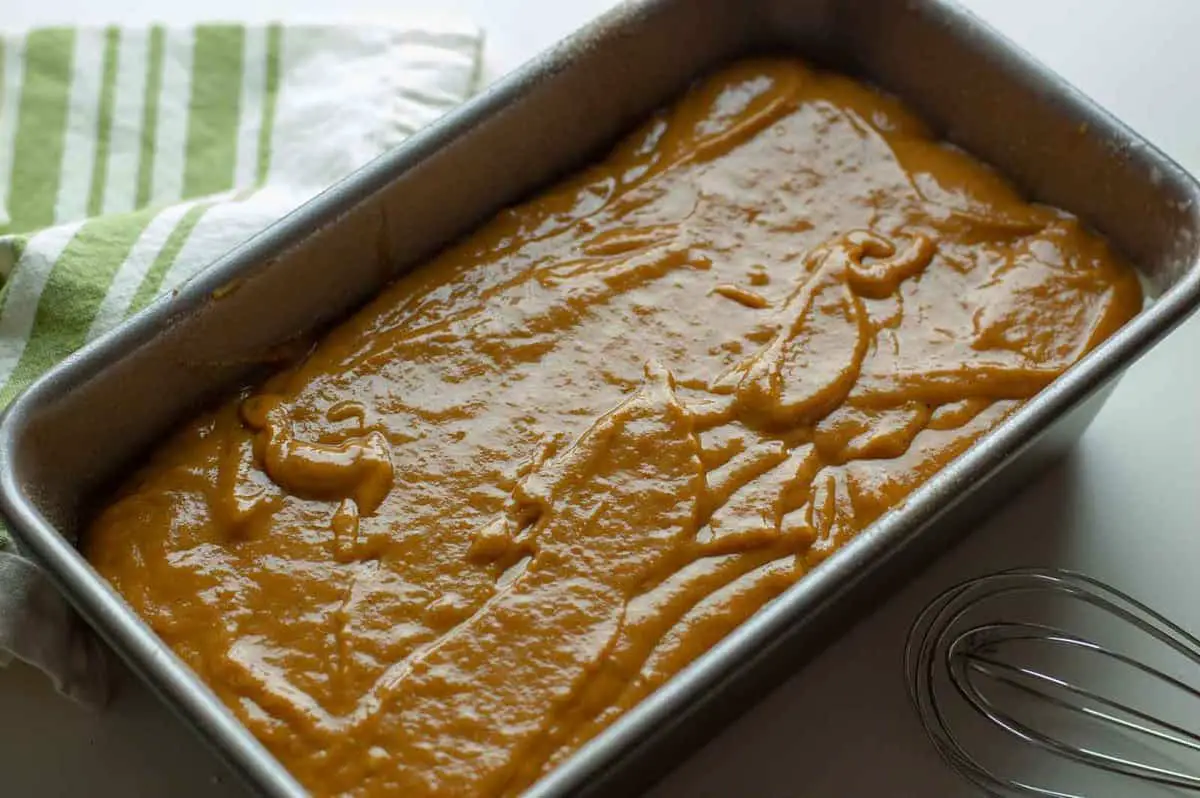 Bake for 60-70 minutes and then pace around aimlessly while you wait for it to cool.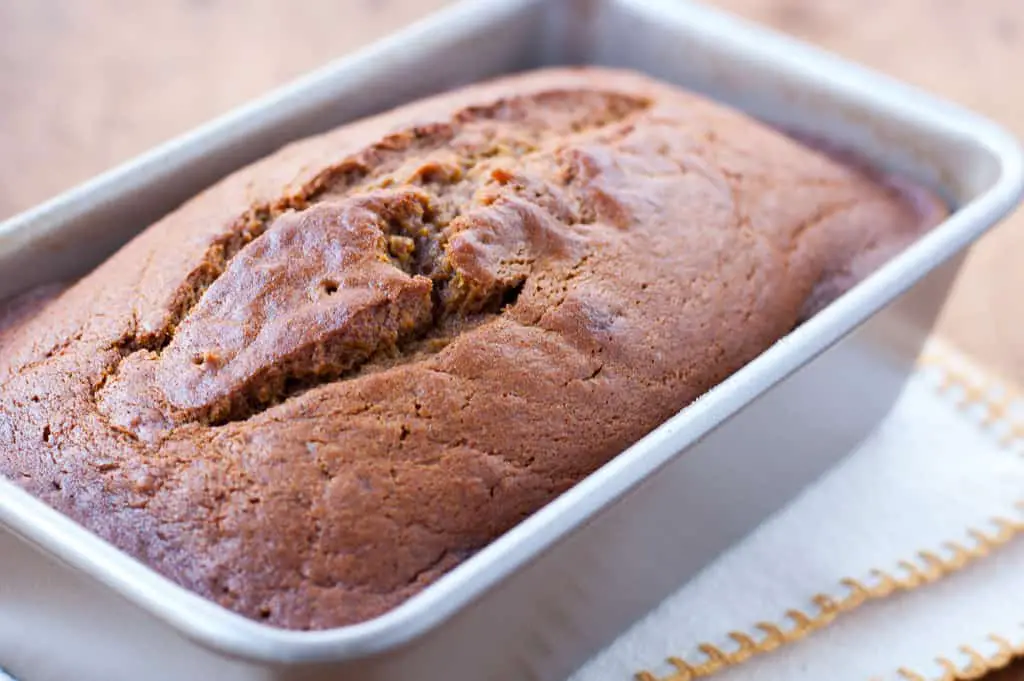 That's heaven.
After about 15 minutes, take it out of the loaf pan and put it onto whatever you're serving it on and let it cool all the way. Do some laundry. Surf Netflix and add random documentaries to your watch list that you'll never feel like watching.
Once cooled completely, mix up your cinnamon glaze and drizzle on top.
This is a great recipe to make for the holidays or when you want to bring a special homemade treat to your coworkers. Warning: if you're not a people person, you might want to avoid making this for large gatherings. You might be stalked for the recipe. It'll be anarchy! You don't need that kind of stress right now.
Print
Pumpkin Banana Bread With Cinnamon Glaze
---
Description
This easy pumpkin banana bread is super flavorful and topped with a spicy cinnamon glaze. It's a hit with everyone who tries it!
---
1 3/4 cup

flour

1 teaspoon

baking soda

3/4 teaspoon

salt

1 tablespoon

ground cinnamon, I used Penzey's Vietnamese cinnamon

1 1/2 teaspoons

ground ginger

1 teaspoon

ground nutmeg

3/8 teaspoon

allspice

3/8 teaspoon

ground cloves
pinch of cardamom (optional)

2

eggs, room temperature

8 oz

of canned pumpkin (

1 cup

or about 1/2 of

15 oz

can). I used Libby's brand.

1 cup

granulated sugar

1/2 cup

packed brown sugar

1/2 teaspoon

vanilla extract

1/2 cup

canola oil

1/3 cup

water

1

very ripe banana, peeled and mashed
Cinnamon Layer
1/4 cup

granulated sugar

1 1/2 teaspoons

ground cinnamon
Cinnamon Glaze
1 cup

powdered sugar

3/4 teaspoon

ground cinnamon

1/2 teaspoon

vanilla extract

1

–

2

tablespoons milk
---
Instructions
Preheat oven to 350° and spray a 9×5 loaf pan with baking spray. Set aside.
In medium bowl, sift together flour, baking soda, salt.
Add cinnamon, ginger, nutmeg, allspice, cloves, and cardamom to flour mixture and whisk together until blended. Set aside.
In small bowl, mix cinnamon layer mixture and set aside.
In large bowl, beat together eggs, pumpkin, and banana.
Add both sugars and beat until blended.
Add vanilla, oil, and water and mix together.
Slowly add flour mixture and beat with electric beater until smooth.
Pour half of bread batter into the pan. Sprinkle cinnamon swirl mix over bread mixture. Try to get an even coating over the batter.
Pour remaining batter into the loaf pan, completely covering cinnamon layer mixture.
Bake for 1 hour, or until toothpick comes out clean. (Mine took an extra 10 minutes)
Cool in pan for 15 minutes. Remove from pan and cool completely.
Whisk together ingredients for glaze and drizzle over top of bread.
Try to only eat one piece at a time!
Notes
Makes one 9×5 loaf of bread.
If you've printed this recipe, be sure to check the recipe on https://www.thekitchensnob.com/pumpkin-banana-bread for step-by-step pictures!
More great recipes at www.thekitchensnob.com
Prep Time:

15 min

Cook Time:

1 hour

Category:

dessert

Cuisine:

American
Keywords: Thanksgiving recipes, pumpkin, quick bread
Looking for additional holiday dessert recipes? Try these: