This no-bake chocolate lasagna recipe is super easy to make! It's basically an Oreo cookie crust, layered with cream cheese, chocolate pudding, Cool Whip whipped topping, and mini chocolate chips.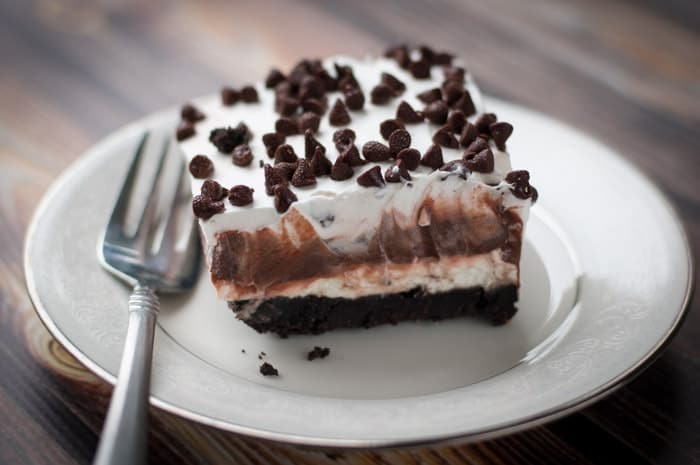 Who invented this? Seriously, people. What will the Italians think of next? Fine, it's not Italian. But doesn't it make you want to eat this while skipping through one of Tuscany's fields of sunflowers? The Under the Tuscan Sun soundtrack playing while your hair flies behind you in slow motion.
Okay, just me then?
Lately, I've been thinking a lot about my eating habits and know I need to make some drastic changes. I've never been really disciplined when it comes to healthy eating.
Chocolate cake has sabotaged my efforts many times. Oh yeah right. Like it's my fault. That's right. I refuse to take responsibility for it. There isn't a soul alive who can resist chocolate cake's charm. Okay, maybe Spider-Man. But only because he's got that cloth over his mouth.
Candy, that no-good-jerky-fake-friend, has gotten me into trouble many times. You know those "friends"? You totally get me.
And bread and I are in a co-dependent relationship. We've had some good times. [starts to daydream]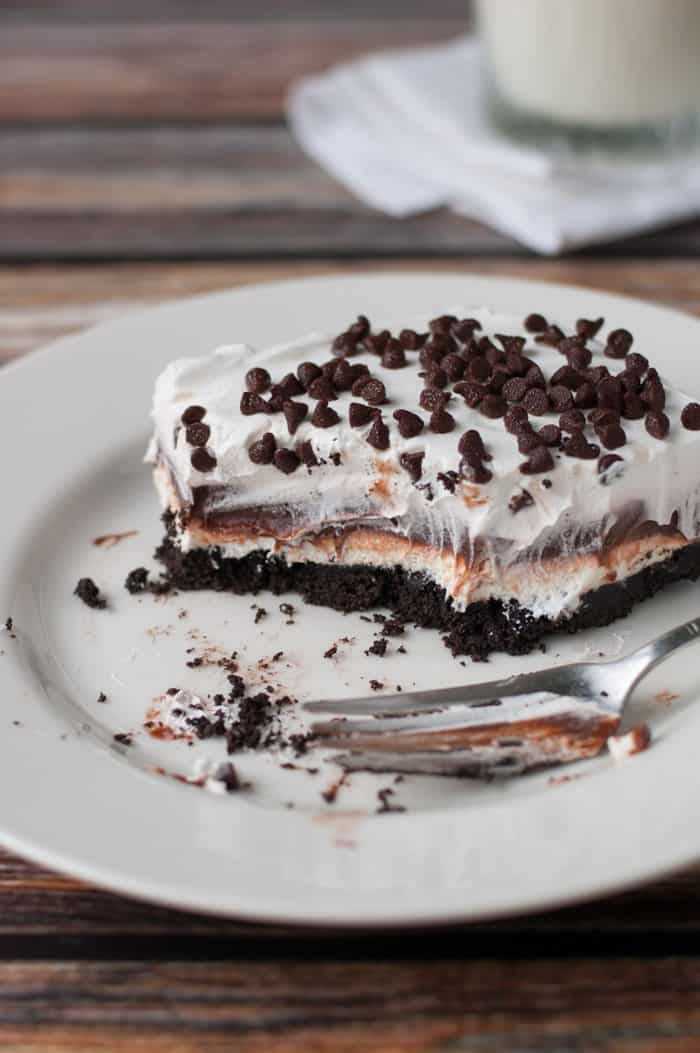 So I've been doing some research on health and have started to plan my own intervention. The element of surprise will be key here. Because if I know my "other personality" is going to corner me to discuss nutrition – I'm totally outta there.
The diet intervention. It's happening. Soooon.
But only after this chocolate lasagna. It's the bad boy of desserts and I'm feeling adventurous.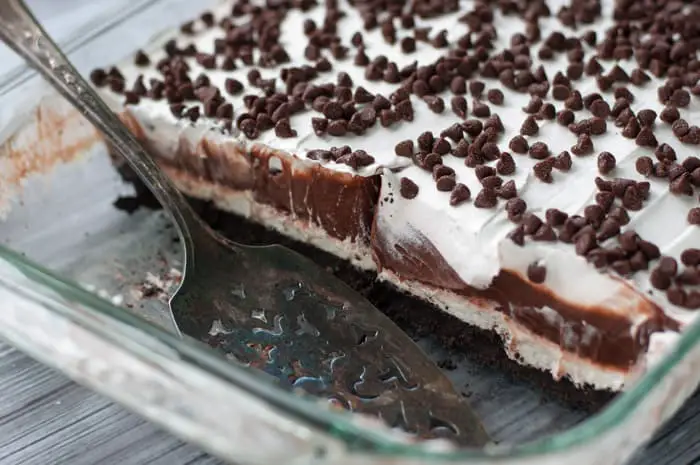 Who can resist creamy layers of chocolate pudding, sweet cream cheese, whip cream, and a crunchy Oreo cookie crust?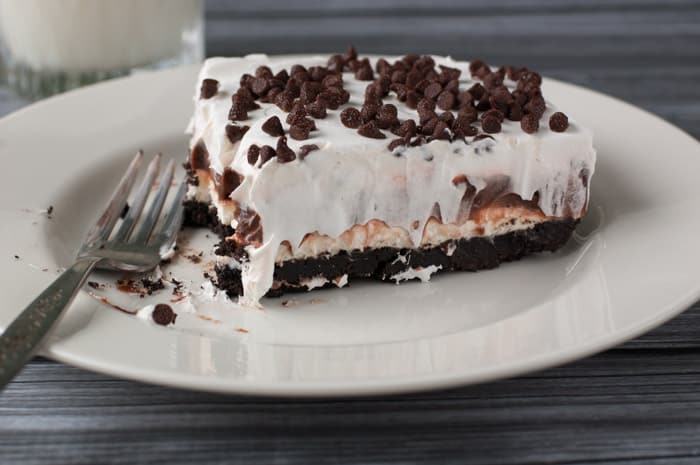 Not me! It makes perfect sense to go hog wild and whip up this fun dessert. Wouldn't you? It's totally the next logical thing to do.
A true addict at work here: a last ditch effort to rebel against dietary restrictions. It'll be my last dessert. Until I can curb my "problems".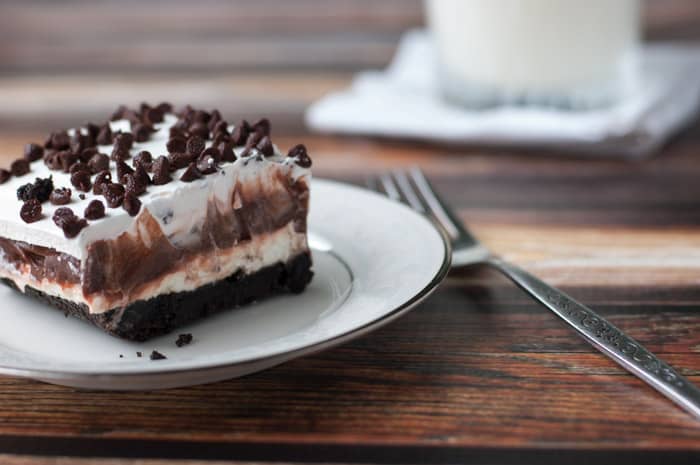 Won't you join me? Let's be bad together!
Come on, just one bite isn't gonna hurt ya. [peer pressure, peer pressure]
Print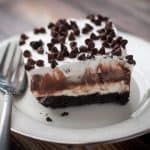 Chocolate Lasagna
---
36

Oreo cookies (regular, not double stuffed)

6 tablespoons

butter, melted

8 oz

cream cheese, softened

1/4 cup

granulated sugar

3 1/4 cups

cold milk, plus 2 tablespoons, divided

12 oz

tub Cool Whip, divided

2

–

3.9

oz packages chocolate instant pudding mix

1/2 cup

mini chocolate chips
---
Instructions
In a large food processor, crush Oreo cookies into fine crumbs. Make sure there are no large chunks left.
In a medium bowl, mix melted butter into cookie crumbs using a fork. When the butter is thoroughly mixed in, transfer it to a 9 x 13 inch baking dish. Using a spatula, press the crumbs down into the bottom of the baking dish as evenly as possible. Put baking dish in refrigerator while you work on the next step.
In a medium bowl, mix the cream cheese with an electric beater until fluffy. Add the 2 tablespoons of cold milk and sugar and mix well. With large spoon or spatula, mix in 1 1/4 cups of the Cool Whip until combined. Spread cream cheese mixture over cookie crust. Return baking dish to refrigerator and let chill for 10 minutes.
In a large bowl, mix together chocolate instant pudding and 3 1/4 cups cold milk with electric beater or whisk until the pudding starts to thicken. Spread the pudding over the cream cheese layer. Return baking dish to refrigerator and let chill for 10 more minutes.
Have a seat on your couch and dream of how delicious this heavenly dessert is going to be. Start to drool.
Spread remaining Cool Whip over the pudding layer and sprinkle mini chocolate chips over the top. (Feel free to use more than 1/2 cup of the chocolate chips if you want more!)
Chill in fridge for 4 hours or freezer for 1 hour.
Notes
More great recipes at www.thekitchensnob.com
Prep Time:

35 min

Category:

Dessert

Cuisine:

American
Looking for holiday recipes? Try these links from The Kitchen Snob: