I love me some mashed potatoes. I've made super duper delicious husband-requested mashed potatoes and I've made so-so mashed potatoes. It happens. Made them with garlic. Without. Repeat.
I decided to mix things up a little bit with this caramelized shallot mashed potato recipe. And right now I'm looking for any excuse to caramelize shallots. Have you had them? Puhlease – you need to.
Caramelized shallot potato chips anyone? Whoa. I think I just invented the next Lay's flavor.
Lay's: If you're reading this, I only require minimal compensation and royalties for my genius idea. Thank you.
How My Caramelized Shallot Mashed Potato Recipe Was Born
I recently tried my first recipe with caramelized shallots (a yummy pasta dish from Rachael Ray) and feel embarrassed that this was the first time I'd attempted to make them. It was really easy. But really slow. You do have to have some patience (at least 30 minutes) but I think the flavor is totally worth it.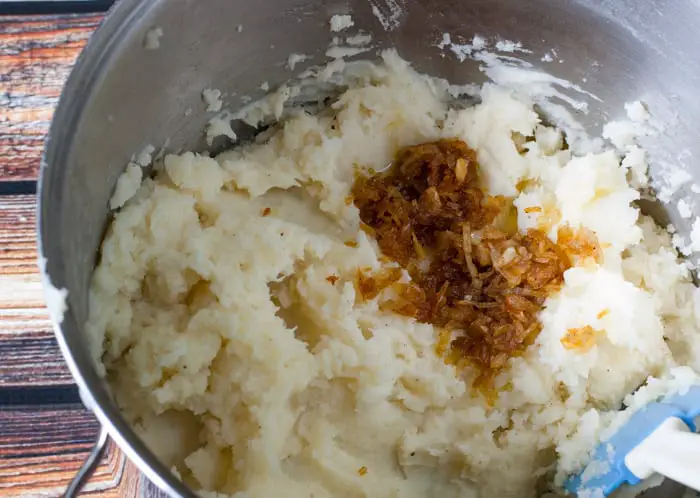 This mashed potato recipe is super yummy. The flavor is like slightly sweet onion rings, dipped in buttery mashed potatoes. (Another great invention. I'm on a roll.)
Let's just take a moment (center yourself and chant if you wish) to appreciate these beautiful white carbs before we start our No Sugar Challenge on August 1. Sigh. Aren't they just a sight for sore and sugarless eyes?
Print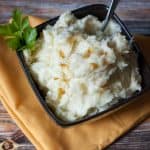 Mashed Potatoes With Caramelized Shallots
---
6

–

8

Russet potatoes, peeled and quartered

1 1/2 cup

sliced shallots (you could use more if you want that extra punch of shallot flavor)

3

cloves garlic, finely chopped

1/4 teaspoon

salt, plus additional for water, and some for shallots

1

stick salted butter, quartered

1/4 cup

milk
Fresh ground pepper
Extra virgin olive oil
---
Instructions
Peel shallots and cut in half. Slice them into thin strips.
In a nonstick skillet, heat olive oil (about 4-5 turns around the pan while pouring) over medium-low heat. Add the garlic and shallots and season with salt and pepper. Cook them over low to medium-low heat, stirring occasionally. You want them to slightly sizzle but not too much. The process should take about 20-30 minutes. If they are getting brown too quickly, you have your heat too high.
In the meantime, fill large pot with water and season with salt. Add potatoes and bring to a boil. Lower heat and partially cover with lid and cook until potatoes are just fork-tender.
When potatoes are cooked, strain the water and return potatoes to the pot. Add all 4 quarters of the butter, milk, 1/4 teaspoon salt and fresh ground pepper. Mix with electric hand-mixer or hand potato masher. If using electric, do not over mix them. If you prefer them creamier you can add a little more milk. Add shallots and mix thoroughly. Taste to see if more salt is needed.
Serve hot.
Notes
More great recipes at www.thekitchensnob.com