It's truly a masterpiece. Make it for your peeps and you'll come off like a smiling, apron-clad housewife.
This herbed basmati rice recipe comes from one of my all-time favorite cookbooks Five Star Recipes: The Best of Ten Years by Cooking Light magazine. It was submitted by a reader of the magazine who's husband loved it so much, he referred to it as Wife Rice.
I call it Genius.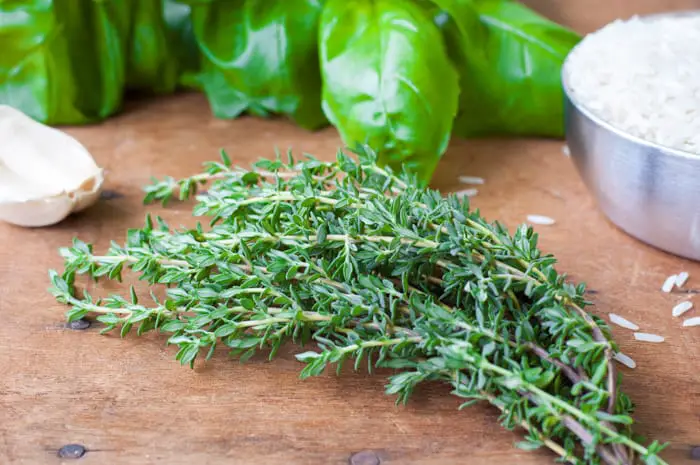 Personally, I wasn't sure how I felt about calling it Wife Rice. Whenever I uttered the words Wife Rice, I couldn't help but cringe.
Visions of me wearing a full skirt, heels, and lipstick while putting on my husband's slippers as he asks "What's for dinner?" come to mind. And if you knew my husband wore slippers shaped like giant cartoon characters, that vision might not seem so intimidating to you. Trust me: giant bunny slippers on a grown man can be pretty scary.
Or, I get visions of a caveman who can only grunt two words at a time, while he whittles a large stick into a prehistoric weapon: "Me dinner. You cook. Wife rice."
Okay, maybe I have issues from my grandmother telling me horror stories of what it used to be like as a 1950s housewife. Not that she ever wore a dress with heels while cooking dinner or brought my grandfather his slippers. She would never. She was more a "sit in her bed wearing a not-so-flattering quilted housecoat, while smoking her cigarettes and telling my grandfather to 'shut up' kind of gal. Then, she would get her butt in the kitchen and cook for him. And – holy moly – was she a good cook!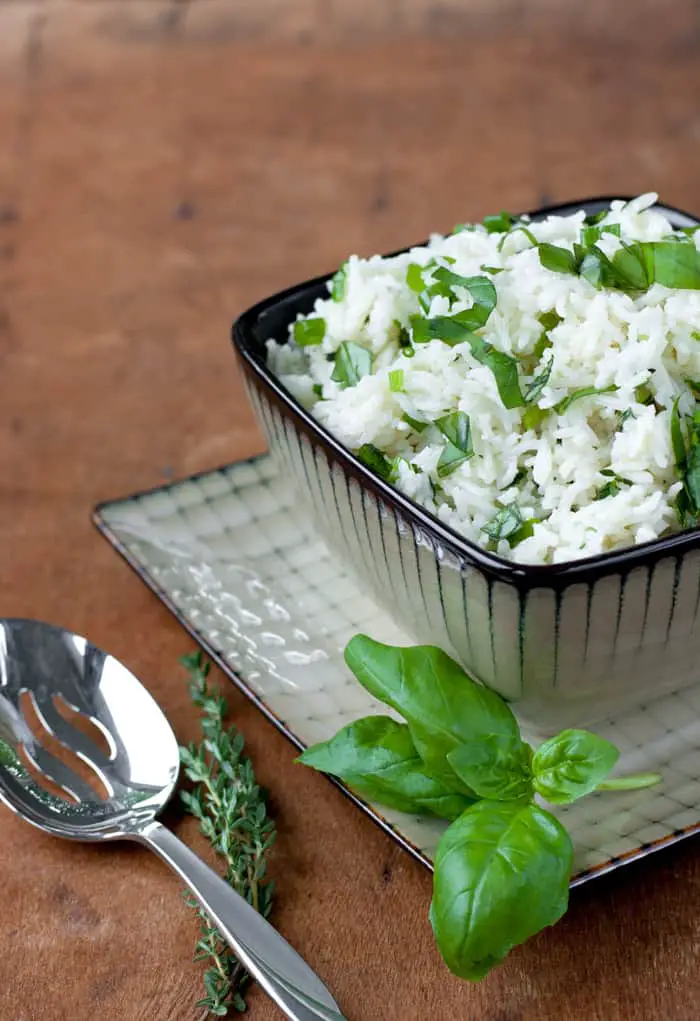 Maybe I watched too much black and white TV. Or maybe I fantasized too much about being Mrs. Brady from The Brady Bunch who didn't have to work AND had a live in maid! I'll take that life, thank you you very much.
Honeslty, even with my issues growing up worrying I would be a housewife (they sure get a bad rap, don't they?) after being off work for a little over a year and being a housewife myself, I have to admit – I LOVED it. That's probably because The Hungry Husband is the most appreciative man on the planet. Love you, hubs. And your bunny slippers, too.
And P.S. I don't have any kids. Housewives raising children are the real heroes. Superwomen. All of them.
So back to renaming this herbed basmati rice recipe to something that's a little more fitting…
How about: The Rice of The Gods. It's that good.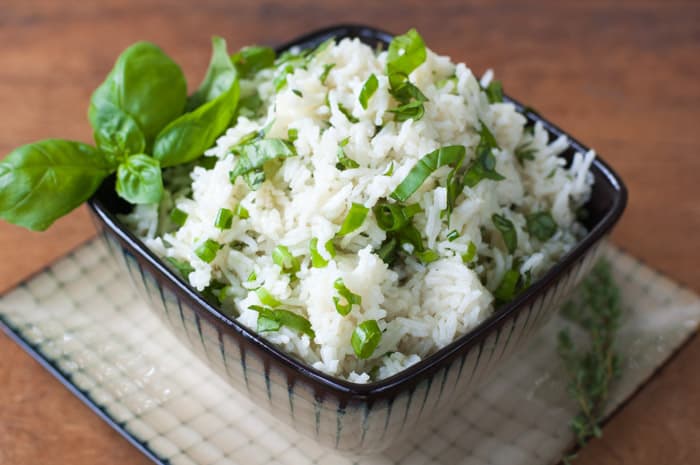 This herbed basmati rice recipe is bursting with the flavors of fresh basil, thyme, and green onions and it gets a kick from the garlic and Pecorino Romano. Try it. I'll give you permission to use the word amazeballs. But just this once.
[note note_color="#b9bc4d" text_color="#ffffff" radius="16″]Note: I've made this recipe quite a few times. I've noticed that sometimes it turns out different than others. Here's why: Sometimes your herbs don't have as much flavor as they should. Maybe the herb growers picked them when they weren't fully ready. Like my basil – this time making it for the blog, my basil didn't have a lot of flavor even though it looked beautiful. The basil was sort of bland, and my rice was not as flavorful as it usually is. It still tasted great – but it's usually better when all the herbs taste the way they should! If this happens to you – just add more of that herb, or add some extra green onions or cheese.[/note]
I would serve this rice with my Pan-Seared Pork Chops or Yummy Ugly Chicken.
Print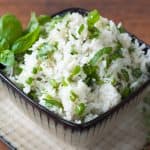 Herbed Basmati Rice
---
1 tablespoon

butter or marginine

1 tablespoon

olive oil

2

large garlic cloves, minced

3/4 cup

uncooked basmati rice (I also love to use my favorite Nishiki rice as a substitution. If you use Nishiki, follow the rice to water ratio on the package)

1 1/2 cups

water

1/2 teaspoon

salt

1/4 cup

thinly sliced green onions (go for

1/2 cup

if you really want a punch!)

2 tablespoons

chopped fresh basil leaves

1 1/2 teaspoons

minced fresh thyme

1/4 cup

freshly grated Parmesan or Pecorino Romano cheese
---
Instructions
Melt butter or margerine with olive oil in small saucepan over medium to medium-high heat.
Add garlic and saute for 1 minute. You don't want the garlic to burn.
Add rice and turn heat up to high. Stir well until rice has soaked up butter and oil.
Add water and salt. Stir. Bring to a boil.
Once boiling, cover and reduce heat to medium low. Simmer for 20 minutes or until liquid is absorbed. If your water starts sputtering out of the lid, your heat is too high.
Remove from heat and let cool for a few minutes. This is so the basil won't start cooking once you add it to the hot rice.
Once it has cooled for a few minutes, stir in green onion, basil, thyme, and cheese.
Taste. If it needs more cheese, salt, or herbs, add them at this time.
Notes
You always want to taste your rice before serving. Sometimes your herbs may not have a lot of flavor if it isn't their "season" and can taste a little bland. If this happens, just add a little more of that herb or overcompensate with some extra cheese or a little salt.