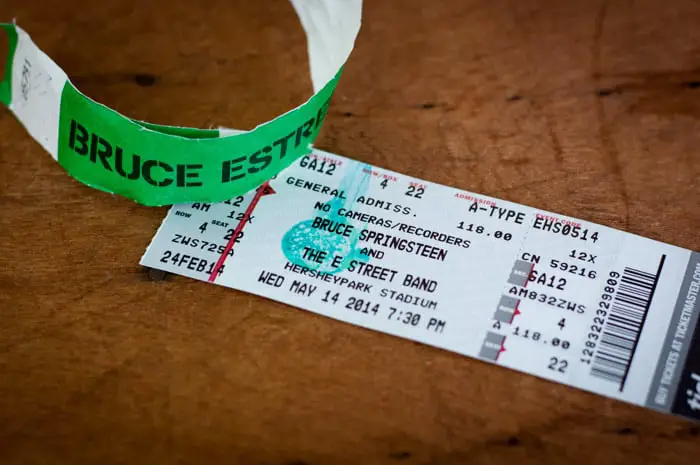 He is The Boss. I usually follow orders from bosses, don't you?
Last night at the Hersheypark Stadium concert, he told me to go home, wake up my family, friends, and neighbors, drag them out of bed in their pajamas, and walk up to strangers on the street (and I think he was insinuating that I wake up my blog readers, as well) and tell them that I just witnessed the "heart stoppin', pants droppin', earth shockin', hard rockin', booty shakin', earth quakin', Viagra takin', history makin', testifyin', death defyin', legendary E Street Band."
Of course, I didn't do that. I mean, that would be crazy. And, like me, you'd be tired, too. And then we'd all be crabby. It would be anarchy!
And I'm pretty sure he did some sort of exorcism on us, releasing all of us fans of our duties and responsibilities, because I can't seem to get my you-know-what together.
He's the reason I don't have a mouth watering new muffin recipe for you to try out for the office birthday breakfast fiasco.

He' s the reason my voice is raspy.

He's the reason I'm walking around on fumes because we didn't get out of the parking lot and home asleep until 2am.

He's the reason I'm thinking about purchasing red, white, and blue flag pants.

He's the reason my ear drum hurts. No, not because of his loud rockin' and rollin'. But because of the anonymous, crazy #1 Bruce Springsteen Fan who was singing screaming Lost in the Flood at the top of his giant lungs right into my soft, delicate ear. Since this was my first Bruce Springsteen concert, and I didn't know many of the songs, I still don't know if Bruce was singing at all or if I even liked the song because of this guy's earsplitting bellowing. If this guy was sober, he was definitely Bruce's #1 fan. Although, he was neck and neck for the #1 fan spot with the spastic, drug-induced skinny lady who was Jazzercising…wait – no. She was not Jazzercising. She was jumping up and down like like a jackhammer for THREE. STRAIGHT. HOURS. Maybe that's why she looked like she weighed 80 lbs? God love her.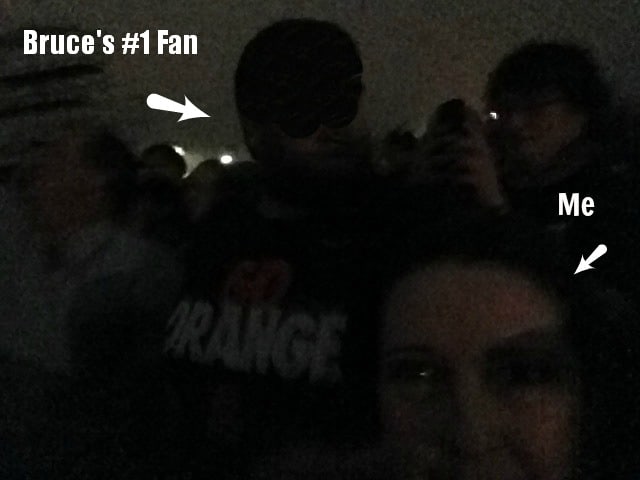 So – I guess what I'm really trying to say here is: I have no recipe, food, or kitchen related blog post this week.
Oh, don't worry. I have other excuses for my lack of cooking and writing this week. They're good. And legit, too.
I started a new job. It's part-time but pretend you don't know that so you'll feel sorry for how busy I've been.

It was supposed to rain cats, dogs, and frogs the night of the Bruce Springsteen concert. So, I had to drive all over Central Pennsylvania to find emergency rain ponchos in stock. Luckily, it only misted while Bruce sang "Let it rain, let it rain, let it rain" during Mary's Place. It actually misted for a couple of hours and that's why I didn't bother with my normal cool concert attire. So I opted for: crappy baggy butt jeans, gold ol' white American tennies, and a frumpy sweatshirt. And wouldn't you know it? I fit right in.

I've been sick. Ok, so that was 3 weeks ago that I was sick but the cough is still here. [Cough!] See?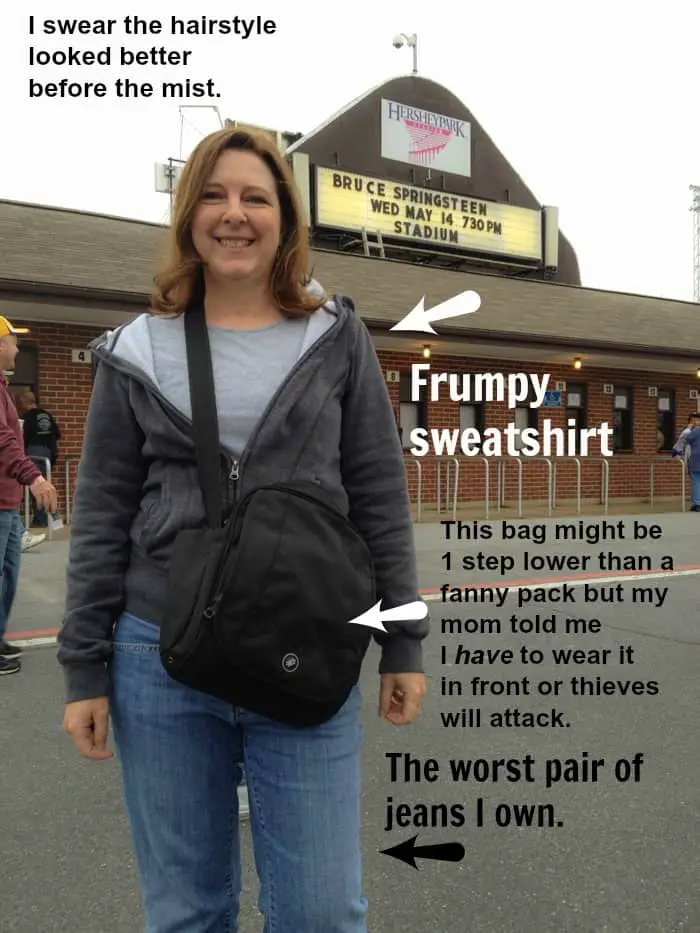 So, next week I'll come up with something delicious again. Unless The Boss tells me not to.
More Bruce Springsteen Concert Photos:
Here are some more pics from the concert for those of you who are fans. If you're not a fan, you can just go about your business looking for other tasty food blogs like this one.
This was our view from where we were standing. I put this photo up on Instagram and someone I've never met commented on it that they saw themselves in the photo. What are the chances?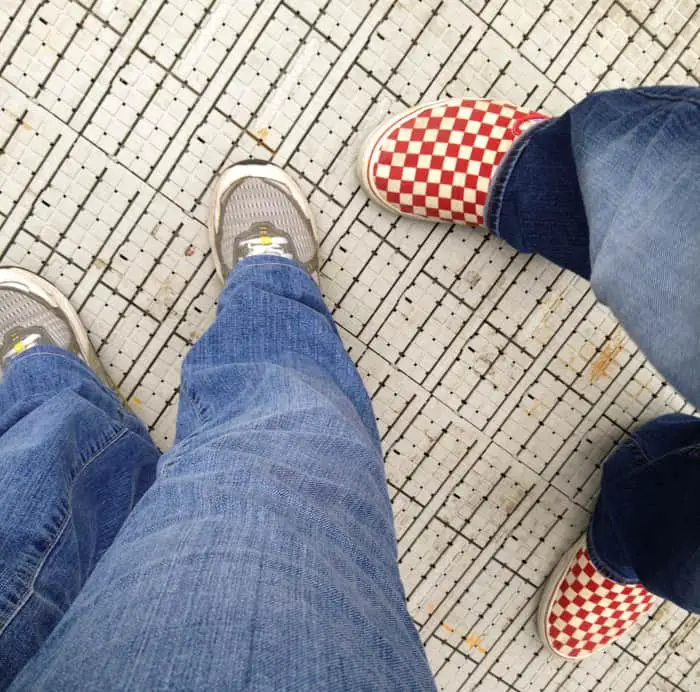 Bruce Springsteen is just too darn generous with his fans – check out these comfy cushioned floor mats. The entire floor was covered with this and made it much easier to stand for 3 hours. Thanks, Bruce!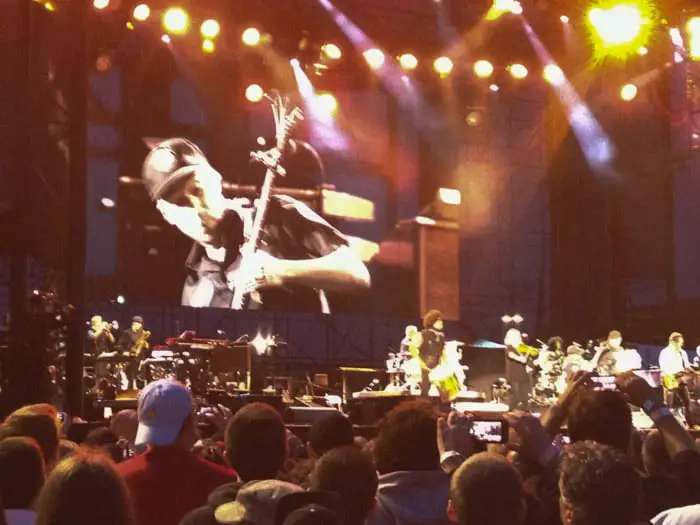 Tom Morello played an amazing solo during The Ghost of Tom Joad.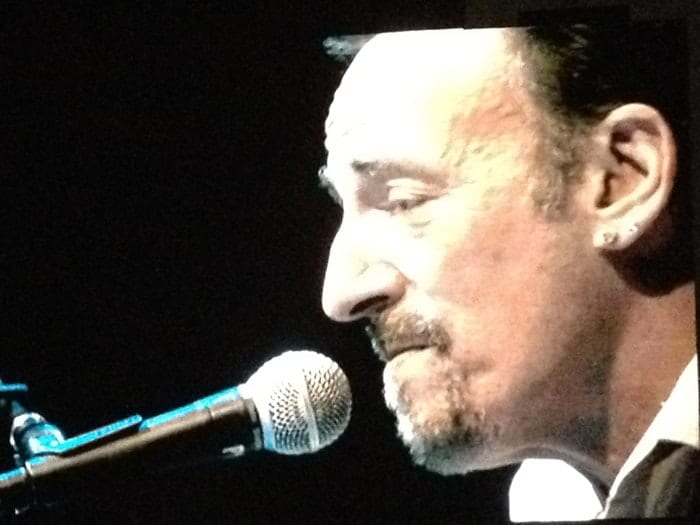 Bruce playing the piano and singing For You, which is really rare for him to play.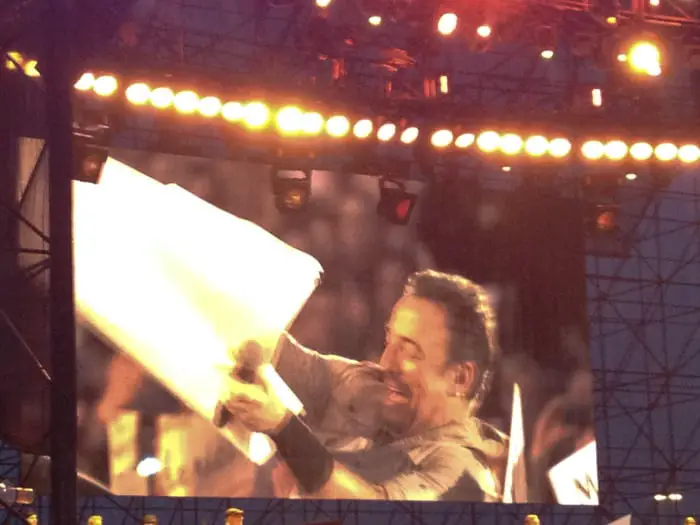 Bruce being carried around by the fans. They dropped him once! Ooops.
All in all it was a great concert. This being my first Bruce Springsteen concert, I was impressed. The crowd was a little dull at first and that probably had something to do with him playing lesser known songs to start out with. But by the end of the concert, he had everyone on their feet and the crowd was going wild! It was hard to ignore the feel-good energy in the air.
I just love his generosity to his fans.  My favorite moment was when he let two young men up on stage to jam with him during Dancing in the Dark. He's always reaching out to shake hands, give hugs and kisses, slow dancing with moms in the audience, and playing any song sign requests from the crowd. You can't leave there not appreciating The Boss.
And P.S. if you're still reading: You should know that I have much cuter pictures of me from the concert, but The Hungry Husband still wishes to remain anonymous on the internet, so I definitely should get brownie points for sacrificing my own vanity for the good of the team by posting that frumpy-looking picture of me for the whole world to see. (Although I did walk around like that in public. Note to self: don't do that.)
Where you at the concert? What did you think? I'd love to hear from fellow concertgoers!