We're knee deep in sugar free awesomeness. Are we loving it? We're loving it.
We're also big fat liars.
How's everyone doing? Are you cranky? Do you have headaches? Do your ears hang low? Do they wobble to and fro?
It's probably just me.
As a food blogger, it takes a lot for me to be sick of cooking. And I'm S I C K of cooking. What I wouldn't give to grab something on the go, have food delivered, or just shove cake in my face.
I'm totally pumping you up, aren't I? I should be a coach.
All joking aside, it's been going well. This is my 3rd Fed Up Challenge and staying away from sweets never seems to be as hard as not having the white starches. Give me bread!
So here's what I've been eating. Because you care, you really care.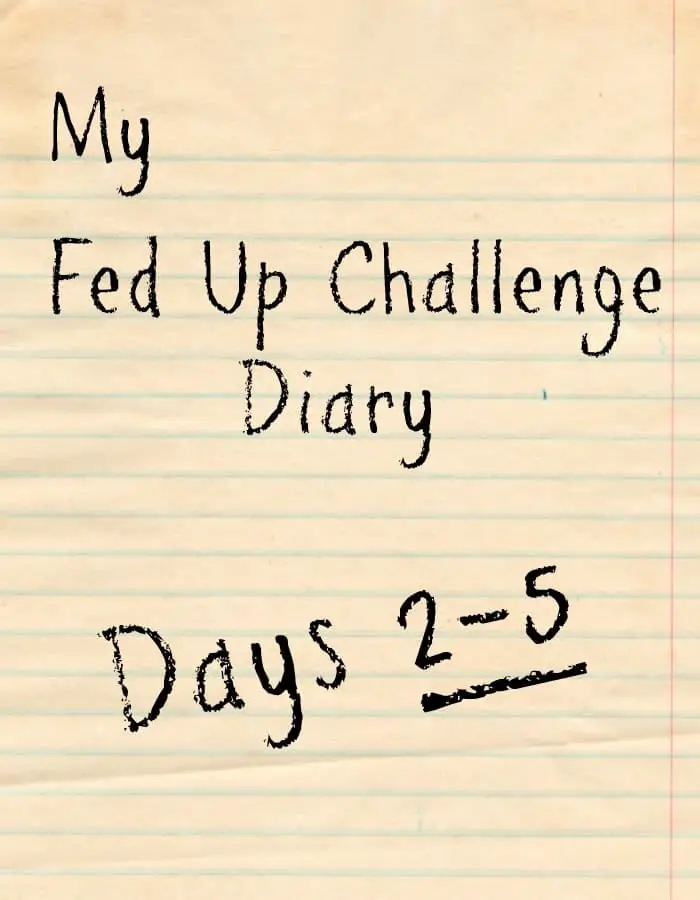 Day 2
Plain yogurt with fresh raspberries & Grape-Nuts cereal
2 pieces Ezekiel bread with cinnamon and raisins
Colby jack cheese (yes, I was starving and just ate cheese right off the block!)
Milk
Gluten free pasta with chicken and onions
Handful of grapes
Day 3
1 piece of Ezekiel bread cinnamon and raisins
Cottage cheese w/sliced tomatoes sprinkled with salt & pepper
1 banana
Roasted cashews
Milk
T-bone steak and these Lemon Garlic Roasted Potatoes with Herbs
Handful of grapes
Day 4
Ezekiel brand cereal w/milk
Cottage cheese
"No sugar added" apple sauce
Cheese quesadilla on Ezekiel tortilla (don't really like them, but wanted to avoid white flour)
Leftover gluten free pasta w/chicken and onions
Totally sugar free apple dessert (recipe coming!)
1 orange
Day 5 (not a lot – no wonder I was starving by dinner time)
2 pieces plain Ezekiel bread
Handful of grapes
Gluten free pasta with Victoria brand marinara sauce (yes, this brand is sugar free!)
How are you doing on the challenge? I love to hear updates from you. Hearing how you're doing is almost as fun as eating Sprees. Almost.