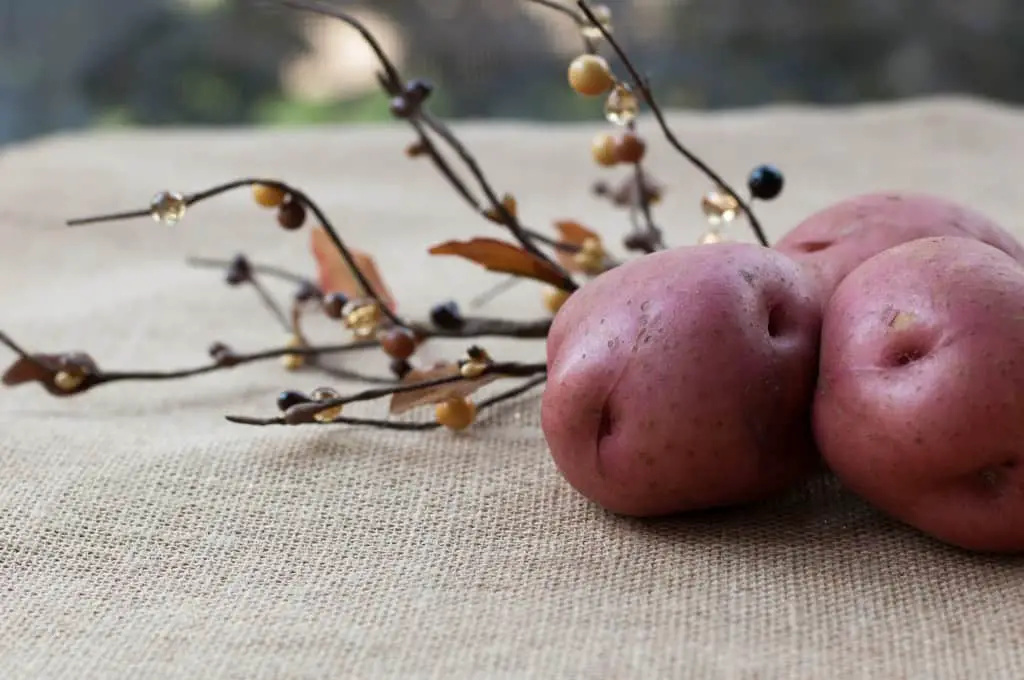 Aren't red potatoes cute? I just wanted to take a moment to admire them, before I hack them up into little pieces. It's going to be like a scary food murder crime scene. I promise you, they won't feel a thing. Mwhaa ha hahaaa!
Believe me, these red potatoes are just dying to fulfill their destiny at your dinner table as a tasty, fresh side dish. (I swear, they told me.)
[note color="#b9bc4d"]
Pairing these roasted potatoes with spicy garlic, tangy lemon, and fresh herbs will turn any boring meal into something special.
[/note]
I'd like to use this side dish as an example to explain to you what I call snobbing it up. We all have those standard boring easy meals we make on a regular basis that are fairly average because we are in a hurry. We are TIRED. Our husband or wife asks "what's for dinner" and those three little words send us into a tailspin right to pizzahut.com.

Roasted potatoes to the rescue!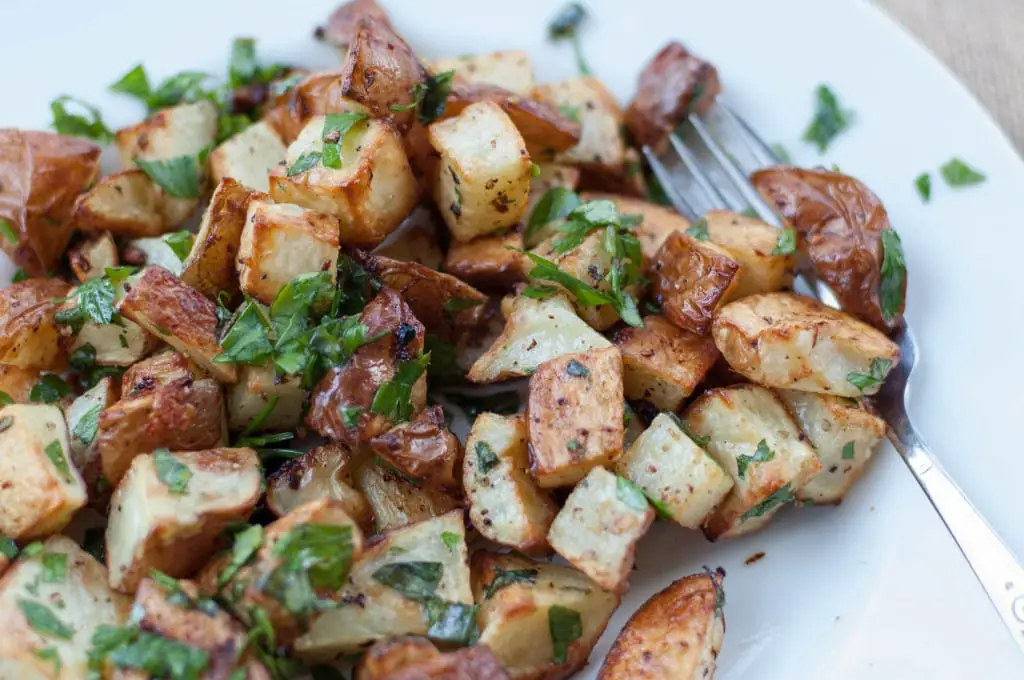 Baking the potatoes at a high temperature and then putting the herbs on last makes for a crispy outside and you still get that fresh herb flavor. And feel free to experiment with any herbs you have handy, you don't have to use exactly what I did.
They are sooo easy, I promise. So, make your Plain Jane pork chop. Make your grandmother's meatloaf that your family picks at. But snob it up with some Roasted Potatoes with Lemon, Garlic & Herbs!
When your family compliments you on this new dish, be sure to flippantly say "oh, it was no big deal."
Heck, forget your main dish and throw these into a mixed salad with vinaigrette dressing. Now that's a potato salad.
Here I paired the potatoes with pork chops. Way to mix it up, Kitchen Snob!
Print
Lemon Garlic Roasted Potatoes with Herbs
---
3 cups

chopped red potatoes (skins left on), cut into approx 1 inch pieces

2 tablespoons

extra virgin olive oil

4

cloves garlic, minced

1 teaspoon

lemon zest

½ teaspoon

kosher salt, plus table salt to taste

15

–

20

turns fresh ground pepper, medium coarse

¼ cup

chopped flat leaf parsley

2 tablespoons

chopped fresh basil
---
Instructions
Preheat oven to 450°F.
In medium bowl, combine potatoes, olive oil, garlic, lemon zest, kosher salt and pepper. Toss together.
Setting bowl aside for later, arrange potatoes in a single layer on large baking sheet coated with cooking spray.
Bake at 450° for 25-30 minutes or until potatoes are golden brown.
Let potatoes cool for 1-2 minutes and put cooked potatoes back into bowl. Add parsley, basil and toss together.
Sprinkle with a little salt and pepper to taste.
Be proud of yourself. You are such a good cook! If you don't believe me, ask those quiet folks at the dinner table shoveling your potatoes into their mouths.
Notes
More great recipes at: www.thekitchensnob.com
 Looking for another great side dish? Try Cilantro Lime Rice Infused With Garlic. It's so good, I feel tingly just typing the name.