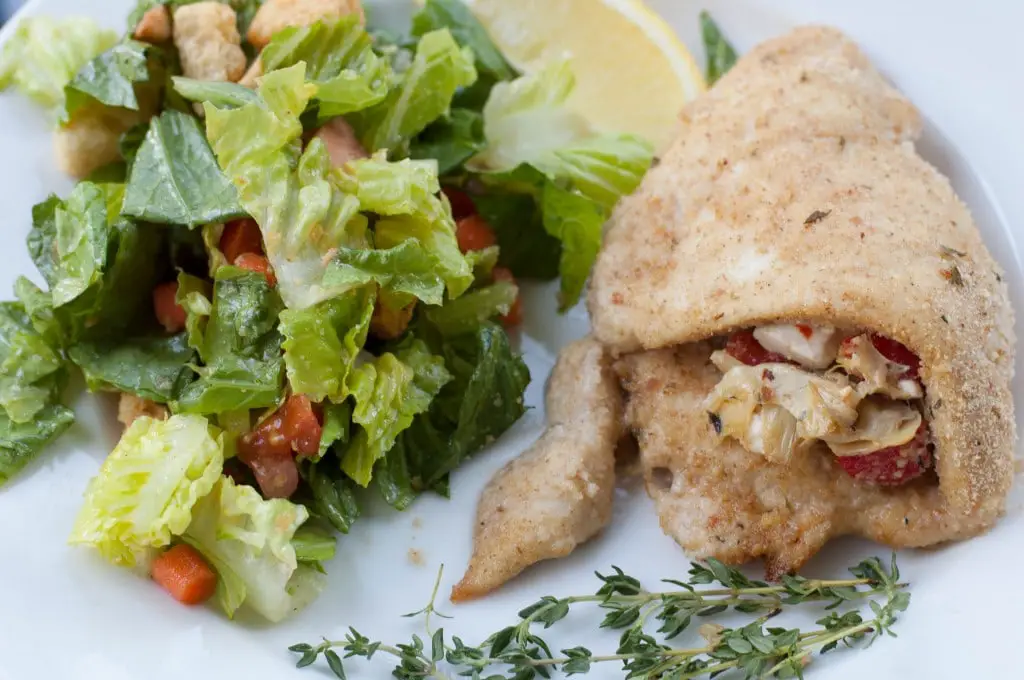 Recent road rage? Mad at your boss? You had a few choice words for that snippy grocery clerk but chose to bury them wayyy down deep inside?
I hear you. I've got a solution. It doesn't involve anything illegal or resorting to violence. Okay, maybe violence. But controlled violence with the added bonus of a fancy but easy dinner bursting with flavor.
Meet: Artichoke and Feta Stuffed Chicken Breasts. Ohhh nice to meet you, too.
So, in all honesty, I wasn't sure how this dish was going to turn out. I was SCARED. I thought "MY GOD, WHAT IF THE FLAVORS DON'T WORK TOGETHER, or worse, TASTE BLAND?!?!?" (Yeah, I got real dramatic like that.) Can you imagine my relief when I bit into this juicy chicken and was surprised by this tasty dish?
[note color="#b9bc4d"]
Confession: the one thing I don't like about chicken is when it tastes like . . . chicken. Yep. I'm that crazy. But when you flatten your chicken you get more of the good stuff (toppings/stuffings/sauces) and less boring chicken. That's my theory and I'm sticking to it.[/note]
So here is where you get to visualize that no-good-for-nothing-blankety-blank that really got on your nerves earlier today and take out some serious aggression. If you get funny looks from your family, assure them it is legitimately part of the cooking process.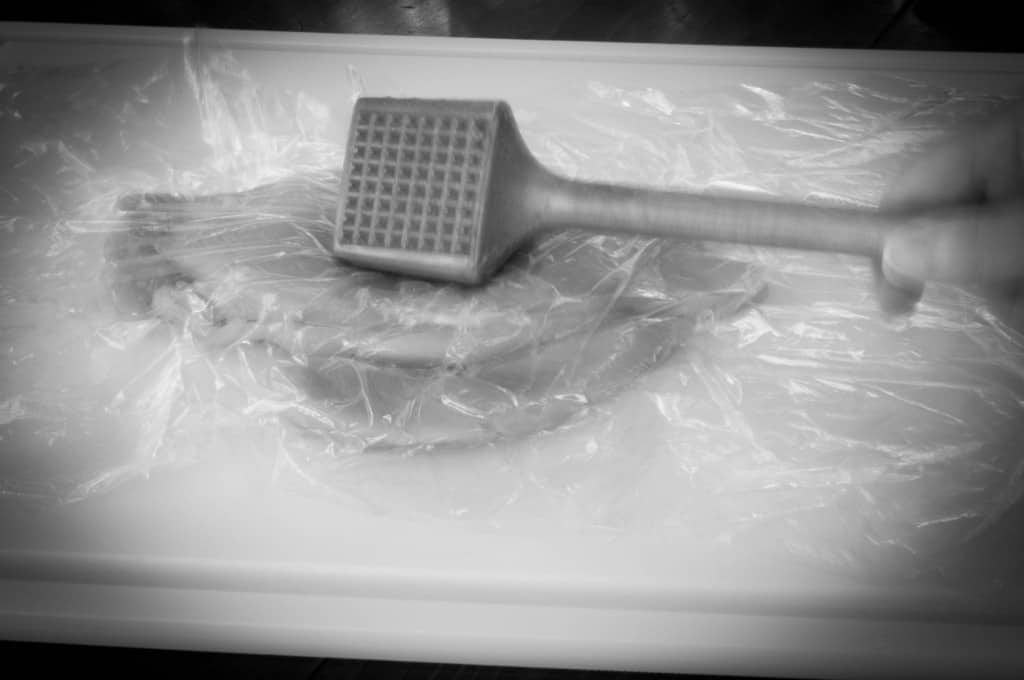 Put a chicken breast between two pieces of plastic wrap and flatten it with the smooth side of a meat mallet or a use a rolling pin. (Note: there will be less violence with a rolling pin but it's not as therapeutic. Your choice.)
You will have to hit it pretty hard. Over and over. And over.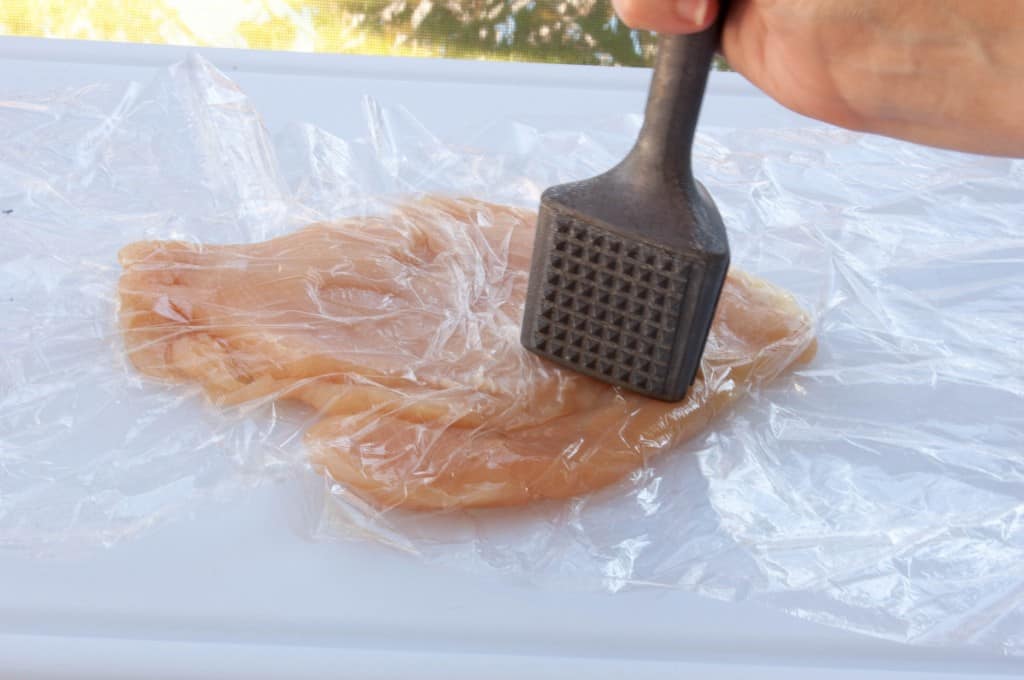 Start working on the edges to spread it out.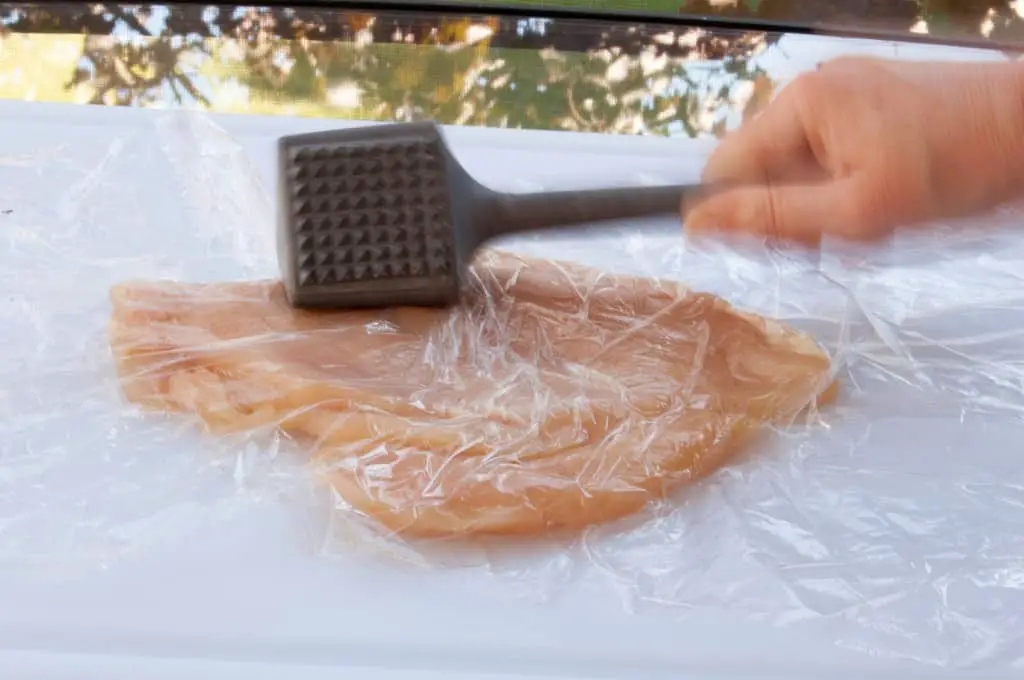 Your neighbors might think you're doing some major remodeling and your dog and cat are hiding behind the couch but you feel better, right? Yep.
Yeah, you just wait until you savor this juicy chicken. The best part is the citrus flavor the lemon zest gives this dish.
And remember: next time you're mad, don't get angry, get out the meat mallet.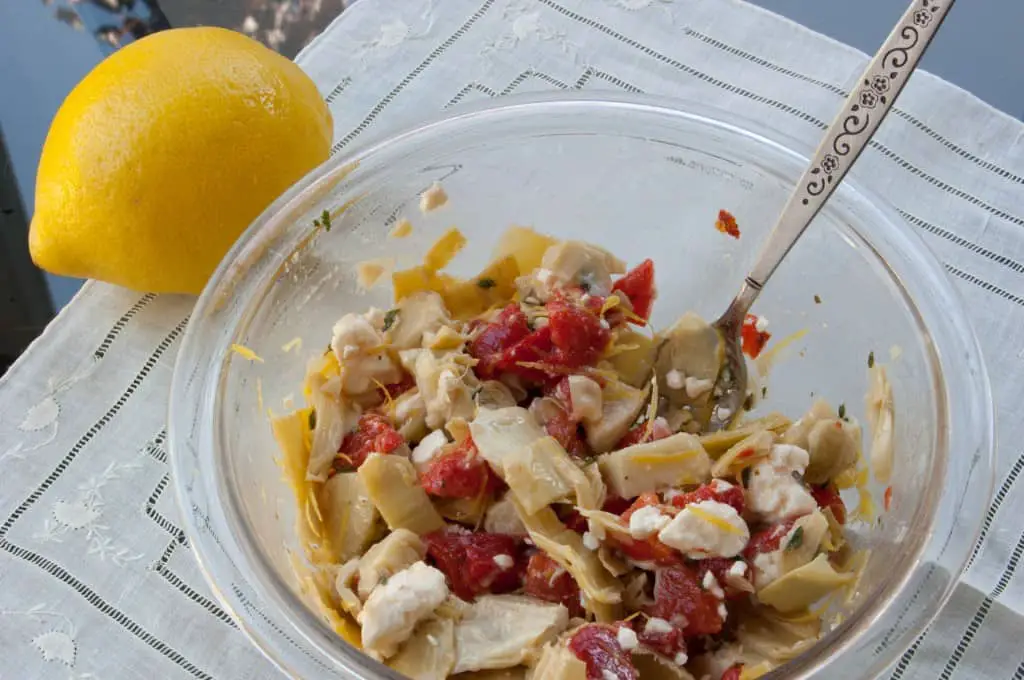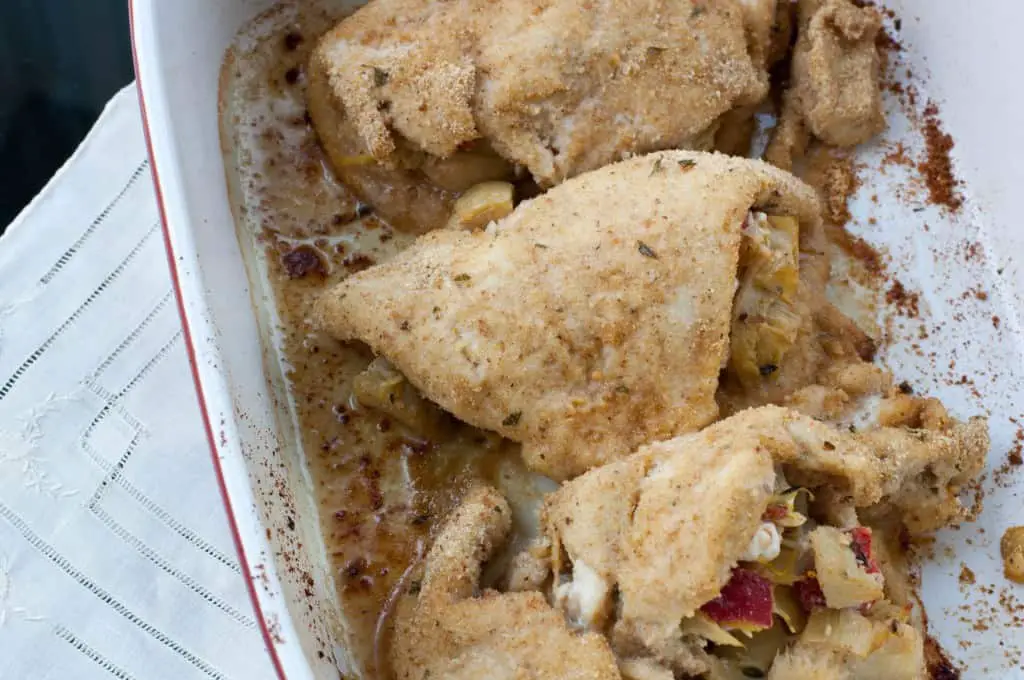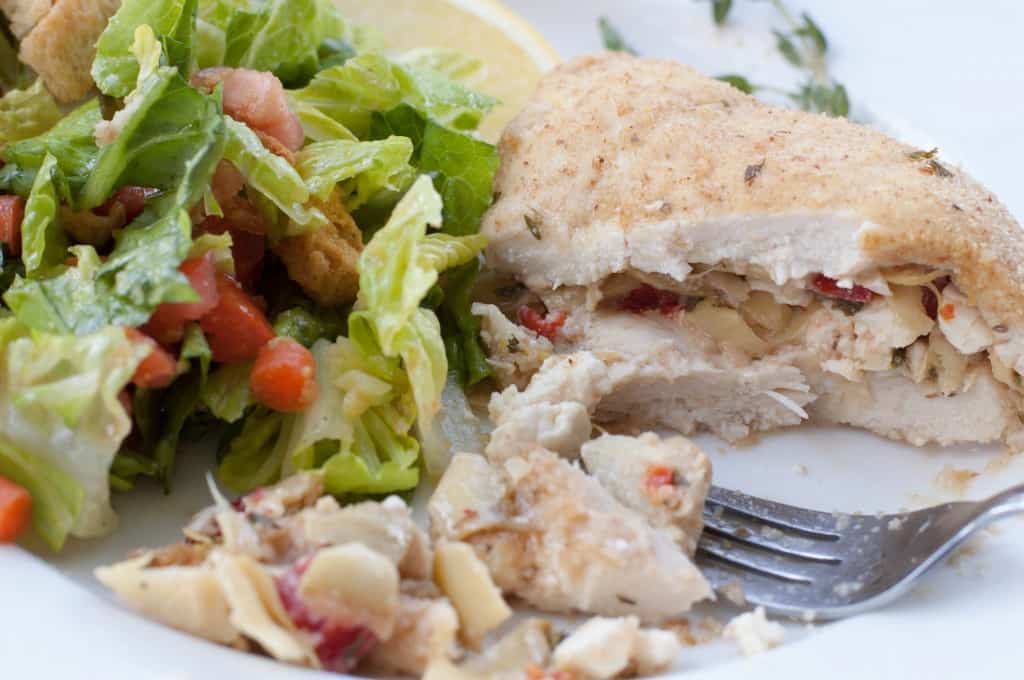 This dish was adapted by Feta Stuffed Chicken in my one of my all-time favorite cookbooks Cooking Light Five Star Recipes. (<– affiliate link)
Print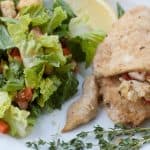 Artichoke and Feta Stuffed Chicken Breasts
---
1 cup

chopped artichoke hearts (the marinated kind that comes in cans or jars)

½ cup

chopped roasted peppers (from the jar, unless you're really snobby you can roast them yourself)

¼ cup

crumbled feta

1 ½ teaspoon

lemon zest

1 teaspoon

chopped thyme (optional)

4

boneless chicken breast halves

1 cup

seasoned bread crumbs

1 tablespoon

butter, melted
---
Instructions
Preheat oven to 400°.
In medium bowl, mix together artichoke hearts, roasted peppers, feta, lemon zest and thyme. Set aside.
Place each chicken breast between two sheets of plastic wrap and flatten to 1/4 inch thick with a meat mallet or a rolling pin.
Sit down, have a sip of wine, and rest after such an intense workout.
Dredge flattened chicken in breadcrumbs.
Spoon 1 tablespoon of stuffing mixture (or more if it will fit) onto each piece of chicken and fold in half. Note: sometimes chicken shapes don't fold perfectly in half and look a little messy. This is normal and does not mean those odd looking pieces won't taste just as good.
Place folded breast halves in baking dish coated with cooking spray.
Drizzle melted butter over chicken.
Bake at 400° for 25 minutes, uncovered, until chicken is done and very light golden brown.
Notes
More great recipes at www.thekitchensnob.com