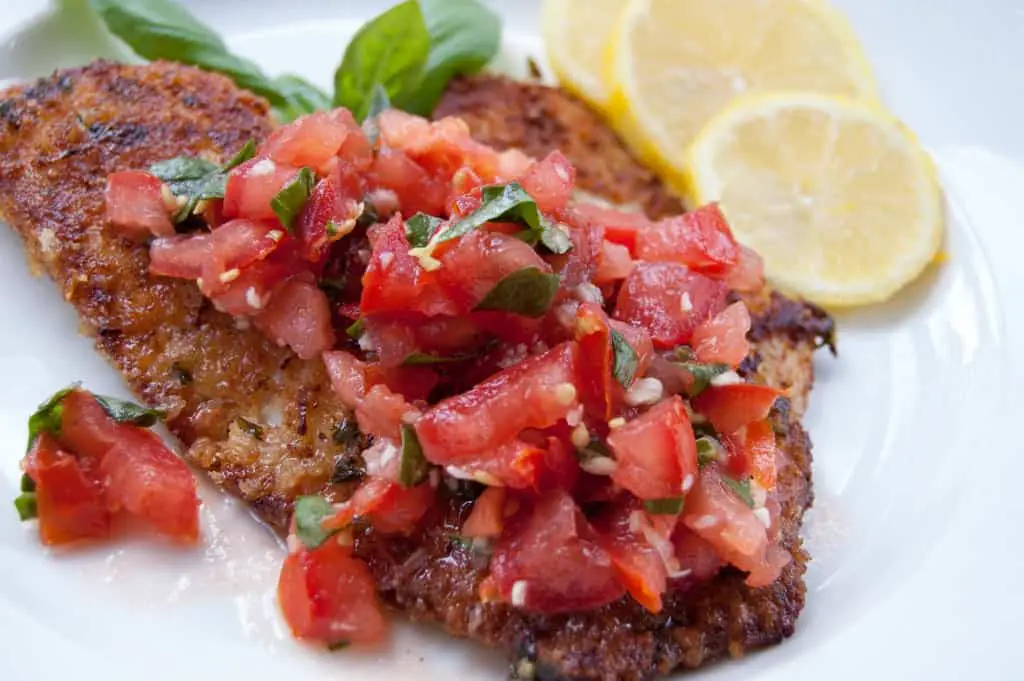 When I was growing up, eating fish meant fish sticks and tarter sauce. Yuck. Sure, I liked the fried crunchy part and it sort of hid the fish taste but I didn't know that I liked fish until I became an adult and learned to appreciate it for another reason: toppings!
To this day, I'm still not a huge fan of say – a plain piece of fish without much seasoning. I will eat it. But I sure won't be looking forward to those left overs in the fridge.
I dare you to look at the picture above and not drool. Just try it. Here's a napkin.
If you like fish already, you'll love this dish. If you don't like fish, you'll love this dish and probably give fish another chance in the future. I promise I will not eat chocolate cake for the next year 6 months, if you don't at least like this dish.
See, once I throw chocolate cake threats out there – things get real serious. Like whoa.
And, as an added bonus, if you make this dish (and you really should) you'll get TWO dishes out of this. The leftover topping can be used to make my Bruschetta recipe. Add bread. Two recipes made. Done. You'll be like Martha Stewart only maybe you're laundry isn't sorted into cute little labeled bins with color coordinated bows on top. If yours is, then you probably shouldn't come over to my house.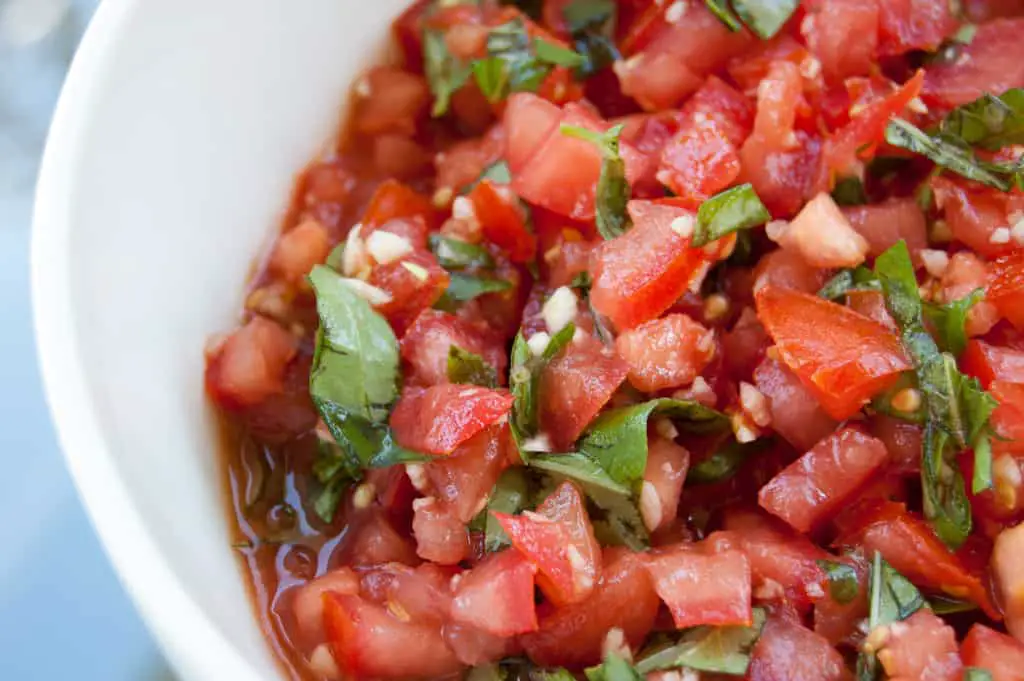 Now that I'm posting these pictures for you, I'm starting to feel just a teeny bit hungry and I think I need to make this dish again. Not to toot my own horn or anything but it was darn right fantastic. It was legit. (See I don't know if I can pull "legit" off. Am I cool enough?)
This recipe may look longer than some, but it's really easy because you break it into 2 parts and get an extra appetizer for your efforts!
Tomato Basil Tilapia
Author:
Ingredients
Topping:
8 Roma (plum) tomatoes, diced – although regular tomatoes will work fine
3-4 cloves garlic, minced
1/8 cup extra virgin olive oil
1 teaspoon salt
30 turns fresh ground pepper or to taste
½ cup (packed) chopped basil[br]
Fish:
1 cup Panko (Japanese-style) breadcrumbs
1 cup seasoned bread crumbs
Zest of 2 lemons
4 heaping tablespoons of finely grated Pecorino Romano cheese
1 tablespoon chopped fresh flat-leaf parsley
10-15 turns fresh ground pepper
3 tablespoon extra virgin olive oil, divided
4 boneless Tilapia fillets
1 tablespoon butter
Instructions
In medium bowl, mix together first six ingredients for topping mixture. Cover and refrigerate for several hours or overnight.
After topping has marinated for at least 3 hours, take out of fridge and bring to room tempurature while you make the rest of the dish.
In large bowl, mix together Panko and seasoned breadcrumbs, lemon zest, Pecorino Romano, parsley and pepper.
Preheat large nonstick skillet over medium heat and add 2 tablespoons of olive oil and butter to pan. Swirl pan around so oil and butter covers the bottom of the pan.
Brush fish fillets with some olive oil and submerge in breading mixture. Really coat it and press it in to get several layers of the mixture to stick.
Sear fish in skillet and cook for about 3-4 minutes per side. Before flipping over, make sure it is nicely brown on the bottom. This will depend on your stove and pan so cooking times are estimates.[br][i]You won't be able to fit all your fish in the pan so you can either have several pans going or do what I did – heat oven to the lowest "warm" setting and put cooked fish on an oven-safe plate in the oven while the others were cooking.[/i]
Serve topped with tomato basil mixture. Serve with lemon wedges if desired. Goes great with white rice – especially when the topping starts mixing into the rice!
Notes
Leftover topping can be used to make [url href="https://www.thekitchensnob.com/bruschetta/" target="_blank" title="Bruschetta – The Trastevere Way"]this Bruchetta recipe[/url]. You basically will have it completely made except a French baguette or similar type bread.[br]You can also add this topping to other types of fish or chicken![br]More great recipes at www.thekitchensnob.com