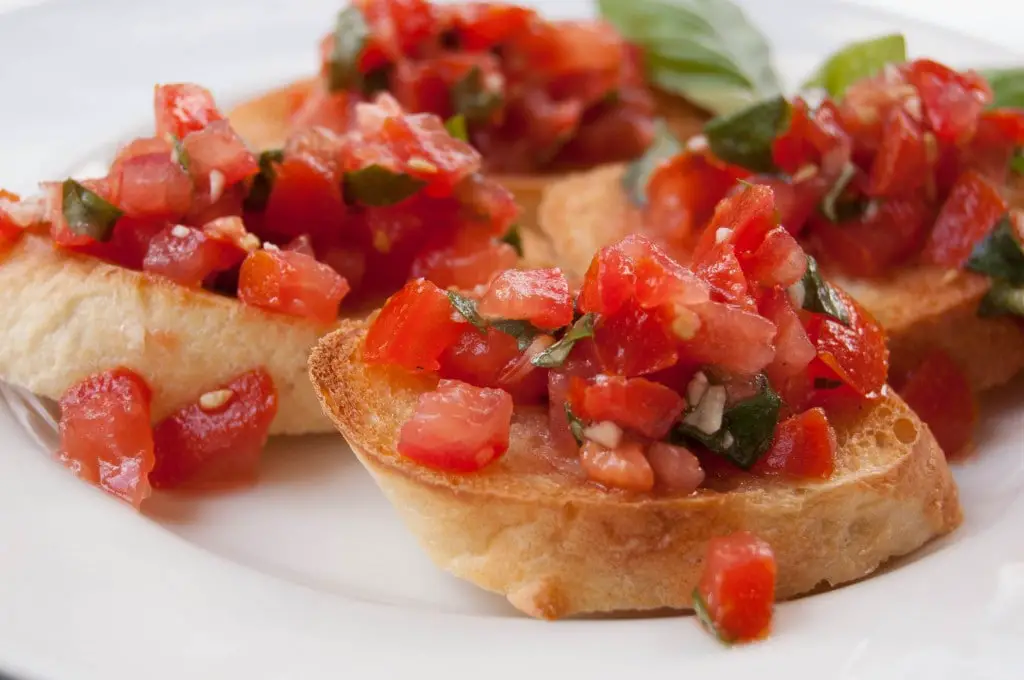 I cannot utter the word bruschetta [pronounced bru-sket-ta] without reminiscing about the sights, sounds, and smells of our favorite little neighborhood in Rome, Trastevere. With its narrow cobbled streets and local large families dining in alleyways, Trastevere made me feel like a real Italian. [Note: I claim to be 100% Italian but, truthfully, I'm a 50% Italian mutt. Don't tell my husband.]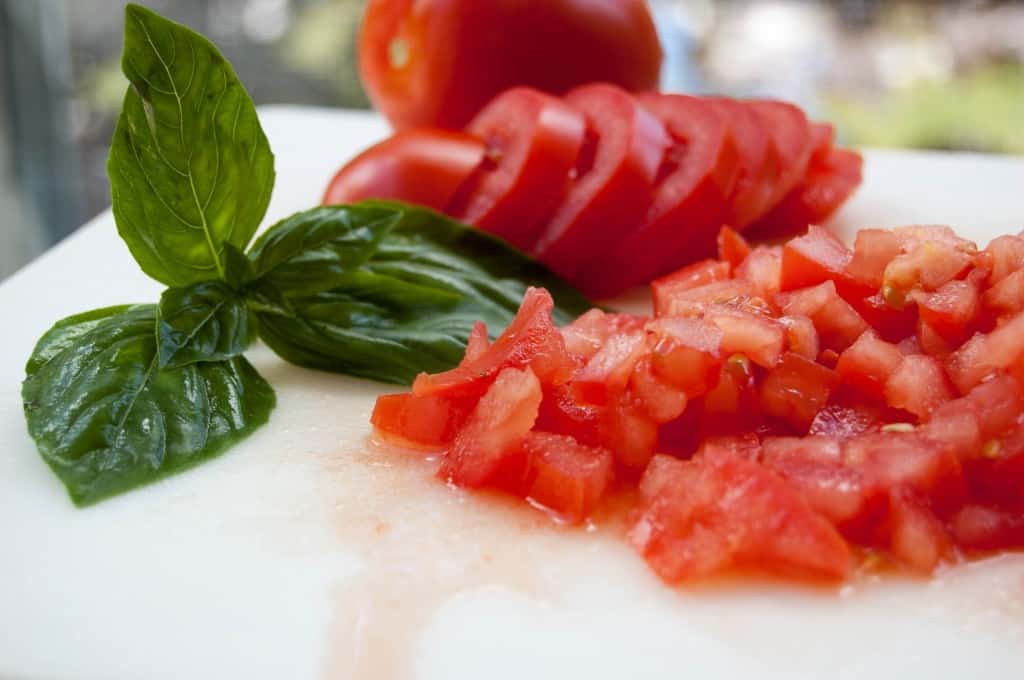 We stayed in Trastevere for several nights before our wedding in Pienza and purposefully went to the same restaurant several nights in a row just to eat their delicious bruschetta, listen to the local accordion player, and drink their house red wine which, magically, didn't leave us with any signs of a hangover (I am such a lightweight and get them after just one or two drinks). We'd leave hours later grinning ear-to-ear, arm in arm, walking down past the fountain square promising each other we'd HAVE to go back again.
Although I am always trying to improve the flavor in my bruschetta (and it never turns out the same way twice) this is my version of what I tasted in Italy. I'm sure theirs will always be better, because in my opinion, things in Italy are always better. And I'm pretty sure they don't use Wegman's brand generic olive oil. (Sshhh The Snob Gods will have me hanged for such a crime.)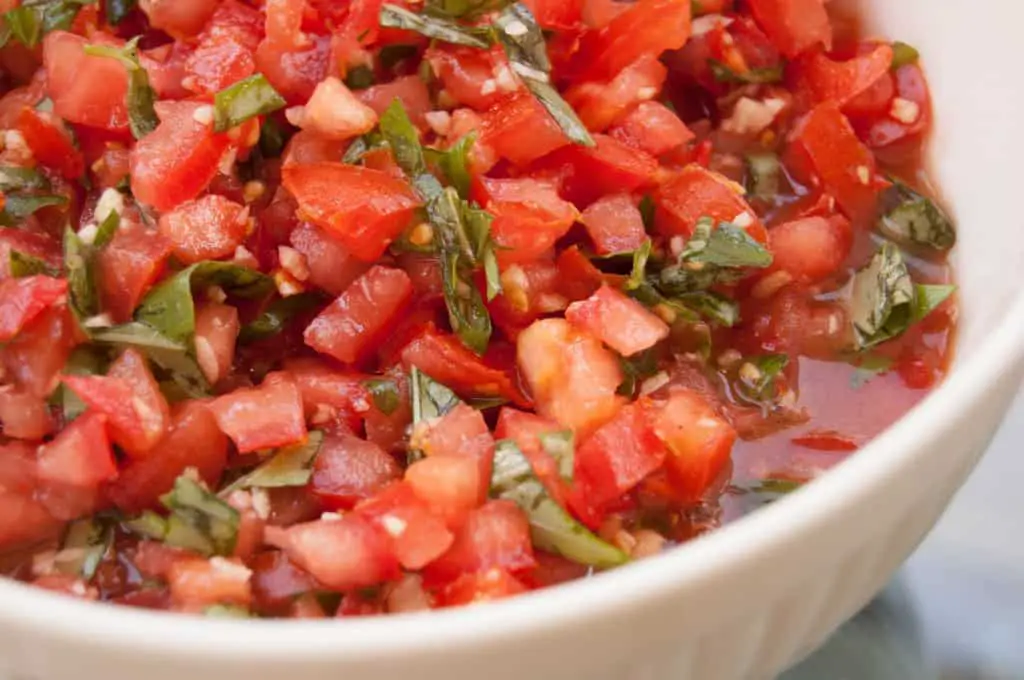 Speaking of things always being better in Italy – here is proof. Their policemen are calm, cool, and stylish with uniforms designed by Armani. Seriously, Armani. Can you blame me for wanting to be Italian? I didn't research it but if you told me American police uniforms were designed by Sears & Roebuck, I'd believe you.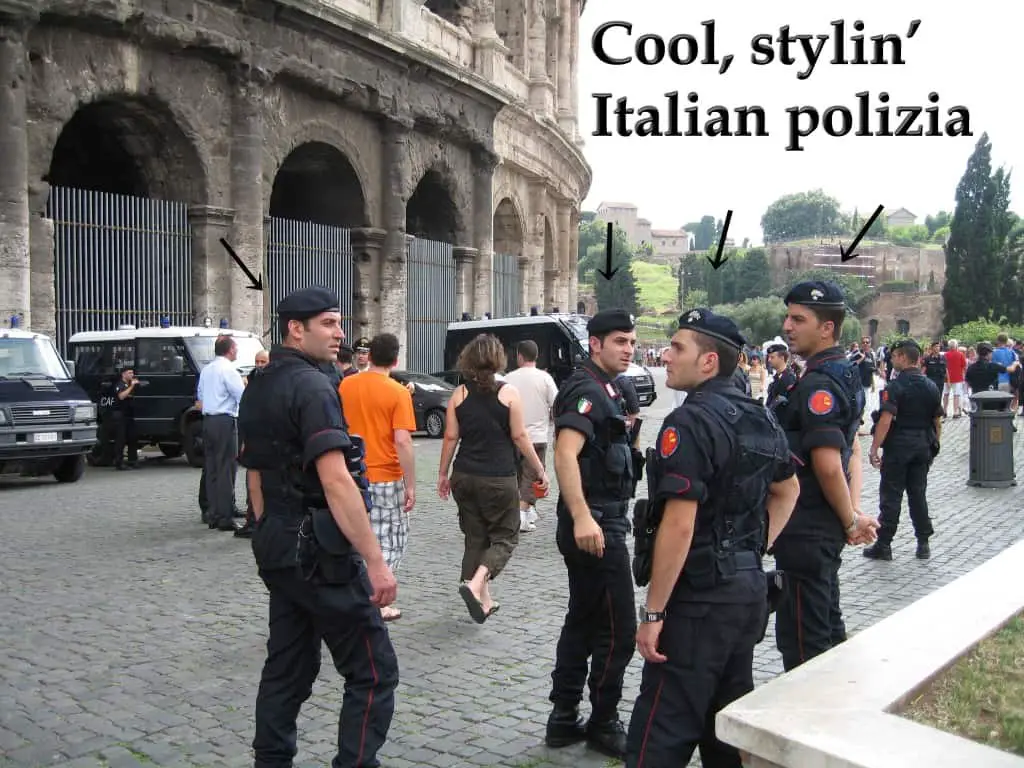 Here they are standing outside the Colosseum to make sure it stayed closed to tourists so some Big Whig could visit. They were so relaxed and so … Italian. Bulletproof vests on with their sleeves rolled up. In the land of policemen, it doesn't get much cooler than this.
[note note_color="#b9bc4d"]
Looking for a main dish to go with this appetizer? Try

Tomato Basil Tilapia

 

c

rusted with Pecorino Romano and topped with this Trastevere-inspired bruschetta topping.
[/note]
Print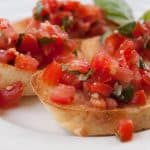 Bruschetta – The Trastevere Way
---
8

Roma (plum) tomatoes, diced – although regular tomatoes will work fine

3

–

4

cloves garlic minced

1/8 cup

extra virgin olive oil

1 teaspoon

salt

30

turns fresh ground pepper or to taste

½ cup

(packed) chopped basil

1

French baguette or similar
---
Instructions
Combine tomatoes, garlic, olive oil, salt, pepper, and basil in small bowl. Stir gently to make sure all the flavors are blended. Cover and refrigerate for several hours or overnight.
When bruschetta mixture has marinated long enough, preheat oven on broiler setting. Cut French baguette on the diagonal in 3/4 inch slices. Lay bread in single layer on sheet pan and broil on top rack for approximately 1-3 minutes until golden brown. Watch your bread carefully so it doesn't burn!
Let bread cool and top with spoonfuls of bruschetta mixture. If your bruschetta is really juicy try letting it sit and soak on the bread for a few minutes before eating. It tastes even better!
Notes
More great recipes at www.thekitchensnob.com