This Instant Pot Lemon Garlic Chicken is the perfect weeknight meal. It's fast – the chicken thighs cook in 7 minutes! It's delicious. It's versatile. Serve over rice, pasta, or with a side of veggies or potatoes.
I love my Instant Pot, but we fight constantly. Not like a down and out physical fight. More like crabby disagreements.
His profile pic said he was "instant" but I found out at our first meal together what that really meant. And that just started us out with a bad foundation of trust.
His 6 minute cook time, in the real world, means 30-ish minutes. 30 minutes means 47. And 1.5 hours means all dang day!
The time it takes him to reach pressure cooking level heat, the longgg sloww release. Did he think I wanted a 3 hour love poem whispered in my ear? I just want to eat, man.
Ya know those sex scenes in the movies where they're moving towards the bedroom so fast that they can't find each other's lips and if they do, they're crashing into lamps and walls? Or they don't make it to the bedroom. They push everything off a desk or kitchen table in the heat of the moment because the stuff is in the way of passion? This isn't Instant Pot's style. He wants to talk for awhile first.
"Let's get to know each other," he says. Our passion is too long and slow for my growling stomach.
And omg do people really do that – the pushing everything off a table and breaking things? I mean, ya know, married people? I must be a sex nerd for knowing I'd be like "Wait, careful, that lamp is from Pottery Barn." or "Don't push that off the table, do you know how long it took me to spiralize that zucchini?"
Oh shoot, I'm like Annette Bening in American Beauty, aren't I?
But yeah, I still fell in love with Instant Pot. It's complicated. Because every once in awhile, one of the meals he cooks for me, like this lemon garlic chicken recipe, is cooked in a flash.
Let's Make the Recipe!
I've broken this recipe down step-by-step with easy to follow pictures. Are you ready?
Prep your stuff! Chop your onion and set aside.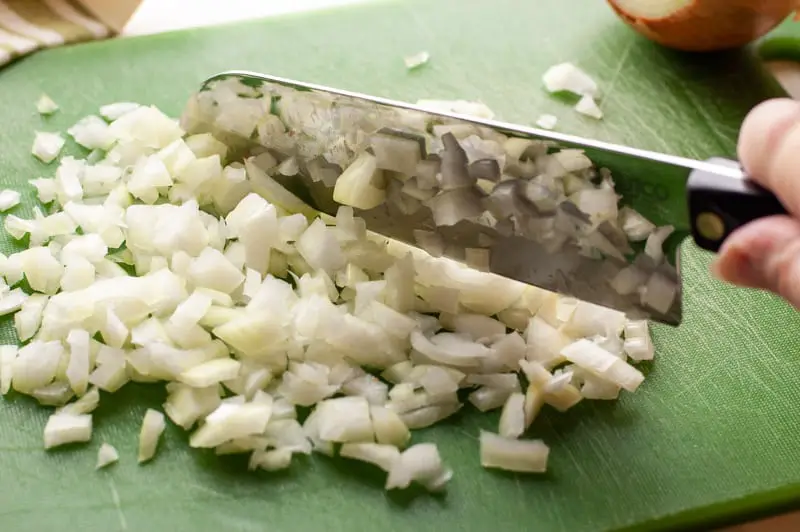 Mince your garlic. I like to smash my garlic with a large knife (here I'm using my Cutco Santoku) and push down on the side of the knife with my hand. Not all the way. Just enough to be able to crack open the skin. Then, I cut off the tip of the garlic and then it's super easy to peel.


Admire my minced garlic. Do you ever just rub a little behind your ears?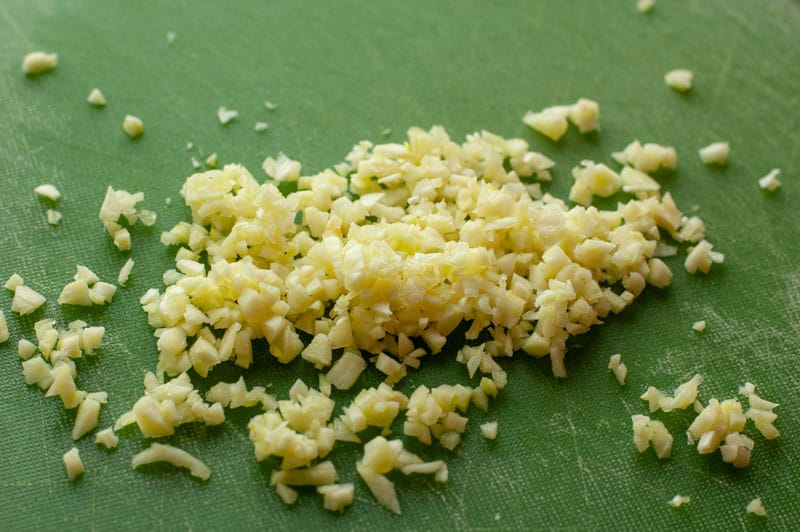 Pat dry your chicken thighs (breasts work in this recipe, too) and season with salt, pepper, and granulated garlic.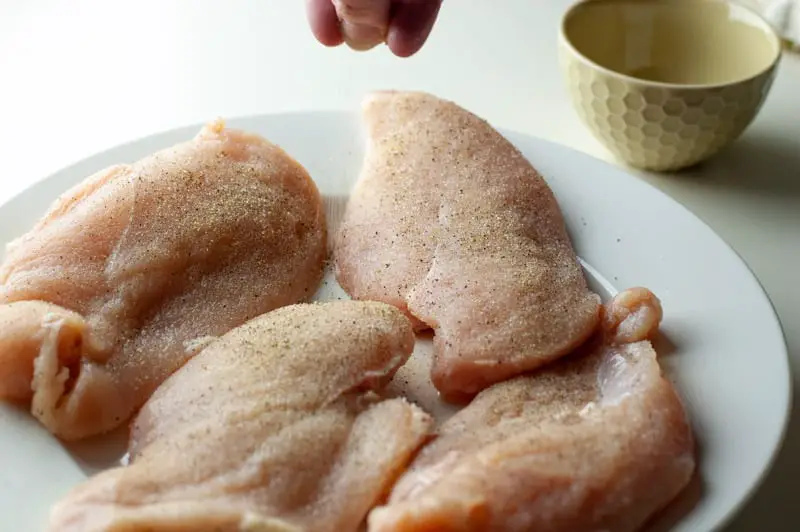 Preheat your Instant Pot on the "sauté" setting. While that's heating up, zest your lemon. I love my Microplane citrus zester that I got at Target. I love how it collects the zest so it doesn't fly all over the place. When it fills up, you just tip it over to add to your pile. After you zest, juice your lemon and set that aside.
Let's cook it!
Add your olive oil or vegetable oil to the heated Instant Pot. Sear your seasoned chicken pieces. At least 2-3 minutes each size. You may need to work in batches depending on the size of your chicken. Set aside when done.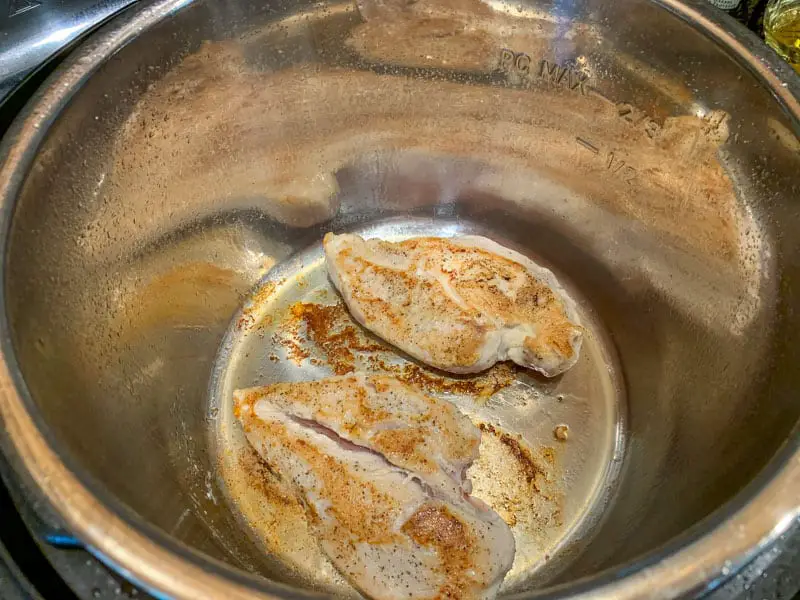 Add a little turn of oil (maybe a tablespoon) and a pat of butter to your pot. Then add your chopped onions and season them with a little salt and pepper.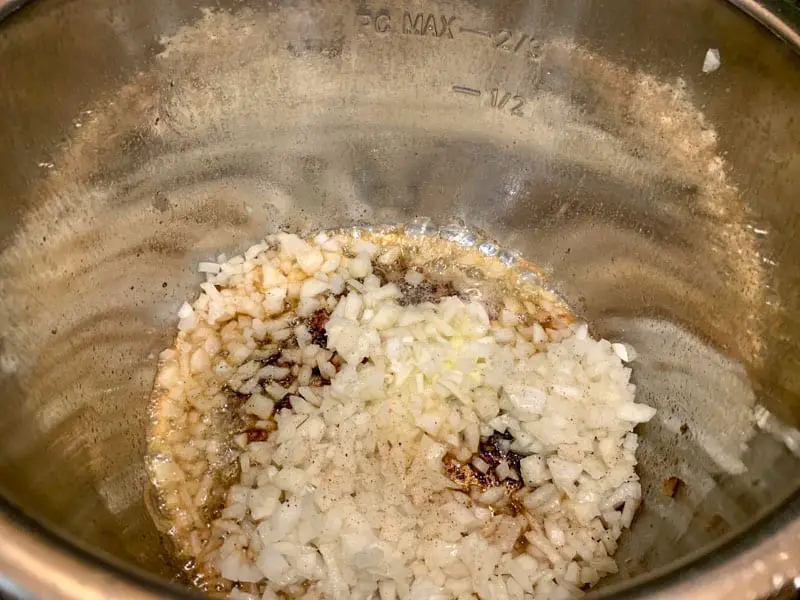 See those browned bits at the bottom left over from the chicken? You want that.
Cook for about 2 minutes, stirring occasionally. As the onions cook, scrape the browned bits at the bottom of the pan. They may not all come up. That's okay. You're okay. I'm okay. Not really.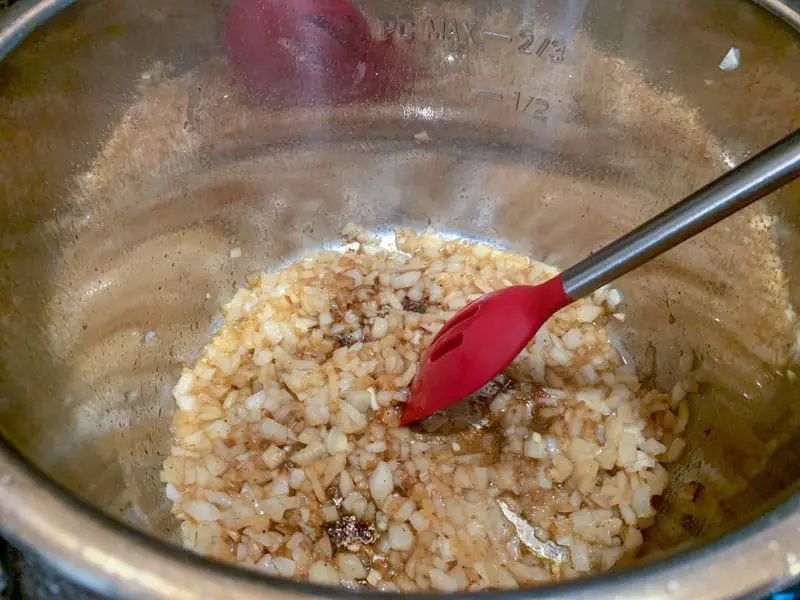 Push aside the onions and pour a teeny bit of oil in the area that is cleared out and put your garlic there. Cook this for about 30 seconds.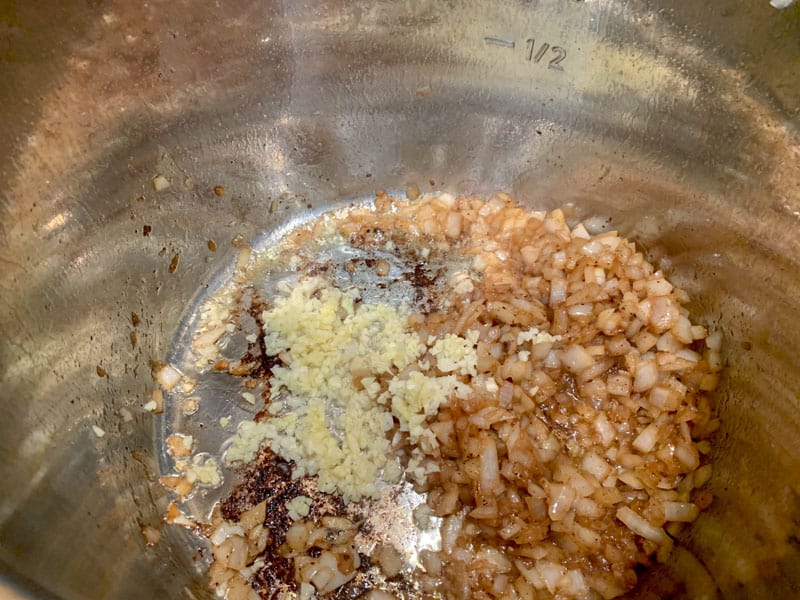 Things are happening! Are you excited? I'm excited! I need to calm down.
Make sure your Instant Pot is still on "sauté" and hasn't turned off. Pour in your lemon juice and deglaze the pan, which is just a fancy term for pouring cold liquid into a hot pan to be able to scrape more of the browned bits off the bottom. It should come off pretty easy now. You so fancy!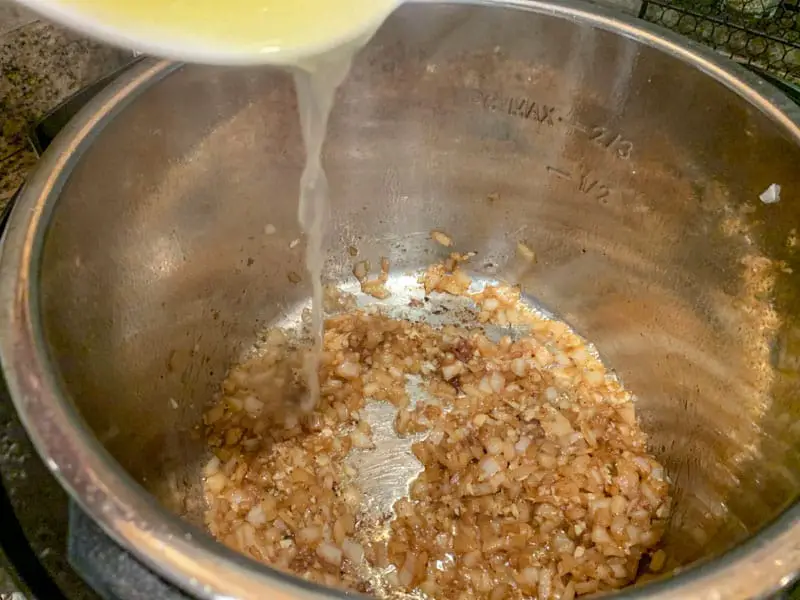 Cook for 1 minute.
Add the chicken stock, Italian seasoning, and lemon zest and give it a quick stir around, then add your chicken back to the pot. You can see some of the pictures have chicken breasts and some have thighs. I tried it both ways and they're both great.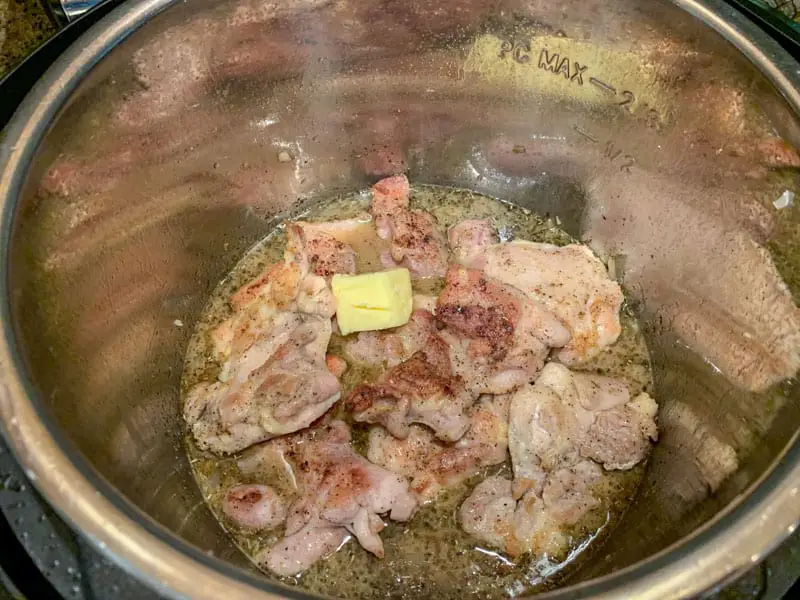 Add about 2 pats of butter because YOLO.
Lock the lid and turn the valve to SEAL. Select manual "pressure cook" for 7 minutes (11 minutes if using chicken breasts). If you're familiar with my lying Instant Pot story at the beginning of this post, you'll know this means it will actually take longer than that with the pressurizing and releasing and poetic love notes.
But it gives you time to make rice or pasta so you can pour this delicious lemon garlic chicken over the top of it!
Allow to naturally release for 2-3 minutes.
Squeeze a little fresh lemon juice over the top if you really like lemon flavor. I do! Top with fresh chopped basil or Italian parsley and serve with rice or pasta. I used angel hair. You could also serve it with potatoes like these Lemon Garlic Roasted Potatoes with Herbs or these Mashed Potatoes with Caramelized Shallots if you're feeling extra fancy.
FAQs
Can I substitute chicken thighs with breasts?
Yes! But just choose one. The breasts take a little longer to cook so I wouldn't advise mixing them.
Can the chicken be put into the Instant Pot frozen?
No. Please be sure your chicken pieces are thawed before searing.
Can I use a slow cooker instead of the Instant Pot?
Yes. I haven't tried this myself, but I would suggest cooking on low for 4-6 hours.
Can this be made as a quick meal during the week?
Yes! I get this recipe done from start to finish (including chopping etc) in about 45 min.
Can I thicken the sauce?
Yes. Try adding a slurry of 1 tablespoon of cornstarch and 2 tablespoons of water. Put on SAUTE function and allow to thicken up, stirring occasionally.
If I double the recipe, do I need to increase the cooking time?
Nope. The same cooking time applies. The only time you would increase the cooking time in a pressure cooker is if you're using thicker/larger pieces of meat. For example, a whole chicken that isn't cut up would definitely need to be cooked longer. But if you double the amount of same sized chicken thighs, the cook time remains the same. Please note: Do not mix thighs and breasts for this reason. Chicken breasts are generally larger pieces of meat than thighs. The thighs cook in 7 minutes and the breasts cook in 11 minutes. Pick only one!
Tips for Storing Leftovers of this Lemon Garlic Chicken
Cool chicken completely and store in a Ziplock bag or airtight plastic container and keep it in the fridge. Consume within 3-4 days.
You can freeze the chicken by placing in a Ziplock bag (make sure to remove as much air as possible). Put it in the freezer and it will keep for up to 1 month. Make sure you let the chicken and sauce cool a little bit first. You don't want to put super hot foods in the freezer.
Looking for more chicken recipes?
Artichoke & Feta Stuffed Chicken Breasts
Homemade Chicken Nuggets with Tomatoes, Basil & Orzo Pasta
Spicy Chicken Fried Rice (Perfect for those following a strict sugar-free diet)
Asian Chicken Lettuce Wraps with Persimmons
Spicy Chicken Lettuce Wraps
Yummy Ugly Chicken
Healthy Chicken Enchiladas
The BEST Homemade Chicken Noodle Soup (I swear!)
If you've tried this Instant Pot Lemon Garlic Chicken recipe, please rate it in the comment section below. I'd love to hear from you!
Print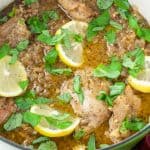 Instant Pot Lemon Garlic Chicken
---
Author:

The Kitchen Snob

Prep Time:

15 min

Cook Time:

30 min

Total Time:

45 minutes

Yield:

4

servings

1

x
Description
This Instant Pot Lemon Garlic Chicken is the perfect weeknight meal. It's fast. It's delicious. It's versatile. Serve over rice, pasta, or with a side of veggies or potatoes.
---
6

boneless, skinless chicken thighs (or

4

chicken breasts)

1 1/2 teaspoon

salt

1/2 teaspoon

ground pepper

3/4 teaspoon

of granulated garlic (can substitute garlic powder)

2

–

3

tablespoons of vegetable oil or olive oil

4 tablespoons

butter, divided

1

large yellow (Spanish) onion, chopped
Little bit of salt & pepper for sprinkling over onions

4

large garlic cloves, minced

2 tablespoons

Italian seasoning

2

lemons (juice and zest, separated)

1/3 cup

chicken broth

2 tablespoons

chopped fresh basil (Italian parsley can be substituted)
rice or pasta (optional)
---
Instructions
In a small bowl, mix together salt, pepper, and granulated garlic. Pat dry chicken pieces and season both sides with salt and pepper mixture.
Preheat Instant Pot to "sauté" function.
When pot is hot, add 2 tablespoons oil and 1 tablespoon of butter to pot. Sear chicken pieces for 2-3 minutes each side. You may need to cook more than one batch if they don't fit in the pot. Set seared chicken aside.
Add 1 tablespoon butter to pot. Add onions and sprinkle with some salt and pepper. Cook for 2 minutes, stirring occasionally, while scraping up browned bits off of the bottom.
Push aside some of the onions to create an opening in the bottom of the pan. Add 1 tablespoon oil to that area and then add garlic. Let cook 1 minute. Stir onions and garlic together.
Add lemon juice from 2 lemons to deglaze the pan. Cook for one minute and, while cooking, scrape up the remaining browned bits off the bottom of the pan.
Mix in chicken stock, lemon zest, and Italian seasoning.
Place the chicken back into the Instant Pot (chicken pieces can be overlapping) and add remaining 2 tablespoons of butter on the top. Lock the lid and turn the valve to SEAL.
Select "Pressure Cook" and adjust timer to 7 minutes if using chicken thighs, 11 minutes if using chicken breasts. Let Instant Pot pressurize and when timer goes off, let it naturally release for 3 minutes before pushing the valve to VENT. Be careful! I always use something long, like tongs or a long rolled up pot holder. You never want your hand in the way of the steam coming out.
Sprinkle with chopped basil. Italian parsley can be substituted. Squeeze a little lemon over the top and serve. Add sliced lemon for presentation, but it's optional.
Serve over pasta, rice, potatoes, or serve with a side of vegetables.
Notes
If you'd like to thicken the sauce, add a slurry of 1 tablespoon of cornstarch and 2 tablespoons of water. Put on SAUTE function and allow to thicken up, stirring occasionally.
If you'd like to use a slow cooker instead of the Instant pot, I would suggest cooking on low for 4-6 hours, AFTER you've seared the chicken breasts.