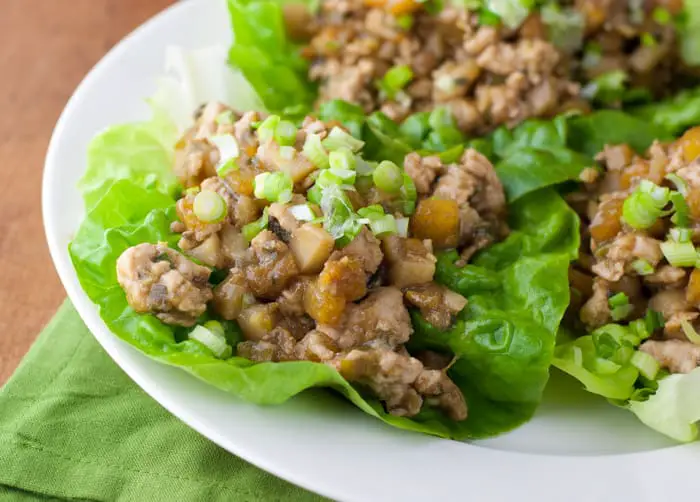 And one. Two. Three. Breathe!
That's me pretending to get in shape so I can continue the facade of my New Year's resolutions.
No seriously – I'm doing this 30 day flat abs challenge from Blogilates.com. I'm trying to be realistic about it. Because flat abs? At this point I'd settle for "smaller mound" abs.
It's true – I did quit after Day 6 because I'm a wuss I'm a really busy person. But I started over with Day 1 and will not quit this time. Yeah, I'm a warrior like that. [flexes puny bicep] And, aside from pulling a back muscle last night doing a move incorrectly, I'm totally fine and still going strong!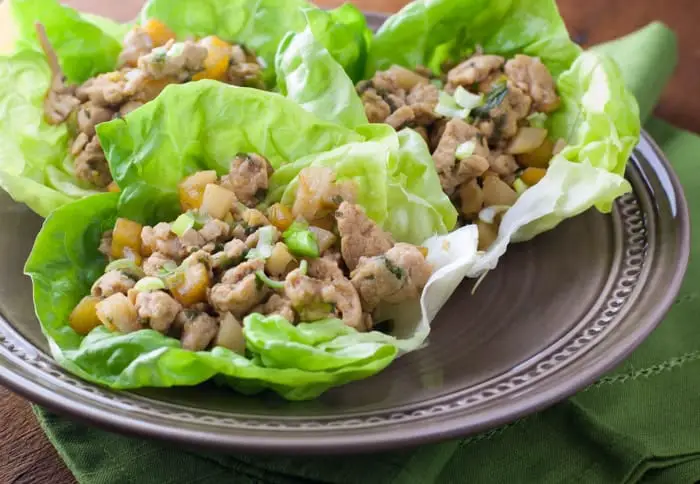 These Asian Chicken Lettuce Wraps will pump YOU up in a different way. Think of all those calories you'll burn by lifting these light and delicate babies up to stuff them in your mouth.
…four…five…six…and REACH for that muffin healthy chicken lettuce wrap…
If you're anything like me (translation: you ate your weight in Kicked Up Upside Down Cranberry Cake and Fall Spiced Cranberry Muffins with Tangerine Glaze), your body will go into immediate cardiac shock when your brain reacts to the healthy concoction going on in these leafy green tacos.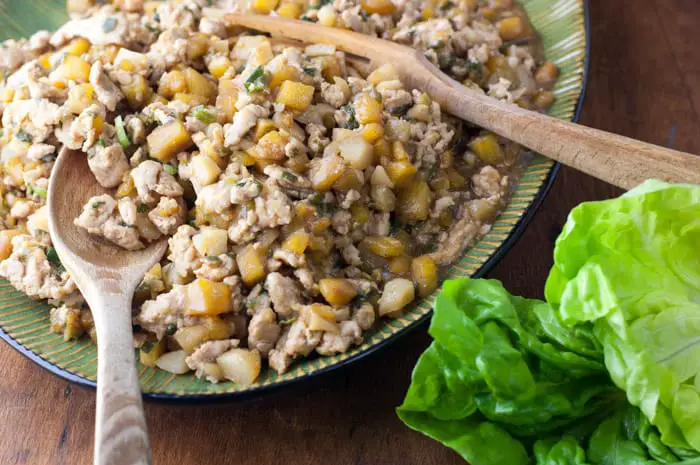 My brain:  WHOA! What in the fffruit are you eating?
Me:  MMMmmmmm lettuce wraps….
My brain:  Do I detect persimmons?! Attention internal organs: Listen up! This is not a test. We're going to be getting a whopping amount of fiber, Vitamin A, Vitamin C, and antioxidants! Everyone get ready! We don't know when we're going to receive nutrition like this again. Especially if this chick keeps eating Crispy Flaky Butterfinger Treats and calling it "blogging". She is actually eating a healthy meal with no bad carbs. This is quite a day in our body's history!
Enter parade with trumpets, trombones, and baton twirlers.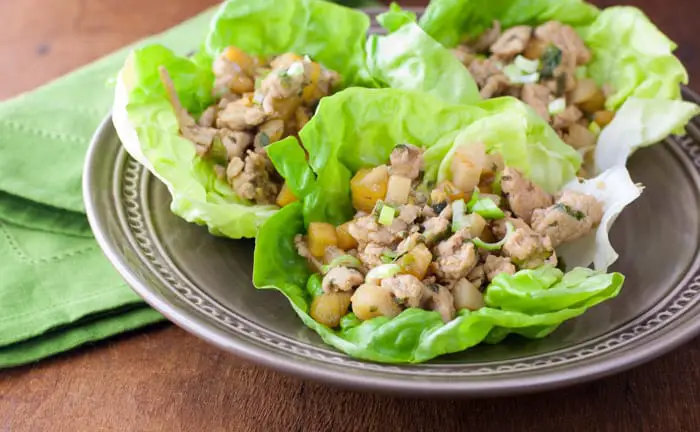 Wow. My brain is quite the drama queen.
I'm sorry you had to witness this discussion. Your brain probably doesn't mock you. Your brain probably will just say "Yum" or "Great choice!"
Or maybe your brain is silent like a NORMAL PERSON.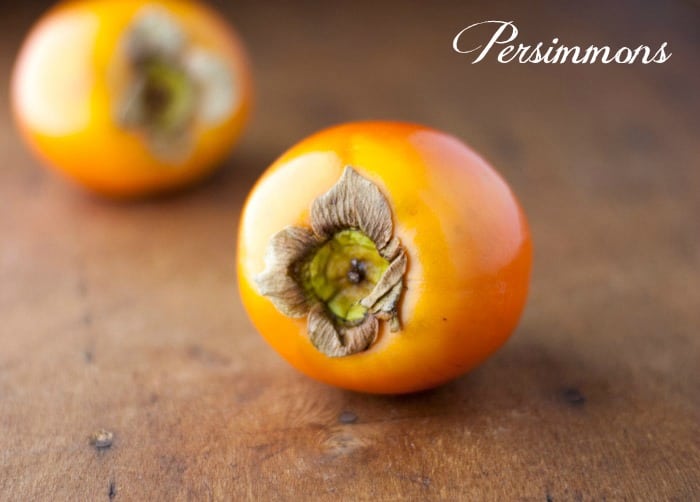 I love these Chicken Lettuce Wraps and make them every year at this time because the persimmons are in season. Persimmons are usually next to that other weird fruit you see in your grocery store. You know, the stuff you have no idea what it is, like weird shaped cacti and dragon fruit. It's there, looking so purty.
Print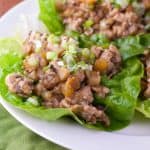 Asian Chicken Lettuce Wraps With Persimmons
---
1 tablespoon

peanut oil

1 cup

minced green onions, plus more for topping

4 teaspoons

cornstarch

1

pound ground chicken

2

Fuyu Persimmons, peeled and chopped

1

8 oz can water chestnuts, drained and chopped

2 tablespoons

peeled, grated fresh ginger

6

tablespooons low-sodium soy sauce

1/4 cup

freshly squeezed orange juice

2 tablespoons

oyster sauce

12

Boston lettuce leaves
---
Instructions
Over medium-high heat, preheat peanut oil in a large nonstick skillet.
Add chicken to pan and brown for 2 minutes, stirring occasionally. Add onions and cornstarch and stir while crumbling meat to combine. Cook an additional 2-3 minutes, stirring occasionally.
Add persimmons, water chestnuts, ginger, soy sauce, orange juice, and oyster sauce to skillet. Cook together for approximately 4 minutes, stirring occasionally. Remove from heat and let sit for 1-2 minutes. Spoon chicken mixture into the middle of each piece of lettuce. Sprinkle with additional green onions, if desired. Roll up and eat like a taco, or roll like a burrito and enjoy.
Notes
More great recipes at www.thekitchensnob.com