This is my new favorite cranberry muffin recipe!
I've been fighting this fall-loving feeling for the last few weeks. Unfortunately, the beginning of fall doesn't only make me think of apple pie and beautiful falling leaves. It also makes me think of things like: the Polar Vortex of 2013 [shudders], raking those beautiful leaves, salt-encrusted cars, expensive heating bills, and racing around town looking for last minute Christmas gifts.
Don't I sound like such a grinch?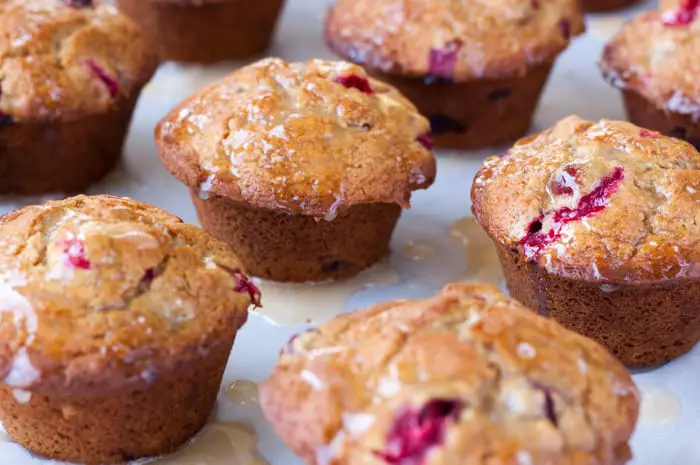 After one bite of these tangerine-soaked cranberry muffins…the grinch is dead.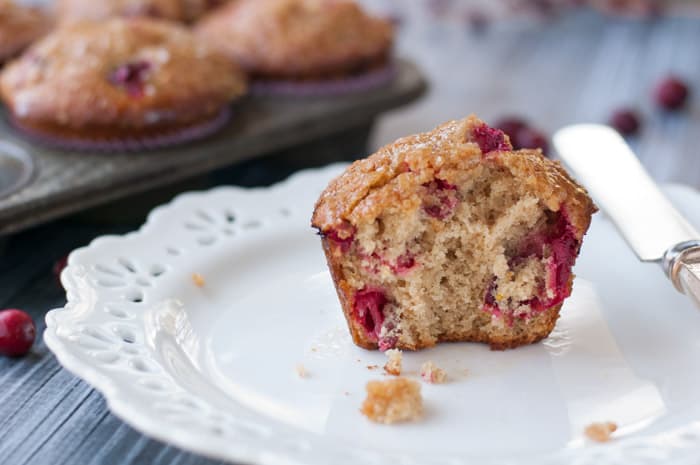 You've won, REO Speedwagon. I can't fight this feeling anymore.
I must have you NOW, fall recipes.
Because with all the downsides to colder weather, there are upsides, too:
Fat clothes. We secretly love those big sweaters and down coats that cover EVERYTHING.
Pumpkin spices
ParTAYS – free food, free drinks, lampshades on your coworkers' heads – what's not to love?
Excuses to eat many, many things
Hot chocolate
Twinkling lights on every street
Crackling fires
After January 1st, I can't help you. It's every man for himself as we all hunker down and pray for spring. But for now, LET'S EAT and be thankful.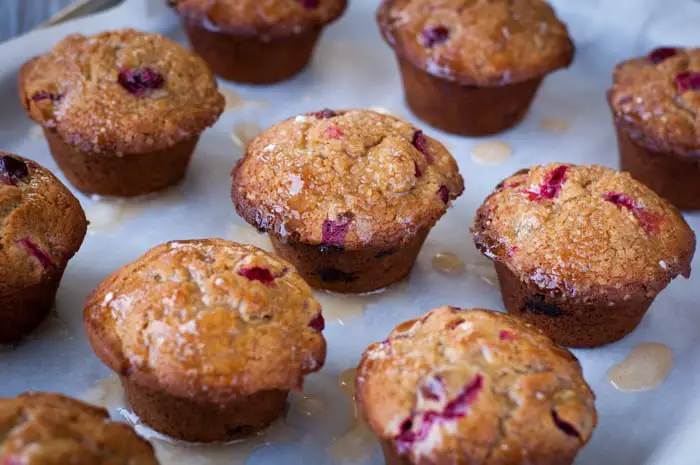 [note note_color="#f2a8dd" text_color="#000000″ radius="16″]I made a delicious mistake when making these. I double glazed them! Glazed once, and let it soak in a bit and then made another batch of glaze and added more (I only did this for the sake of photography.) WOWZA whoop whoop was it good! It was so moist, sweet, and tart. And did I just say wowza whoop whoop? No, no that didn't happen.[/note]
Print
Fall Spiced Cranberry Muffins with Tangerine Glaze
---
3 cups

all-purpose flour

4 teaspoons

baking powder

1/2 teaspoon

salt

1 teaspoon

ground cinnamon

1/2 teaspoon

ground allspice

1/4 teaspoon

ground cardamom

2

large eggs, room temperature

3/4 cup

granulated sugar

3/4 cup

packed dark brown sugar
Zest of

1

tangerine (about

1 tablespoon

)

1 teaspoon

fresh squeezed tangerine juice

1 cup

buttermilk, room temperature

1/2 cup

canola oil

2 teaspoons

vanilla extract

2 1/2 cups

fresh or frozen cranberries (if using frozen do not thaw)
A few tablespoons of Turbinado sugar (sugar in the raw) or some other coarse sugar for sprinkling (optional – this will give the top a nice crunch)
Tangerine Glaze
1 cup

powdered sugar

3 tablespoons

fresh squeezed tangerine juice

1

–

2

tablespoons milk (optional – see instructions)
---
Instructions
Preheat oven to 425°F. Spray muffin pan with non-stick baking spray and set aside.
In a large bowl, combine flour, baking powder, salt, cinnamon, allspice, and cardamom. Whisk together and set aside.
In a medium bowl, lightly whisk the eggs. Add granulated sugar and dark brown sugar and stir to combine. Next, whisk in buttermilk, oil, vanilla, tangerine zest, and 1 teaspoon of tangerine juice.
With a large spoon, slowly fold in wet ingredients into the dry ingredients. Be careful not to over-mix! Just slowly stir until barely combined (you will still see some flour lumps).
Gently fold in cranberries. Batter will be lumpy.
Spoon batter into muffin pans. Sprinkle muffin tops with course sugar.
Bake at 425°F for 5 minutes. Without taking the muffins out of the oven, reduce heat to 375° and bake for additional 22-23 minutes or until an inserted toothpick comes out clean.
Cool muffins in pan for 10 minutes before removing them. Cool completely before adding glaze.
To make glaze: combine powdered sugar and 3 tablespoons tangerine juice with a whisk. (If you want to thin it out, add a little milk. To thicken it up, add more powdered sugar. Note: if you'd like a tartness to your muffins, don't add any milk to the glaze. Adding the milk dilutes the tangerine flavor and makes it more sweet than tart, which is yummy, too, but good to note.) Drizzle glaze over muffins and serve.
Notes
Makes 1 dozen muffins.
More great recipes at www.thekitchensnob.com