This is a review of Wicked Good Cupcakes, the Boston-based bakery featured on the TV show Shark Tank, which also ships mail-order cupcakes, cheesecake, and brownies directly to your door. **I've updated my review at the bottom of this post.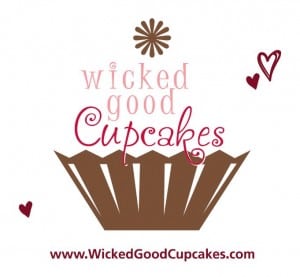 If you're a loyal Kitchen Snob reader, you know I talk about cake from time to time. Okay, like all the time. Is it really that noticeable? [munches on cake while blogging]
The mother-daughter baking duo, Tracey Noonan and Danielle Vilagie, got the idea of putting cupcakes into jars as a way to keep them fresh for 10 days without refrigeration so they could ship them. And now, those of us who don't live in Boston, can eat these wickedly good treats any time we want. Can I get a high-five?
My cake-enabling husband ordered up some of these Wicked Good Cupcakes for me after seeing them on the TV show Shark Tank. I didn't lift a finger to stop him.
To be frank, I wasn't too keen on the idea of cupcakes in a jar. Cupcakes are always so cute in their little decorated paper cup. To imagine one smashed in a jar just didn't seem right. Well, I was wrrr…wrrrrr…WRONG. See, I can say it.
Wicked Good Cupcakes – The Good
My first impression when I received the package was how impressively nice they looked. Yes – even without polka dotted paper cups and fancy flowers made with frosting, they were pretty adorable in their little jars wrapped with silver ribbon. They were nicely wrapped in Styrofoam cutouts and came with these lovely silver plastic spoons.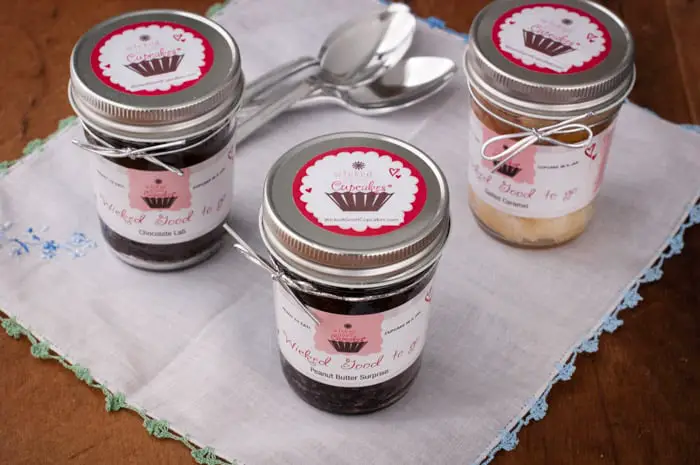 The first flavor I tried was Chocolate Birthday. It was positively moist and fresh and ohhhh YES had that deep heavenly chocolate flavor with a generous portion of sprinkles. I think I just kept muttering "wow" in between spoonfuls.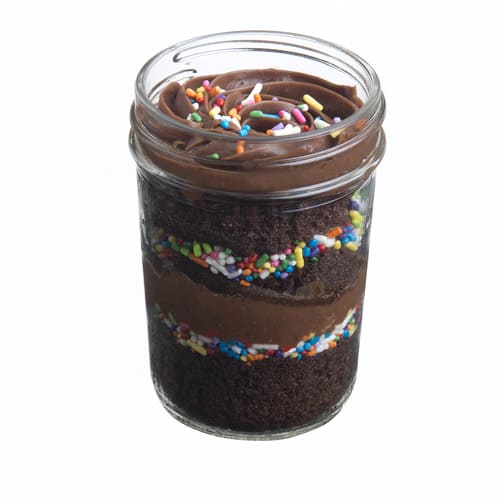 Chocolate Lab was equally as good as Chocolate Birthday. The Hungry Husband loved the Salted Caramel flavor, but that wasn't really my thang, ya know. I tend to stick to standard cake flavors. I'm keepin' it real.
All 4 flavors we tried were rich and delicious. Grab yourself a large glass of milk!
I'm dying to try their Vanilla Birthday flavor which is made with Madagasgar Bourbon vanilla cream cheese buttercream frosting – are you kidding me? Yes! Yes! A thousand times, yes! It looks heavenly on their website and I will make it mine, someday.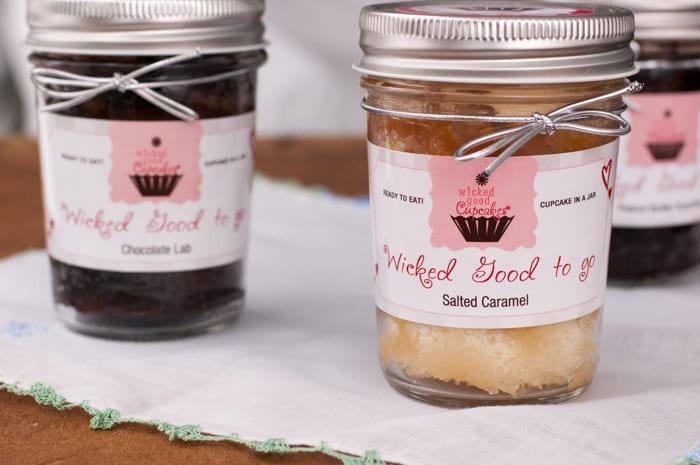 I truly apologize for not getting a closeup picture of the actual cake inside but you'll forgive me when I tell you my camera didn't have a chance once I opened the jar and had a nearby spoon. They were GONNERS.
A few of their other flavors are: Whole Lotta Lemon, Cookies n Cream, Natalie's 24 Karate Kake, Pumpkin Spice, Chocolate Guiness & Baileys, Valentine Red Velvet, Mocha Maine Coon Cat, and Peanut Butter Surprise. You can see a full list of flavors (and pics!) here.
Or check out the Wicked Good Cupcakes homepage where you can order em' all up and find gluten free cupcake options, brownies, cheesecake, and French macaroons.
I also love that they sell Cupcakes With a Cause (with cute kitty/puppy flavor names) where they donate a portion of the sales to the American Humane Society.
Wicked Good Cupcakes – The Bad (not really)
Unfortunately these wickedly good cupcakes are expensive and then you have shipping to add on. At the time of this posting, 4 cupcakes are $28.95 plus shipping. Shipping is via UPS (1-3 days) so you get your cupcakes as fresh as possible. I think it was around $40 total with shipping, making them about $10 a cupcake. Now before you run off clutching your wallet screaming "Nooooooo!" their website says each jar is about the size of 2 cupcakes. Personally, I'd rather get these yummy cakes instead of flowers (and we know how expensive those can be). The cost is really not that much when you consider what you're getting (nicely packaged in cute jars) and purchasing the type of unique gift that someone can enjoy but might not necessary buy for themselves. And, let's not forget, they are wicked good!
Wicked Good Cupcakes – The Conclusion
Wicked Good Cupcakes are great as a fun treat or gift at a special time of year (Mother's Day, Valentine's Day, birthday) or to just treat yourself! If you're a newcomer to this bakery and love chocolate, Chocolate Birthday and Chocolate Lab are an absolute must try!
Update January 2016: We've ordered Wicked Good Cupcakes a few times since I originally wrote this review. Unfortunately, we've had some bad luck with them. The last few orders were really dry. It seemed to me that the caps were not screwed on tightly. The first time this happened, I assumed it was a fluke since I liked them so much the first time. But when it happened again, I was really disappointed. I reached out to the customer service team at Wicked Good Cupcakes about the dry batches. They were quick to respond and appreciated my honest feedback. They offered to send me a new batch, free of charge, but at the time I was a little tired of eating cake. Did I just say that? 🙂
Anyway, I'm hoping that they'll fix some of their quality control issues because they really were very good the first time we had them.
Check out Shark Tank's update on the wicked gals at Wicked Cupcakes:
Have you tried Wicked Good Cupcakes? I'd love to hear your thoughts in the comments below!
Want to make your own wickedly good cupcakes? Try out these Best Impressive Party Cupcakes. They're a hit every time I make them!