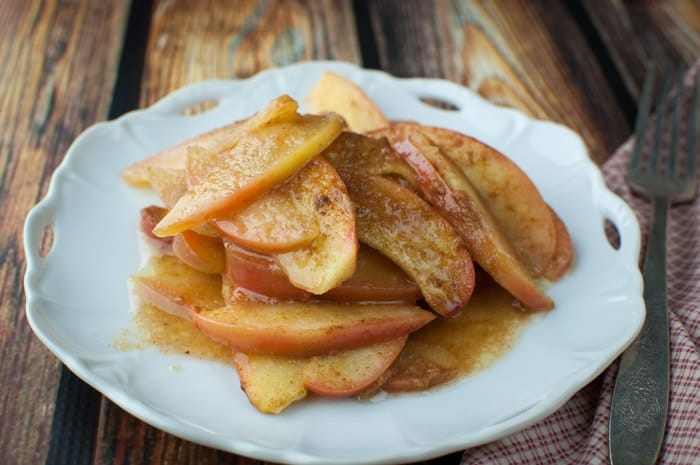 It's day 9 of the Sugar Free Challenge. You're desperate.
You'd do anything for a chocolate pizza topped with cinnamon bun croutons.
Orrrrr you're doing great, don't crave sugar at all, and we all hate you.
Either way, you deserve a treat. We've come a long way, baby and we're nearing the end of our 10-day challenge. These baked apple slices are here to rescue you. Reward you. They're not an eat-every-single-night type of thing. Hence the word: treat.
I was inspired by Carla Hall's Spiced Baked Apples on The Chew. But she uses brown sugar, honey, brandy, and apple cider and those are totally illegal on this sugar free diet. So, I played around with my own version and think it turned out pretty good.
Can I get a rip roaring round of applause for…
Sugar-Free Baked Apple Slices!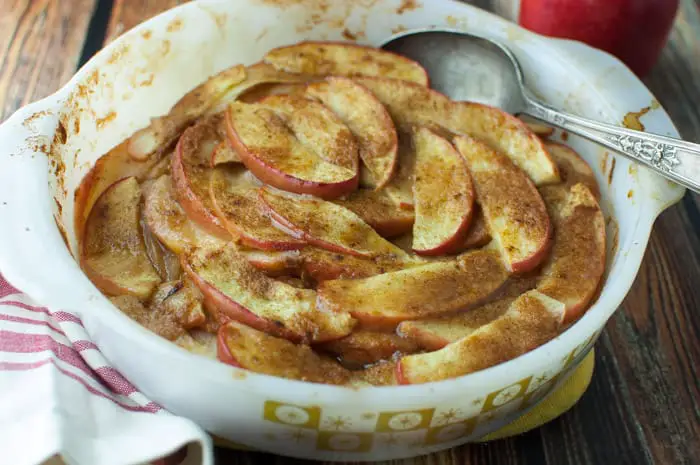 It's easy. It's legal.
Slice up some Braeburns, baby. Infuse your butter with spices. Is butter sugar free? It is. But it's naughty. Who cares? Not me.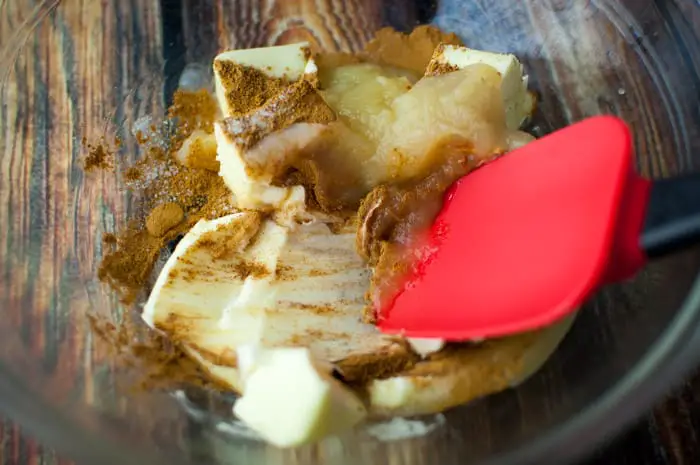 Stack and spread, stack and spread.
BOOM. You've got your first truly sugar-free dessert.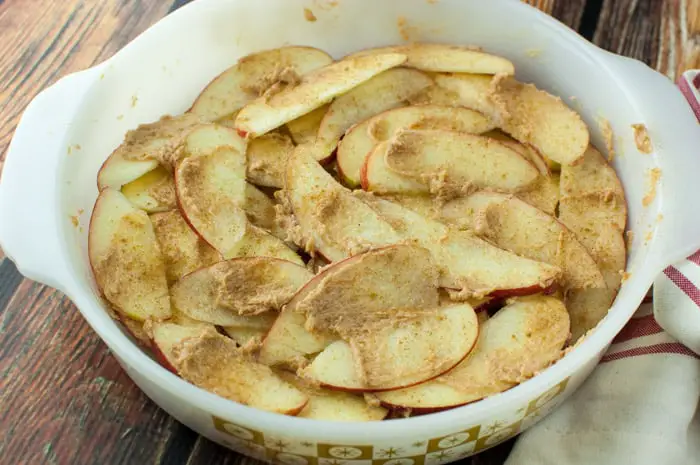 This is after a few layers to show you how I smush (← very technical baking term) the butter on top of the apple slices.
Keep adding layers until you've filled your dish to the top or you're so sick of cutting thin slices of apples that you're about to go rogue and dive into the Oreos that you were supposed to throw out. Busted.
No, it's not grandma's apple pie. There are no crunchy crumbles. But hey, if you want a truly sugar-free sweet treat after depriving yourself of your favorite desserts, this will be welcomed by your faces. We devoured ours in 30 seconds.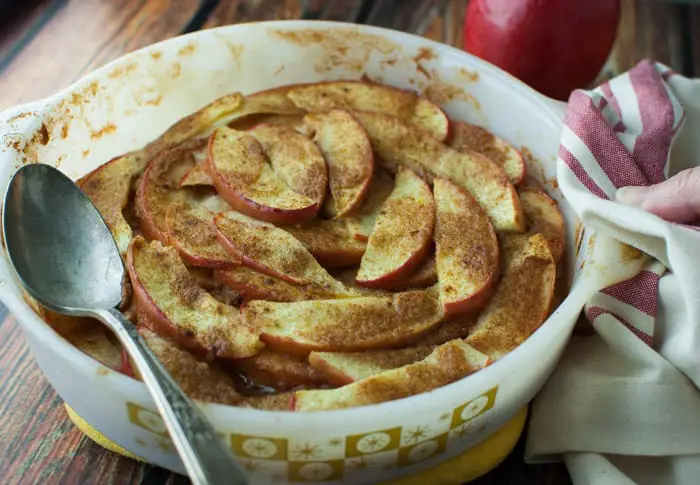 There is a teeny tiny, eeny weeny cheat here. I won't tell if you won't tell. Lean in, and I'll whisper it to you.
There's a few tablespoons of freshly squeezed orange juice in the recipe…sshhhh.
Do you hear sirens? I'm paranoid the Fed Up Challenge police will arrest us.
Look, if you eat the rest of the orange and get the fiber from it, we'll just pretend this didn't happen. It'll be our little secret. Because whole oranges are allowed.
And we're not going to be eating this every doggone day. No, we are not. We. Are. Not.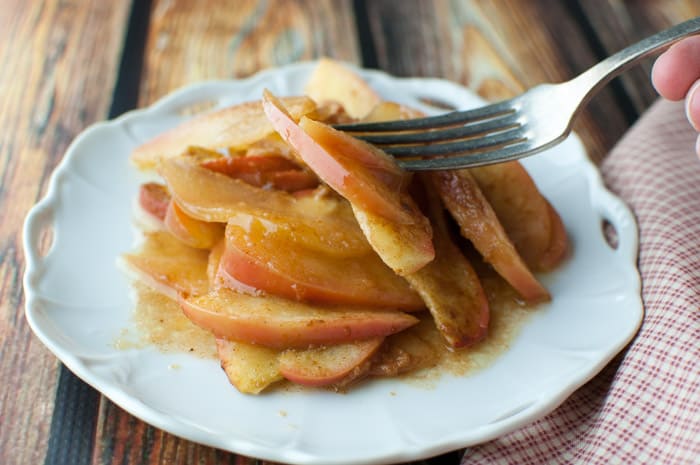 Seriously, did you just see flashing red and blue lights?
Print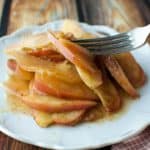 Sugar-Free Baked Apple Slices
---
Scale
Ingredients
3

–

4

Braeburn apples*

1/2 cup

unsalted butter, softened to room temperature

2 teaspoon

s cinnamon, plus more for sprinkling

1/2 teaspoon

of apple pie spice (I used Penzeys. If you don't have this, use approximately

1/8 teaspoon

of both nutmeg and cloves, and add an extra

1/4 teaspoon

of cinnamon.)

1/2 teaspoon

table salt

1/4 cup

"no sugar added" apple sauce

3 tablespoon

s freshly squeezed orange juice (bottled orange juice will be too sour)
---
Instructions
Preheat oven to 350°.
In a small bowl, combine softened butter, cinnamon, apple pie spice, salt, and applesauce. Mash together with a soft silicone spatula until mixed thoroughly. Set aside.
Core the apples and slice them into very thin slices.
Line the bottom of a small, shallow baking dish with a single layer of apples. Spread a small amount of the butter mixture over each slice. Add another layer of apples to cover up any open spots. Spread a small amount of butter over those newer slices. Drizzle 1 tablespoon orange juice over the apples and lightly sprinkle with cinnamon.
Repeat layers until you've used up all your apples or filled your dish to the top. (You'll be using the orange juice and extra cinnamon on every other layer of apple slices.)
Bake for 30-35 minutes or until apples are fork tender. Take out of oven and let cool for 10 minutes before serving.
---
Notes
*Braeburn apples are used because they are sweet and tart and have a lot of flavor, which is very important since we're not adding sugar to this recipe. If you can't find Braeburn, try Fuji or Jazz apples.
More great recipes at www.thekitchensnob.com