OK fans of sugar, prepare for battle. Ya, I know I'm supposed to be all supportive and tell you it's going to be a breeze and rah rah rah with my pom poms but…listen, bros and brosettes. I'm not going to lie to you. If you're really a sugar addict, this ain't gonna be fun.
If you're going to go on a sugar free diet, you need to arm yourself with the proper tools weapons against your usual cravings and emotional excuses like:
"I did sit for a long time at that stoplight today, so I earned that Twix!"
"My boss is a good for nothing

insert cussword your mother told you not to say here

so I'm eating this bag of chips."
"My cat just peed on the rug, my kids are driving me bonkers, and my car won't start so I'm shoving this cupcake in my face and you can't stop me!"
If you want to be successful with this you're going to have to get prepared. Shopping will take a little extra time because you'll be reading e v e r y label. Sigh. Let's all take a moment to accept how darn right annoying it's going to be and JUST DO IT!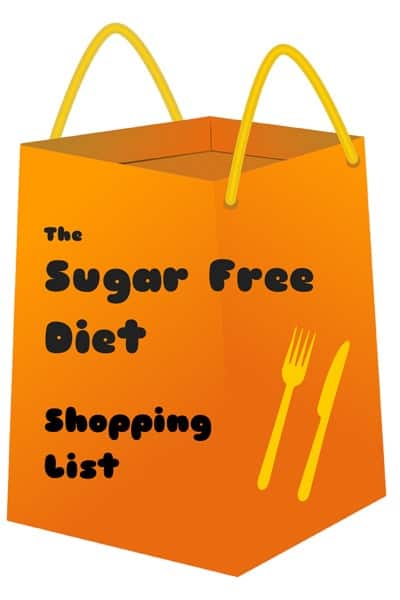 This sugar free diet shopping list is to help guide you. Depending on which Fed Up Challenge plan you're going to follow, alter your list accordingly. (i.e. The list below is for Plan A but if you're following Plan B, you can eat white starches, but still look for breads/pastas with no added sugars). If you're not sure what plan you want to try, check out my post with official rules on the 10-Day No Added Sugar Challenge for plan options.
And before you go shopping, make sure you look at the list of Other Names for Sugar to make sure you're not buying anything with those sneaky sugars!
The Sugar Free Diet Shopping List:
[list icon="icon: check" icon_color="#000000″]Sprouted grain bread (Ezekiel 4:9 is a good one. It's usually in the healthy/organic freezer section)
brown rice
Meats and seafood (get at least a couple day's worth of meats)
Deli meat for sandwiches (
Boar's Head All Natural
 roast beef doesn't have any sugar – beware: the turkey does)
Bag of baby carrots – great for snacking
Raw almonds
Fruit, fruit, and more fruit (watermelon is great for dessert!)
Veggies – grab several varieties
Cheese
Cottage cheese (Check the label! Many cottage cheeses have added sugar)
Eggs (hard-boiled eggs are easy to eat for breakfast when you're in a hurry)
100% whole wheat pasta or gluten free pasta (check the label for hidden sugars!)
Peanut butter (all natural no added sugar)[/list] Ezekiel also makes pastas and tortillas. Both are great options when trying to stay away from white flours and added sugars.
Sugar Free Snack Ideas:
[list]Apples dipped in peanut butter
Plain yogurt with lots of chopped fruit (check the yogurt ingredients!)
Cottage cheese with fruit mixed in
Toasted Ezekiel bread toasted with some plain butter or peanut butter
Carrots or celery dipped in your own homemade ranch dressing
I hope you've gotten some friends or family members to support you so you don't have to do this no sugar challenge all alone. But if not, remember we're in this together! If you'd like to follow along, be sure to subscribe in the right hand sidebar of this page!
Need some extra help? Check out these Sugar Free Diet Tips.
Check up on how I did in the 2014 Fed Up Challenge on Day 1, Day 3, Day 5, and Day 8. Also see the 5 Things I Learned While On A Sugar Free Diet and Why You Can't Have Sugar Substitutes During The Fed Up Challenge.
To check out the sugar free challenge we did in 2014, go here.
To check out the sugar free challenge we did in 2015, go here.
To check out the sugar free challenge we did in 2016, go here and here.
To check out the sugar free challenge we did in 2017, go here.
Omg we've done so many! What happened to 2018? Well, I was too busy eating cupcakes to post one. 😉
Do you have any good meal options or snack ideas to add? What's on your sugar free diet shopping list?
Here are some of my recipes that are sugar free:
Poor Man's Steak Salad (my newest sugar free, white carb free recipe!)
Spicy Power Turkey Sandwich with Avocado Spread
Spicy Chicken Fried Rice
Impress Your Mother-In-Law Avocado Toast
Herbed Basmati Rice (use brown rice instead of white rice)
Easy Pan-Seared Pork Chops (omit the bread crumbs or use wheat flour or Ezekiel bread)
Fresh Green Beans with Caramelized Onions and Bacon
Marinated Vegetable Salad
Chopped Fresh Fruit Salad
Sugar-Free Baked Apple Slices