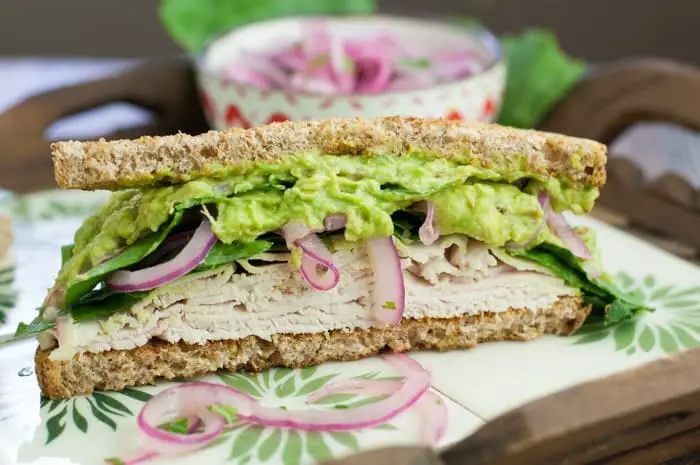 This is not an ordinary boring outdated turkey sandwich. No. It's got charisma. Pizzazz.
If this sandwich had hands, they would be wiggling finger jazz hands. I don't know. Just go with it.
It's the perfect lunch if you're on a sugar free diet or doing the Fed Up Challenge, which I was. I might still be doing it if it weren't for the hubby's birthday extravaganza.
Birthday = sugar. (I don't make the rules.)
What is birthday extravaganza? Oh, it's just a looooowonng time surrounding your actual birthday.
Let's say your birthday is May 10:
You get to boss people around starting May 1st.
Who gets to pick the movie? You, because it's May 7th.
Or maybe you want someone else to be the one to go pick up dinner while you lazy around on the couch. WAIT – what if it's seriously your turn? Nope sorry. It's May 15 and it's your bday extravaganza so somebody better hop to it.
May 30th comes around and you want someone to bring you your slippers? Extravaganza, baby.
I just like saying the word extravaganza. Maybe jazz hands while I'm saying it.
Warning: Don't introduce the extravaganza to your family members unless you want to create little monsters. The hubs thinks his extravaganza is 1 month before and 1 month after, giving him a full 2 months of birthday bliss. Say WHAAAT?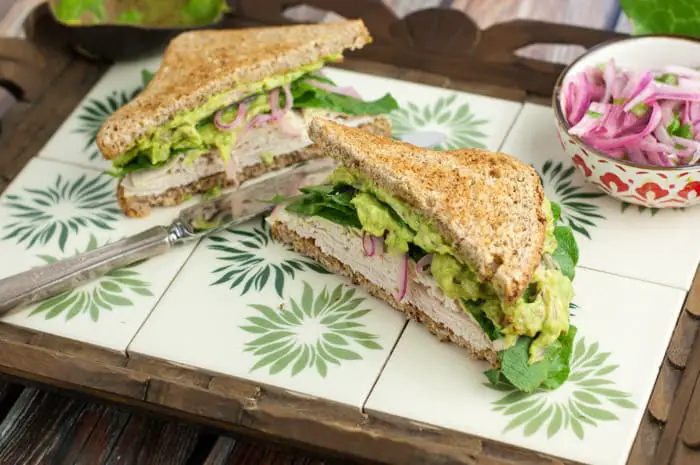 So the sandwich. The anti-monster power turkey sandwich. Why call it a power sandwich? Because it's loaded with good-for-you flavor and packed with protein and complex carbohydrates. It'll keep the little monsters quiet.
It's got a slightly spicy avocado spread that gives it that rich buttery avocado flavor. I then added some Salsa Criolla to it, which is a Peruvian condiment that's made from red onions marinated in lime juice and cilantro. Have you tried this? It's amazing on sandwiches and grilled steak. You can also mix the onions in rice dishes for an extra punch of flavor. It's heaven.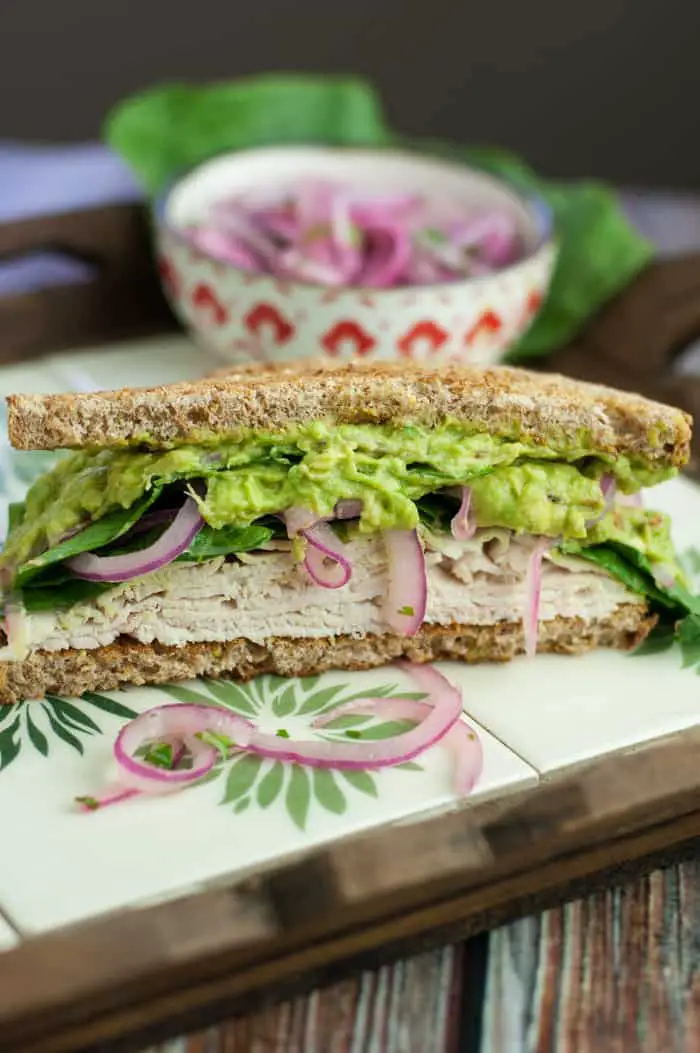 When I'm doing these Fed Up Challenges, I get sick of eating flavorless food. I get too busy to cook and I find myself eating for sustenance rather than flavor. So any way I can spice things up is going to get me excited!
There is absolutely no added sugar and no white starches in this turkey sandwich. It's totally doable to make healthy meals that taste great!
Print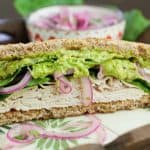 Power Turkey Sandwich
---
Sliced deli-style roasted turkey breast (check for sugar on the label)
Ezekiel sprouted grain bread, toasted
Romaine lettuce
Salsa Criolla (you could use 1/2 onion but I like to have extra for other things throughout the week)
1

large red onion, sliced paper thin

1/2 cup

fresh squeezed lime juice

½ teaspoon

vinegar (any white or red vinegar will do)

2 teaspoons

extra virgin olive oil

2 tablespoons

chopped cilantro
Sea salt (to taste but I used about 1/4 teaspoon)
Avocado Spread (I use about 1/2 avocado per sandwich. Multiply recipe if needed)
1

avocado

1/4 teaspoon

ground sea salt

1/8 teaspoon

red pepper flakes

1 teaspoon

lemon juice
---
Instructions
Make Salsa Criolla and marinate in refrigerator for at least 3 hours (turning once 1/2 way through) or marinate overnight.
When ready to make sandwich, slice avocado in half, take out seed, and scoop out of shell with a spoon into a small bowl. Add sea salt, red pepper flakes and lemon juice and mix and mash together with a fork. Set aside.
Assemble sandwich with toasted bread, turkey, lettuce, marinated onions, and a generous amount of avocado spread.
Notes
More great recipes at www.thekitchensnob.com