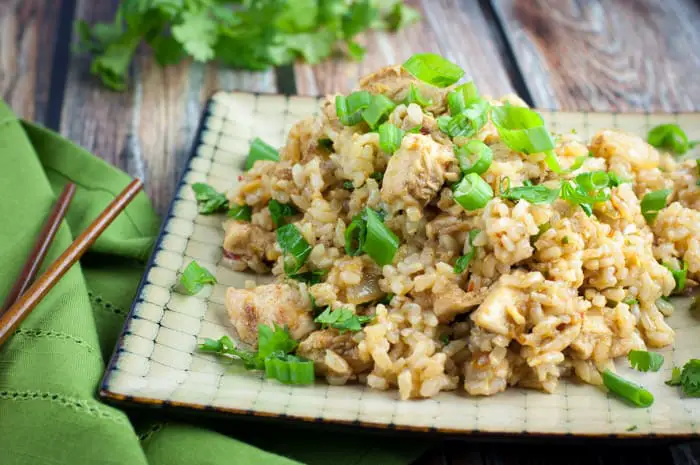 Let's be dramatic.
I'm so hungry, I'm going to pass out.
I'm dying of starvation.
If I don't eat cake soon, I will die.
These are things I've actually said or thought in the last 2 days. My sugar withdrawals have kicked into high gear and, although I know it will pass, I've gone mad. MAD I tell you!
Perhaps you're starving, too? Maybe you're caulking baseboards in your foyer and crawling around on your hands and knees on hard ceramic tile for 2 hours straight and you realize you normally get through these "hard times" by snacking on quesadillas and cupcakes. And now you're supposed to munch on carrots like a dang jackrabbit all while smiling and whistling while you work?
Inconceivable!
Sidenote: I hate DIY. I used to watch HGTV every day. Now, I'm over it. Are you an HGTVer? Here are 32 Signs That You're Addicted To HGTV. Now please enjoy these lovely before & after pics of my caulked baseboards.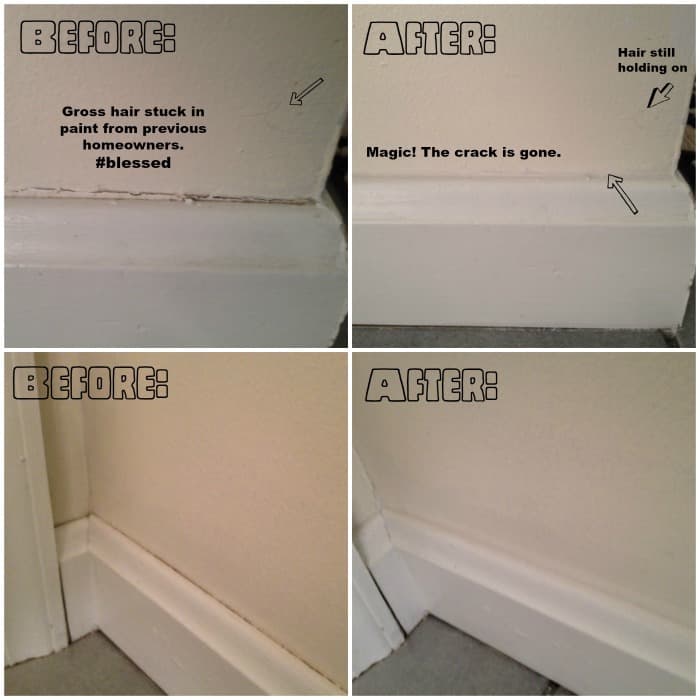 Where was I? Oh yeah, the #$&%@! foyer. And starvation. And lame carrots.
So maybe tomorrow you're going to be taping trim and painting 2 coats in said foyer that has SEVEN doorways to paint around. S E V E N. That, my friends, is an unlucky number of doorways.
I'm sure you'll agree that this job calls for the true nourishment of pizza. droooool.
Nope. Carrots ain't gonna cut it.
But you can't have pizza. Because you're eating sugar free. [make sign of the cross over chest]
Since we're still being dramatic, this no-pizza thing makes you want to throw yourself onto the hard-as-rock tile with enough force that you break something. Like bones, man. Do they serve pizza in the hospital? You start to consider that maybe you're taking this too far. Hmmm. mmmmm…pizza.
At this point (you're dying, remember?) you'll settle for anything that tastes "pretty good for healthy."
And like destiny, into your life walks this recipe for Spicy Chicken Fried Rice.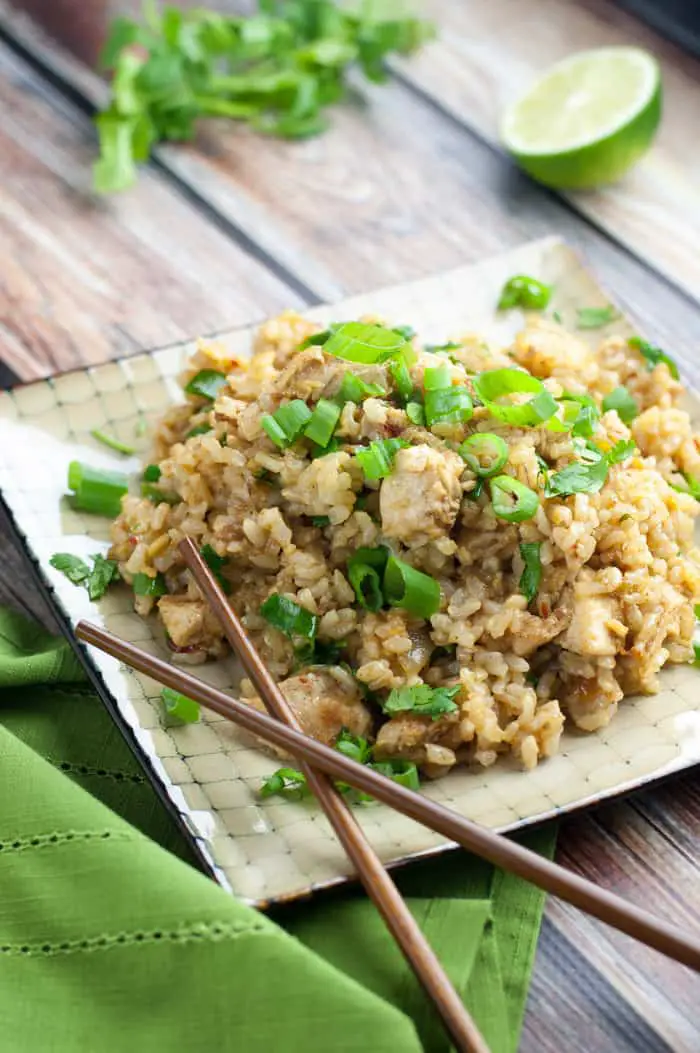 And it's not just "pretty good for healthy" it's just frrreaking gobble-it-down amazing.
Better than any takeout. Completely sugar free and has no simple carbs. The perfect recipe for the Fed Up Challenge.
Yeah, I'm going to toot my own horn here. I just whipped up this chicken fried rice on a whim and a prayer. (This is the recipe I mentioned on Day 2 of the Sugar Free Challenge). I was hungry dying of starvation and needed something that made me feel satisfied. You know that feeling of satisfaction after you've gone back for seconds thirds on your favorite meal? Yeah, that one.
After you eat this, you'll calm down. It's alllll better now, see? Unfortunately, this Spicy Chicken Fried Rice will not make the foyer paint itself. But with its protein, complex carbs, and no post-sugar crash, you'll have enough energy to paint like an HGTV star.
Print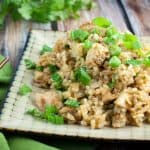 Spicy Chicken Fried Rice
---
1/2 cup

minced yellow onion

1 cup

coarsely chopped yellow onion

1

pound chicken breast tenderloins

1 teaspoon

Chinese Five-Spice powder

1 1/2 teaspoons

salt, divided
Extra virgin olive oil

2 tablespoons

whole wheat flour

8

large cloves garlic, minced, divided

2

pats butter, divided

1 1/2 cups

brown sushi rice (I used Nishiki brand)

2 1/2 cups

water (alter this amount depending on your rice's package instructions)

1 1/2 tablespoons

fresh minced ginger

2 teaspoons

Sambal Oelek (ground fresh chili paste)

2 tablespoons

low-sodium soy sauce

1 tablespoon

water
Juice of

2

limes (or at least

2 tablespoons

juice), divided

1

jalapeno, seeded and chopped

1/4 cup

fresh chopped cilantro

1/2 cup

chopped green onions
---
Instructions
Cut chicken tenderloins into small pieces (about 1/2 inch sized pieces) and put into a medium bowl. If you have a mini food processor, mince and/or pulverize a chunk of yellow onion to get about 1/2 cup. To the bowl of chicken, add the minced onion, Chinese Five-Spice powder, 1/2 teaspoon salt, 1 tablespoon olive oil, 1 tablespoon lime juice, and whole wheat flour and combine with large spoon until all the chicken is coated evenly. Set aside.
In a medium-sized saucepan, add 2 tablespoons olive oil and 1 pat butter over medium heat. Add 4 garlic cloves (minced) and simmer for 1 minute. Add rice and stir until coated with oil. Add water according to your package directions, 1 teaspoon salt, and cook covered for the amount of time stated on package (my Nishiki brown sushi rice took about 50 min to simmer and then 10 min covered off the heat).
Heat a large skillet over medium low heat. Add a few turns of olive oil to the pan. When pan is preheated, add 1 cup coarsely chopped onions. Sprinkle onions generously with salt and a little bit of pepper and cook them until soft. When the onions are cooked, set aside.
While the rice and onions are cooking, in a small bowl combine ginger, 4 gloves garlic (minced), Sambal Oelek, soy sauce, 1 tablespoon lime juice, 1 tablespoon water. Mix well to make a paste. Set aside.
Heat the same large nonstick skillet you used to cook the onions over medium-high heat. Add a couple of turns of olive oil. Once pan is preheated, add 1 pat butter and 1/2 of chicken mixture. Fry in pan until cooked through, stirring occasionally. Remove chicken and cook second batch of chicken in skillet (add a little more olive oil if you need to). When cooked, set chicken aside. (Turn off heat if rice is still cooking.)
When rice is finished cooking, add chicken back to skillet over medium heat. Once chicken is sizzling a little, add jalapeno and cook for 1 minute. Push chicken mixture to the sides of the pan to make an opening in the center of pan. Add ginger/garlic paste in the center and cook for 1 minute before stirring everything together. Add cooked onions and rice and stir until well combined.
Remove from heat. Stir in cilantro and green onions and serve hot.
Notes
More great recipes at www.thekitchensnob.com