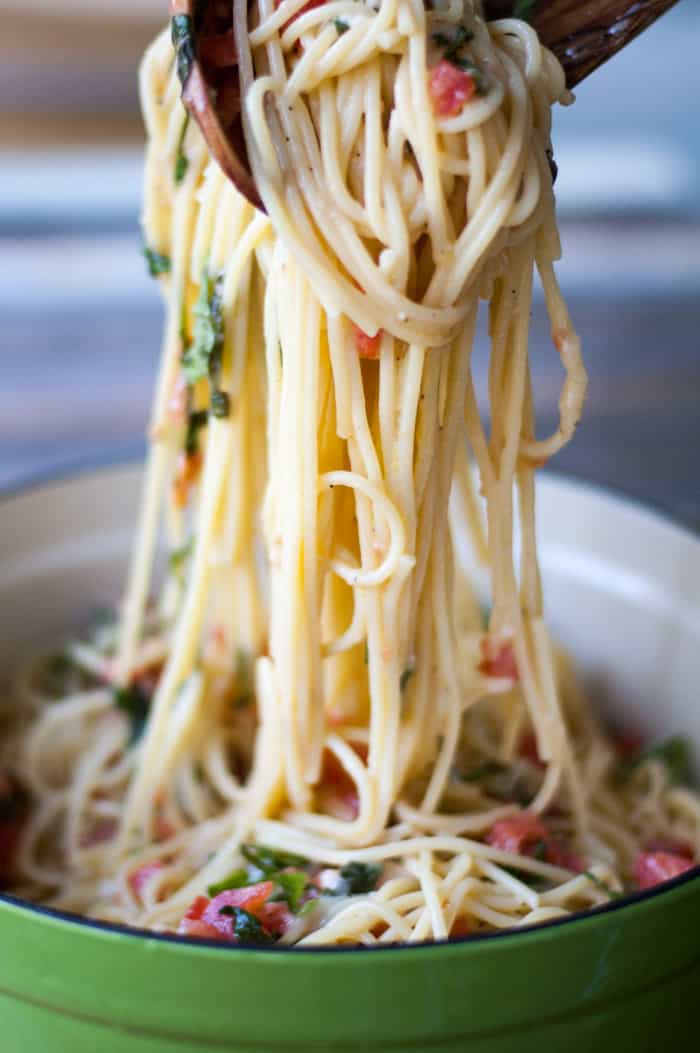 In my crazy-young-reckless years living in Los Angeles, I was a stage manager for a play. I was also the lighting person, casting assistant, script supervisor, and anything else no one else wanted to do. I was a real go-getter, ya know.
I was treated to this delicious brie recipe by one of the actors who I had a crush on. He looked like a young Peter Krause (just to give you an idea of what we're dealing with here). We'd sit backstage and talk and giggle about who knows what. I was sure he and I were destined to be together.
He invited me over for dinner and said he was serving a brie pasta. In my head: crickets were chirping.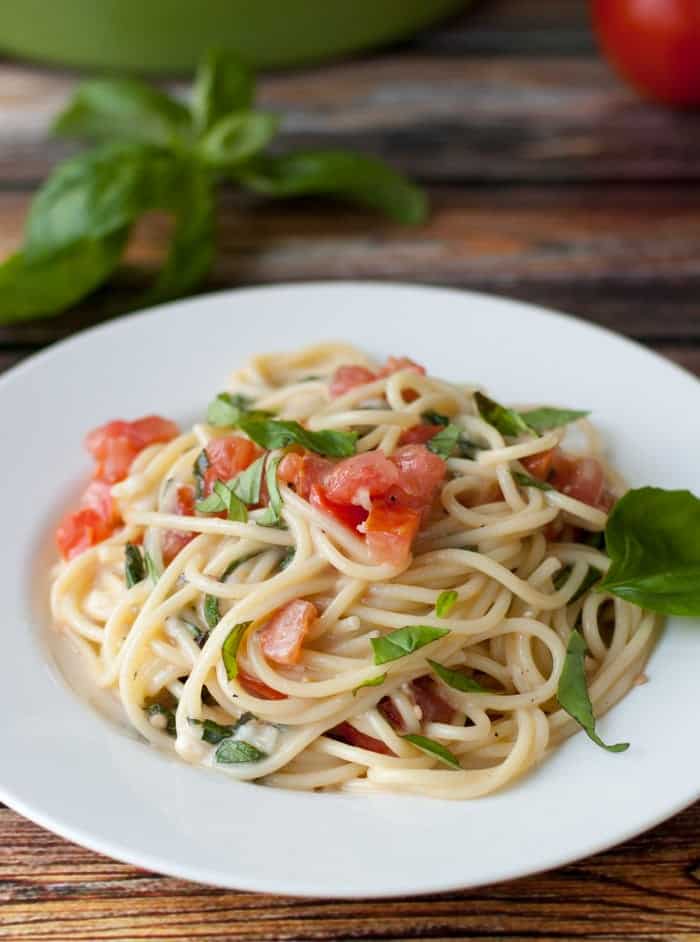 I thought it sounded like a weird dish. Don't people eat brie with crackers and fruit? I had never tried brie and I wasn't much of a cook back then. But I, too, had some acting training. So, I mustered up my best Oscar winning performance in the category of: Best Actress Showing Excitement Over Weird Pasta Dishes.
I batted my eyelashes, hand on hip, while pretending to drop a pen.
Why yes, I would love to come over and eat brie pasta with you, you hunk! He and I would be slurping our spaghetti strands until we were immersed in a lip-lock, like in the movie Lady and The Tramp. I would be the Tramp, of course. 😉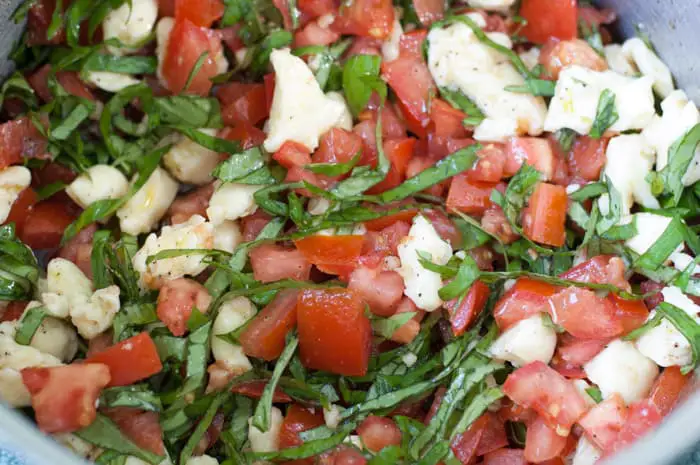 Woah, wait a minute. He says I can bring my best friend, too? I was hoping for a romantic dinner but sure, okay. I could use a wing-gal. His apartment was a block away from mine – this would be quite convenient for our impending romance. When my bestie and I arrived, he opened the door and introduced us to another cute guy: his live-in boyfriend. Well, sh…hooot. The story of my LA life.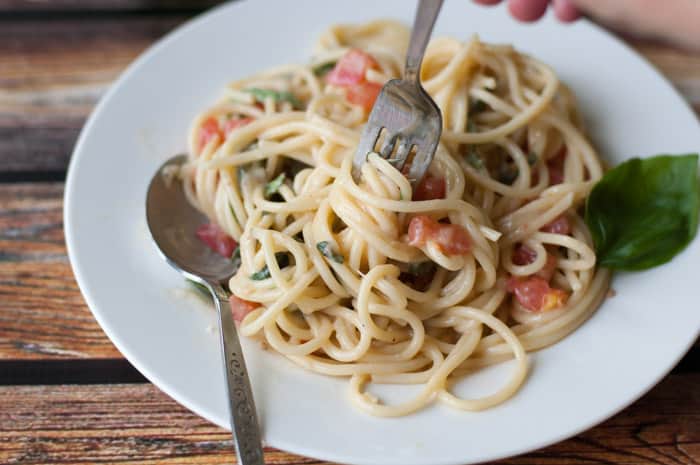 But hey – I got this yummy, creamy brie recipe from him and it was totally worth having to sulk back to my apartment, still single in the city. I really did have a great time that night. They were both great guys.
The hunk and I would've had cute kids though. Just sayin'.
Dear Hungry Husband: If you're reading this, I'm sooooo super duper glad it didn't work out with that guy!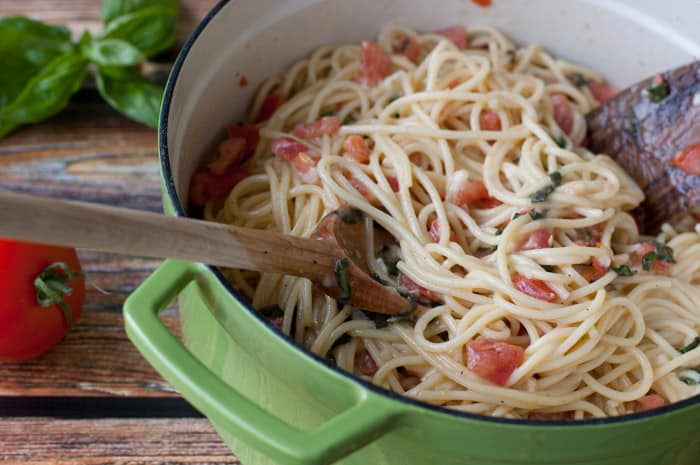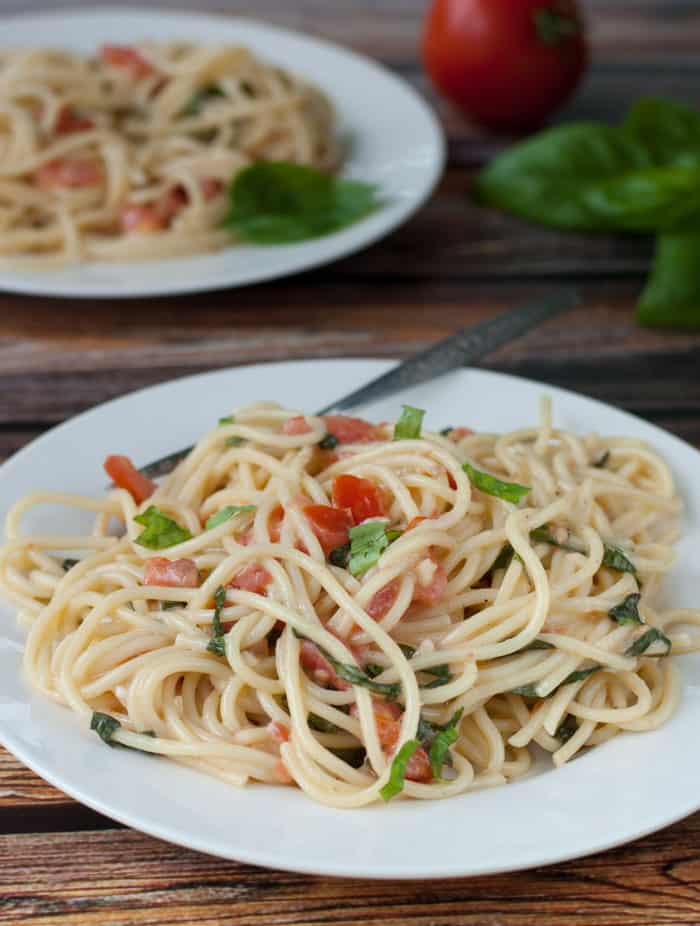 Here ya go…the infamous brie recipe!
Print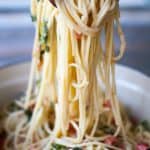 Spaghetti With Brie, Tomato, And Basil
---
4

large tomatoes, cut into 1 inch pieces (I prefer the large beefsteak tomatoes but any really large tomato will do. If you can only find small/medium tomatoes, you will need more than 4)

4

–

6

cloves fresh garlic, mashed through a garlic press or finely minced

1 cup

packed fresh basil, julienne cut (thin strips)

1

pound brie (although I sometimes use the President Brie wheel and that is

19 oz

.)

1 cup

extra virgin olive oil

2 1/2 teaspoons

salt

1/2 teaspoon

ground black pepper

1 1/2

pounds uncooked spaghetti
Freshly grated Parmesan or Pecorino Romano for sprinkling (optional)
---
Instructions
In large Dutch oven or stock pot, combine tomatoes, garlic, and basil.
Remove rind from Brie using a knife or a peeler. Once rind is removed, tear brie apart using your hands into small 1 inch pieces. Add brie to pot.
Add olive oil, salt, and pepper. Stir to combine.
Cover pot with lid and let marinate right on kitchen counter for about 5-6 hours. You don't want to put it in the fridge because the cheese will get too cold (assuming your home temperature is a fairly normal temp and not too hot. If it's above 80 in your home, I would put it in the fridge and then take out of fridge about 1 hour before using).
If possible, stir once about 1/2 way through marinating time.
When it's time to eat, boil salted water and cook pasta according to package directions. When cooked, drain pasta water and add pasta to Brie mixture. Stir thoroughly until cheese is melted.
Serve with sprinkled Parmesan or Pecorino Romano, if desired.
Notes
More great recipes at www.thekitchensnob.com