I get in these moods once in awhile. Right now I'm in an oniony kind of mood. Spanish, red, sweet, and their sister, le shallot. Oh yes.
Before, I was all about limes when I made my Cilantro Lime Rice Infused With Garlic and Pork Stir-Fry With Honey, Lime, and Ginger. Oh, and the heavenly Salsa Criolla – yum! I get obsessed with flavors. Just wait until summer. You'll hear me go on and on about basil. Yep – it's prrretty exciting stuff.
I should confess, that I am always in a chocolate mood. I haven't made any dessert since I made these chocolate and peanut butter bites of ecstasy. Why? Because I can't be trusted not to eat them all.
I'm on probation.
If there are any readers out there, who have been coined an "official taste tester" for The Kitchen Snob, and have been wondering why you haven't been getting any goodies, it's because – yep – I've been EATING IT ALL. (As I write this, I'm popping Milk Duds by the dozens – send help.)
So now – I need onions. The skill of making caramelized onions is new to me. Can you believe I only recently tried it? And yum. Now I just want to caramelize everything but I'm also lacking one caramelizing quality: patience. But in the 25-30 minutes it takes to caramelize the onions, you can get crazy and re-organize your silverware drawer. Or call your mom. Or eat Milk Duds.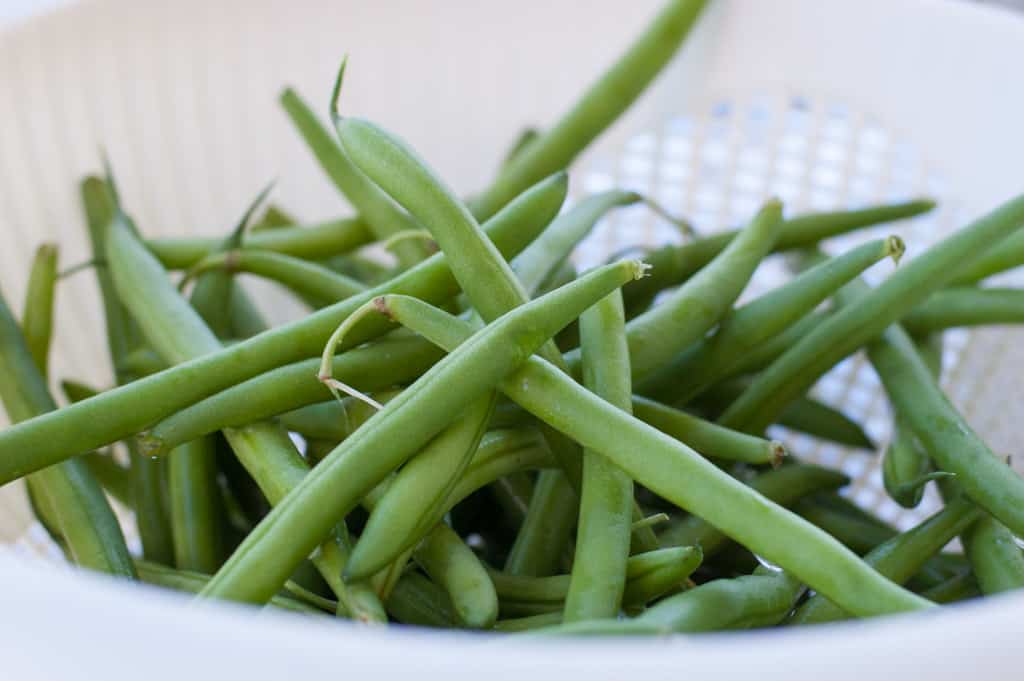 I adapted this recipe from my new cookbook Rachael Ray – My Year In Meals. What I love about this cookbook is that it's broken down by days in the year, and when you go to a specific date she tells you what she made that day in her own home. What's weird is that whenever I go to the current date, I'm totally craving what she made that day! We are like – sooooo connected. Me + Rachael Ray = psychic BFFs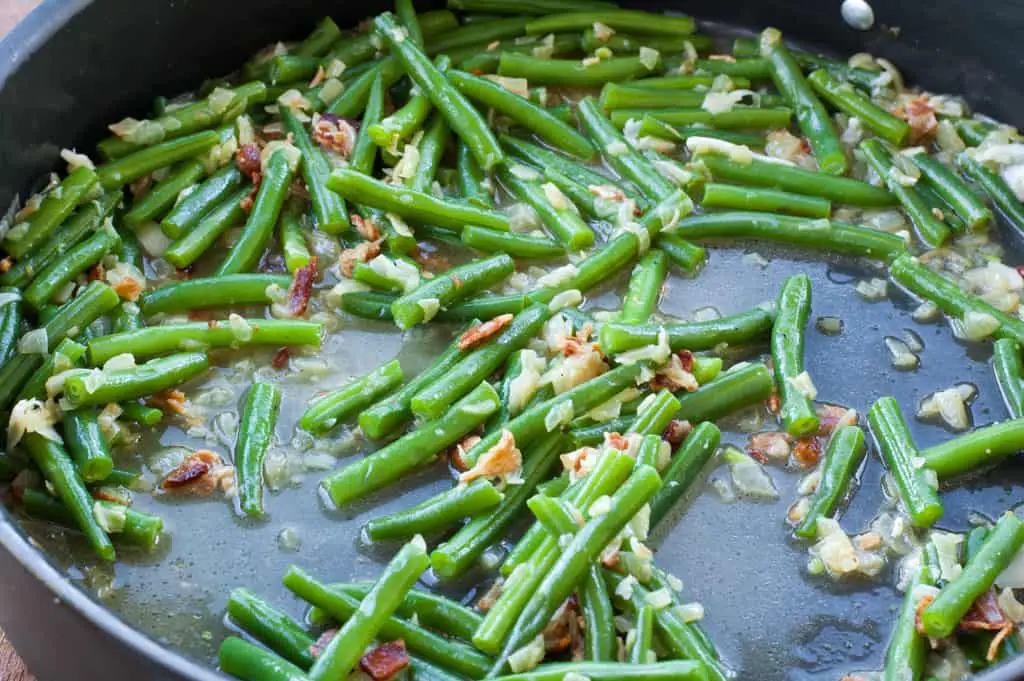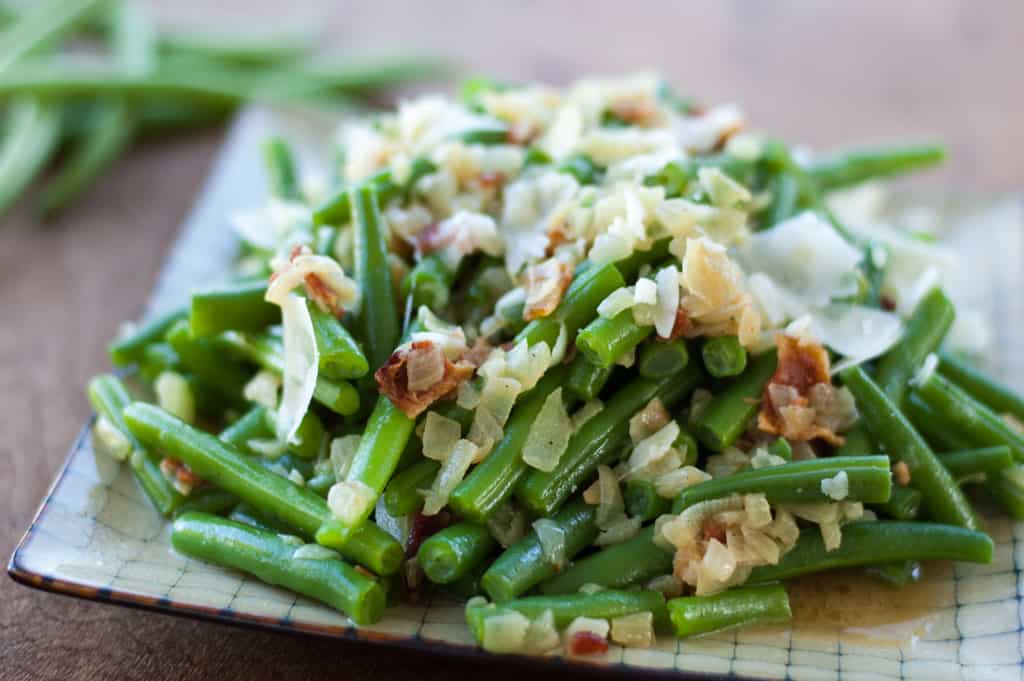 I added the bacon and some shaved cheeses because GOD FORBID I follow a recipe without putting my own spin on it. Seriously snobby adventurous! And you don't have to be a health nut to enjoy fresh green beans.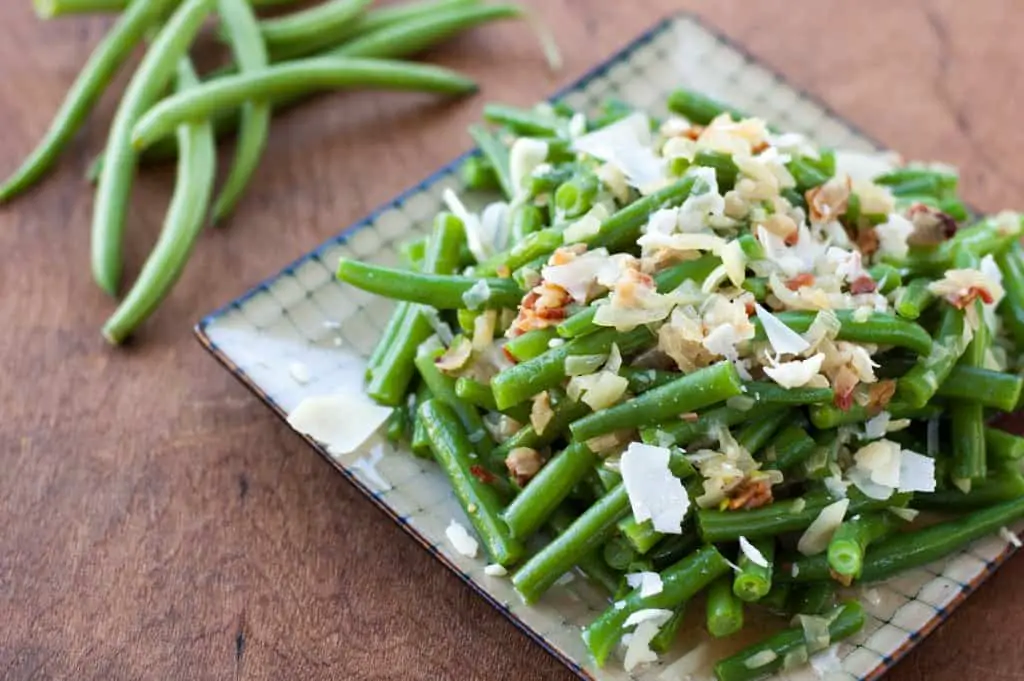 Print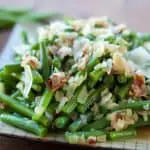 Fresh Green Beans With Caramelized Onions and Bacon
---
1 1/2

pounds fresh green beans, trimmed (and cut down to smaller size [

2

–

3

inches long] if desired)

2

–

3

slices of bacon

1/2

stick butter

1

large yellow (Spanish) onion, chopped

1 cup

chicken stock
Salt and pepper
Parmesan and Asiago blend cheese, shaved (I found a prepackaged version of this at my supermarket)
Olive oil
---
Instructions
Heat large nonstick skillet over medium-high heat. Add a tiny bit of olive oil to pan (about 1 teaspoon). Tip skillet side-to-side so oil coats bottom of pan. Add bacon and cook until crisp, turning occasionally. Remove bacon and set aside. Remove skillet from heat completely and let it cool for a few minutes, leaving bacon grease in bottom of pan.
Using same skillet, with bacon grease still in it, preheat skillet over medium-low heat. Melt butter in skillet. Stir in onion and cook slowly (about 25-30 minutes), stirring occasionally, until caramelized. Reduce heat even further if you notice the onions are browning to quickly at the edges.
Meanwhile, while onions are cooking, using a large pot, bring 3 inches of water and about 1/2 teaspoon of salt to a boil. Add beans and partially boil until beans are bright green but still have a bit of crunch to them (approximately 3-5 minutes). Drain beans and run cool water over them to stop them from cooking. Set aside.
Dice the cooked bacon and set aside.
Add the chicken stock, beans, and the diced bacon back to the skillet. Season with salt and pepper to taste. Toss everything together.
Sprinkle the shaved Asiago and Parmesan cheese over the top and serve hot.
Notes
More great recipes at www.thekitchensnob.com