Whatever you do, DO NOT make this recipe. Seriously, you guys. Just don't.
In a moment, you'll find out how crazy The Hungry Husband and I really are. We're not like certifiable or anything. [I hope.] But we like to have fun in our own nerdy way.
Here is what went down this past weekend. Let me set the scene for you:
FADE IN:
INT. KITCHEN SNOB'S LIVING ROOM
Husband and Wife are sprawled out on their energy-sucking couch. Husband is watching That Metal Show, while Wife rolls her eyes and plays Candy Crush. He has been working weekends all winter. This is his first free weekend off but they agreed not to spend any extra money on entertainment, hence the boredom. After several hours of monotone "what do you want to do" and "I don't know, what do you want to do"…
WIFE: Do you want to play something sort of like Iron Chef? We can go to the store, pick out some random ingredients and then we have to make something with them.
HUSBAND (instantly interested): Ooo, we can each make something and have a contest!
[it always has to be a contest, doesn't it?]
WIFE (jumping up, finally excited about an idea): Or, we could split up, each pick out 4 ingredients, meet back, and we have to put our ingredients together to make one dish, no matter what the ingredients are.
[because who are we kidding – I'd crush him]
HUSBAND: Wow, Dee. You're the best idea thinker-upper ever! I'm continually dazzled by your mind, wit, and beauty and I should always remember your ideas are always the best, and you're always right, no matter the situation. And yes I'll give you that shoulder massage, with pleasure. And yes, I agree with you – That Metal Show is sooo lame.
END SCENE
Okay, okay. So Hollywood embellishes the real story sometimes. You can't control those crazy peeps.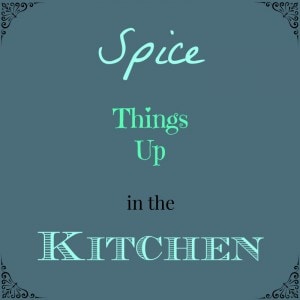 Cut to: We're in the grocery store. We each have our own cart (we even have our own cloth recycled bag so the other can't see the items we picked). Nerd alert!
The rules were:
We each pick out 4 items

Items have to be reasonably priced (you can't come back with white truffles at $1000 a pound).

No weird or dessert items. (The goal wasn't to throw the other person off by coming back with Fruity Pebbles and say "try making dinner with that!" We were playing nice. Plus, we were on the same team.)

No need to pick out main ingredients like pasta, or meat. After we reconvened, we would pick a meat or pasta based on our final ingredients.

We could use anything we had at home to add to our recipe.
The Truth? I panicked. The minute he set off to get his ingredients (and I should add that he was very confident, bragging to me that he already "knew" what he was going to get) I realized I had no idea what my plan was.
This food blogger had food block.
Ultimately though, I played it safe and got these:
And, as you can see, The Hungry Husband never stops thinking about pizza. These were his 4 ingredients.
We got home and, big surprise, both of us were too tired to cook!
But this was supposed to be fun! This was our entertainment, right? So he put on some rockin' Elvis tunes and we kicked it into high gear.
We called each other Chef. [Okay, I called him Chef hoping he would start calling me Chef from now on. Didn't work. A girl can try, right?]
We thought we were such geniuses for infusing oregano into our pizza dough. Uh yeahhhhh…don't try it. And I thought I was being super clever by adding his Frank's Red Hot to my polenta sauce. Completely gross. I finally diluted it with some beef stock and jarred pasta sauce so it was edible.
The whole dinner was kind of gritty, if you know what I mean.
What's the point and how does this spice up your relationship?
Cuz' sometimes you gotta mix it up a little. Be silly!
You could each make a dish and have a contest. You could do this with friends or your children. Cooking should be fun!
It doesn't matter that the food turned out less than ideal. We had SO much fun making these overflowing pizzas and polenta appetizers, we'd do it again in a heartbeat. It was a new activity we could do together.  We were laughing. We were eating. We were entertaining ourselves on the cheap.
Next time though, we'll make it a contest and I will CRUSH HIM. Muahahaha* (*naughty evil laugh)