That's what the cool kids call eating organic foods with no refined sugars, refined flours, or chemicals – eating clean. And I feel really hip and healthy for saying that. It's like I'm part of an elite club. You know, those athletic types that walk around in cute color coordinated yoga attire carrying their fancy water bottles? That's what I look like in my head as I eat sprouted wheat bread and whole wheat pasta.
And let me tell you – eating clean takes effort. You can't just swing by a fast food place. You can't pick up a frozen such-and-such at the grocery store. I can't even pick up pre-packaged sushi at Wegmans! (it has sugar, if you can believe that) You have to plan and you have to cook so you know what's going into your food.
Yes, it's a lot of work. But I'm enjoying this experiment of the Fed Up Challenge. No, you don't have to be "eating clean" to take the Fed Up Challenge, but I decided to go all the way. If I'm going to deprive myself, why not be completely miserable, right? I kid.
Let's see how I'm doing…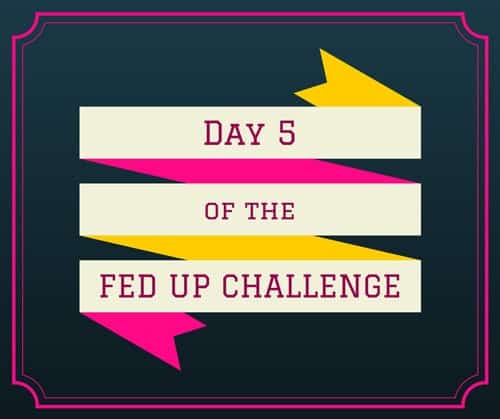 Here is what I've been eating the last few days:
Breakfast: Arrowhead Mills Organic Spelt Flakes cereal, Ezekiel 4:9 Cinnamon Raisin cereal
Lunch: Cottage cheese with cut up fruit, toasted Ezekiel bread with all natural peanut butter, hard boiled eggs, quesadilla made Ezekiel tortillas. As you'll see from the picture, it doesn't look too appetizing but when you're hungry, you'll find that any food (even super duper healthy) tastes darn good.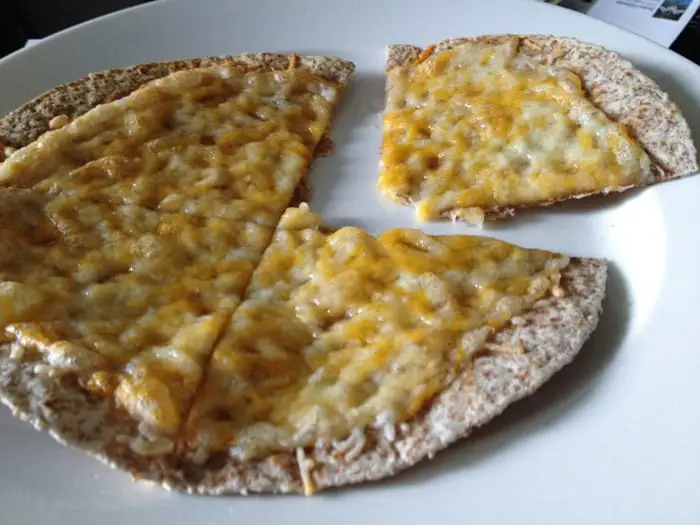 Dinner: I made this Garlic & Onion Chicken Pasta with gluten-free noodles that was A-mazing. I so wanted to give you guys the recipe today but the second time I made it, I took out 100% wheat flour (used to dredge the chicken) and used a gluten-free brown rice flour and it didn't turn out as good. And for some weird reason, I'm very intent on making this gluten free. I'm like OBSESSED. So I need to experiment a little more. If anyone wants the recipe with the whole wheat flour, I'd be happy to share it! The Hungry Husband said he'd eat it every day so it's got to be almost as good as his favorite food: pizza.
I also went out to dinner with some friends and ordered carefully off the menu: salmon, asparagus, and a couple of small red potatoes. OK FINE. I had 2 glasses of white wine. (Don't kick me out of the cool kids' Eating Clean Club, k?) Honestly that's my only "cheat". And if it makes you feel any better, I felt guilty afterwards. [looks at you with sad puppy dog eyes]
Oh and I forgot the best part! I've lost a couple pounds already. So I expect I'm going to look pretty darn good in those fancy schmancy yoga outfits real soon.
How are you doing with the challenge? I'd love to hear from you and commiserate together!
Here are some great Kitchen Snob recipes that are Sugar Free:
Impress Your Mother-In-Law Avocado Toast
Herbed Basmati Rice (instead of white rice use brown rice)
Easy Pan-Seared Pork Chops
Fresh Green Beans with Caramelized Onions and Bacon
Marinated Vegetable Salad