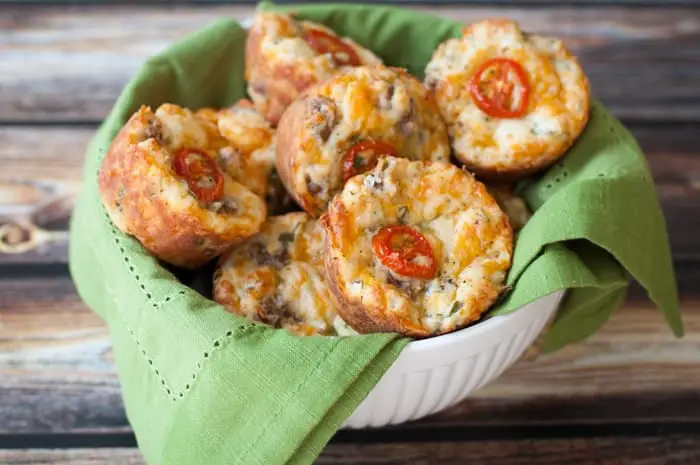 Chilly fall mornings. The smell of roasted coffee. Heated blankets. Fuzzy socks. The smell of savory breakfast muffins drifting up the stairs.
This is the time of year when I always want something warm and comforting. I'm usually wearing my most comfortable pajamas as I lazily saunter around the house. Who says PJs have to match???
Thankfully, my husband loves me even though my fall and winter in-home wardrobe is a little lacking in the sexy department hideous. Trust me – if I'm shivering, looking good is last in line. Shivering is NOT HAWT.
If he bought me these socks, is it really my fault?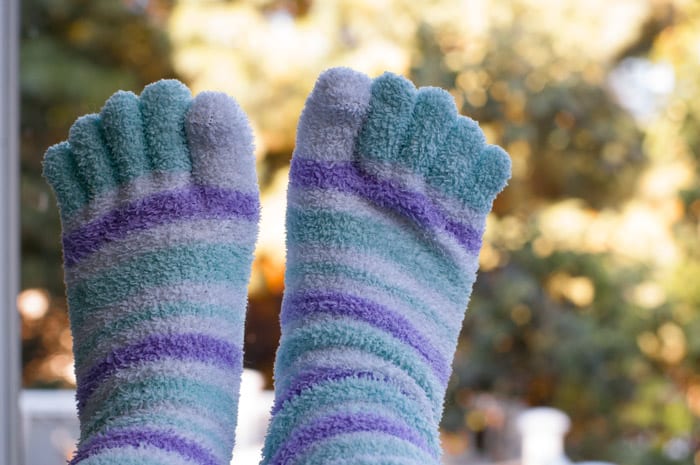 I knew you were on my side.
I've been wanting to try savory muffins for awhile now – eating and baking them. So I adapted this recipe from Joy the Baker. Love her blog and you should, too.
I've always thought of muffins as a sweet treat. Chocolate muffins – yes! Blueberry – give me two. Feed me cinnamon muffins and you have my heart. You can call them muffins but, who are we kidding, it's like having cake for breakfast. DING DING DING Score!
I like the idea of baking savory muffins because they seem unconventional. At least in my world, which is a world of finding ways to camouflage cake.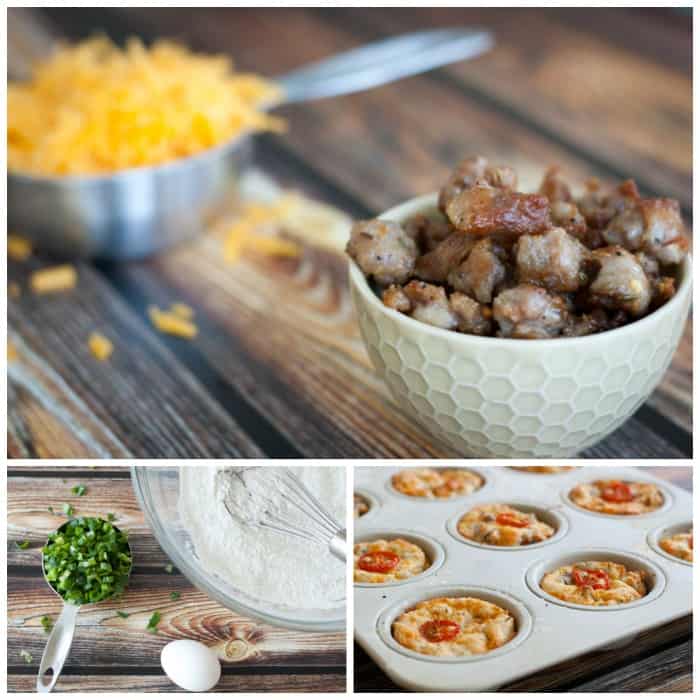 What I was most surprised by, when baking these heavenly cupcake-shaped breakfast treats, is the sweet and spicy smell sneaking out of the oven. It was like baking cookies and making eggs and sausage at the same time. My nose was blissfully confused.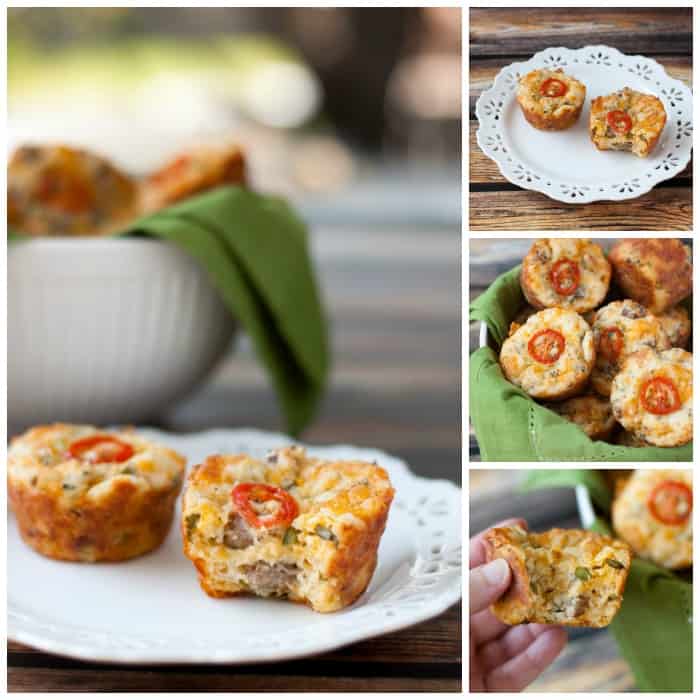 Buy your favorite sausage (although you could substitute bacon if you wanted) but get a good quality sausage. Your muffins are only as good as the ingredients you use! My sausage happened to be of the pork variety and was handmade (so snobby) by my father-in-law. I'm usually not a super sausage fan but he makes his with a nice spicy bite and the hint of fennel gets me every time. Love that stuff. My freezer is packed with it. I feel lucky. 🙂
So go put on that old frayed Gap sweatshirt that's so weathered down it's become the softest thing you own and make some sausage and cheddar breakfast muffins! When your family tastes these, they'll forget what you're wearing.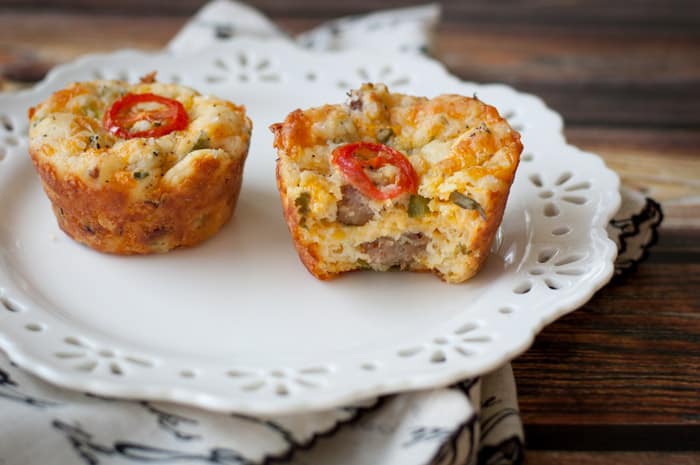 Print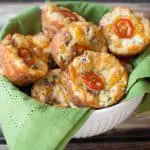 Breakfast Muffins With Sausage, Cheddar & Green Onions
---
1 1/2 cups

crumbled browned sausage

4 tablespoons

olive oil

1 1/2 cups

all-purpose flour, sifted

1 tablespoon

baking powder

1 tablespoon

sugar

1/2 teaspoon

salt

1 cup

buttermilk, room temperature

1

large egg, room temperature

1/4 cup

unsalted butter, melted (if you like a lot of salt, you could use salted butter)

8 ounces

shredded sharp cheddar cheese (about

2 1/2

to

3

cups)

1/2 cup

chopped green onions

4

cherry tomatoes, sliced no thinner than 1/8″ (optional)
Sea salt and black pepper
---
Instructions
Preheat oven to 375°.
Grease and flour muffin pans.
Preheat olive oil in skillet over medium heat. Take skin off sausage (if any) and break into smaller pieces. Once skillet is heated, add crumbled sausage and cook until nicely browned, stirring occasionally. As sausage is browning, break into smaller pieces if necessary. Set aside.
(Optional: While the sausage is cooking, you can slice your cherry tomatoes into slices about 1/8″ thick. You don't want them any thinner than that. Lay the slices on a paper towel and then lay another paper towel over the slices and blot away any moisture. The seeds will probably fall off and that's okay. The idea is you don't want water from the tomatoes getting in your batter.)
In large bowl, whisk together flour, baking powder, sugar, and salt.
In medium bowl, whisk together buttermilk, melted butter, and egg.
Pour wet mixture into dry mixture and stir. Before the mixture is completely mixed together, add the sausage, cheese, and green onions. Stir all ingredients together, making sure the additions are evenly incorporated. Try not to over-mix it.
Divide batter into muffin pans.
If using tomatoes, add one slice to the top of each muffin.
Lightly sprinkle sea salt and fresh ground pepper over the tops of the muffins. (I used a medium coarse setting for the pepper to give it an extra spicy flavor.)
Bake for 20-25 minutes until golden brown or until toothpick test comes out clean. Remove from oven and cool muffins in pan for 15 minutes before removing them.
Best served warm. But I found that you could leave them out for a brunch and they taste just fine at room temperature.
Notes
More great recipes at www.thekitchensnob.com