This Cranberry Upside Down Cake is full of your favorite holiday spices and fresh cranberries, sweetened with dark brown sugar, and kicked up with tangy orange zest. Perfect for the holidays or anytime cranberries are in season!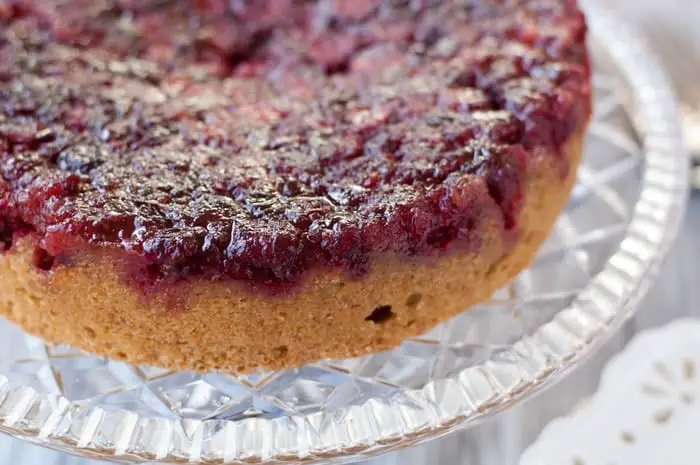 Up. Down. Kicked around. This Cranberry Upside Down Cake is bouncing all around our kitchen at the moment. In the fridge. On the counter. In our bellies. Back in the fridge. Oh sure, why not one more piece. Back out of the fridge. It's in high demand.
There is no rest for the delicious.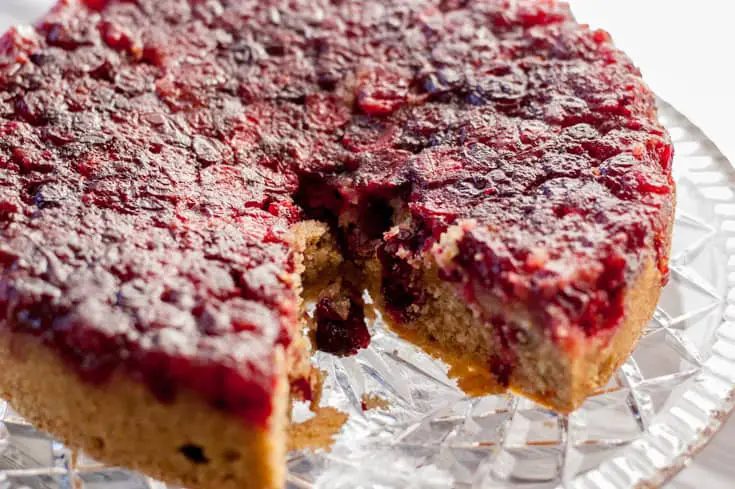 I slightly kicked up the flavor of this dessert from another recipe by giving the cake a nice kick of cinnamon and a baby burst of orange zest. OHHHH YEAHH. Eat it and weep for your waistline. But who the heck cares? It's time for us to stop worrying about that stuff.
At least that's my philosophy. [unbuttons top of pants]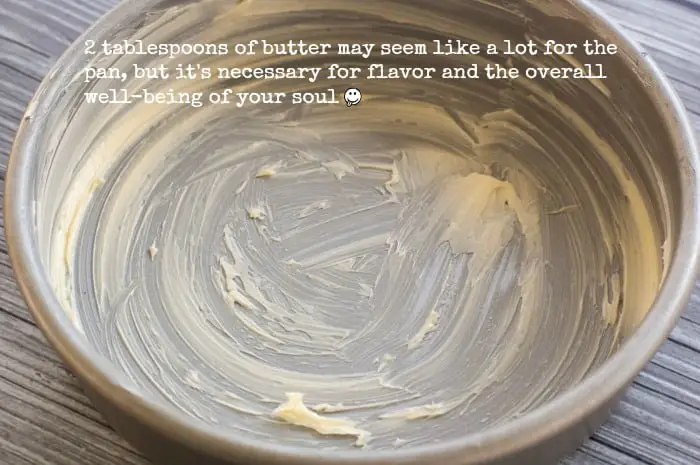 This is one of those times you can use extra butter without judgment. Tell them you're just following instructions. If Santa is coming, this is no time to be breaking rules, right?
Pour those cranberries into your buttered pan. Then, after you add your mixture of sugar, cinnamon and allspice on top of your cranberries, sing "Can You Feel the Love Tonight" at the top of your lungs. Are you doing it? Remember, Santa knows if you've been good or bad.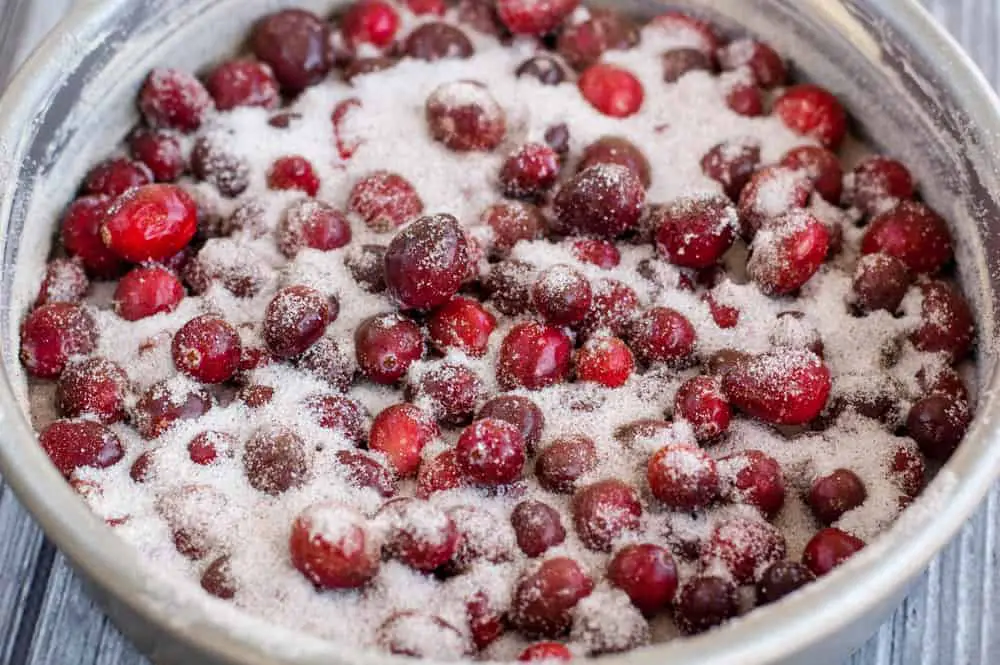 We couldn't keep our paws off it. So it's like…GONE.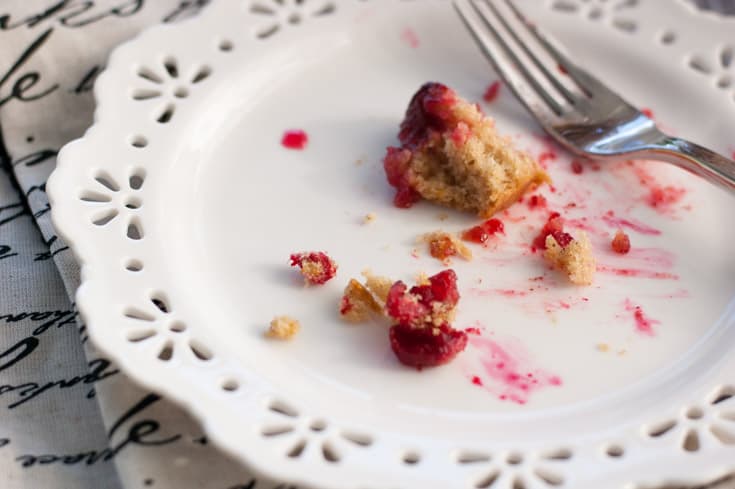 Let's hate the above picture together, shall we? Why in heck is there a piece still left?! HEY who didn't eat every last bite?? Rule #23: Never leave a fellow cranberry cake bite behind.
This recipe comes together pretty easily for such a fancy turnout. I think you'll wow some holiday guests with these baking skills! You can Instagrambook it to your Facetimesnap and all of your Twitterbird followers will give it a star. Hashtag it #wow. Awww remember Twitter stars? Technology, sigh.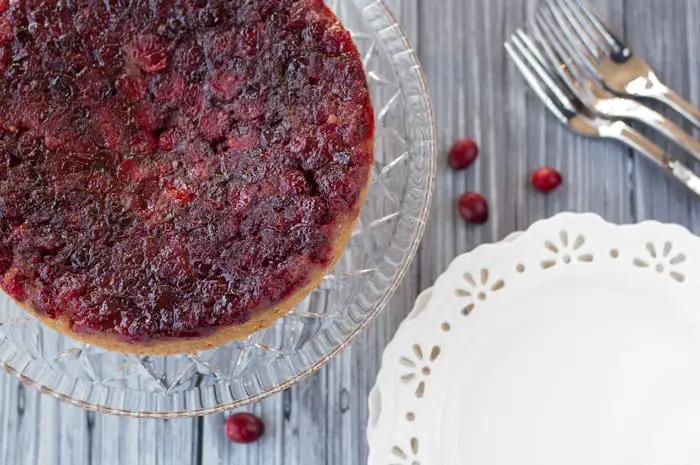 Still craving more cranberry desserts? Check Out Fall Spiced Cranberry Muffins with Tangerine Glaze and the most delicious Cranberry Apple Sauce you'll ever lay your lips on.
Print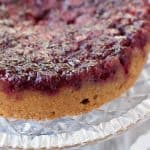 Kicked Up Cranberry Upside Down Cake
---
Total Time:

50 mins

Yield:

8

1

x
Cranberry Topping
1/2 cup

granulated sugar

1/2 teaspoon

ground cinnamon

1/2 teaspoon

ground allspice

1 3/4 cup

fresh cranberries
Cake
1 1/4 cup

all-purpose flour

1 1/2 teaspoons

baking powder

1/4 teaspoon

salt

1 teaspoon

ground cinnamon

8 tablespoons

unsalted butter, at room temperature, divided (divide before softening)

1/2 cup

granulated sugar

1/2 cup

packed dark brown sugar

1

–

2

teaspoons orange zest

1

egg, room temperature

1 teaspoon

vanilla extract

1/2 cup

whole milk
---
Instructions
Preheat oven to 350°F. Use 2 tablespoons of the softened butter and smear it on the bottom and sides of 9-inch cake pan. (Yes, it's supposed to be a lot of butter!) Set aside.
In a small bowl, combine first three ingredients of the topping mixture (1/2 cup sugar, 1/2 teaspoon cinnamon, and 1/2 teaspoon allspice). Mix well. Pour sugar mixture evenly into the bottom of the cake pan that you just buttered. Add the cranberries in a single layer on top of the sugar mixture. Add a few extra cranberries if there are any gaps – you want them all scrunched up against each other. Set aside.
In a small bowl, whisk together flour, baking powder, salt, and 1 teaspoon cinnamon. Set aside.
In a large bowl, use an electric mixer on medium speed to cream together the remaining 6 tablespoons of softened butter, dark brown sugar, and 1/2 cup granulated sugar. Mix until light and fluffy. Add the egg, vanilla, and orange zest and mix until well combined.
On low speed, add the flour mixture to the wet mixture in 3 batches and alternate with the milk in 3 batches. Mix until well combined.
Spoon the batter over the cranberries in the pan and smooth out the batter so it's fairly even on top.
Bake for approximately 35 minutes or until inserted toothpick comes out clean. Let pan cool for 15 minutes before removing cake from pan. Run a knife around the sides of the pan to make sure it will come out easily. Flip pan over onto cake plate and let cool completely.
Notes
You can store leftovers at room temperature but I stored mine in the fridge. If you store it in the fridge, I found that putting 1 slice on a plate and microwaving for 10 seconds brings it back to a luke-warm temperature and it tastes great!
More great recipes at www.thekitchensnob.com
Prep Time:

15 mins

Cook Time:

35 mins