I don't want you to get all skeeved out on me like eeewww one week she's talking about unbelievably delicious cranberry cake and the next she's talking about…fantasies?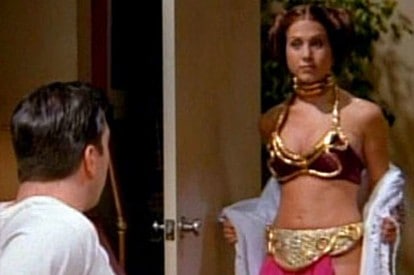 Let's not go there. This is NOT about sex, baby. ♫ It's about you and me. ♪
I gotta mix it up for my peeps. My readers, fans, friends, and potential stalkers. For YOU. Yes, I care. And…this is technically about food. Sort of.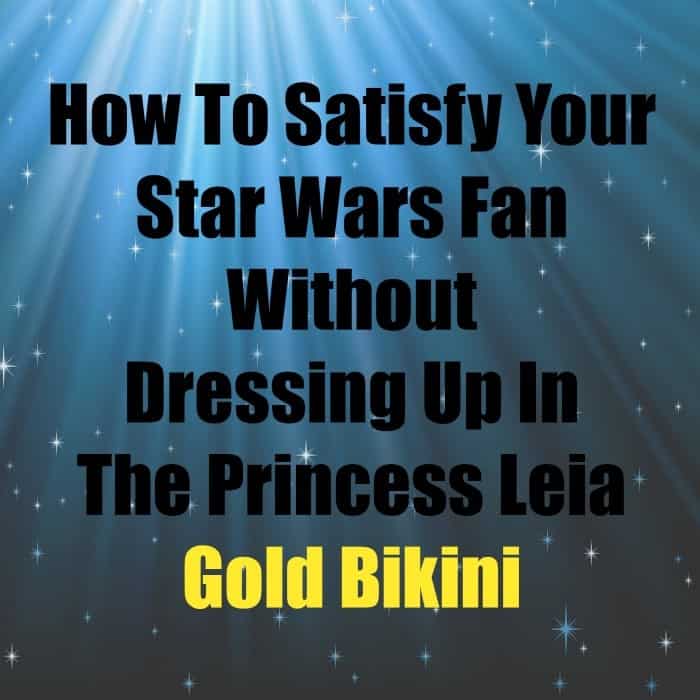 Here, I'm going to give you some movie night ideas so you can surprise your significant other with something special. It's cheaper than a movie out but more unique than any ordinary movie night in.
Quick back story…
My man loves Star Wars. I mean, he really loves it. If they made king-sized Star Wars sheets, I'm sure we'd have them on our bed. There are books, soundtracks, trading cards, figures, Wii games, and thanks to my generosity as a gift-giving wife, Star Wars pancake molds. Just to name a few.
You see, when you love Star Wars, you  never tire of it.  E V E R.
To my fellow spouses of Star Wars fans: I feel you.
How far I will go to please my Star Wars fan Exhibit A: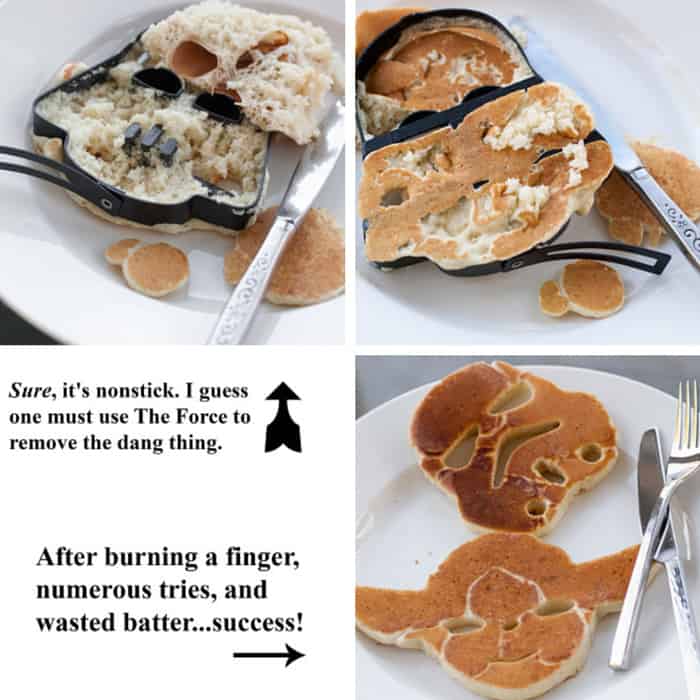 Just a word of warning – do NOT buy these. They are a pain in Yoda's green arse. Unless, of course, you like burnt limbs, pancakes that take an entire morning, and scratches on your nonstick pans (which we know from my snobby lectures, is a NO NO).
So how are you going to score brownie points with your man without wearing the gold bikini? Read on…
How I Made Our Movie Night Special
It was a dark and stormy date night. (see how I make it all dramatic?) I made my husband stay upstairs while I prepared the "surprise" for him downstairs. Just the mere mention of the word "surprise" around him makes him giddy.
Takeaway Tip #1: Surprise your significant other with something. Anything. It doesn't have to be big. A little goes a long way and just shows you're thinking of them.
I quickly put out various pre-made store bought appetizers. If you have a really great grocery store in your area, they usually have things you can buy on the quick that are actually pretty delicious. For us, that's Wegmans.
The surprise was a coffee table picnic (which would be romantic to him because one of our first weekend trips involved a carpet picnic on the floor of our bed and breakfast in Big Bear, CA).
I had 2 coffee tables set up side by side and had a huge spread of various types of crackers, breads, dips, bruschetta, olives, veggies. I had over 4 types of salami for taste testing.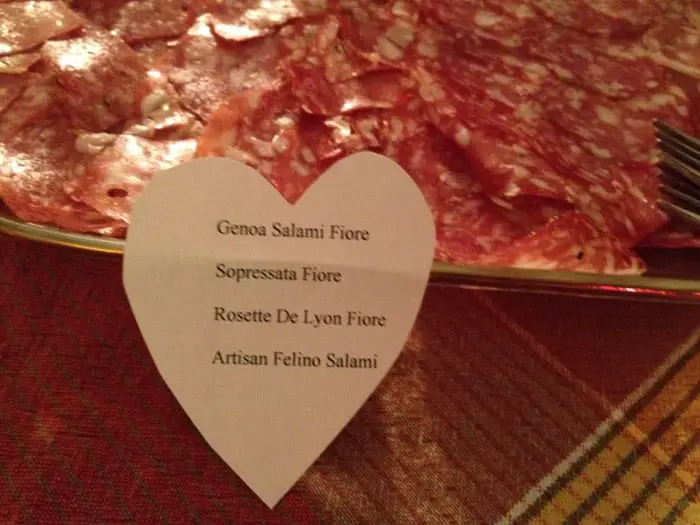 The spread was bigger than this but I forgot to get more pictures.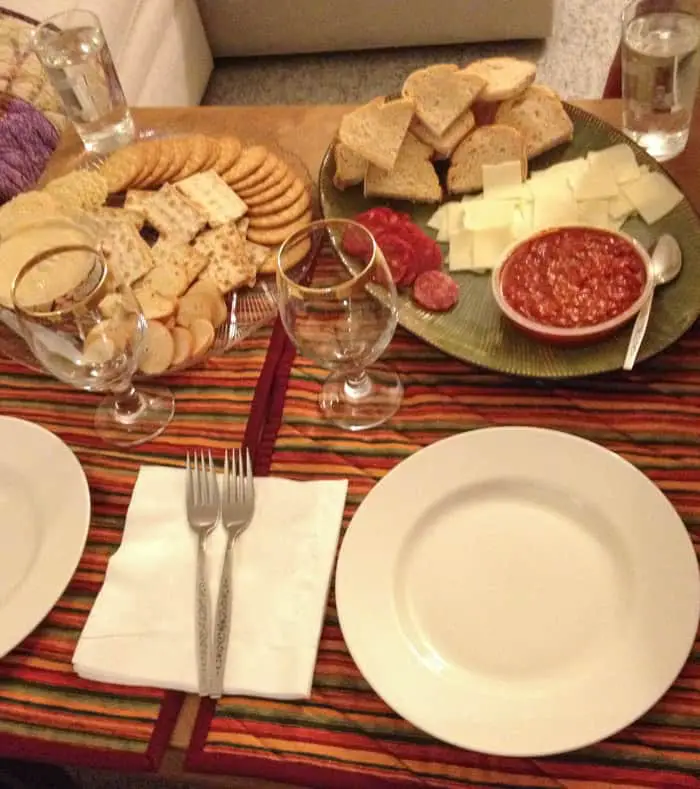 Yes, he LOVED it. After stuffing ourselves full of ridiculous tasting appetizers, I told him there was a "part 2" to the surprise. WHOA. How could it get any better, right?
Takeaway Tip #2: Always try to one-up your surprises if you've done something similar before. Mix it up, peeps!
Back upstairs he went while I prepared the living room. I cleaned up all remnants of dinner. I lit some tea lights all over the coffee tables. (OK confession – I don't have 2 coffee tables – one was a plastic storage tub from Target that I covered with a tablecloth – I could get my Snob Club card taken away for this!)
At Wegmans, they have an incredible candy-by-the-pound section. I bought Pez (of course), Swedish fish, gummy cherries and blue gummy sharks, 2 chocolate chip cookies from the bakery (ya know, so we wouldn't eat too many), popcorn, pretzels, and these weird ugly chocolate candy coated seashells, which were surprisingly delicious and fun to eat. Each bowl was fairly small, holding only a handful of candies, but the fun was in the variety.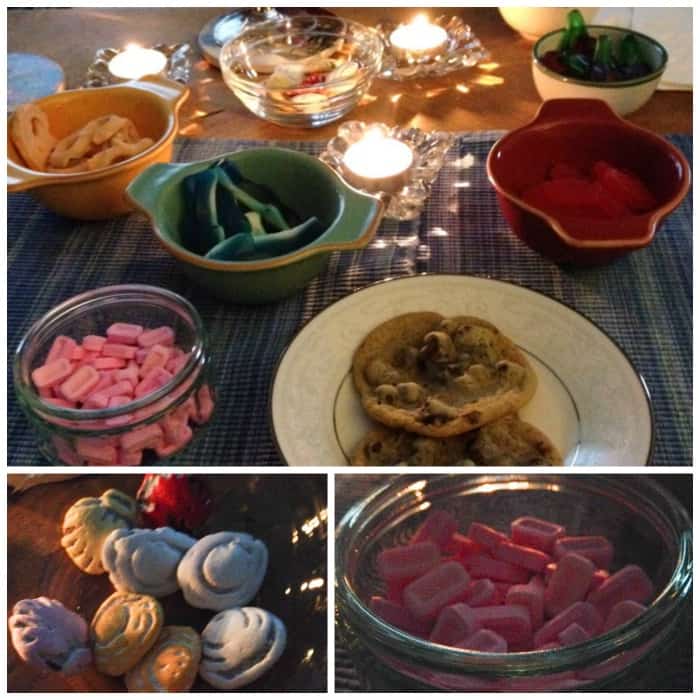 So down comes my husband, seeing glowing lights in the family room, curiously wondering what I'm up to. Surprise! It's a fun dessert bar! But…there is another surprise. Wait for it…wait for it…we're watching Star Wars! The original. Not the special edition version that George Lucas ruined. The good one.
No, hell had not frozen over nor had he died and gone to heaven.
He knows I like Star Wars, but not, and will not ever, to the extent he does. Usually if I can relinquish control over the remote when it's on, I'll change the channel. I've seen it. It's burned in my brain. I don't need to re-watch it again and again like I do with When Harry Met Sally. That's different!
He was really blown away and loved the whole thing. I could see my spousal brownie points racking up in his eyes.
Takeaway Tip #3: Even if your significant other isn't a Star Wars fan, you can use this movie night idea for any of their favorite movies. Does your wife love Under The Tuscan Sun or some other chick flick you don't like? You will be a hero if you do this for her. Do something for your loved one that they like to do. Something that you normally wouldn't do because it's not your thing.
And if none of these tips win your Star Wars fan over…
Force your way into their heart…with The Force. Do or do not…there is no try. (okay but you know not to stalk people, right? Just checking…)
What are some of your movie night ideas? What kind of things do you surprise your significant other with? I'd love to hear them in the comments below!