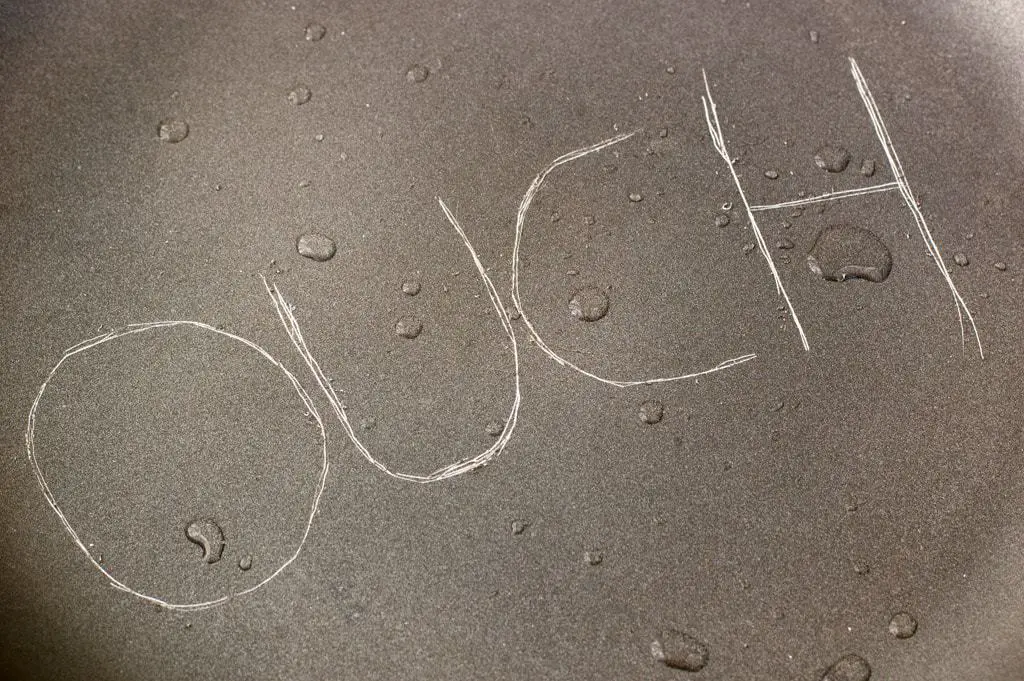 Pans have feelings, you know. Yep, they sure do. And many of you are abusing these defenseless pans without even knowing it. It breaks my heart just thinking about it. See the beaded up water on the pan? Not water – tears of sadness.
If your nonstick pans could speak, would they say "Oh thank you! That was a lovely massage with the soft side of the sponge!"
Or would they say "Hey! Whoa – not so aggressive with the utensils!"
Or maybe your pans aren't saying anything because you're a sane person and don't hear voices from your pans? Fine – don't play along. But know this – whether your pans are talking to you and you're wondering if you're going crazy, or your pans are silently sitting in your cabinets – they still need love.
The 10 Signs of Nonstick Pan Abuse and How To Stop It
1. Flaking
If the nonstick coating is flaking off into little bits, or you can see silver through the black nonstick coating, it's time to replace it. This is the biggest sign of pan abuse. I've heard some say the flaking bits are unsafe to consume and I've heard recent reports that say they aren't harmful. But let's face it. It's made from chemicals. Why chance it?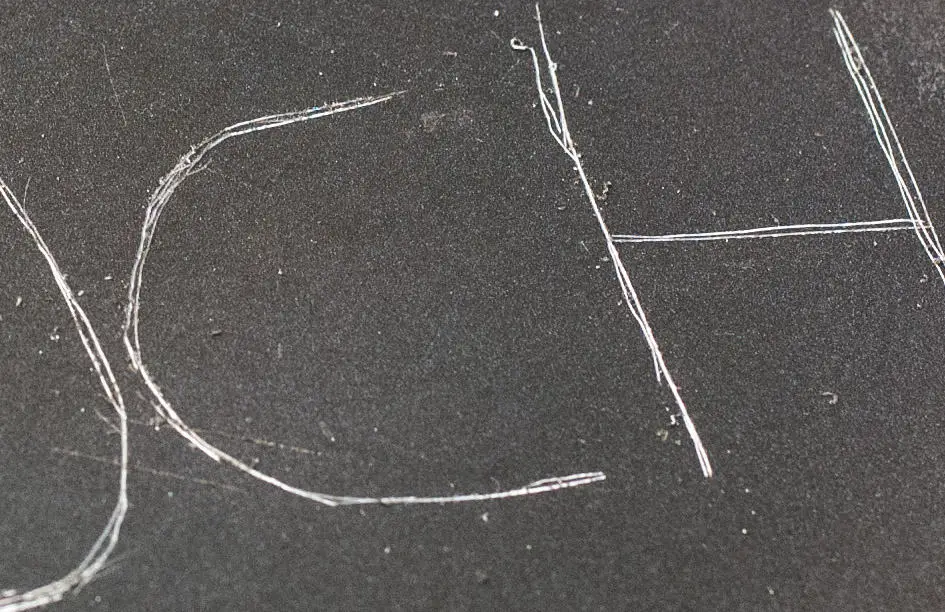 A possible reason for the coating to flake could be high heat. Never use high heat on your nonstick cookware. Nonstick pans work best with low or medium heat. They are not meant for frying or boiling water. Do not put them under the broiler.
Your nonstick pan might also be flaking because it has been deeply scratched and it will continue to peel.
2. Small scratches in the nonstick surface
A recent inquiry with Calphalon about some light scratches on my pan resulted in this response:  "Minor surface markings on nonstick are normal and to be expected under normal use and care." They offered to inspect the pan under the warranty but I didn't feel like going through the hooplah of shipping it to them for minor scratches.
But this Snob disagrees that this is normal, unless their current products aren't made the same way their pans used to be made. Because I've been noticing these surface scratches becoming more frequent.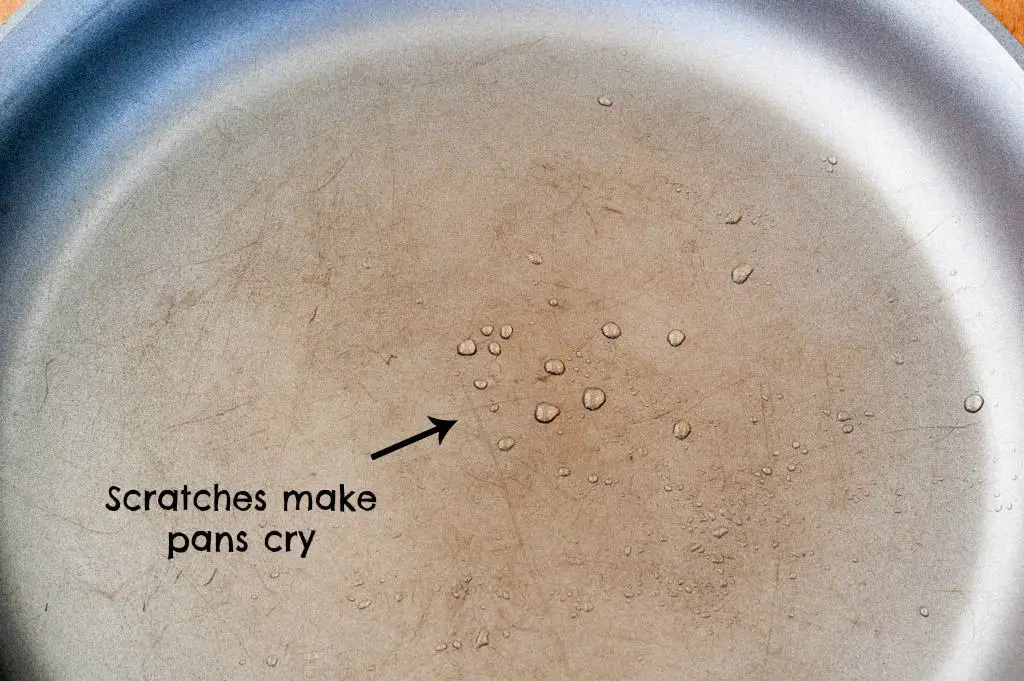 I believe, and I know some people will disagree, that using nylon and wooden utensils can cause these "minor surface" markings. (More on that in #5 below.)
Another thing I've found that causes these "minor scratches" is cooking meat with bones in it (i.e. T-bone steaks or pork chops) and then moving the meat around in the pan. The bones can cause these minor scratches. That can't always be helped, but it's something you should be aware of.
3. Your nonstick pans have greasy residue in them even after you've cleaned them
Don't use Pam or other cooking sprays. They leave a residue on the pan and eventually the pan will start to stick. Lightly coat your nonstick pan with oil (olive, canola, vegetable, etc) or use butter.
4. The bottom of the pan is warped
How do you know if your pan is warped?
Place your pan on a flat surface. If it spins around easily or rocks back and forth, it's warped. And if you have an electric ceramic stove top, you know how annoying it is to try to stir ingredients and have your pan spinning around on the cooktop.
Warped pans can happen for a few reasons:
Harsh temperature changes can warp your pan.

Don't put hot pans in the sink with cold water.

Don't heat up your pans too quickly. If you want medium heat, put tempurature on low for a few minutes, then turn it up to medium so the pan can rise to the desired temperature slowly.

Inexpensive pans can be made cheaply. I've had a few pans that were warped upon purchase. Use quality cookware.
Over time, your pan might become slightly warped because of the temperature changes. But they shouldn't be warped so much that they are rocking back and forth on your cooktop.
5. You don't own any silicone utensils
Here is where I cause an upheaval in the nonstick community.
Most home cooks know this: Never use metal utensils on your nonstick pans. No forks, knives, metal spatulas, whisks. You name it. The slightest bump on the bottom of the pan with metal will leave a scratch. The pan manufacturers advise to only use nylon and wooden utensils. But here is where I separate myself from the crowd (as any snob would). I have noticed that these nylon and wooden utensils can leave those tiny surface scratches (noted in #2 above) and over time, cause your pan to loose it's nonstick coating.
Why would pan companies like Calphalon tell you to use nylon or wooden utensils in their General Care tips? While it's true that nylon and wood utensils are a much better alternative to metal, the pan companies are not accounting for the fact that they can't predict how someone will use these nylon and wooden utensils. How much force is one person using versus another? Is someone scraping down the browned bits after browning something? Are they pressing hard? Are they lightly grazing the surface? Who knows, right? I've seen some people really go at it with their utensils as if they were taking out their aggression on the poor pan!
The Solution: Silicone
I swear by silicone. It can handle high heat and it won't scratch your pans, even if you press hard or aggressively.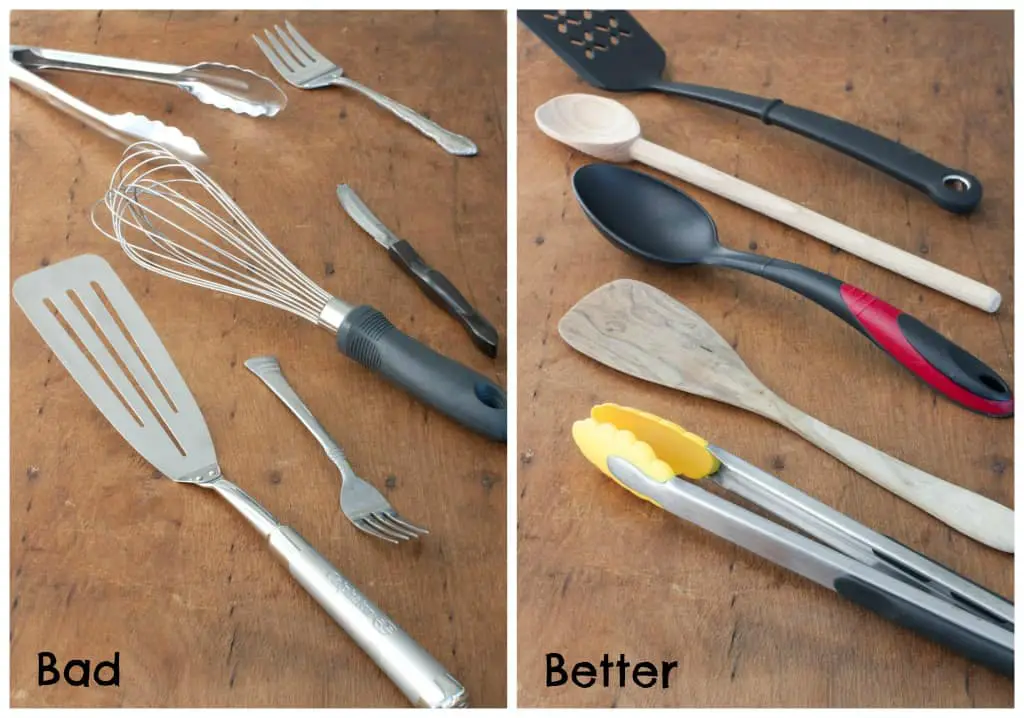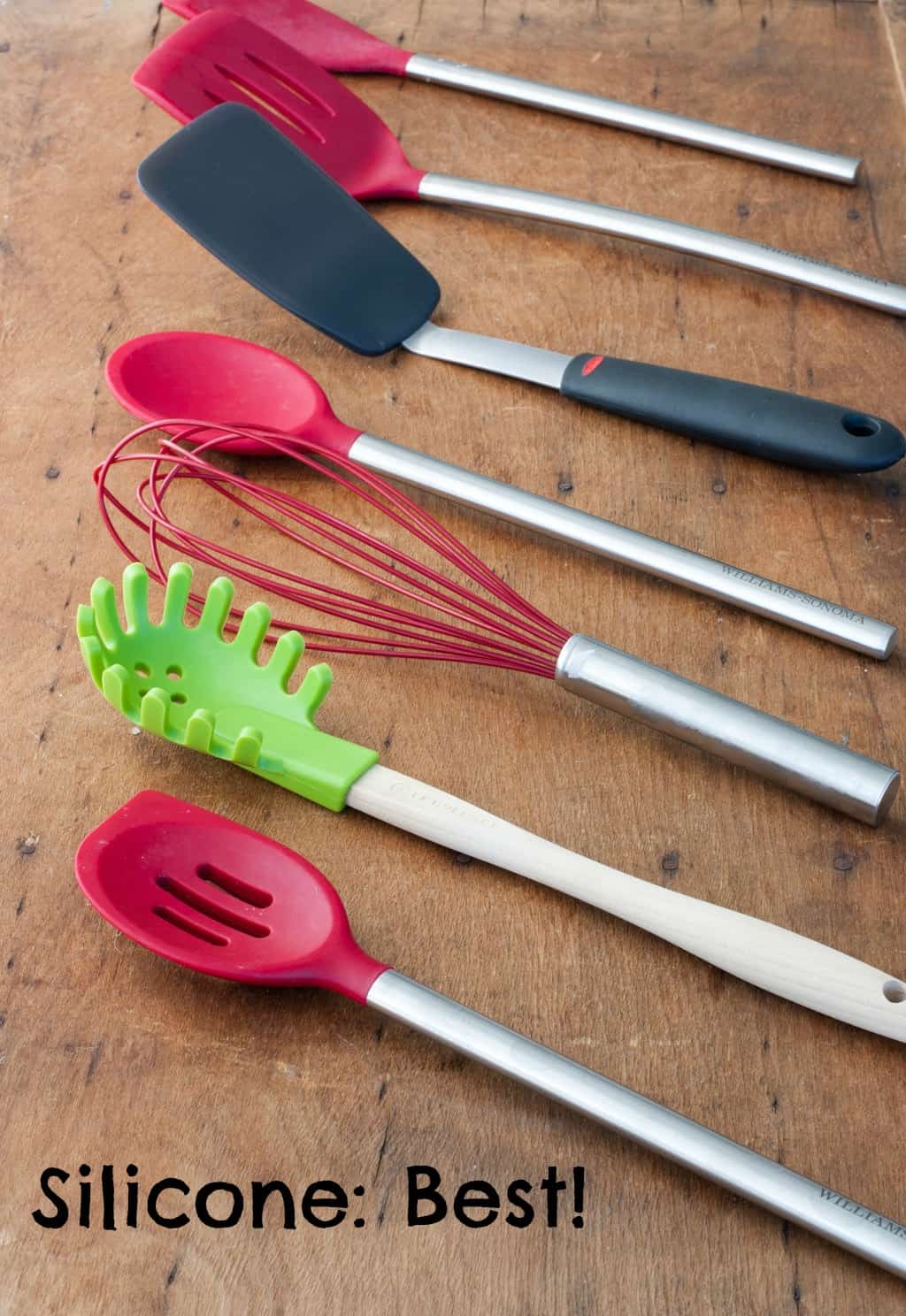 If you've never used a silicone utensil and would like to purchase one, you may wonder how you can tell if it's silicone or nylon. Nylon, is a harder plastic. Silicone has a rubbery feel to it and is more flexible.
This OXO Good Grips Silicone Spatula is my favorite spatula that I use on my Calphalon omelet pan. It's perfect for scrambled eggs. I had to eventually buy an extra one so I would have two because I use it so much, one is always dirty!
Another absolute favorite utensil of mine (which I received as a gift from my brother this past Christmas – thanks bro!) is the Williams-Sonoma Silicone Tools Set. These are incredible. The small spoon with the slots (which is my favorite in the set) can also be purchased separately here. What I love about this one is that it has a blunt end which is great for cutting things inside the pan. The quality is outstanding. I do not receive any commission on Williams-Sonoma products, I just love these so much, I just had to share with you!
6. You put your nonstick pans in the dishwasher
Can that nonstick pan that states that it's "dishwasher safe" be put in the dishwasher? Sure. Go ahead. But you're going to be buying new pans a lot sooner than if you hand wash it. And that's what the pan companies are hoping for.
I actually went in to Williams Sonoma because my Calphalon Unison pan had quite a few of these "minor scratches" on it. Don't get me wrong, I love Calphalon and will be doing a review on some of their pans soon. But I wanted to find out more about this Unison line. They told me that Calphalon Unison was their top line and she confirmed that even though they are safe for the dishwasher, the pan will not last as long and it was best to hand wash them.
This Snob will continue to hand wash my sweet, coveted Calphalon pans!
7. You use the scratchy side of the sponge
Never use scratchy pads to clean your nonstick pans. Even the scratchy pads that say "non-scratch" are not good for your nonstick pans. I know you're thinking "Jeez, she is a bigger snob than I thought". I'm glad we're getting to know each other. Just use the soft side of the sponge and stop being such a rebel.
8. You use your nonstick pans to cook your famous fried chicken
I've said it before and I'll say it again. NEVER use high heat on your nonstick pans. NEVER use them to boil water. When a recipe calls for high heat, I always use medium to medium-high heat anyway because high on my stove seems to burn the food anyway.
9. You stack 'em
How you store your pans is just as important as how you cook with them. If possible, store them on a hanging rack. If you nest your pans like I do because you have limited storage space, you should be placing something in between your pans, such as a piece of material, soft placemat, or even a paper towel will do the trick.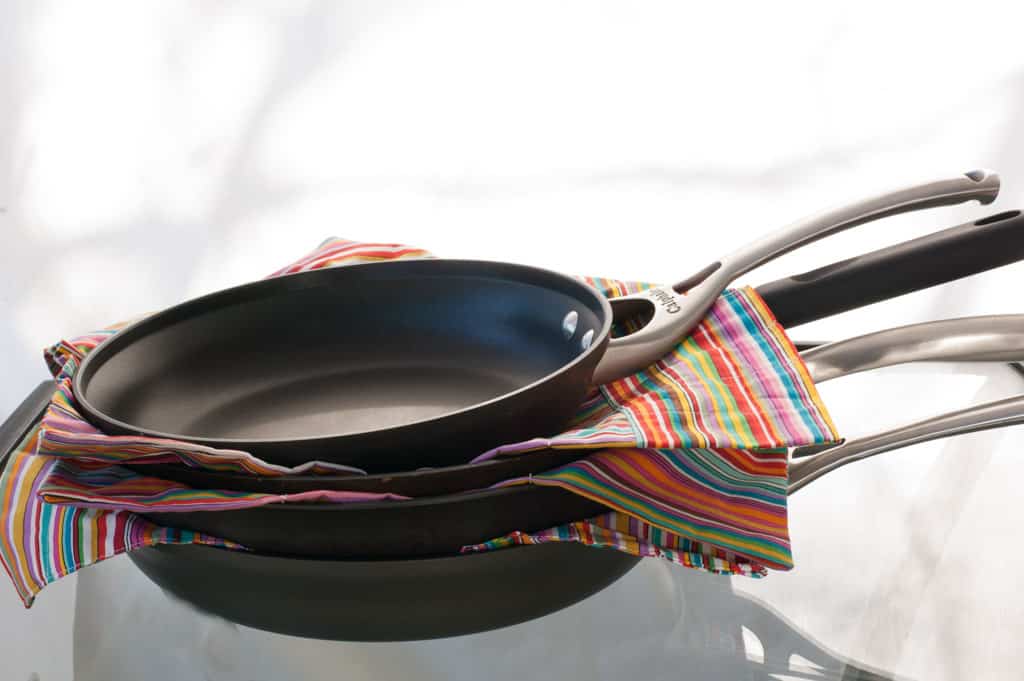 The bottom of one pan can scratch another's interior.  My mom made me some cute little quilted pieces just for this because heaven forbid The Kitchen Snob have her pans touching!
10. Food is sticking to your pan
This could happen for a combination of many of the reasons mentioned above: using cooking sprays, scratches over time appearing in the surface, or using high heat. If food is sticking to your pans, it's time to replace it.
[note note_color="#808800″ text_color="#000000″ radius="12″]Being a Kitchen Snob is tough sometimes. You gotta do crazy things like baby your pans. But it's worth it![/note]