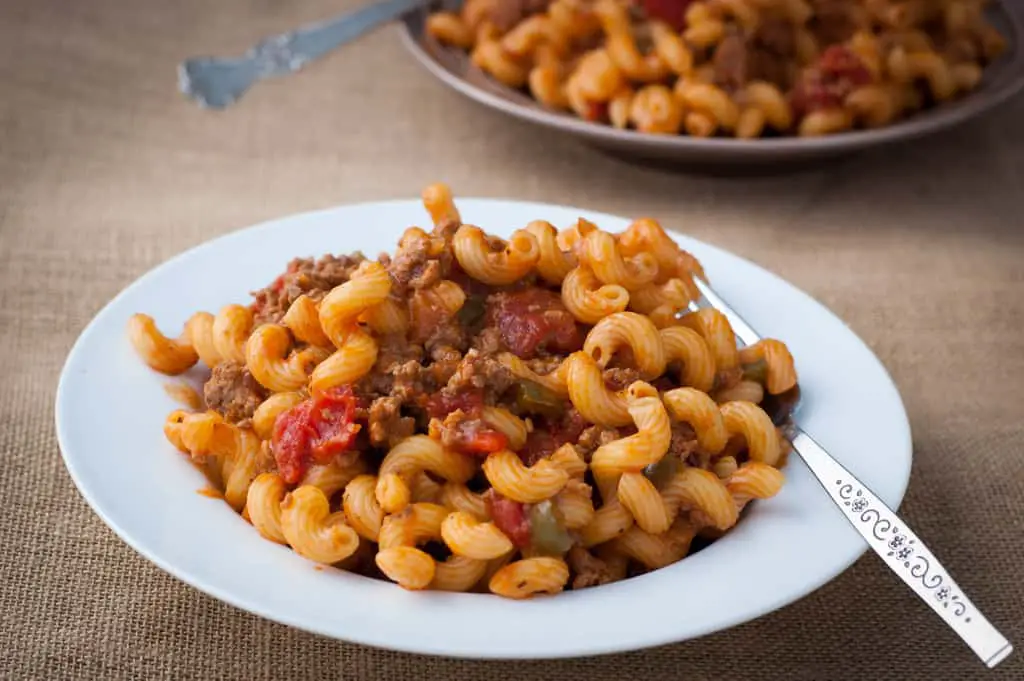 Do you ever wanna cry out "I want my mommy!" If you admit to that, I won't tell a soul. You can come huddle with me in the corner and we can both cry into our childhood teddy bears and then pretend to the rest of the world that we've got our shyou-know-what together.
We are tough cookies. We don't need our mommies. We are adults who know how to keep it all together, no matter what.
Riiggghtt.
Well, you've been rescued. (Not that you needed to be, of course). Cue golden trumpets and glorious angels singing. Enter: Mama's Kicked Up Goulash.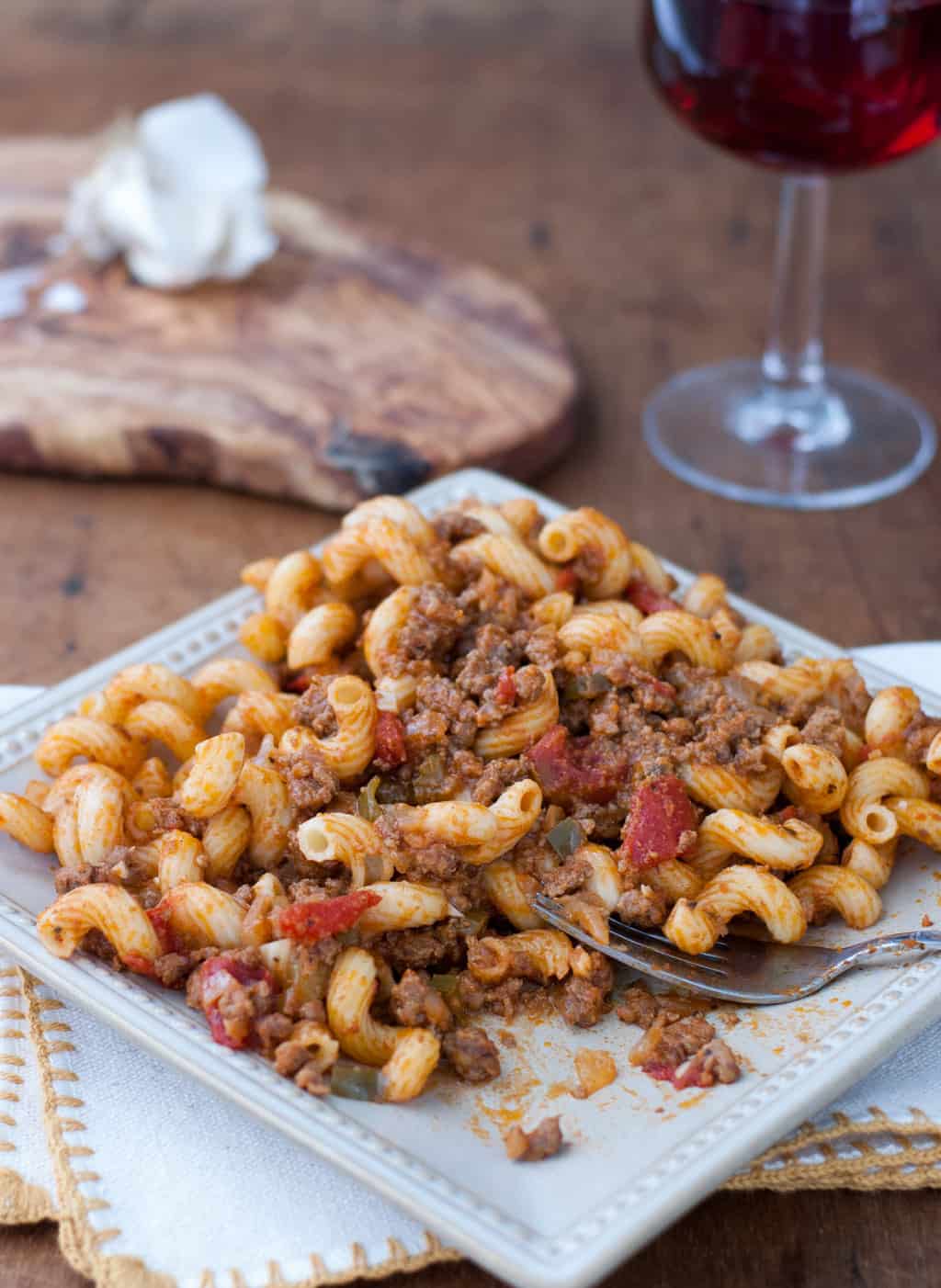 Comfort of mom = a blankie = a warm bubble bath = chocolate = a long nap = a crackling fireplace = goulash. See how my mind works?
If you're thinking you need your mommy so badly that this pasta dish isn't going to cut it, we've got bigger problems. We need to pull out the big guns. Forget dinner. Go straight to dessert. Try my Dark Chocolate Cookies or Ultimate Chocolate Mousse.
If you've never had goulash before, you might be feeling scared right about now. What in the heck is goulash? I'm not going to sugar coat it. The name doesn't sound too appetizing. Your opinion will soon change. Like Pavlov's dog, I will have you salivating when you hear that sweet little word, goulash.
This is not the typical Hungarian goulash that you might find as a stew with lots of paprika. This is adapted from my mom's recipe that she used to make for us growing up, back when I was snuggling teddy bears in corners. Just kidding. I snuggled them in public.
I've kicked it up a tiny bit, but the flavors still mimic my mom's original recipe.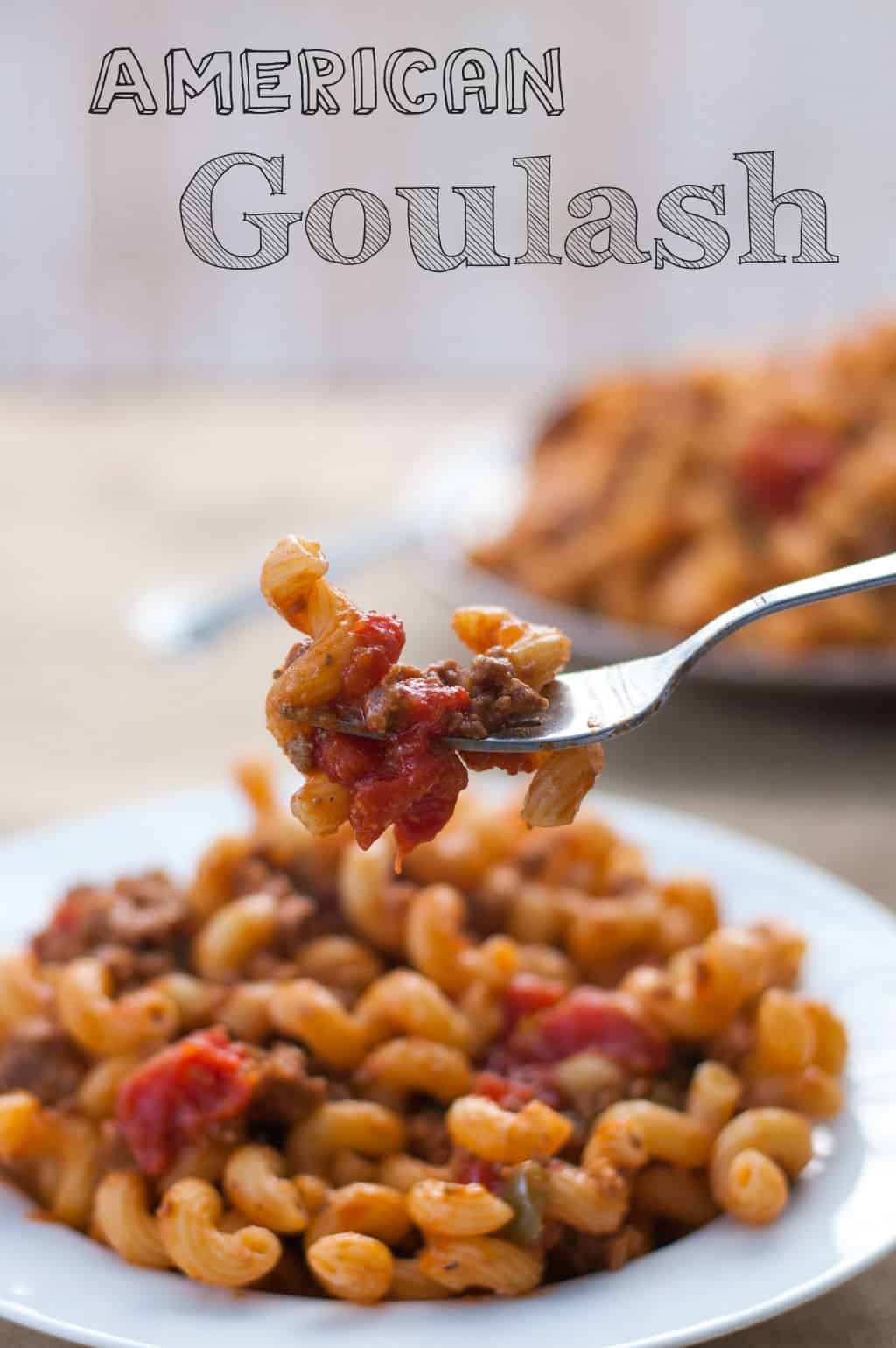 I don't want to mislead you. The flavors in this dish are rather mild, despite using a few spicy ingredients. It's kicked up ever so slightly. No need to have a fire extinguisher nearby.
Although I've never been a huge fan of green bell peppers, I would never leave them out of this dish. They compliment the other ingredients so perfectly.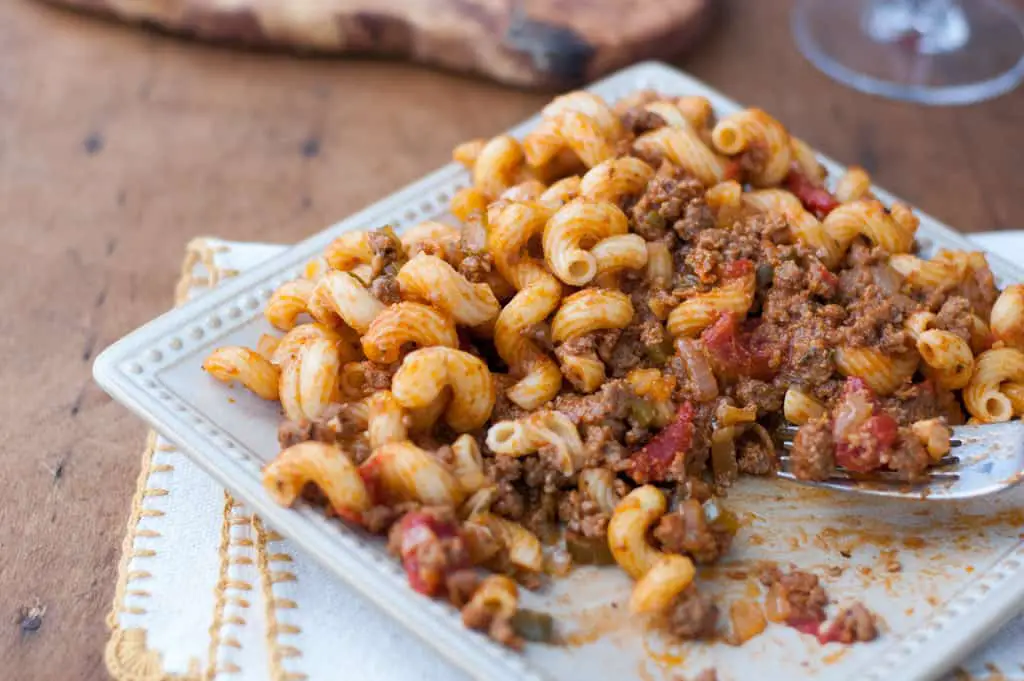 Print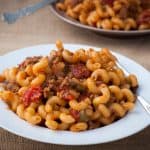 Mama's Kicked Up Goulash
---
1

lb ground beef

1

hot Italian sausage link, casing removed

1/2 cup

seasoned breadcrumbs

2

eggs

1/4 cup

freshly ground Pecorino Romano cheese

1/8 teaspoon

ground pepper

1/2 teaspoon

kosher salt or ground sea salt

1 cup

diced yellow/Spanish onion

2

celery stalks, halved lengthwise, then sliced thin

1/2 cup

chopped green bell pepper

2

large garlic cloves, diced

1

15 oz can tomato sauce

1

15 oz can stewed tomatoes (basil/garlic or onion/garlic flavor)

1/4 teaspoon

table salt

1/4 teaspoon

Hungarian paprika

12

–

14

turns fresh ground black pepper

1/4 cup

water
Olive oil

1

lb box Cavatappi pasta (short tubed corkscrew pasta with ridges)
---
Instructions
In medium bowl, combine first 7 ingredients (beef, sausage, bread crumbs, egg, Pecorino Romano, pepper, and kosher salt). With hands, combine until mixed well.
Preheat a couple of turns of olive oil in a large nonstick skillet over medium-high heat. Add meat mixture to skillet and brown meat, stirring occasionally. (about 5-6 min) You want it to be a little browned, not just cooked.
When meat is cooked through, put meat in a bowl or plate and set aside. Reduce heat to medium and add the onions, celery, and green peppers to the skillet, stirring occasionally. (about 4-5 min)
Meanwhile, fill large pot with water and add about 1 teaspoon of salt to water. Boil water and cook pasta according to package directions. When cooked, drain pasta.
When onion mixture has cooked for about 4-5 minutes, push mixture to the sides of the skillet, creating another hole in the center. Add 1 tablespoon oil to center of pan. Add garlic to the center of skillet and cook for 30 seconds, then add back in the browned meat and stir. Add tomato sauce, stewed tomatoes, water, paprika, 1/4 teaspoon table salt, and fresh cracked pepper to skillet and stir to combine. Reduce heat to simmer and simmer for approximately 20 minutes or until pasta is done. As it is simmering, break up the stewed tomatoes into smaller pieces with a spoon or spatula. When the sauce is almost done, taste the sauce, if it needs more salt or pepper, add it now.
After draining pasta, add pasta to skillet and stir until well combined. (Or you can mix everything together in a large bowl if your skillet will overflow.)
Serve hot.
Notes
More great recipes at www.thekitchensnob.com