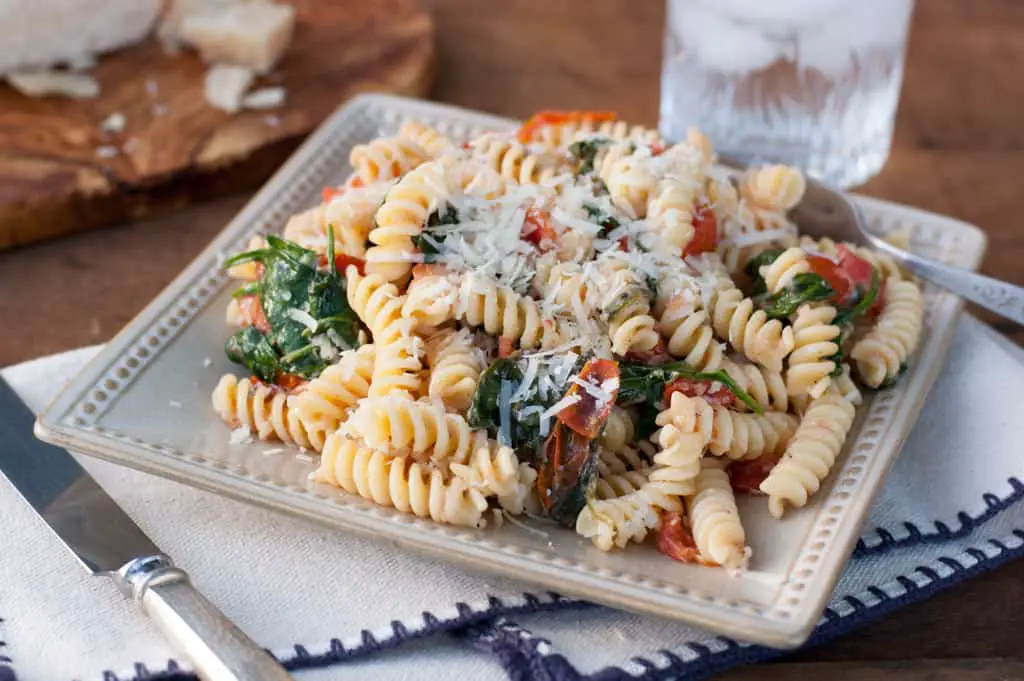 When I discover a tasty new recipe, all I want to do is share it with everyone. The recipe, that is. The actual meal I just want to eat it all myself. Sure, I'll save a few bits for my husband. I'm generous like that.
I'm feeling so generous right now, as I live and try to breathe in this Polar Vortex of Hell, that I'm willing to let you buy me a plane ticket (bless my heart) to visit your warm city so I can cook up this mouth watering Fusilli Pasta with Spinach and Asiago Cheese for you, as you sprawl across your couch watching Glee, The Bachelor, or Scandal. Pick your poison. Did you say 75°? Uh huh, I see. Yes, yes I will, thank you.
Okay so you can't afford my plane ticket because of the economy and "these are hard times" blah, blah, blah? I'll settle for you doing a good deed by making this for your sweetie for Valentine's Day or anytime you want to get romantic or make a good impression. Ok so yes, you'll have garlic breath. But, personally, I find that arousing.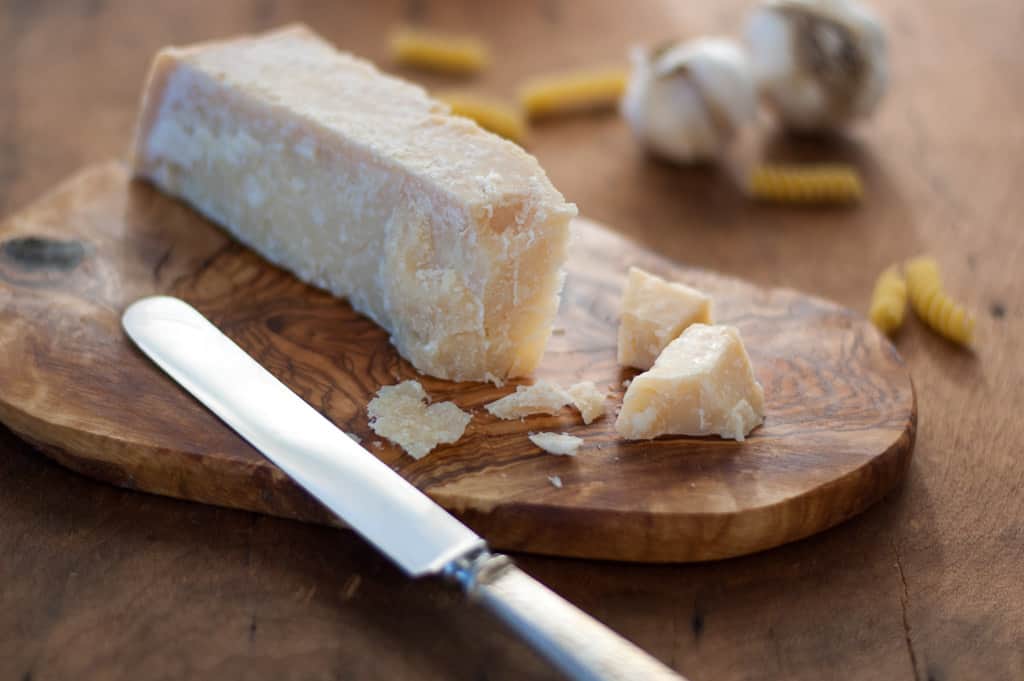 Purchase aged Parmesan Reggiano and Asiago. It should be a block (not already grated) and can be found in your grocer's specialty cheese department. My Parmesan was aged for 24 months. The older the better. It really does make a difference in the flavor of your dish.
If you use the stuff in the green can, my Italian relatives will rise from the grave (after rolling over, of course) and smacka your face.
It's best to grate the cheese so it grates down to about the size pictured below. You don't want it too fine. You want it to be able to cling inside the crevices of those curly wurly fusilli thingies.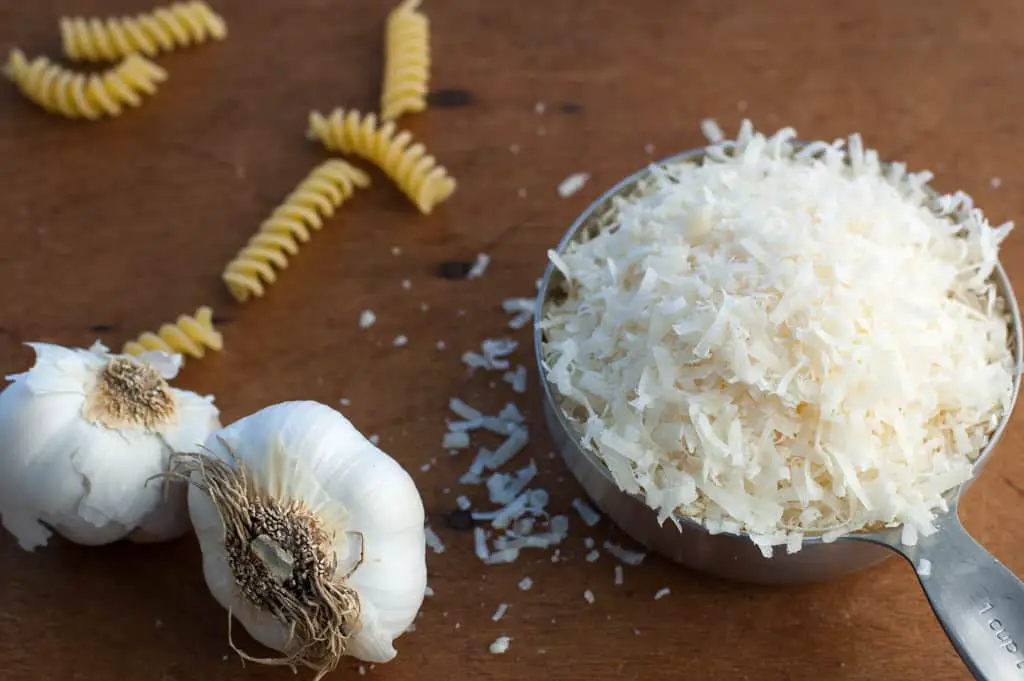 I've slightly adapted this recipe from one of Giada De Laurentiis's recipes. It's the first I've ever tried of hers and, I have to say, I'm impressed.
The nutty flavor that the Asiago cheese give this dish, with the salty Parmesan Reggiano, the slight heat of the garlic, and those bursting cherry tomatoes – sigh. Need I go on?
Fusilli Pasta with Spinach and Asiago Cheese makes a great side dish, too!
I'm trying to think of more ways to convey to you how good this dish is. Ummm…let's see…I could tell you that my mom really liked it. Like – a whole lot. Wait, no. That won't convince you. Because if I drew her a picture with crayons from a coloring book and drew all crazy outside of the lines and then dribbled cereal milk on it, she would like that too and probably tape it to her fridge. But she really liked this pasta dish. I'm just sayin'.
I don't know what else can I do to get your butt off the couch and cook this melt in your mouth pasta, aside from coming over there and carrying you to the kitchen, which could result in a restraining order and I just don't have time for that kind of drama right now.
So, I'm going to let the pictures do the rest of the talking. Okay, pictures. Do your stuff.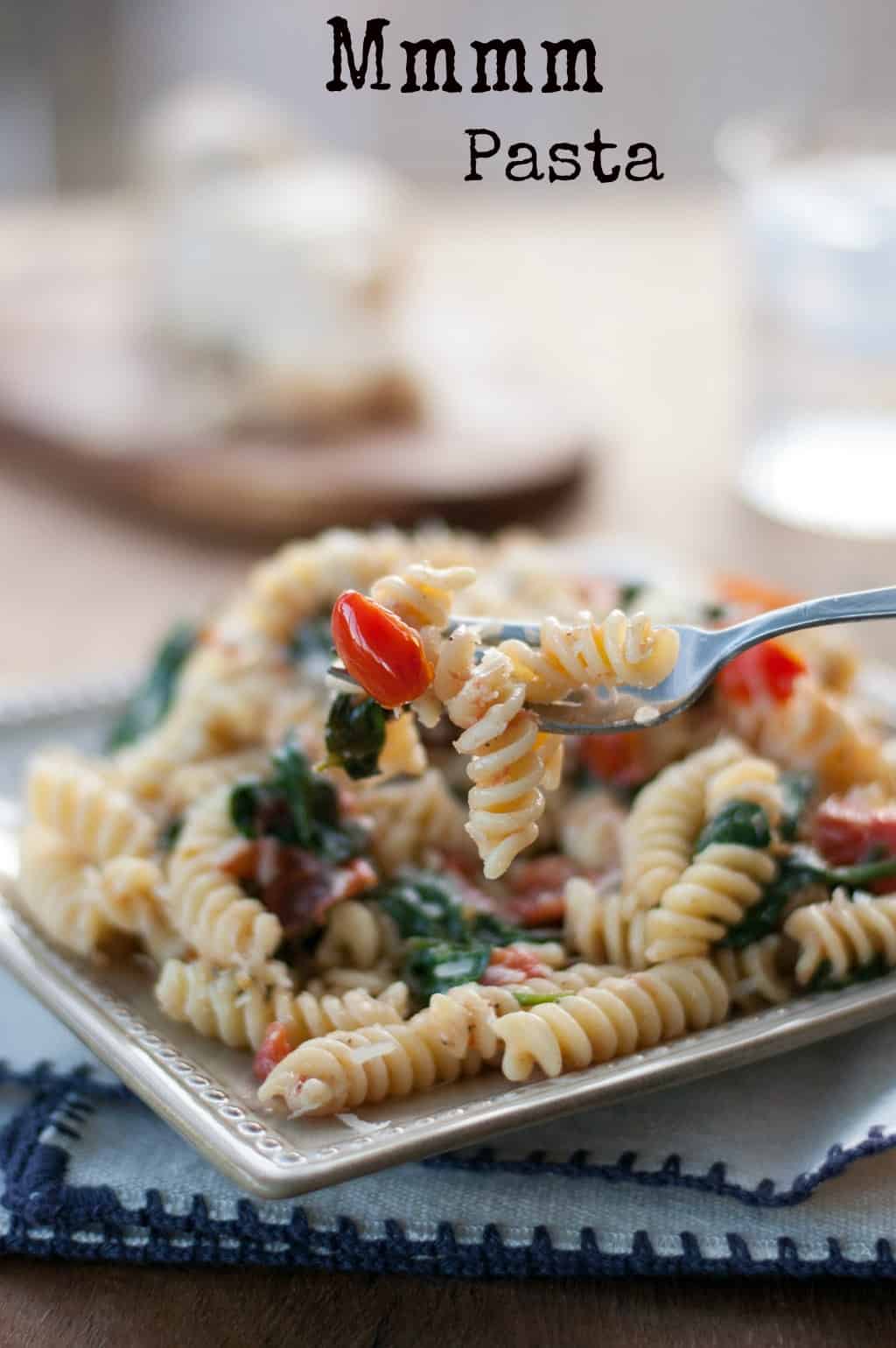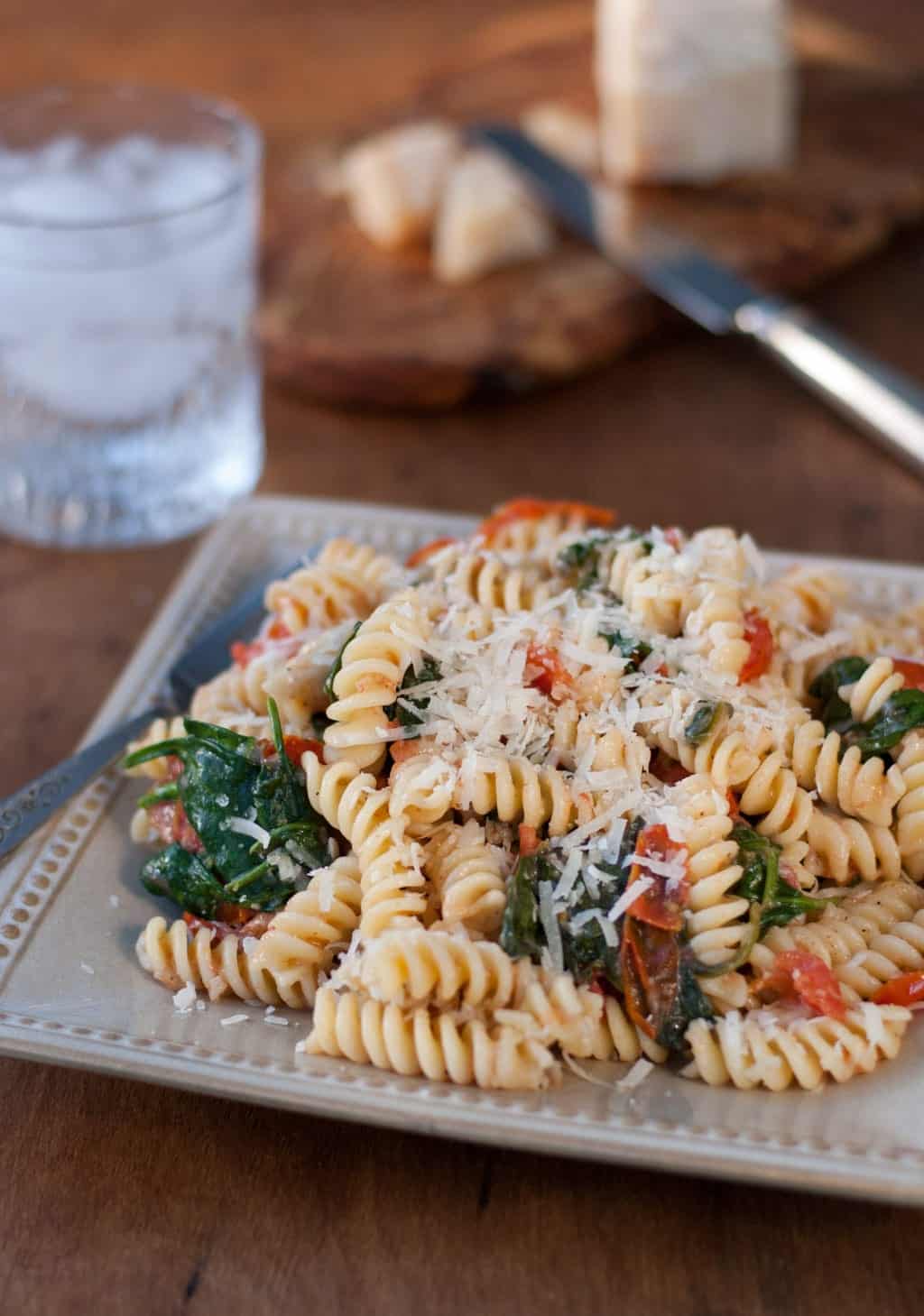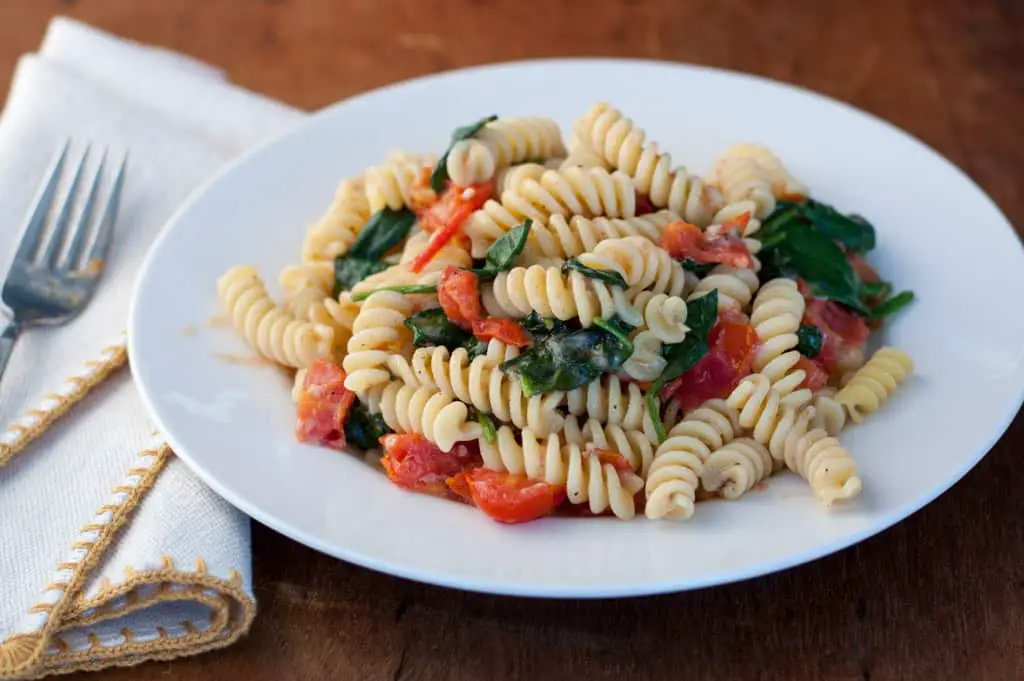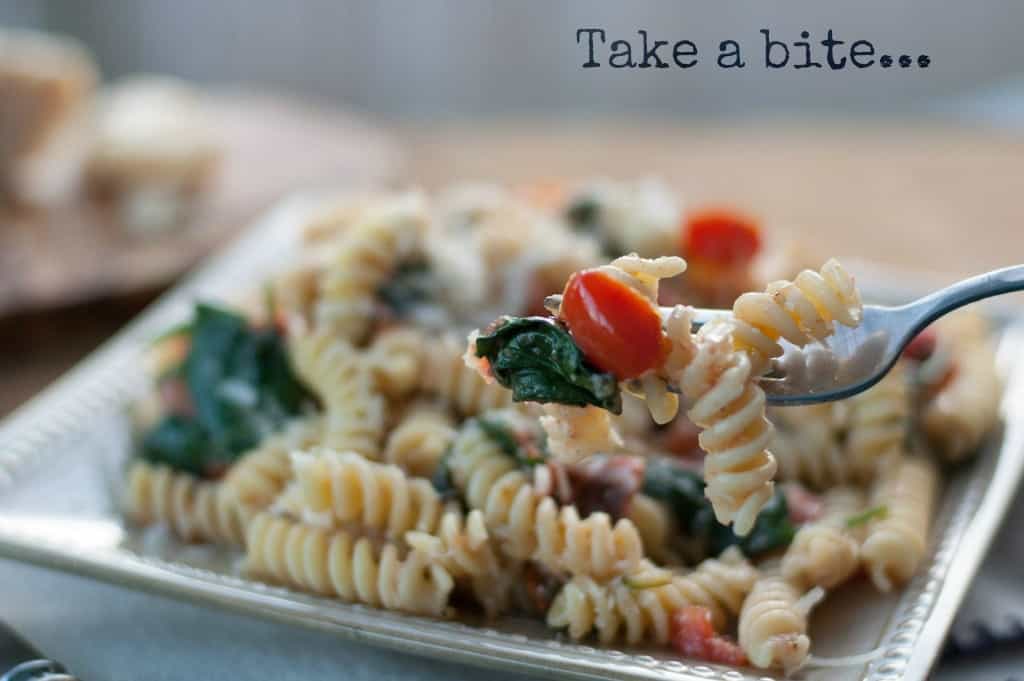 Print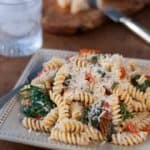 Fusilli Pasta with Spinach and Asiago Cheese
---
1

pound fusilli pasta

1/3 cup

extra virgin olive oil

3

–

4

large garlic cloves, minced

1

bag (9 oz) baby spinach (can use regular spinach but, if so, roughly chopped it)

1

lb cherry or grape tomatoes, cut into quarters

1

heaping cup grated aged Asiago cheese (aged Asiago will give it a better flavor)

1 cup

grated aged Parmesan Reggiano or Pecorino Romano, plus additional for sprinkling

1 teaspoon

, plus 1 tablespoon salt, separated

3/4 teaspoon

ground black pepper
---
Instructions
This recipe comes together very quickly so it's best to have everything ready before you start. Grate your cheese, chop your tomatoes, mince garlic, and get the spinach ready. It would also be helpful to measure out your pepper and 1 teaspoon of salt and set aside.
In a large pot, boil water for pasta and add 1 tablespoon of salt to the water. When the water is boiling, add the fusilli and cook to the shortest cooking time on package. (For example, if it says cook 9-11 min, only cook 9 min.)
Very important: Before draining pasta, reserve 1 cup of the salted water that the pasta cooked in. Drain pasta and set aside.
While the pasta is cooking, preheat olive oil in a large skillet over medium-high heat. (Note: find the largest skillet you can with higher sides if possible. You're going to be adding the pasta to this skillet and it can get a little full.) Add the garlic while the skillet is heating and cook until fragrant, about 2 minutes. (Note: Don't wait until the skillet is too hot to add garlic,otherwise it will burn. It should be added to the pan shortly after you add the oil.)
Add the spinach and tomatoes, stirring occasionally, until the spinach wilts, about 2 more minutes.
Add the cooked pasta and mix everything together. Add the cheeses, 1 teaspoon salt, pepper, and the pasta cooking liquid. Stir to combine.
Taste it – if you think it needs a little more salt, pepper, or cheese, add it now.
Remove from heat, sprinkle with Parmesan or Pecorino Romano and serve.
Notes
More great recipes at www.thekitchensnob.com