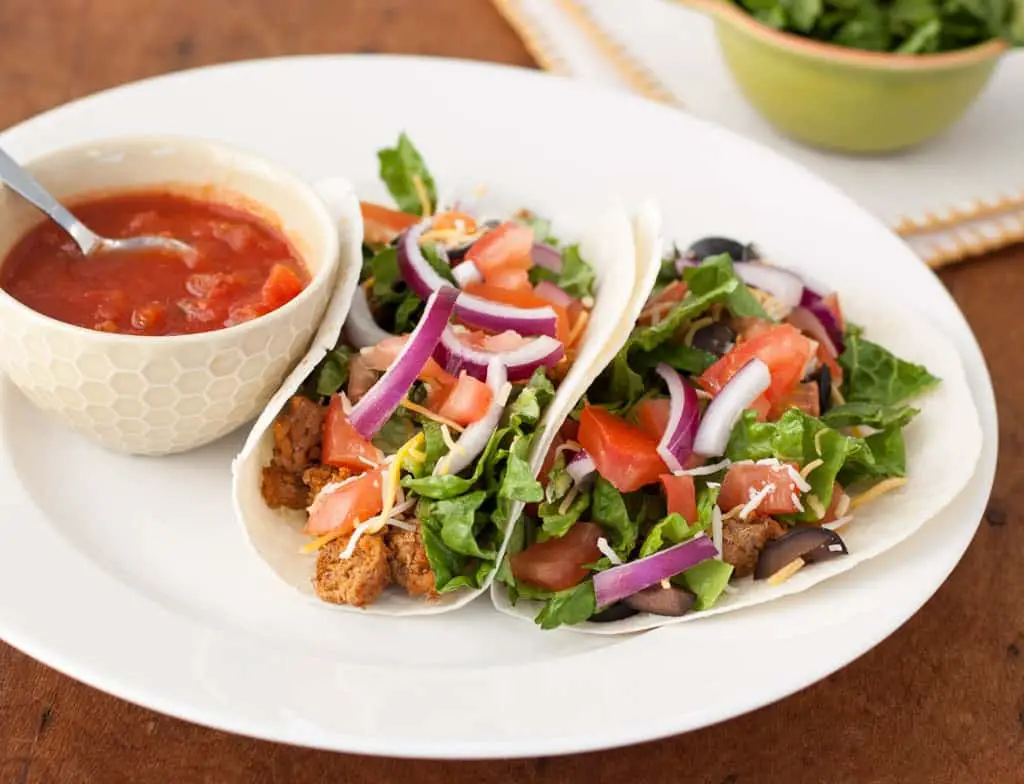 It's time I confess something that's quite embarrassing for a self-proclaimed foodie and resisting-rehab snobaholic. I'm (sometimes) a big ol' cheater.
Please don't judge me. It's just that, once in awhile, I need a break. I can't be fabulous all the time, ya know?
You deserve a break, too. In today's world, it's so hard for all of us to keep up with busy kid's schedules, reoccurring pet pukes, looming unwatched shows on the DVR, and pretending to keep a clean house. Who has time for it all?
The truth is, this isn't even a recipe. WHOA. What?! Hear me out.
It's a plan. It's a solution. It's healthy.
I know that you, my readers, have meals like this that you already prepare. And you're not here at The Kitchen Snob for ordinary. You're here for something special. Tacos are nothing special, right? Wrong! They are special. They're special because they get the job done. Your family needs food. They need it fast. You need it cheap.
Admittedly, I like complicated gourmet-type meals. But sometimes, you don't have time for that. You just gotta eat.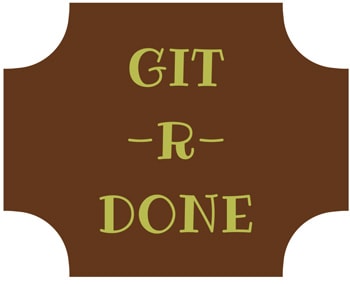 The Git-R-Done Easy Turkey Taco Plan
If you plan it out, and have the ingredients on hand already, you can throw together taco night in about 20 minutes (and that includes a quick kitchen cleanup).
Buy ground turkey in bulk. You're going to be making these more than once and you'll be happy you have it when you need it. We buy the Butterball 4-pack of ground turkey at Costco and throw them in the freezer. (This equals about 6 lbs of turkey.) Each pack is about 1.5 lbs. If you don't belong to a warehouse club, buy several packs of ground turkey next time you're at the store.

Before you go to bed the night before, toss a pack of frozen ground turkey meat in the fridge for thawing. It will be perfect when you get home from work the next day.

To take the easy-factor one step further, I buy prepackaged shredded cheese and prepackaged already-cut-up lettuce, just for the purpose of taco nights. See – this is where my lyin' cheatin' ways shine through.

Once you've made these a few times, the timing of it will become second nature. You're going to be cleaning up your kitchen while it's cooking. Another sneaky cheat.

If you find you're making Turkey Tacos several times a month, and belong to a warehouse club, buy the taco seasoning in bulk in the big plastic containers.

Think of this as an easy meal that you can put together once a week, or at least twice a month. This is one less dinner you'll have to think about. Yippee!


Afraid to switch from ground beef to ground turkey?
Don't be. The Hungry Husband loves beef, but we made the switch about 7 years ago and never looked back. In fact, if we eat the beef tacos, we pinky swear they don't taste as good as these Easy Turkey Tacos. Try an experiment. Don't tell your family you're making turkey tacos, tell them you're making tacos. Yep, plain tacos. And see how they respond.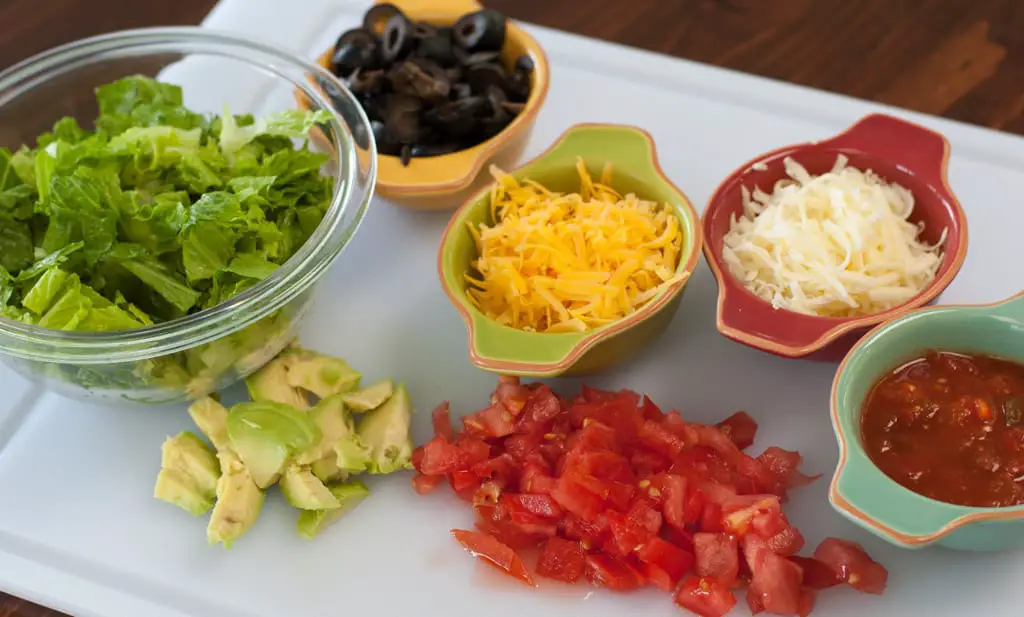 I just leave everything on the counter and serve it buffet style. I'm not gonna lie. Those cute little bowls in the picture above are there to make the toppings look super pretty for you. If I wasn't trying to impress you, I'd just leave the toppings spewed across the cutting board and the cheese would remain in the bag. Shhhh that's top secret. I try to keep my dirty dishes to a minimum.
Snob It Up
If you want to be the Queen of Turkey Taco Night, pre-make my Salsa Criolla recipe the day before (which lasts a good few days in the fridge), it goes so well with tacos! Really kicks up the flavor. But – if you're in a last minute rush, skip it.
Print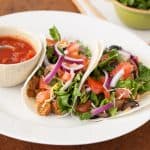 Easy Turkey Tacos
---
1

to

1.5

lbs ground turkey

1

pack taco seasoning (such as McCormick Taco Seasoning Mix)
water (amount needed printed on taco seasoning pack)
Toppings
It's totally up to you! Suggestions: chopped lettuce, chopped tomatoes, grated cheddar or Monterrey jack cheese, sour cream, avocado, black olives, or sliced onions
Salsa (I just use my favorite jarred salsa – this is supposed to be easy, remember?)
Taco shells (store-bought, soft or crunchy)
---
Instructions
Get home from work and let out a big "ugh" when you see you have a sink full of dishes and can't even put them away because the dishwasher needs to be emptied. Go ahead – make this one count – a big long uggghhhh. I feel you.
Preheat nonstick skillet over medium heat.
Add turkey and break apart as it starts browning, turning occasionally. Continue to break apart as it's cooking.
While the meat is browning, you can't just stand there and watch it cook, can you?. No, you can't. Now is a good time to cut up some lettuce, tomatoes, onions, and maybe some black olives. Heck, get creative – whatever you want. Don't forget to stir the meat every once in awhile, breaking it up into smaller pieces.
When the meat is done browning (no pink should be left), drain the meat to get rid of the fat and put the meat back into the skillet.
Stir your taco seasoning packet, along with the amount of water suggested on the packet into the turkey meat. Mix thoroughly and continue to simmer until moisture has evaporated (about 5 min), stirring occasionally.
While it's simmering, do something totally unheard of like…wait for it…empty the dishwasher (Gasp!) Maybe you can get totally crazy (if you're really fast) and squeeze in filling it back up with dirty dishes! Holy moly, the insanity. Unless, of course, you're still preparing your taco toppings. Hey, sometimes we just don't feel like doing dishes. Your secret is safe with me.
Turn off heat and arrange your tacos any way you like. I prefer meat on the bottom, then cheese, salsa, lettuce, and tomatoes (and my homemade marinated red onions, if I have some already made).
Notes
More great recipes at www.thekitchensnob.com