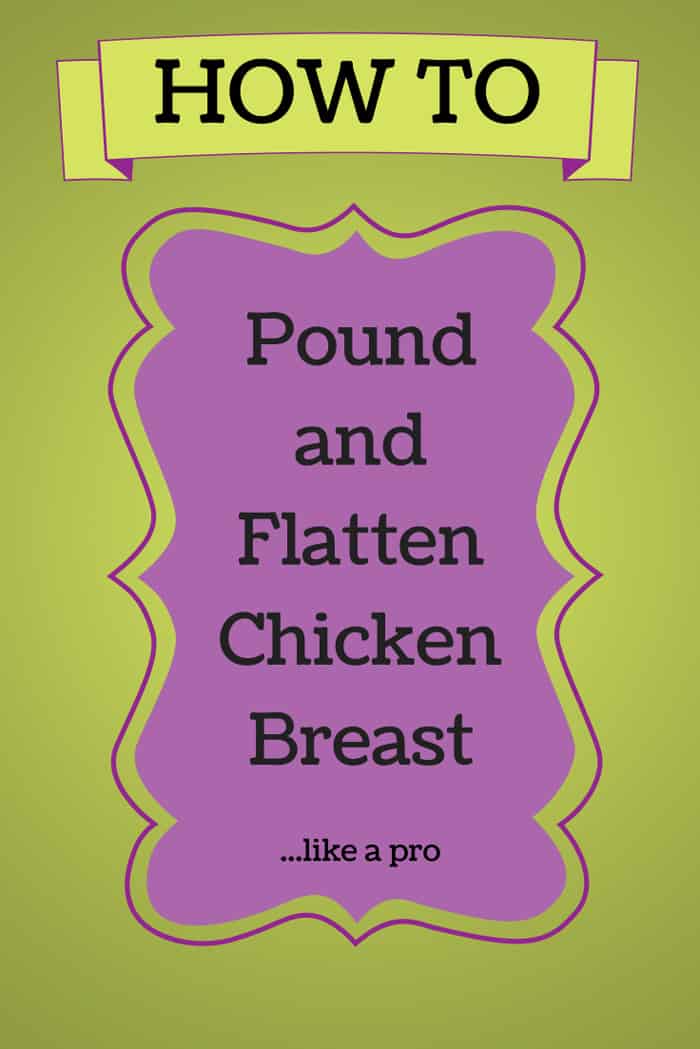 Today I'm going to show you how to pound chicken so you get a thinner, moister, faster cooking chicken breast. But first, I'd like to tell you why I prefer to pound and flatten my chicken breast, and why it's the only way I like it.
Chicken breasts have always tasted boring to me.
I want to make something delicious for my family and chicken is one of the less expensive meats (although when I see chicken breast for 3.99 a pound or more I'm like "For real?!")
I always try doing something new with it. I'll start looking for new recipes online and sometimes I will find a marinade that sounds delicious. Several hours after marinating and….drumroll please…it still tastes like chicken. I can never really taste the flavors I'm cooking with.
My theory is that chicken breast is too thick. The marinade never permeates through the outer layer. And in my book, thick and chicken just don't go together.
You may remember the new math called Foodgebra from my Marinated Vegetable Salad recipe. It's much more fun than algebra. Let's look at some equations, shall we?
Thick + steak = mouth watering flavor
Thick + chocolate cake + large glass of milk – guilt = off da hook yumminess
Thick + biceps + Channing Tatum = Yes, please (Is Channing Tatum not one of food groups?)
Thick + chicken = -1,000,000,000,000,000 delicious points
That's negative kajillion, folks. Based on this hypothesis, we can therefore conclude that:
Thick + chicken = yuck
I'm sorry. But somebody had to say it.
So let's keep that chicken flavor in check by thinning it out. Using thin chicken, or chicken tenders, will allow you to taste the flavors of the dish.
Steb-By-Step Instructions: How to Pound Chicken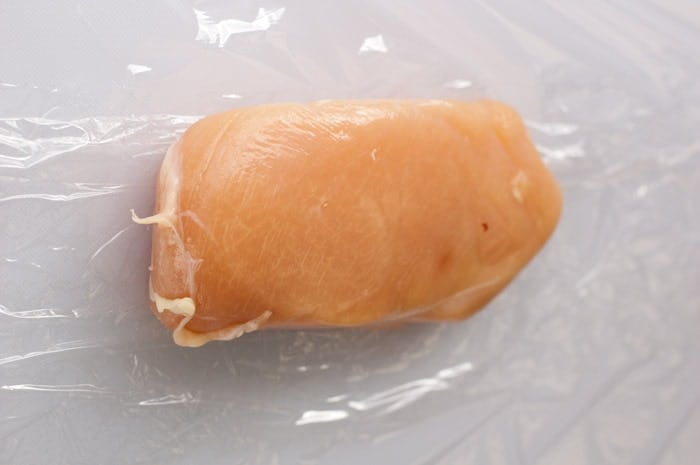 Lay down 2 sheets of plastic wrap on a cutting board or directly on your counter. I overlapped the plastic wrap so I'd have a bigger area to work on. Place chicken on top.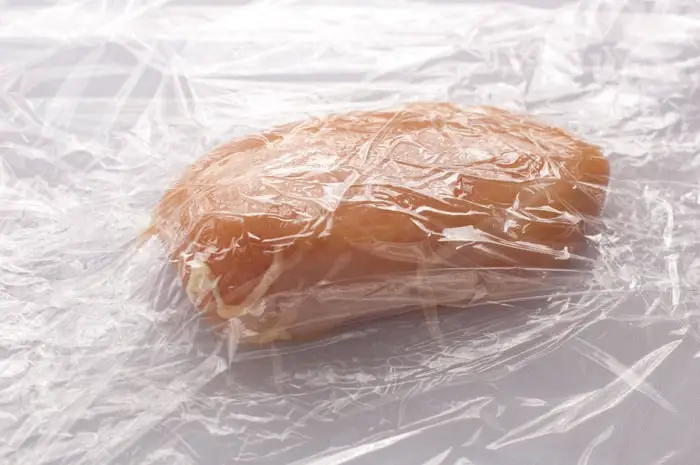 Next, lay two sheets of plastic wrap over the chicken.
Now get out that mallet your kids use when they pretend to "hold court" and smash that chicken. Use the smooth side of the meat mallet. Tip: most meat mallets are meant to be hand washed and not put in the dishwasher. I found this one that is dishwasher safe.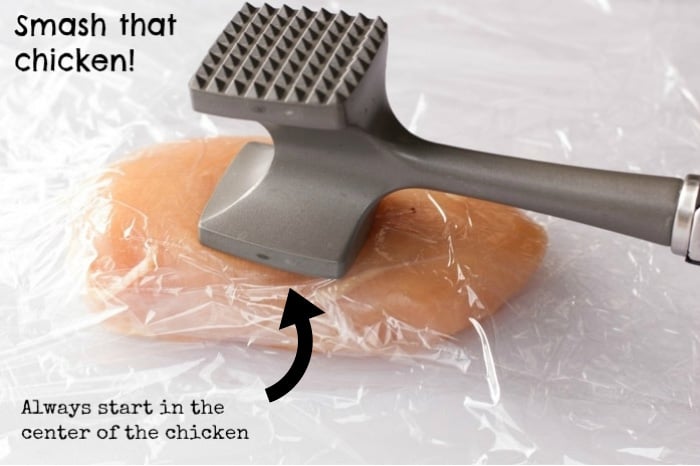 Start in the center of your chicken and work your way out.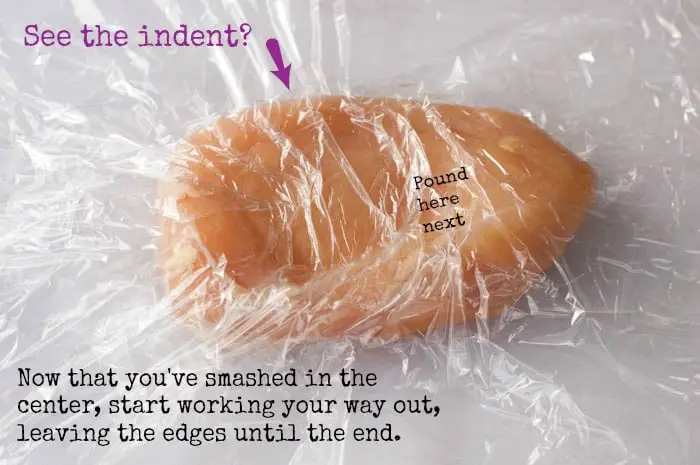 Continue to work your way towards the edges.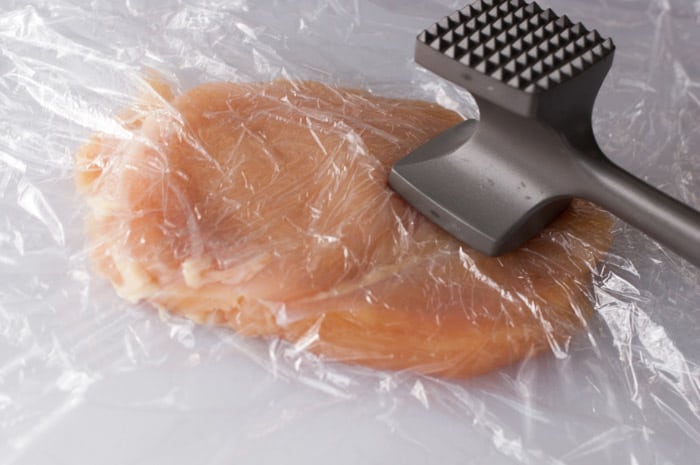 Be careful not to flatten the chicken too thin, or it will start to tear. Usually 1/4 inch to 1/2 inch thick is good. Be patient. Sometimes it takes a few minutes to flatten it out. If you've worked your way out to the edges and your chicken is not as thin as you want it, just start in the center again and work your way out.
In the picture below, I wanted it thinner so I started over in the center again.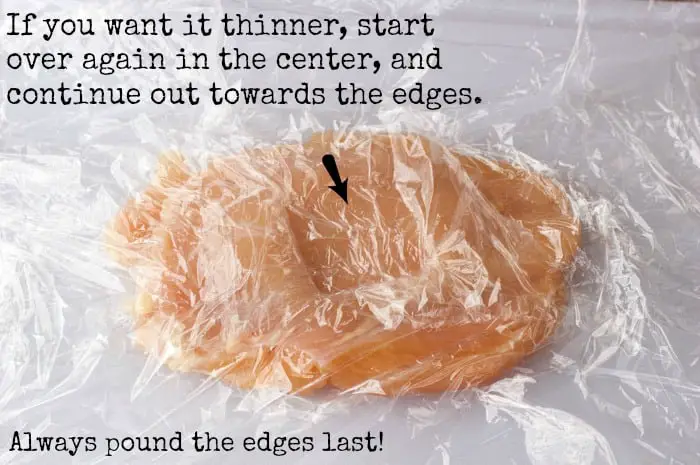 And your'e done! This chicken ended up being about 1/2 inch thick. You can use the same plastic for the rest of your chicken.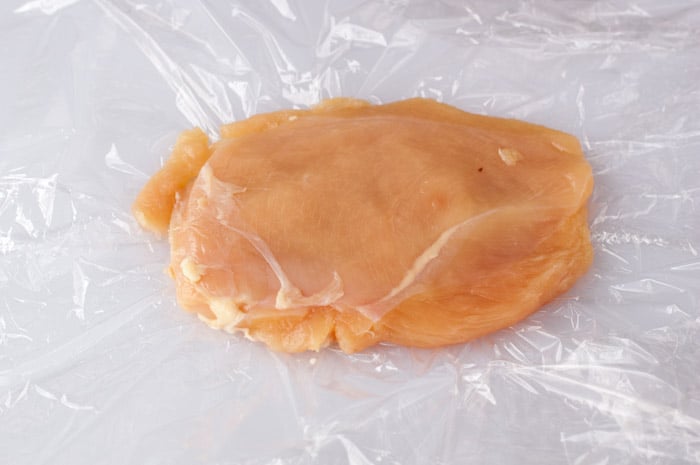 Now you know how to pound chicken breasts! If you're looking for a recipe that calls for pounded chicken breasts try my Artichoke and Feta Stuffed Chicken Breasts.