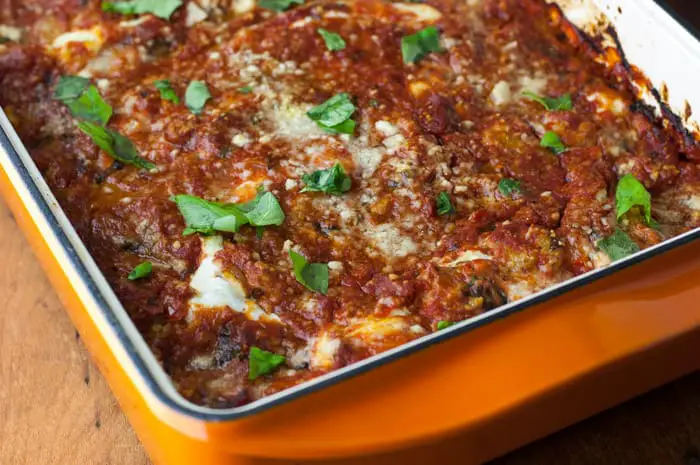 Okay, you guys. I need to confess something.
It's not going to be popular with the general public, so please don't throw mildly expired tomatoes at me. And definitely don't tell the Italians. Judge me for 5 minutes (setting the timer helps so you won't dwell on it) and then you have to go back to totally thinking I'm:
a) super kewl b) awesome or c) fetch.
And before I go on, can we just stop to admire my new orange Mario Batali Cast Iron Lasagna/Roaster? Drooool. Thanks, dad!
The confession: I have never been a big fan of lasagna.
I know, I know. I'm a disgrace to the food world.
Very Important Disclosure Statement: I do like my mom's and mother-in-law's lasagna. Let's just get that straight before this goes viral and the phone starts ringing.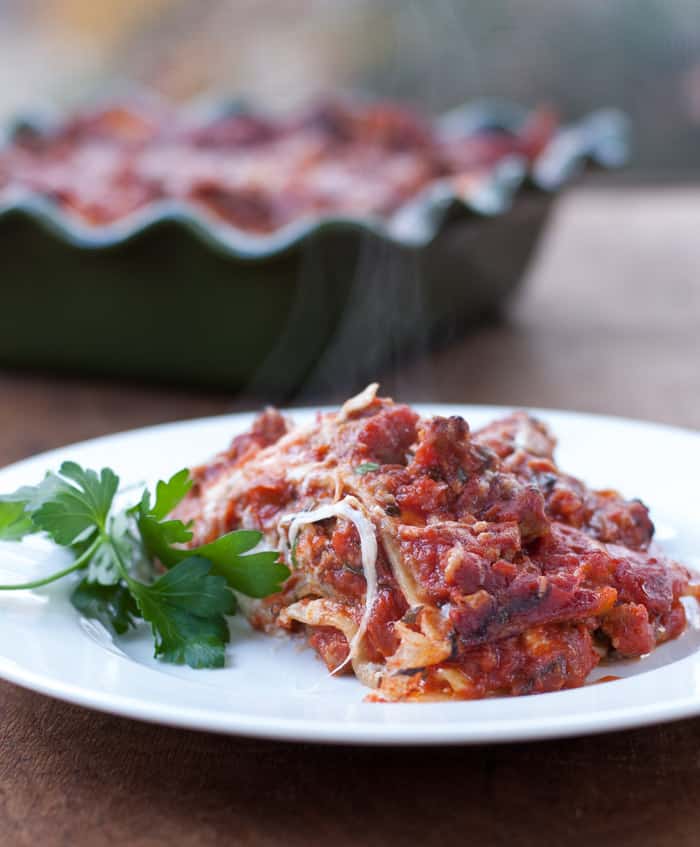 Here's why I'm not a fan:
I don't like that the noodles feel extra mushy. When you boil them and then put them in the oven, they seem overcooked.
I'm not fond of the ricotta-ish texture. Most lasagnas have too much of it and I don't think it adds much flavor.
I'm weird.
That's where this No Boil Lasagna comes in, running up the stairs with its arms in the air to the Rocky theme. Ta da!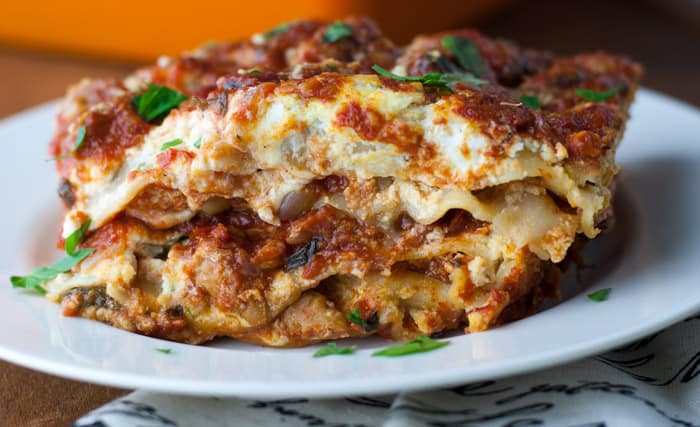 By not boiling the noodles, they're perfectly cooked by the time they come out of the oven. Not mushy. Not freaking out snobby bloggers who have weird mushy noodle phobias.
This lasagna does have ricotta in it. But, you guys, it's soooo good. It's got secret ingredients. They're "classified." But since you're still reading, I'll let you in on it and we'll keep it on the DL. You and me. Pinky swearing, secret-keeping BFFs.
This recipe is slightly adapted from Ina Garten, who shared this recipe with the world, so I've got my suspicions that more people know about this. But let's pretend it's just you and me, kay?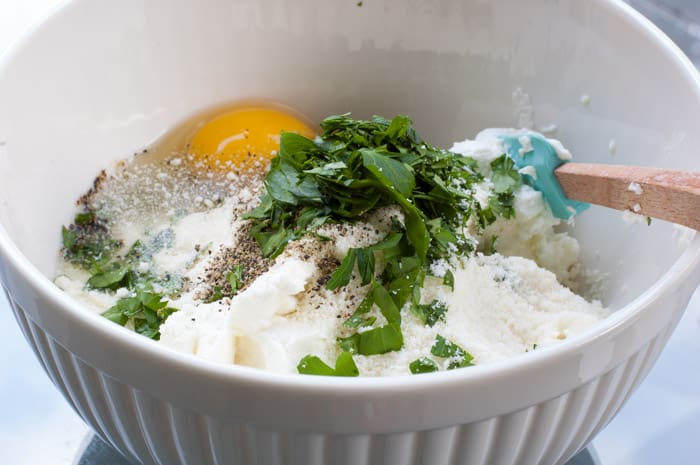 In addition to boring ol' ricotta, it's got Pecorino Romano and goat cheese. Did you hear me? GOAT CHEESE. And if that wasn't enough cheesy heaven for ya, we're going to throw in some fresh mozzarella. Because 3 cheeses is never enough. You already knew that.
And just so you're not misled by the No Boil Lasagna name, you do still have to soak the noodles in some hot tap water for 20 minutes. I assumed I would be laying down dry, hard, lasagna noodles and the no-boil thing would save me a step. Nope. I'm not gonna lie. There's still a step.
But it's okay. You're okay. I'm okay. We're all going to live happily ever after when we taste the punch of flavor dangling from our forks.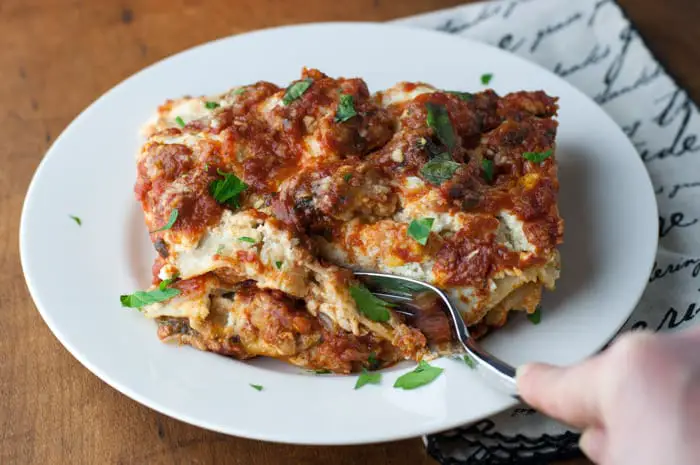 Print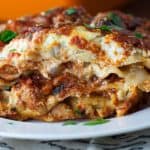 No Boil Lasagna With Turkey Sausage
---
3 tablespoons

olive oil

1 1/2 cups

chopped yellow (Spanish) onion

3

–

4

garlic cloves, minced

1 1/2

pounds mild Italian turkey sausage, casings removed

1

28-ounce can crushed tomatoes in tomato puree

1

6-ounce can tomato paste

1/4 cup

chopped fresh flat-leaf parsley, divided, plus more for garnish

1/2 cup

packed, chopped fresh basil leaves

1/8 teaspoon

crushed red pepper flakes (optional)

1/8 teaspoon

fennel seed (optional)
Salt
Freshly ground black pepper

1/2

pound lasagna noodles

15 ounces

ricotta cheese

3

–

4

ounces creamy goat cheese

1 cup

grated Pecorino Romano cheese, plus 1/4 cup for sprinkling (Parmesan can be substituted)

1

extra-large egg, lightly beaten

1

pound fresh mozzarella, thinly sliced*
---
Instructions
In a large nonstick skillet, heat the olive oil over medium-low heat. Once the skillet is preheated, add the onion and lightly sprinkle the onions with salt. Cook for 5 minutes, or until translucent, stirring occasionally. Add the garlic and cook for one minute, stirring occasionally.
Add the sausage and cook for 8-10 minutes. Stir occasionally and break up the sausage with a silicone spatula or spoon as you go.
When the sausage is no longer pink, add the tomatoes, tomato paste, 2 tablespoons of the parsley, all the basil, red pepper flakes, fennel seeds, 1 1/2 teaspoons salt, and 1/2 teaspoon of pepper. Stir until combined and simmer, uncovered for 15-20 minutes over medium low heat, stirring occasionally.
Meanwhile, preheat the oven to 400°. Fill a stock pot with very hot tap water. Add the noodles and allow them to soak in the water for 20 minutes. Drain when finished.
In the meantime, in a medium bowl, add ricotta, goat cheese, 1 cup Pecorino Romano, egg, 2 tablespoons chopped parsley, 1/4 teaspoons salt, and 1/4 teaspoon pepper. Stir until well combined. Set aside.
Get ready to prepare your lasagna!
Spoon 1/3 of the sauce into the bottom of a 9×12 inch baking dish. Spread the sauce over the bottom of the dish with the back of a ladle or a large spoon. Then add half the pasta in even layers, just barely overlapping the pieces. If some don't fit properly, you can break them off so they just come to the edge of the dish. Then add half the mozzarella slices. Add half of the ricotta mixture and spread it out evenly with the back of a large spoon. Add 1/3 more of the tomato sauce, spreading with the spoon. Add the rest of the pasta, then mozzarella, ricotta mixture, and top with the rest of the sauce.**
Sprinkle top with 1/4 cup of Pecorino Romano cheese. Bake at 400° for 30 minutes. The sauce should be bubbling when you take it out of the oven. Let rest for 5-10 minutes before serving. Garnish with parsley, if desired.
Notes
* If you have a specific cheese knife, great. But if you don't, I found it was easier to thinly slice the mozzarella with a serrated knife. You can also try running the serrated knife under hot tap water, every few slices.
** If you want a really deep lasagna, you can multiply this recipe by 1.5 and use a very deep baking dish (at least 3″ deep). I recommend Mario Batali's Lasagna/Roaster. But you'll need to adjust your layers (i.e. don't use 1/3 of sauce to start out, maybe use 1/4 so you'll have more layers in the end. The same goes for the noodles, mozzarella, and ricotta mixture).
More great recipes at www.thekitchensnob.com