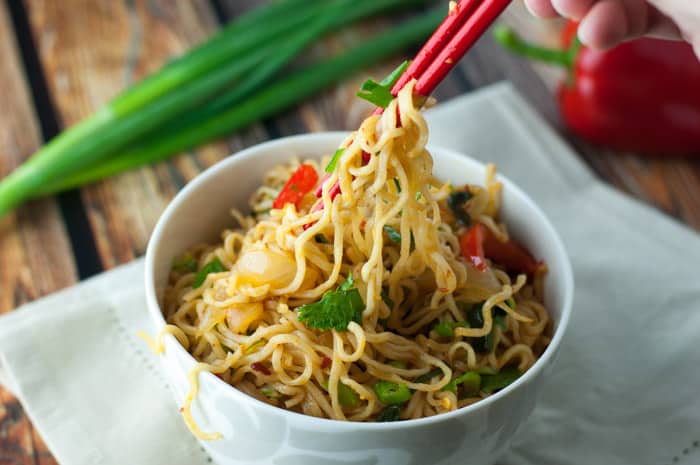 These Spicy Ramen Noodles have shaken me out of my post holiday coma. It's the one productive thing I've gotten done since we got an Apple TV.
You guys, it's life changing. But don't go out and get one unless you don't want to see the light of day ever again.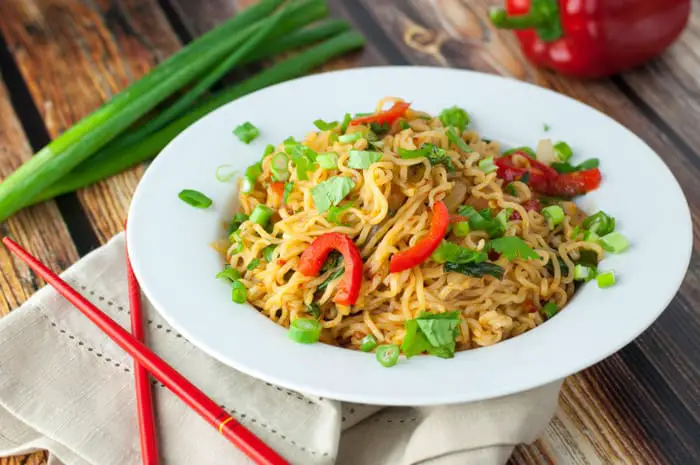 Since the holidays, I've been lounging on the couch under my heated throw, quickly darting my eyes back and forth to see if anyone notices I'm about to watch my 4TH CONSECUTIVE HOUR of Orange is the New Black. That itsy bitsy Apple remote is part of my DNA now. We're like one. [kisses remote]
Yeahhhh…I'm addicted.
Long after I turn off the TV, I'm still thinking about the characters: Is Pippy going find the chicken? And in awe…What a resourceful woman…grinding jalapeno peppers in her mouth on an empty stomach for Red's capsicum lotion!
I look for any excuse to turn on Netflix. Hey, a person needs horizontal rest after doing the dishes.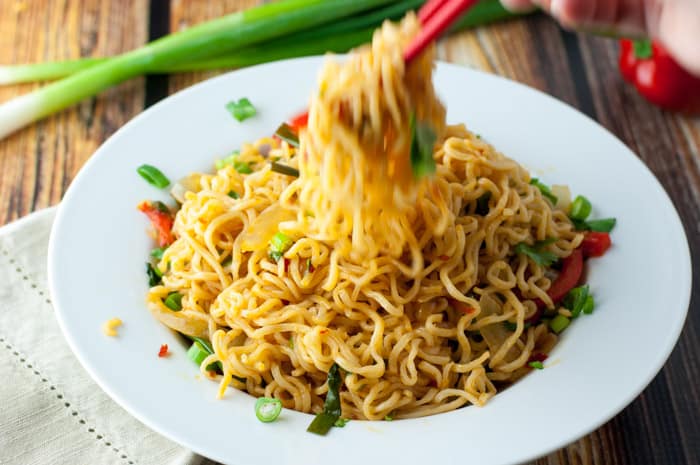 They make it so easy. You don't have to hurt your precious little fingers pressing a single button to queue up the next episode. We all know that pushing buttons is HARD.
What's weird about binge watching TV shows is that you start to feel like the main character. Maybe it's just me?
After watching:
Breaking Bad – I feel sort of badass, sick, and completely disgusted with myself at the same time. Making the finest crystal meth in town, murdering someone, and disposing of the body will do that to a person. This show is so dark, I need a shower immediately after the show before snuggling with my blankie and watching an episode of Sesame Street. Save me, Big Bird.
Orange is the New Black – I feel like I'm starting to get the hang of prison. Maybe this place isn't so bad? Yes, it is. Wait, no, I'm fine. Am I going crazy?
Broad City – I feel completely irresponsible and lost, yet I'm having the greatest time of my life.
Game of Thrones – I'm only 1 episode in but I really feel the need to braid my hair.
House of Cards – I hate politics. Why am I watching this? Oh right, it's Netflix. It's required, dude.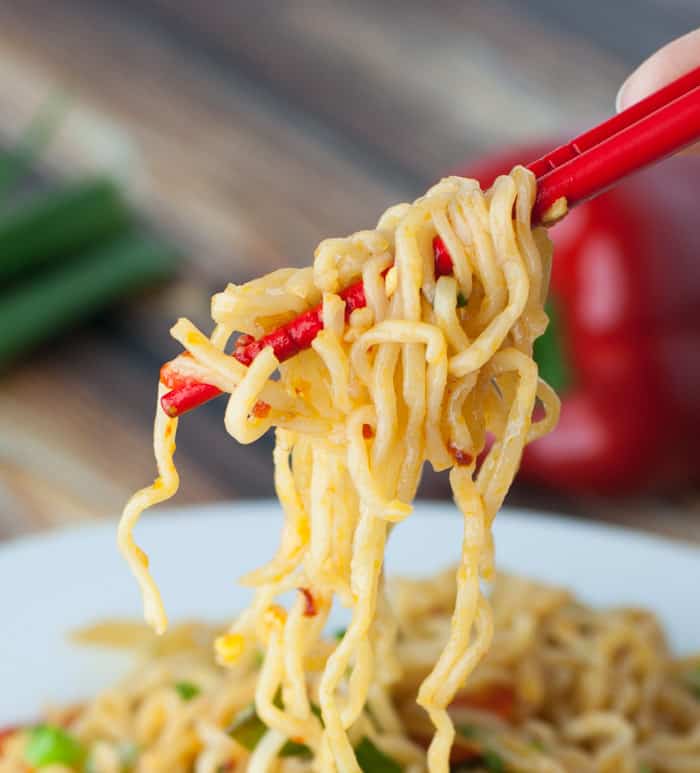 So, these spicy ramen noodles saved me. Because I got up off the couch [hold your applause] and cooked something. 3 times. Yes, it took 3 tries to get this recipe just perfect. Or am I just addicted to eating them?
First, it was my addiction to sugar. Now I'm addicted to Apple TV and Spicy Ramen Noodles? Oh, who's counting. Fire up that TV and eat up!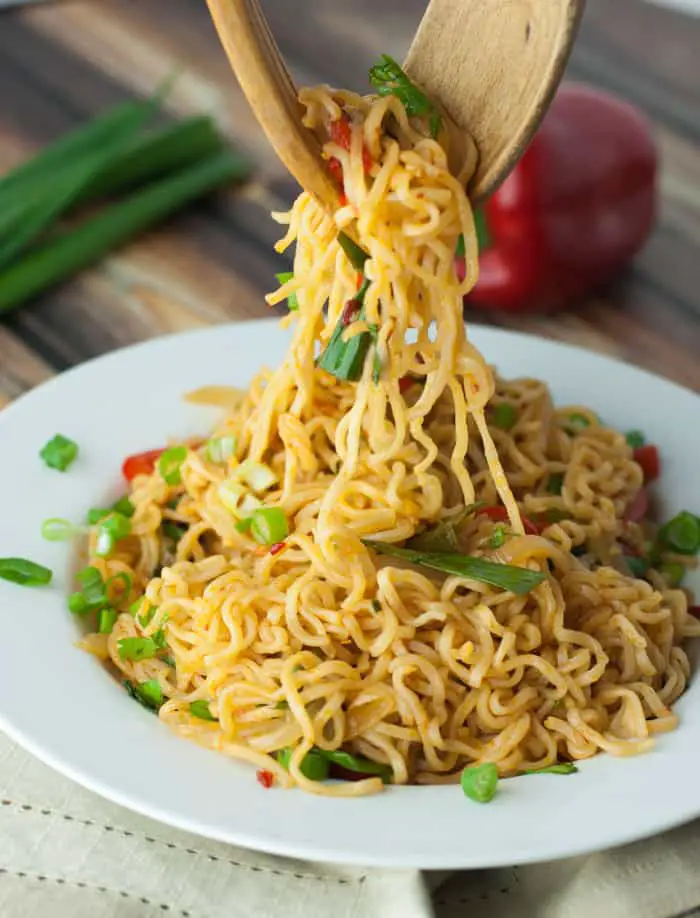 Speaking of fire…these Spicy Ramen Noodles are hot enough to feel like your lips are tingling after eating them. The best part is the sweet onions that give you some relief. Oh hold me, sweet onions.
Sinus problems or a cold bringing you down? No problem! Eat these spicy noodles and you'll feel healed.
If you do feel under the weather, you probably should lie down and rest watch TV.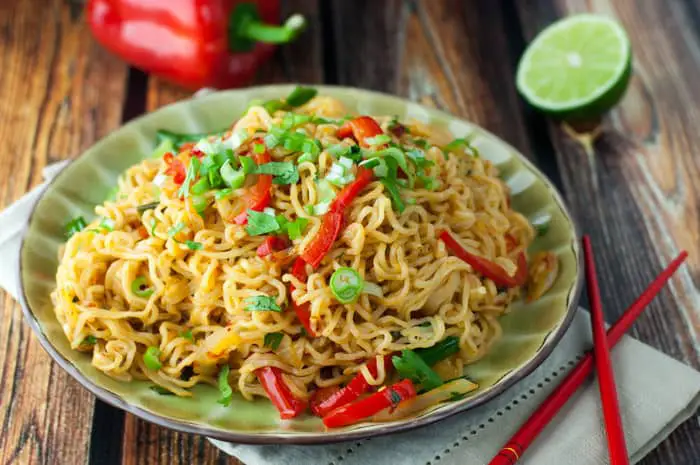 Print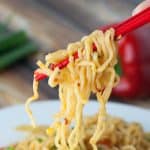 Spicy Ramen Noodles
---
4 tablespoons

low-sodium soy sauce

4 tablespoons

sambal oelek*

1 tablespoon

honey

4 teaspoons

seasoned rice vinegar

2 teaspoons

sesame oil

4 teaspoons

freshly squeezed lime juice

1 teaspoon

vegetable oil

2 tablespoons

peeled fresh minced ginger

1

large sweet onion, thinly sliced into approximately 2-3 inch long pieces

1 cup

thinly sliced and seeded red bell pepper

1/2 cup

fresh chopped cilantro leaves

2

large bunches green onions. Cut dark green parts into 2 inch pieces and finely chop thicker, light green part. (Once you get to the white part, stop slicing) Keep separated.

12 oz

ramen noodles (I used four

3 oz

packs of Top Ramen and threw out the seasoning packs. You could use only 3 packs if you wanted it a little more saucy.)

4 tablespoons

vegetable oil, divided
salt for seasoning
---
Instructions
In a small bowl, combine first 8 ingredients (soy sauce through ginger) and whisk until well combined. Set aside.
Fill a large pot with water and add 1 tablespoon of vegetable oil. Bring water to boil. Once boiling, add ramen noodles and cook according to package directions (make sure to throw out any seasoning packets that come with the noodles). Drain noodles when finished.
While the water is heating up, heat 3 tablespoons vegetable oil in a large nonstick skillet over medium heat. Once skillet is preheated, add onions and lightly season with salt and toss. Add red peppers and saute for approximately 7-8 minutes or until onions and peppers are soft and flexible, stirring occasionally. Add another tablespoon of oil to pan and add dark green onions and saute for 1-2 minutes, stirring occasionally.
Clear an area in the center of the skillet and add sauce mixture to pan. Stir and cook for about 15-30 seconds. Remove from heat.
Add noodles to pan and stir immediately. Make sure all the noodles are coated with the sauce (tongs work best for this). Add the cilantro and lightly toss.
Sprinkle the finely chopped light green onions over the top and serve.
Notes
*Samal oelek is ground fresh chili paste. It comes in a jar and you can usually find it in your grocer's international/Asian section or at specialty food markets.
More great recipes at www.thekitchensnob.com