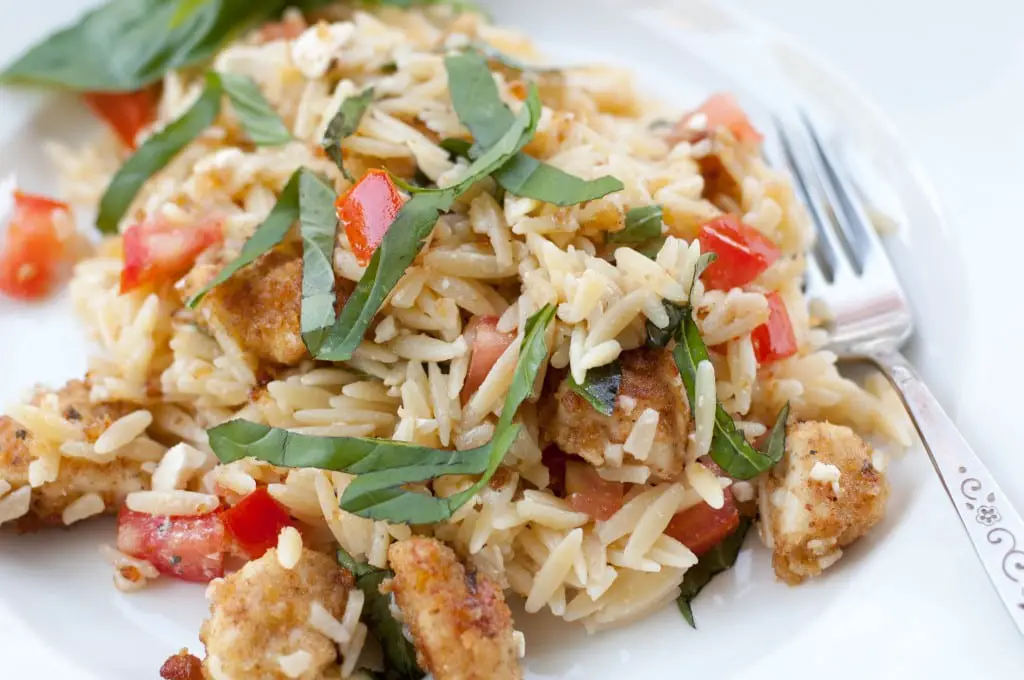 Chicken nuggets, you say?! Hmph. Snobs don't desire any dish with the word "nuggets" in the title. I should know.
What if the chicken nuggets were referred to as "gourmet" or "totally awesome, dude"? I think you might have a change of heart.
The truth is, I used to make this dish without chicken, as it never occurred to me to turn it from a side dish to a main dish. One day I decided to experiment with my side dish and I was pretty happy with the results.
My husband (who I call The Hungry Husband) loved this dish. When I told him I had to make the recipe over again, because my pictures didn't quite turn out the first time, he was happy to be on the receiving end of my blog test kitchen.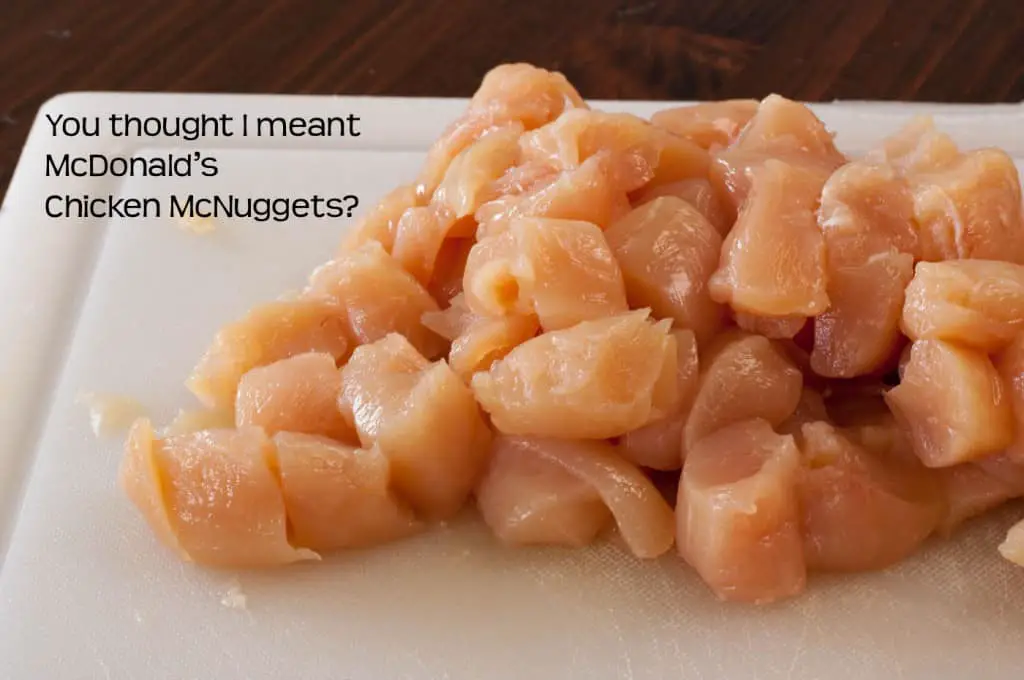 The key to getting a crispy coating on the chicken is to make sure the breading mixture really sticks to the chicken pieces. I found that the best way to do this was to coat a handful of pieces at a time, turning and pressing the pieces into the mixture. Then set them aside in a separate dish while you toss another handful into the breading mixture.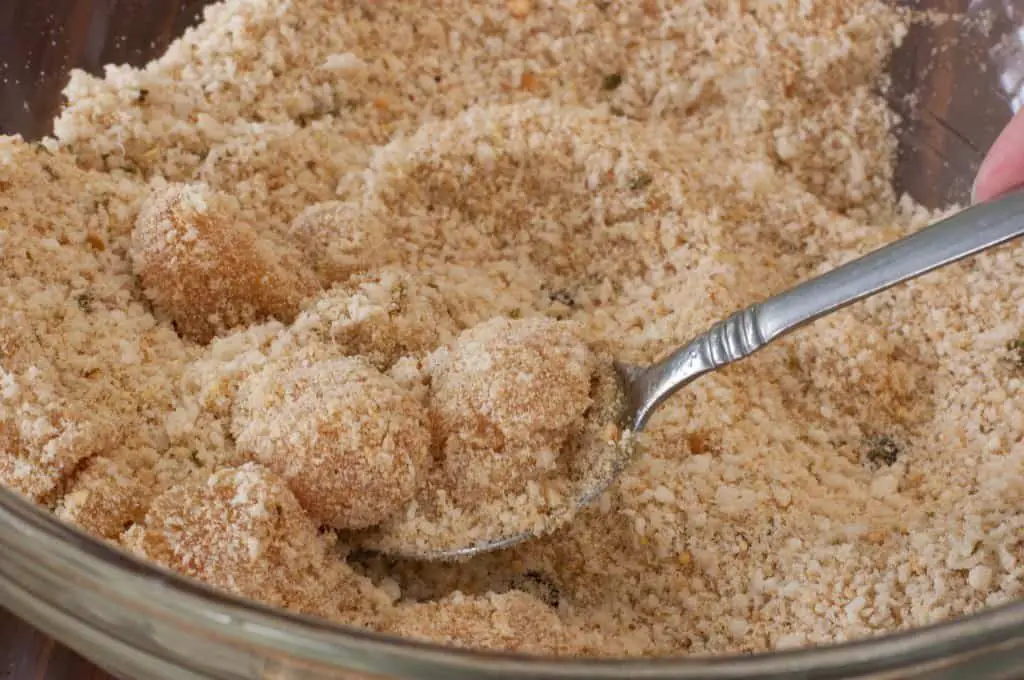 Another key to getting a crispy coating is the use of Panko breadcrumbs, a Japanese-style breadcrumb which you should be able to find in your supermarket. If not, they do sell them on Amazon. (<– this is an affiliate link) They have recently become a staple in my kitchen.
Mmmm who doesn't love crispy chicken?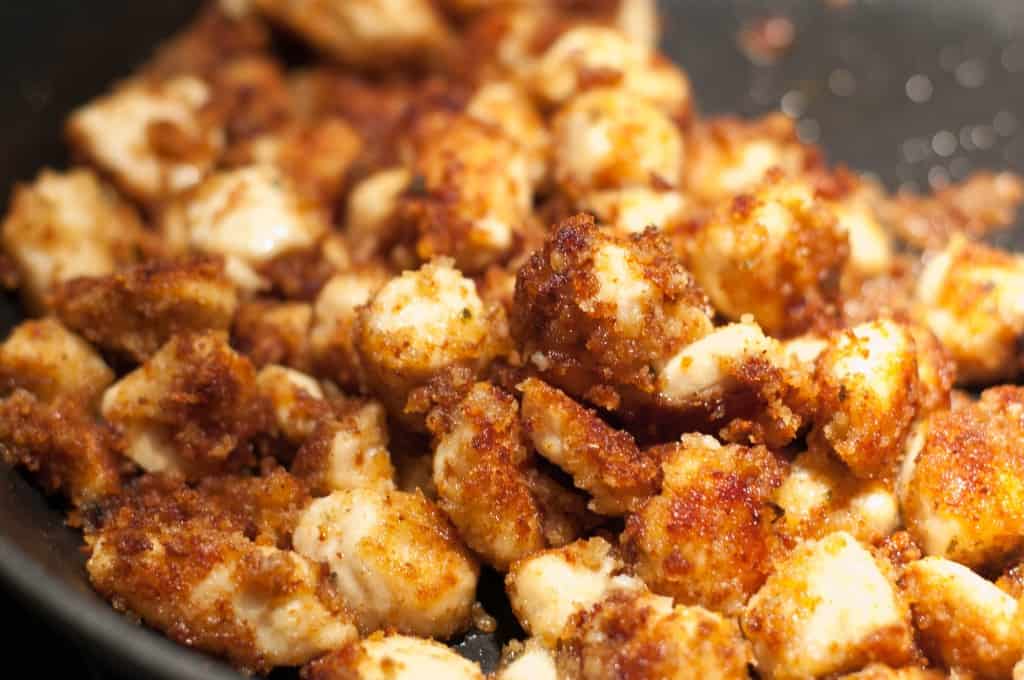 Print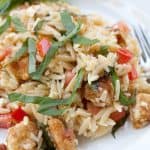 Homemade Chicken Nuggets with Orzo Pasta
---
2

chicken breasts, cut into

1

inch pieces

1 tablespoon

extra virgin olive oil +

3 tablespoons

for the pan

1 tablespoon

butter, melted

1 tablespoon

butter, not melted

2

cloves garlic, minced

1/2 cup

of seasoned breadcrumbs

1/2 cup

Panko breadcrumbs (Japanese-style breadcrumbs)

1/3 cup

ground or grated Pecorino Romano cheese

1

lb orzo pasta

2 cups

chopped tomatoes

4 oz

crumbled feta cheese (plain or tomato/basil flavored)

3/4 cup

julienned basil, loosely packed
salt & pepper to taste
---
Instructions
In small bowl, combine chicken pieces, 1 tablespoon olive oil, melted butter, and garlic. Sprinkle with salt and pepper. Toss together and set aside.
In medium bowl, mix together all breadcrumbs and Romano cheese.
In small batches, toss chicken pieces into breadcrumb mixture making sure completely coated. Tip: Press chicken pieces into mixture a few times to make sure the chicken is completely coated and the coating sticks. Set coated pieces aside in separate dish.
Preheat 3 tablespoons of olive oil and 1 tablespoon of butter in large nonstick skillet over medium heat. Brown chicken in pan, turning occasionally (you don't want to overwork it). Make sure all sides are browned nicely. Set aside.
While chicken is cooking, cook pasta according to package directions. Strain.
In large bowl, add cooked pasta and let slightly cool (about 3 minutes). Stir pasta once halfway through cooling time. Tip: the reason to cool the pasta is because the basil will change flavor if it is heated, and you want that raw basil taste in your dish.
Add chicken, tomatoes, and feta to pasta. Sprinkle with salt and fresh ground pepper and stir.
Lastly, add basil and toss one more time.
Serve immediately and enjoy!
Notes
Serves 4
Get more great recipes at: www.thekitchensnob.com
Looking for a decadent dessert? Try Ultimate Chocolate Mousse.