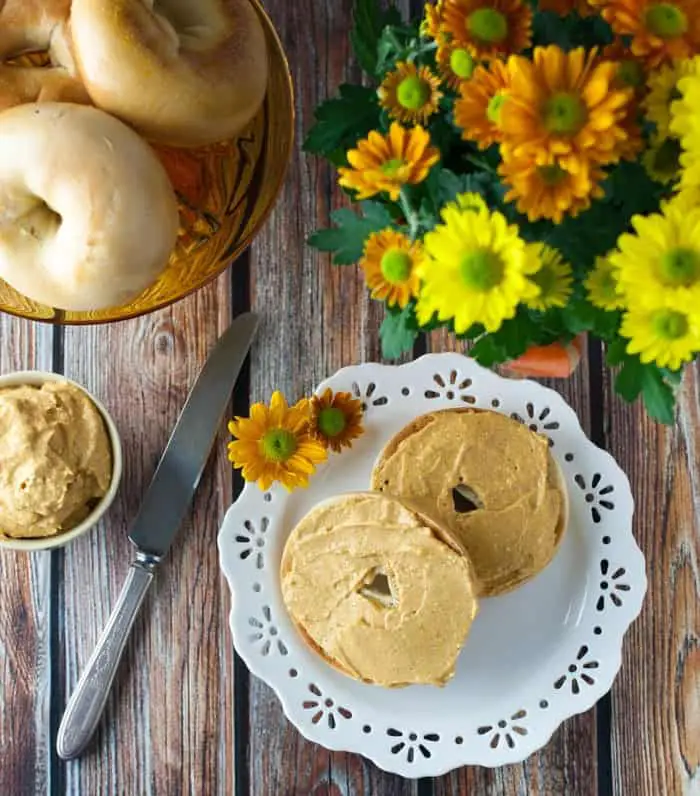 Always lookin' for an excuse to eat dessert? Meee toooooo!
The day after Thanksgiving, I find nothing wrong with pulling the leftover pumpkin pie out of the fridge for breakfast. It's got fiber, Vitamin A, B, E, and C. That's a lot of letters. So yes, thank you, I'll have another piece. And why not add a dollop of whip cream calcium on top?
With this pumpkin cream cheese spread, you'll get the benefits of these important nutrients, but you'll also get to taste the flavors of pumpkin pie in all its glory. And if we make this ahead of time, we'll be saving ourselves from slaving over a big breakfast on the biggest cooking day of the year. I'm high-fiving myself. Are you high-fiving yourself? Cuz just I've saved us time AND vitamin deficiency.
See how my mind works? Mischievous, but smart.
This pumpkin cream cheese spread tastes like it's chock full of desserty evil goodness. We need this. Spread it on a fresh bagel, and it'll hold you until turkey time.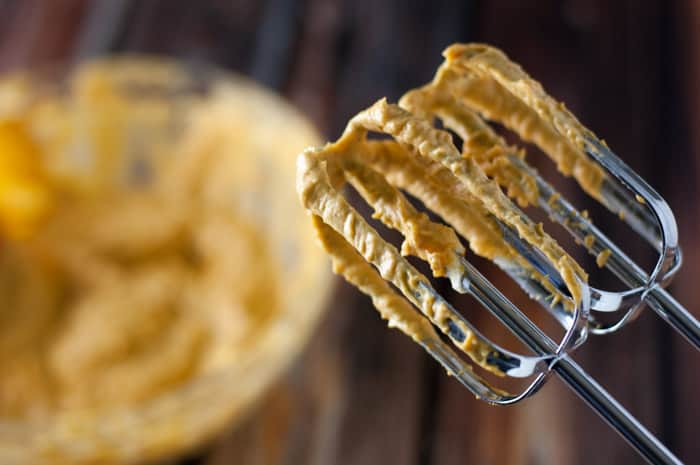 I was eating this by the spoonful and, damnit, I'm proud of it.
This is no time to skimp on flavor. It's Thanksgiving! We're going to eat like we mean it, savor every bite, and be thankful for all that we have.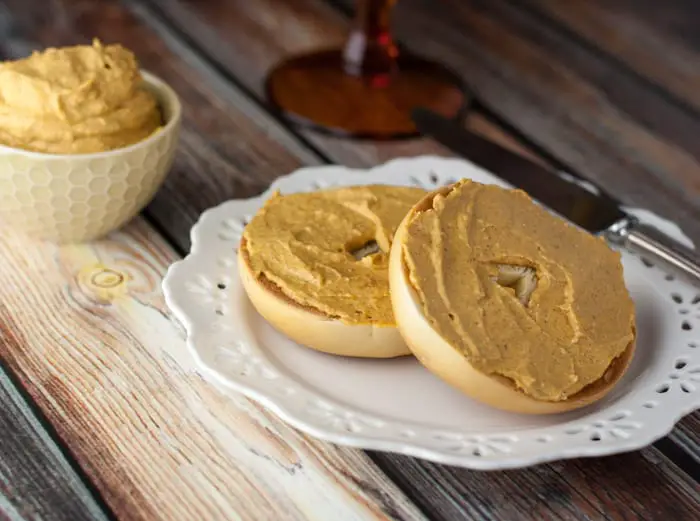 Especially this creamy, cheesy, pumpkin cream cheese spread. Thank you, pumpkins!
This recipe is so easy to make and just takes minutes. Ya'll, it's spreadable pumpkin pie! It has all the good spicy cinnamon and ginger flavors you'd expect from pumpkin cream cheese.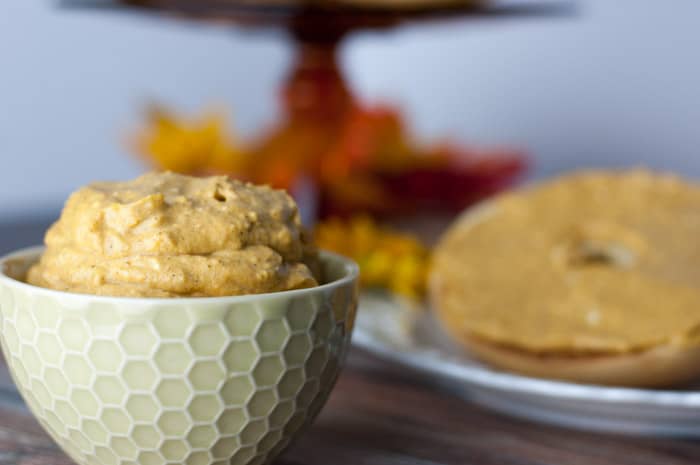 This is a perfect recipe for Christmas morning breakfast, too! Who has time to make breakfast?
Picture this: You're thoughtfully cutting, taping, wrapping all those presents you spent hours searching for and spent too much money on…adding a bow here and a sprig of mistletoe there…while sipping hot chocolate listening to "chestnuts roasting on an open fire…"
…and cut to: Christmas morning and the kids are ripping through those presents like mini godzillas on crack. In 5 minutes they're done, leaving a gigantic mess behind and you've got to be at Grandma Lucy's house in an hour. You're going to need some fuel. Some pumpkin fuel.
Kids will love this Pumpkin Pie Cream Cheese Spread!
I made a mild version and a spicy version (but not too spicy). Pick your favorite!
Print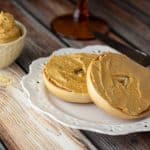 Pumpkin Pie Cream Cheese Spread
---
8 oz

cream cheese, softened to room temperature (not the whipped version)

1/2 cup

canned pumpkin puree (not pumpkin pie mix)

1/2 cup

packed brown sugar

2 teaspoons

ground cinnamon

1/2 teaspoon

ground ginger

1 teaspoon

vanilla

2 teaspoons

honey
For Spicy Version
Add to the ingredients above:

1/2 teaspoon

ground cinnamon

1/4 teaspoon

ground cloves
---
Instructions
In medium bowl, combine all ingredients and mix with an electric mixer for 30 seconds on low speed, and an additional 2 minutes on medium speed or until fully combined and whipped.
Refrigerate for 1 hour before serving.
Spread on toasted bagels, bread, or serve with pita chips.
Notes
More great recipes at www.thekitchensnob.com
Looking for more pumpkin or holiday recipes to try?