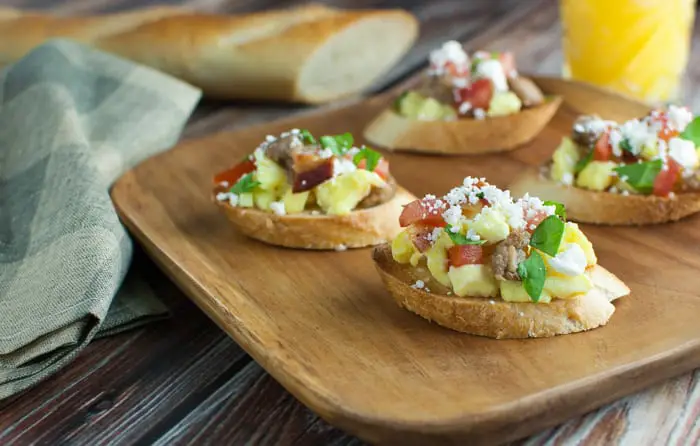 You like to put stuff on bread. I get it.
You like variety. Me too.
You like eating bruschetta, but more than that, you like saying the word bruschetta.
Properly pronounced, it's bru'sketta. Say it like "brushetta" in Italy and they'll politely correct you while serving you the best bruschetta you've ever had, and then they'll close up their shops so everyone can go home and nap. I love you, Italy.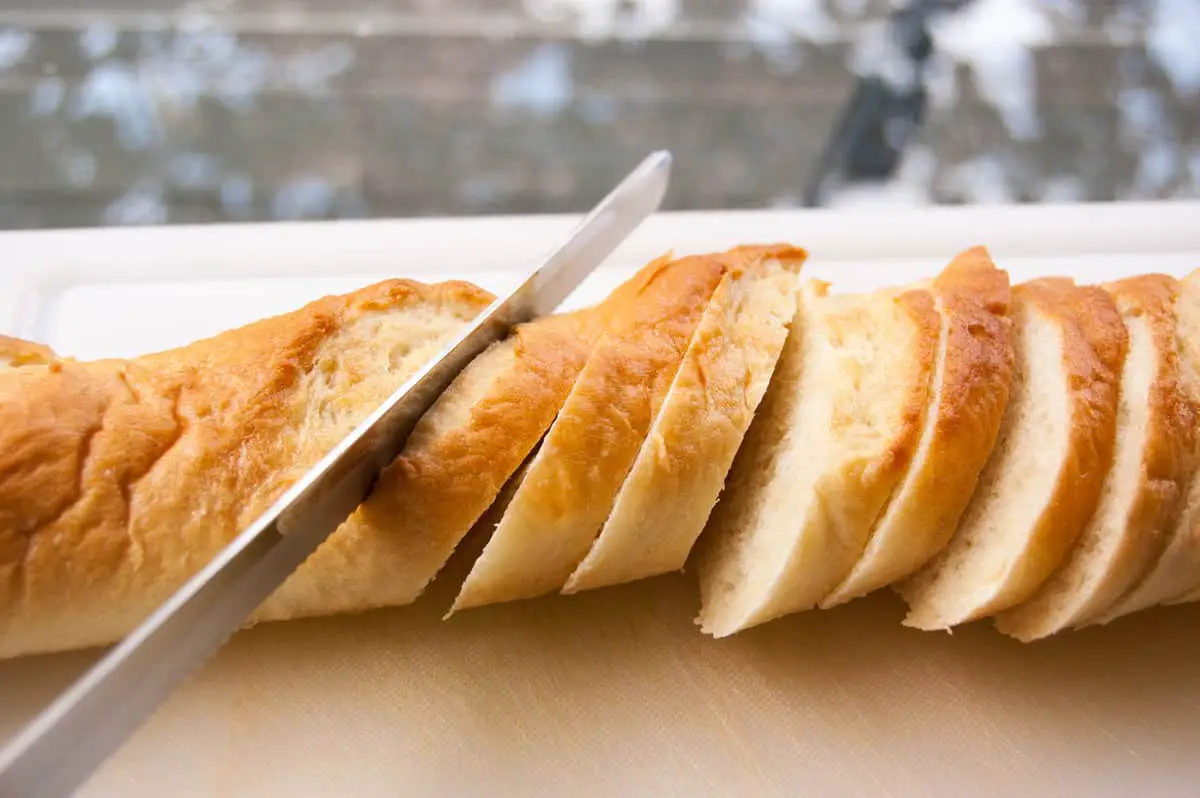 I think Breakfast Bruschetta is the perfect type of thing to serve with a large family coming over for breakfast or brunch. People can top their own pieces of toasted baguette with all their favorite fixins. Each piece of bread could have a different mixture of toppings. Feta some. Cheddar some. Bacon always.
Everybody creates their own. No one gets bored. Hurray!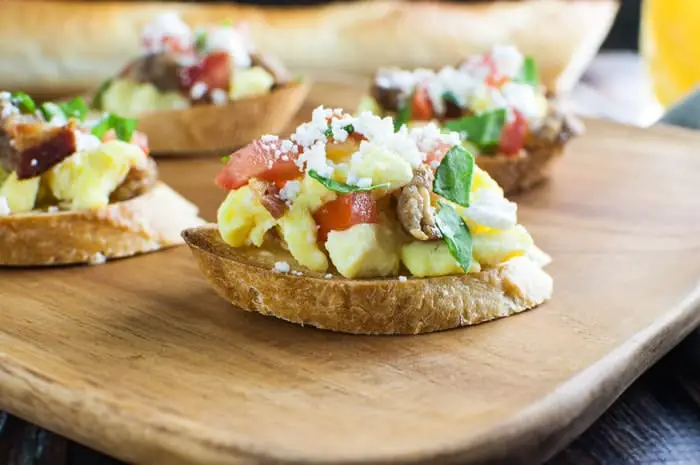 I'm not having a brunch because my house is a mess cats are my only friends. So after I take photos of these tasty morsels, I'm using all the leftover fixins to go inside these Freezer Breakfast Burritos, which we love having prepared in advance of busy weekdays.
God I'm so resourceful. NOT! ← really funny joke from the 90s ← sarcasm
I think I like using arrows more than saying the word bruschetta. NOT!
Let's get to the Breakfast Bruschetta recipe!
You can make scrambled eggs any way you wish (eggs, salt, pepper, splash of milk) or you can make these Secret Ingredient Scrambled Eggs.
The key is to simplify things because you're going to be flavoring things up with all your toppings.
Ya make the stuff in advance. Ya gather your tribe. Ya reheat what needs to be reheated and then your favorite appreciate-that-you-cooked peeps put stuff on the bread (which, as we discussed, everybody likes) then you all go nom nom nom, but more like Cookie Monster with crumbs flying everywhere.
Then you say yay! [with jazz hands]
And then you're really full and promptly nap, Italian-style. It's called riposo.
Does this sound like a good Sunday brunch?
You're invited over as soon as I shove a few things in a closet.
It's like Oprah's car giveaway only not as significant. YOU get invited over. YOU get invited over! AND YOU TOO!!!!
Sorry, I think I'm loopy from saying bruschetta all day.
Print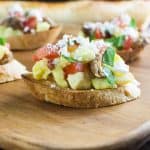 Breakfast Bruschetta
---
2

loaves of baguette bread, sliced diagonally
Butter for spreading
Scrambled eggs (8 eggs, salt, pepper, seasonings of your choice) or make these Secret Ingredient Scrambled Eggs

1

package of Apple Maple Chicken Sausage, casings removed (or another sausage of your choice)

1

package of bacon, cooked and broken into small pieces

1

tomato, diced

1 cup

chopped fresh baby spinach

1 cup

crumbled feta cheese (or any grated cheese of your choice)
---
Instructions
Preferably the night before, scramble the eggs, brown the bacon and the sausage (crumble the sausage as you cook it). Set aside in fridge if cooking the night before. Reheat in microwave when ready to use.
To toast the bread, lay the sliced bread on a cookie sheet and put under the broiler for 1-2 minutes. Watch carefully! Sometimes they start to burn at 1 minute. Set aside to cool.
Butter each slice of bread with some softened butter (you could use flavored butters if you have them). This is your base. Another great idea is to use mashed avocado as your base!
Then assemble your toast as you prefer with scrambled eggs, tomato, sausage, bacon, cheese, and spinach.
Munch it down!