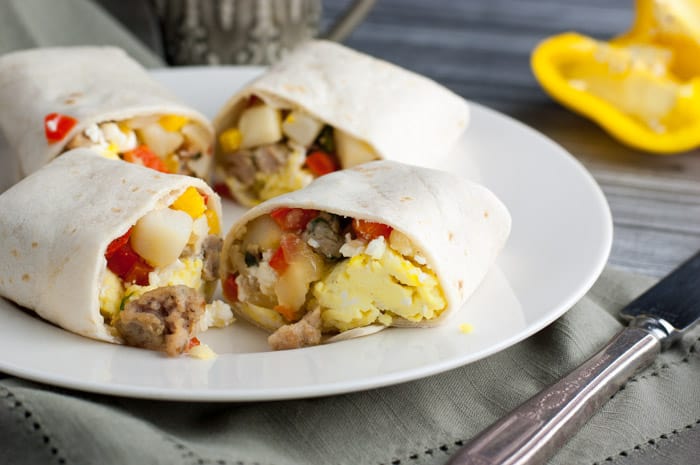 Do you ever want to smack those people that have their meals planned out for the week? They're like "oh I've got lasagna in the freezer for Monday, Tuesday is taco night, Wednesday we're having chicken tortilla casserole already frozen…I made a big batch last weekend…Thursday, I make soup from the leftover chicken…and Friday…"
SMACK!
If you're one of the people who I just smacked, I'm truly sorry. Really, I am. It's just that I'm undeniably jealous of you and your meal organization.
I promise I won't actually do it. I'll only smack you in my mind while I smile at you and say things like "wow" and "how do you find the time?"
They say jealousy is the biggest compliment. I don't know who they are but they're right.
For those of us who are organizationally challenged, this recipe is going to have us grinning with a crazy smile like Charlie Sheen and yelling "winning!"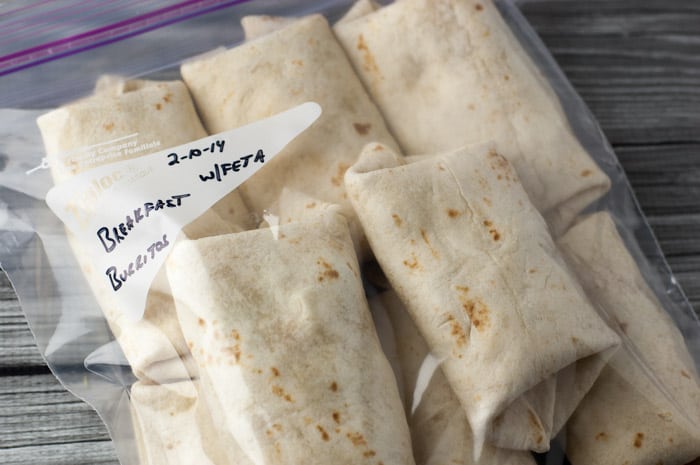 You can have these Freezer Breakfast Burritos ready quicker than you can pour a bowl of Lucky Charms, toast some Brown Sugar Cinnamon Pop Tarts, and scratch your head wondering why your stomach hurts.
2 minutes.
Not quite as fast as a speeding bullet, but…more powerful than chocolate donuts and able to leap giant pangs of hunger until lunchtime.
Who doesn't have 2 minutes for REAL NUTRITION?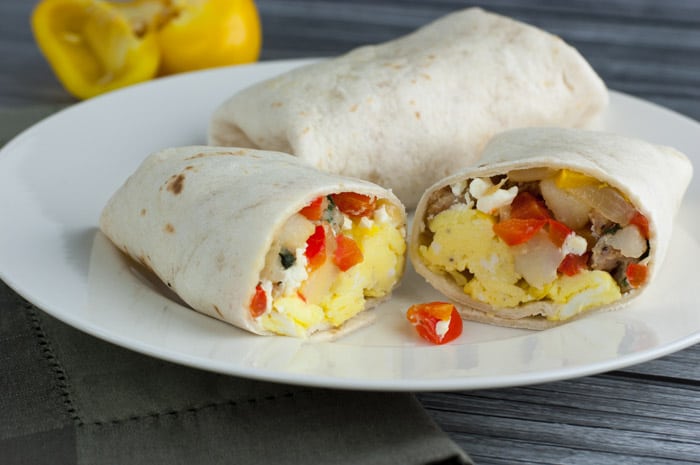 You pop those frozen suckers in the microwave. Fini. Pat yourself on the back. Make your friends and coworkers jealous. Done.
On Monday morning when you bite into these, you're going to be grateful for whatever genius made these babies in advance (that's you!). Hot scrambled eggs, juicy sausage, and soft potatoes all seasoned up with peppers, onions, and feta.
Could you die? I could die. Let's die!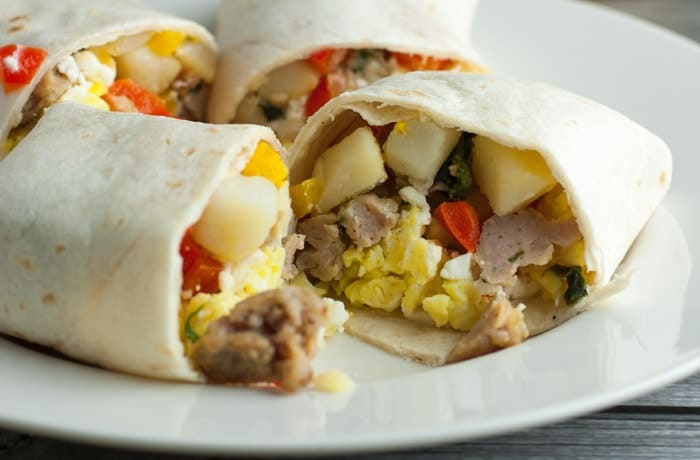 Admittedly, this takes an hour out of your weekend. But it's not rocket science. After you're done making all the fixins' ya just make a little ol' assembly line. You can totally do this.
Superfast breakfast burritos. Monday morning breakfast just got interesting.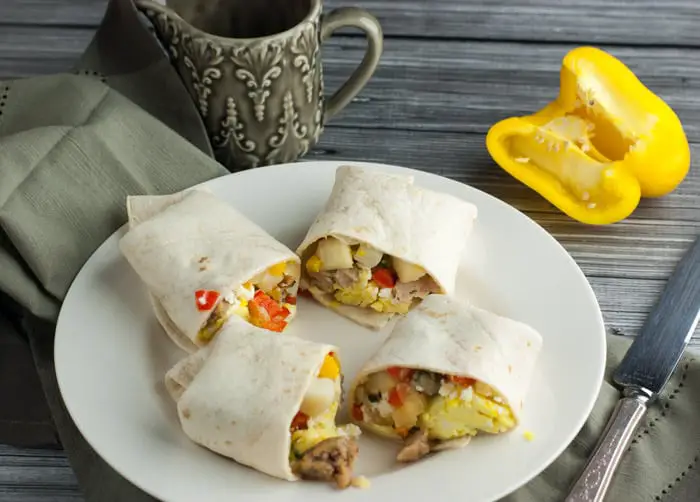 Print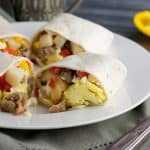 Freezer Breakfast Burritos With Sausage, Peppers, And Feta
---
2

large baking potatoes, peeled and chopped into small chunks (about

1

inch pieces)

3 tablespoons

olive oil

1

pound chicken or turkey sausage, casings removed (I used chicken sausage with spinach and feta. Any sausage will work though)

1

small yellow (Spanish) onion, peeled and chopped (about

1 cup

)

1

bell pepper, seeded and chopped (I used

1/2

yellow and

1/2

red)

12

large eggs

1/2 cup

milk

3

cloves garlic, minced

2 tablespoons

butter

6 oz

crumbed feta cheese

16

fajita-sized flour tortillas, warmed (you could use burrito-size but you'll end up with larger, fewer burritos)
Salt and pepper
---
Instructions
Bring a large saucepan of salted water to a boil. Add the chopped potatoes and cook until fork tender, about 7 minutes. Drain and set aside.
Heat 1 tablespoon of the oil in a large nonstick skillet over medium heat. Add the sausage and break it into small pieces with a nonstick-safe spatula or large spoon. Brown meat until cooked through, stirring occasionally, about 4-5 minutes. When done, transfer meat onto plate or small bowl and set aside.
Turn the heat down just a bit (to medium-low) and return the skillet to the stove and heat the rest of the oil in the skillet. Add the onions to the skillet and lightly season with salt. Saute for 1 minute. Add the peppers and cook until tender, about 6-7 minutes. Add the potatoes and sausage to the skillet and cook for another minute or two just to combine the flavors. Remove from heat and set aside.
In a medium bowl, whisk together the eggs, milk, garlic, 1/2 teaspoon salt, and 1/4 teaspoon pepper. Preheat a clean nonstick skillet over medium heat. Add butter. When butter is melted, add egg mixture and stir to scramble until just cooked through. Do not overcook. Remove from heat immediately.
Warming the tortillas makes them easier to wrap. I warmed a clean skillet and put tortillas one at a time on the skillet for about 30 seconds to 1 minute, flipping over once.
Top each tortilla with the sausage mixture, eggs, and sprinkle with feta cheese. Fold ends in first and then wrap burrito (you don't want any open ends if you're freezing them). It might be best to freeze the burritos first before transferring to a freezer bag (so they don't steam up) but I just let mine cool and then put them into a freezer bag. Store in freezer for up to 3 months.
To reheat, wrap the burrito in a paper town and place on a microwave-safe plate for 2 minutes or until heated through.
Notes
More great recipes at www.thekitchensnob.com
Prep Time:

20 mins

Cook Time:

25 mins