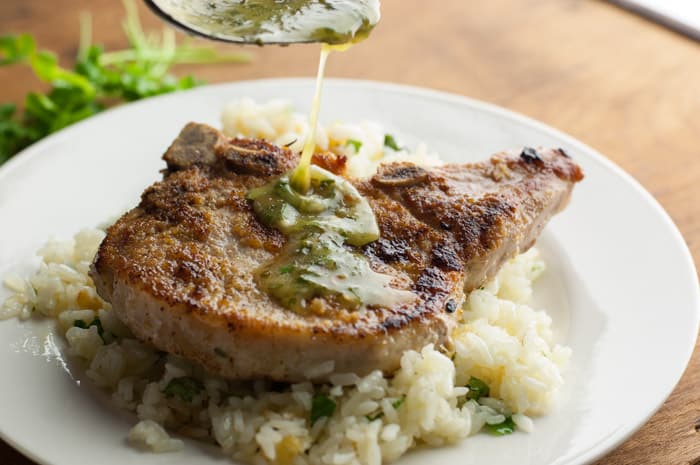 I've been on a cilantro kick and I can't be stopped. If you're one of those cilantro haters, I regret to inform you that this won't be my last cilantro recipe.
And haters, let's bring peace to the cilantro world. No fighting. Put down your protest signs.
I'll make a "pro-cilantro" meme and force it to go viral on Facebook. It'll be all controversial and stuff. Yeah. Take that, politics.
No, please don't.
Arianna Huffinton, you may want to pick this story up, because I'm about to go allll out on a campaign entitled "Let's Put An End To Hating Cilantro!" It's going to be epic.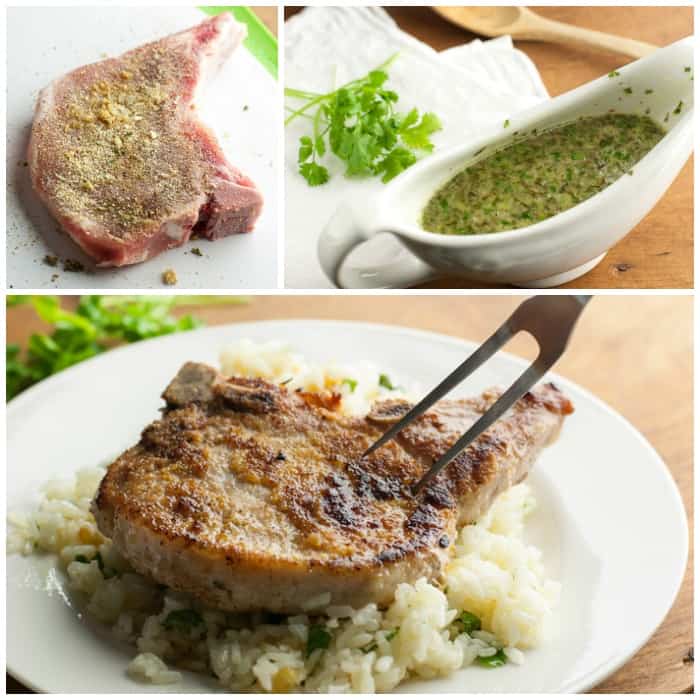 And it all starts with a lone, juicy pork chop smothered in Honey Lime Cilantro Sauce. 100 years from now, this will be the recipe that started it all. I'll be famous!
Okay calm down.
Seriously though, I need to investigate this. If you're not fond of cilantro, I'm curious, do you like salsa? Because most salsa has cilantro in it. So could it be possible that you DO like cilantro in small doses or if it's mixed in with other things?
I could be on to something here. Have I cracked the case? IHateCilantro.com members, please chime in. Really, it's a thing. They have a Facebook page with 17,000 fans.
I'm on a quest to convert these people. To do this, I'm willing hide cilantro in tangy, flavorful sauces, pour them over perfectly fried pork chops, and serve them with this incredible Sticky Rice With Cilantro and Sweet Caramelized Onions, and then let the sauce that was poured over the pork chops SOAK INTO THE RICE.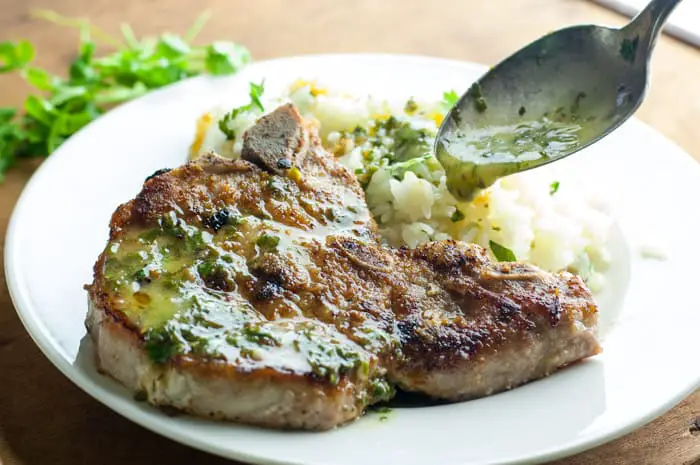 Oh, sweet heaven. I think this is only making me weaken to cilantro's powers even more. This isn't good.
Save yourselves! Don't make this recipe. Otherwise you'll cross over to this delicious dark side and there's no turning back. You'll be sharing annoying cilantro memes on Instagram and you'll start losing friends.
Please don't leave me.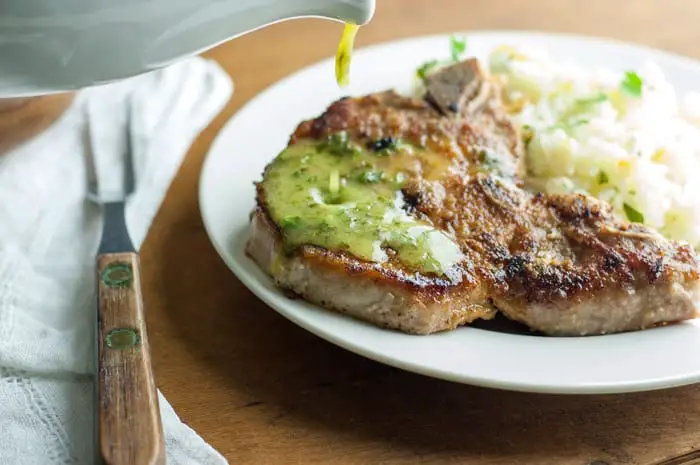 This just in: In searching for "cilantro haters" on Google, I found that Huffington Post already has an article about hating cilantro.
NO.
Yes! Here it is.
Arianna, I know you're reading this. Because I know you follow my blog and you think it's awesome. Who can blame you, really? But please do a follow-up story that involves these pork chops. Let's change the world together.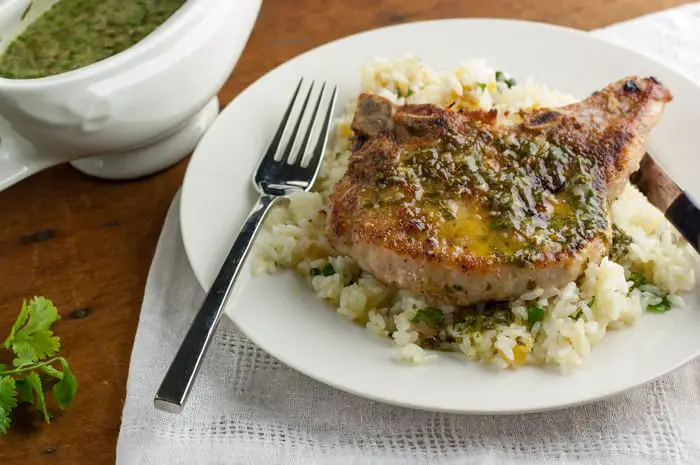 Print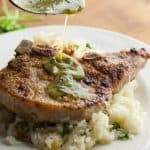 Pork Chops With Honey Lime Cilantro Sauce
---
4

pork chops, bone in

1

–

2

fresh cloves garlic, minced
Salt
Pepper

4 teaspoons

seasoned bread crumbs, divided
Granulated onion (onion salt could be substituted but temper other salt)
Olive oil
Butter (optional)
Cilantro Sauce
1/2 cup

extra virgin olive oil

4 tablespoons

finely chopped fresh cilantro

2

–

3

large, fresh cloves garlic, minced

1/4 teaspoon

seasoned rice wine vinegar

1/2 teaspoon

crushed red pepper flakes

2 1/2 teaspoons

honey

6 tablespoons

fresh squeezed lime juice

1/2 teaspoon

salt
---
Instructions
In a small bowl, mix all ingredients for Cilantro Sauce together with a whisk or process all ingredients together with a small food processor. Set aside.
Lay pork chops on a large cutting board or flat surface. Dab pork chops with a paper towel to draw out any surface moisture.
Sprinkle 1 side of pork chops generously with salt and a little pepper. Sprinkle a little granulated onion or onion salt over each chop. Rub a little of the minced garlic cloves into the chops with the back of a spoon. Add approximately 1/2 teaspoon bread crumbs and 1/2 tablespoon olive oil to each pork chop and spread crumbs around with the back of a spoon. Flip chops over and repeat with other side, starting with salt & pepper.
Heat a large nonstick skillet over medium-high heat. Add a few turns of olive oil and a pat of butter (if using) to pan. Add pork chops to skillet and cook for 3-4 minutes on first side and 2-3 minutes on second side, or until chops are golden brown.
Remove pork chops from skillet and serve with cilantro sauce.