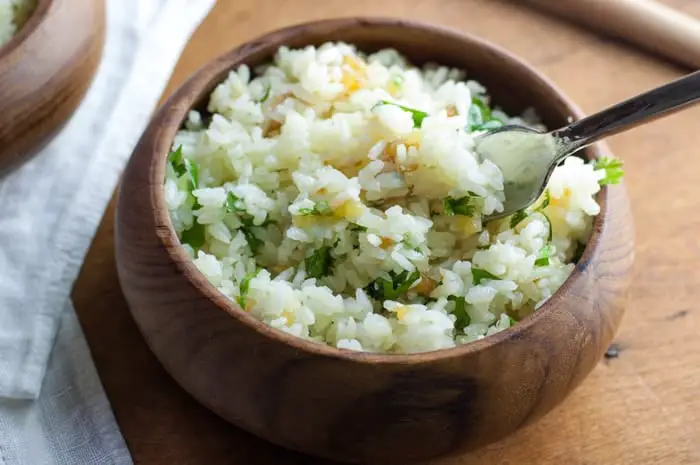 So this happened.
We're eating this delicious sticky rice with this sauce, binge watching Silicon Valley, and my husband, out of nowhere, totally starts flirting with me.
As he was happily scarfing down his second helping of this cilantro and caramelized-onion-infused goodness, he told me that I make the best rice he's ever had (whoa) and he loves all of my rice variations.
Did you hear that? It echoed like it was being whispered over a beautiful canyon at sunset:
best rice I've ever had had had had…
And he loves my rice variations? Is it hot in here?
To a food blogger, this is flirting. Hard core flirting, ya'll.
"Keep talkin'." I coyly told him.
In my head I'm all…that's right, I still got it. [smooths eyebrows with index and pinky fingers]
At this point, I'm glad I've brushed my hair and thankful I'm wearing the mismatched PJs without the big flower print [he's a lucky guy] because nothing is more sat-is-fying than trying something new and having it be a hit with my man. I've had my share of kitchen flops. It's sad. We cry. We order pizza.
This husband of mine? I think I'll keep him. He knows that I need to hear I love you "best I've ever had" from time to time. It's as good as sending flowers.
But enough about flirting. Because we're hungry, aren't we?
Let's get straight to the sticky rice!
First an honest warning: it does take longer to make because of the caramelized onions. Food perfection can't be rushed. But trust me, my rice-loving friends, it's so worth it!
Caramelizing onions can take 30-45 minutes. But you can start the rice while you're cooking the onions which will save some time.
I will go over how to caramelize the onions in the recipe below, but here is a visual reference so you won't freak out when you start wondering if these dang onions are ever going to cook during this lifetime, or should you just wait until you're reincarnated, because they might be done by then.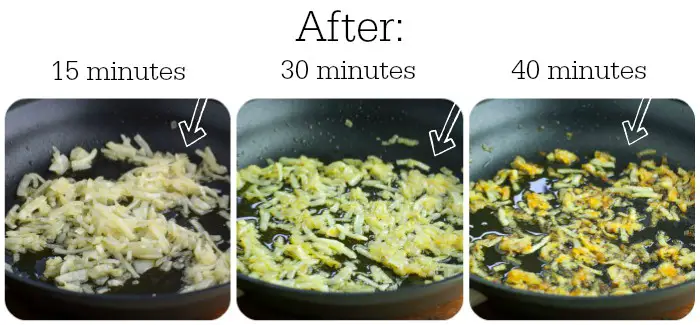 The key is: low and slow cooking. Caramelizing them brings out the natural sugars, which is what makes them sweet. The darker onions on the right, are not dark because I've turned up the heat – that is after 40 minutes of very low heat and occasionally stirring.
This sticky rice dish is has a fairly mild flavor but I just love the contrast of the sweet onions to the tart cilantro. Squeeze some refreshing lime juice in there and voila! Flirtatious rice perfection!
I really hope you try this one 🙂
Yummy tip: this rice is extra special with my Honey Lime Cilantro Sauce and served with these pork chops. HEAVEN.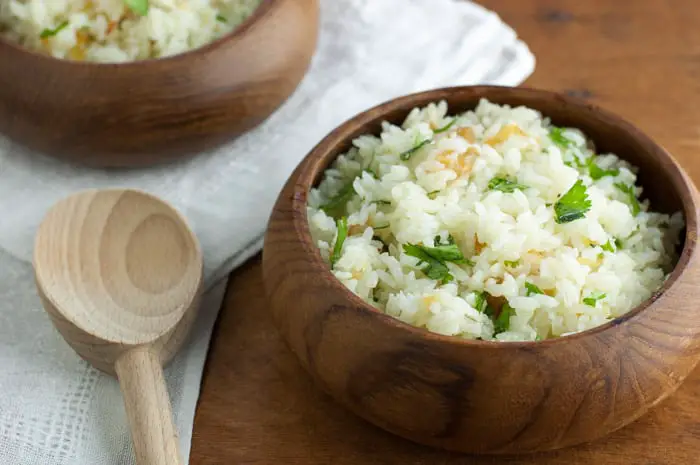 Print
Rice With Caramelized Onions And Cilantro
---
1

large yellow onion, sliced thin and then coarsely chopped
Olive oil

1/2 teaspoon

finely ground sea salt (table salt is fine)

3 tablespoons

olive oil

1

pat butter

3 teaspoons

fresh minced garlic

1 1/2 cups

Nishiki rice (sushi type rice can be purchased in your local grocery store)

2 cups

water

1/2 teaspoon

salt

1

lime (approximately 2-3 tablespoons lime juice)

3 tablespoons

chopped fresh cilantro

2 tablespoons

ground/grated Pecorino Romano or Parmesan cheese
---
Instructions
Heat 3-4 turns of olive oil in a large nonstick skillet over low to medium-low heat. Add onions and sprinkle with 1/2 tablespoon salt. Cook onions for 30-45 minutes, stirring occasionally. They should be barely simmering. If they're sizzling or getting brown too quickly, your heat is too high. When onions are caramelized, remove from pan with slotted spoon and set aside.
In a medium saucepan, heat 3 tablespoons of olive oil and pat of butter over medium high heat. Add garlic and cook for 1 minute. Add rice and stir until rice is thoroughly coated with oil.
Turn heat to high and add water and 1/2 teaspoon salt. Stir to combine. When water is boiling/bubbling, cover rice and turn down heat to low and simmer, covered, for 10 minutes.
Remove lid and squeeze in 1 1/2 tablespoons lime juice (approx. 1/2 of a lime) into rice and stir. Put lid back on and simmer for another 10 minutes or until all liquid is absorbed.
Remove from heat and transfer rice to a large bowl or serving dish to cool for about 5 minutes.
Add chopped cilantro, caramelized onions, and grated cheese to rice. Squeeze the remaining 1 1/2 tablespoons of lime juice (or other 1/2 of lime) over rice and stir.
Enjoy!
Notes
More great recipes at www.thekitchensnob.com